Have you heard about ProtonVPN? Check out this ProtonVPN review before making a purchase decision.
This is a complete review of ProtonVPN, a Swiss-based VPN service provider reputed for transparency and high security.
ProtonVPN Overview
If you've heard about ProtonMail, then your guess is right. ProtonVPN is a sister service provided by Proton Technologies AG, established in 2014 in Switzerland by a group of Nuclear Scientists who met at the European Center for Nuclear Research to create one of the world's most secure email and VPN services for Journalists and activists.
VPN means Virtual Private Network. It is a private server or network created to secure internet connections, protect users' privacy and data traffic, and bypass internet restrictions and geo-blocking designed to deny users access to some information or services.
When connecting to the internet via a VPN, the VPN stands as an intermediary server between your device, your Internet provider, and the internet.
The VPN client on your device encrypts your data through a secure encryption tunnel, usually, the RSA-256 bit encryption tunnel, which is a secure, military-grade encryption protocol.
This scrambles your data and prevents your ISP from knowing the type, size,  destination of your data and prevents them from harvesting your data, thus keeping your browsing and other online activities private and anonymous.
If you're connecting to the internet via a WiFi network, the VPN client scrambles your data and prevents Hackers and spies monitoring such WiFi connections from being able to harvest your data traffic.
VPN providers have their strong points, and ProtonVPN is no exception. ProtonVPN is focused on making its services transparent and providing the highest level of data security and online anonymity.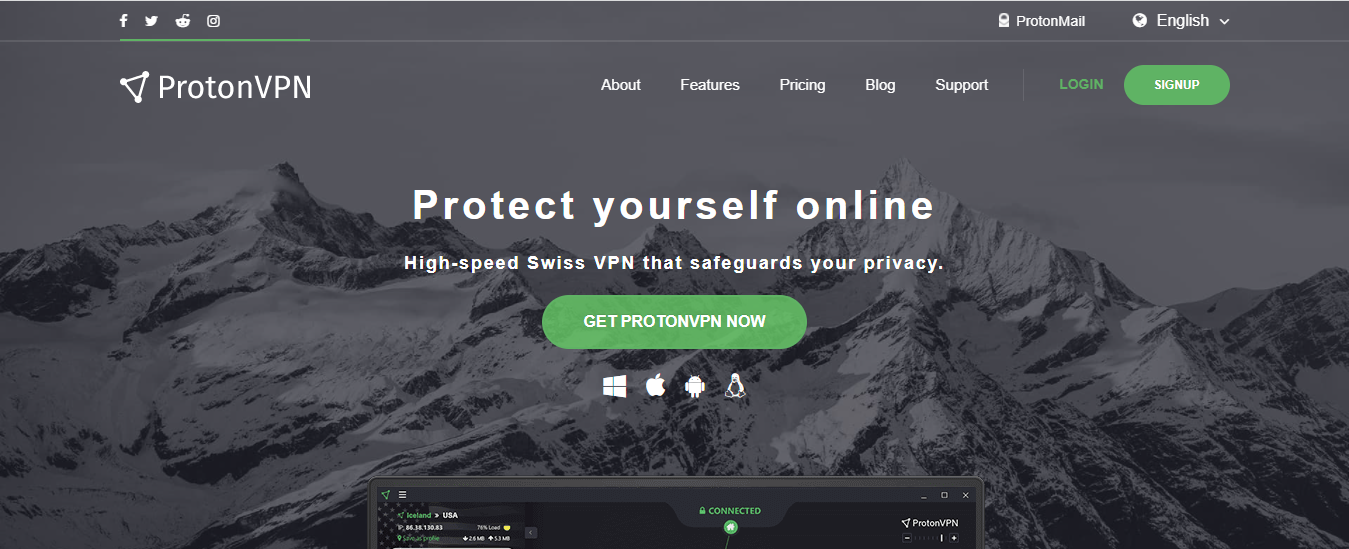 ==>> Get ProtonVPN
What Are The Benefits Of Using ProtonVPN?
Strict no-logs policy
ProtonVPN is headquartered in Switzerland, a country noted for its strong data privacy laws and neutrality. Switzerland is neither a member of the 5/9/14 eyes alliance nor a member of the EU or EEA; as such, it is exempted from the EU's General Data Protection Regulation, which compels member countries to retain and share data. 
Since ProtonVPN is based in Switzerland, it is under no obligation to keep or share users' data. Hence, ProtonVPN is one of the few VPN providers transparent enough to observe a strict no-logs policy.
Privacy and Data Security
ProtonVPN uses AES-256 bit GCM, RSA-2096, encryption with Perfect Forward Secrecy to secure users' data. Additionally, ProtonVPN has over 40 core servers hidden underground in former military bases across Iceland and Switzerland. 
These secure core hide users' trails by hopping users' data traffic through multiple servers and locations before reaching its final destination, thus offering higher-than-average data security and high-level anonymity for users.
Speed
A secure VPN would be compromising speed for security; that's not the case for ProtonVPN, which uses proprietary VPN accelerator technology to boost its VPN speed by over 400% of the local network. This is contrary to the belief that a higher server number translates to high VPN speed since ProtonVPN has roughly about a thousand servers or less, yet it offers speeds at par with some of the top VPN providers in the market.
Unblocks Netflix, similar services, and censored sites
ProtonVPN unblocks Netflix, Spotify, HBO, Disney+, etc., and censored sites. This is one of the core reasons for establishing ProtonVPN: giving journalists and activists access to censored information. Therefore, wherever you're, you can enjoy geo-blocked multimedia services, and if you're in a school or organization that blocks social media services, you can use ProtonVPN to bypass such network blocks.
Unlimited bandwidth with P2P support
ProtonVPN has servers optimized for torrenting. It also offers users unlimited data bandwidth.
Free VPN services
ProtonVPN offers a free VPN service with unlimited bandwidth, high security, and no advert. However, users on this plan are limited to basic VPN services and access to 3 server locations. 
Tor over VPN
ProtonVPN users can enjoy extra layers of data security by using ProtonVPN's Tor feature. This routes users' data through several layers of Tor servers before being channeled through the ProtonVPN server to protect Tor's exit node where data is exposed and unencrypted.
10 Simultaneous connections
ProtonVPN allows as many as ten cross-platform devices, including routers, to connect to a single ProtonVPN subscription; therefore, users can enjoy the ProtonVPN advantage across multiple devices and platforms.
Blocks ad: ProtonVPN uses NetShield to block ads, malware, and trackers. You can choose to turn off this service.
Kill switch
ProtonVPN uses the kill switch technology to prevent data spillage by instantly disconnecting you from the internet if your VPN connection accidentally trips off.
Split tunneling
ProtonVPN's split tunneling makes it possible for you to exempt local apps and data traffic from VPN connection. i.e., you can choose what apps and services on your device connect to VPN.
==>> Get ProtonVPN
ProtonVPN Evaluation


For this ProtonVPN review, we evaluated it based on several criterions.
Speed Test
Our team ran a comprehensive speed test for ProtonVPN using Cellular network, Wi-Fi, and Ethernet connections using speedtest.net and other speed test tools. 
Overall, ProtonVPN recorded a blazing speed of 220Mbps on US servers and 65Mbps from servers in Singapore.  This is a decent speed considering that ProtonVPN recorded an average of 8% speed loss compared with average local speeds.
Ease Of Use
Downloading, installing, and navigating the ProtonVPN client was easy without requiring any technical knowledge or expertise. ProtonVPN has an intuitive user interface with well-laid out features for easy connectivity, server switch, split tunneling, etc.
IP Leak Tests
Our team used leak testing tools like browserleaks.com, ipleak.net, hideme.com, etc., to test for WebRTC, IPV6, and DNS leaks; there was no IP address or other information leak detected with ProtonVPN.
Geo-restriction And Web Censoring Tests
Testing ProtonVPN for its unblocking and censorship bypassing, ProtonVPN unblocked geo-blocked media services including Netflix, Crackle, Spotify, ESPN, HBO Max, etc. It was also able to bypass internet restrictions in schools and other organizations. 
Irrespective of your country or location, users can access any online content or services (China is an exception to this).
Customer Support
Although, ProtonVPN has an FAQ page to help users solve issues they might experience, ProtonVPN's customer support service is slightly above average because the only channel of contacting support is using ProtonVPN's support form. 
ProtonVPN Pricing Plans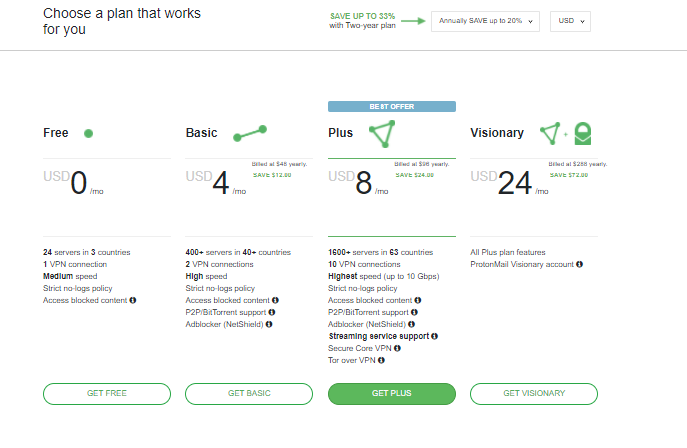 ProtonVPN has a 4-tier pricing plan for monthly, yearly, and 2-year subscriptions. 
Proton's Free plan offers users unlimited bandwidth and access to basic features, including access to servers in 3 countries, one device connection, a no-logs policy, and access to censored websites.
The Basic, Plus, and Visionary subscription plans offer users access to ProtonVPN's full features with an additional ProtonMail Visionary account for Visionary plan subscribers. 
Editor's Note: For this ProtonVPN review, we subscribed for its highest pricing plan for extensive testing.
Free Plan
24 servers in 3 countries

1 VPN connection

Medium speed

Strict no-logs policy

Access blocked content
Basic Plan – $5 per month when billed monthly, $4 per month when billed annually, or $3.29 per month when billed every 24 months
400+ servers in 40+ countries

2 VPN connections

High speed

Strict no-logs policy

Access blocked content 

P2P/BitTorrent support 

Adblocker (NetShield) 
Plus Plan – $10 per month when billed monthly, $8 per month when billed annually, or $6.63 per month when billed every 24 months
1600+ servers in 63 countries

10 VPN connections

Highest speed (up to 10 Gbps)

Strict no-logs policy

Access blocked content 

P2P/BitTorrent support 

Adblocker (NetShield) 

Streaming service support 

Secure Core VPN 

Tor over VPN
Visionary Plan – $30 per month when billed monthly, $24 per month when billed annually, or $19.96 per month when billed every 24 months
All Plus plan features

ProtonMail Visionary account 
Note: All paid plans come with a 30-day moneyback guarantee. Also, ProtonVPN accepts credit and debit cards, e-payments, and Bitcoin for users concerned about anonymity.
==>> Get ProtonVPN
A Final Word On The ProtonVPN Review
Summing up this ProtonVPN review, you can see that it stands out for its security, no-logs policy, speed, and censorship bypass.
It enjoys 5-star ratings on Trustpilot, Reddit, and other review sites, hence making it a credible VPN you should consider if you're searching for a trustworthy VPN with an extra security layer, zero-data logging, and blazing speed. 
If you're not convinced enough, you can try out ProtonVPN's free version, which offers users unlimited bandwidth connectivity with no ads.
==>> Get ProtonVPN
---
INTERESTING POSTS