Here is the WeVPN review. Read on…
If you're working remotely or just want to access the internet securely, a virtual private network (VPN) is your best bet.
A VPN is a great way to protect your personal information from potential hackers as well as bypass any restrictions put in place by your internet provider.
Wondering about what is a VPN all about, check out this detailed VPN guide.
Note: Please note that WeVPN is no longer active and cannot be used. If you are looking for a VPN provider, I recommend that you consider other options such as NordVPN, ExpressVPN, or Surfshark.
Well, hang on! You will surely find out in this WeVPN review.
What Was WeVPN?

WeVPN was a VPN service provider launched in March 2020. This VPN featured groundbreaking technologies, which included WireGuard VPN protocol, RAM-only servers, and Smart DNS technologies to guarantee fast internet speed, and a true 'no-log' policy.
WeVPN was a virtual private network (or VPN) service that let users unblock sites and apps that were blocked or not available in their location.
With WeVPN, you could spoof your digital location and gain access to sites or services that were geographically blocked.
Whether you want to watch your favorite shows when traveling abroad, get access to social media wherever you go, or just keep your personal information secure while browsing the internet, WeVPN could help you do so.
==>> WeVPN shut down in April 2023 due to "unforeseen financial difficulties."
What Happened To WeVPN?
WeVPN, a mid-sized VPN provider, shut down in April 2023 due to "unforeseen financial difficulties." The company had been in operation for just over two years, and had gained a reputation for its affordable pricing and good performance.
However, it was unable to compete with larger and more established VPN providers and struggled to raise funding.
Why Did WeVPN Shut Down?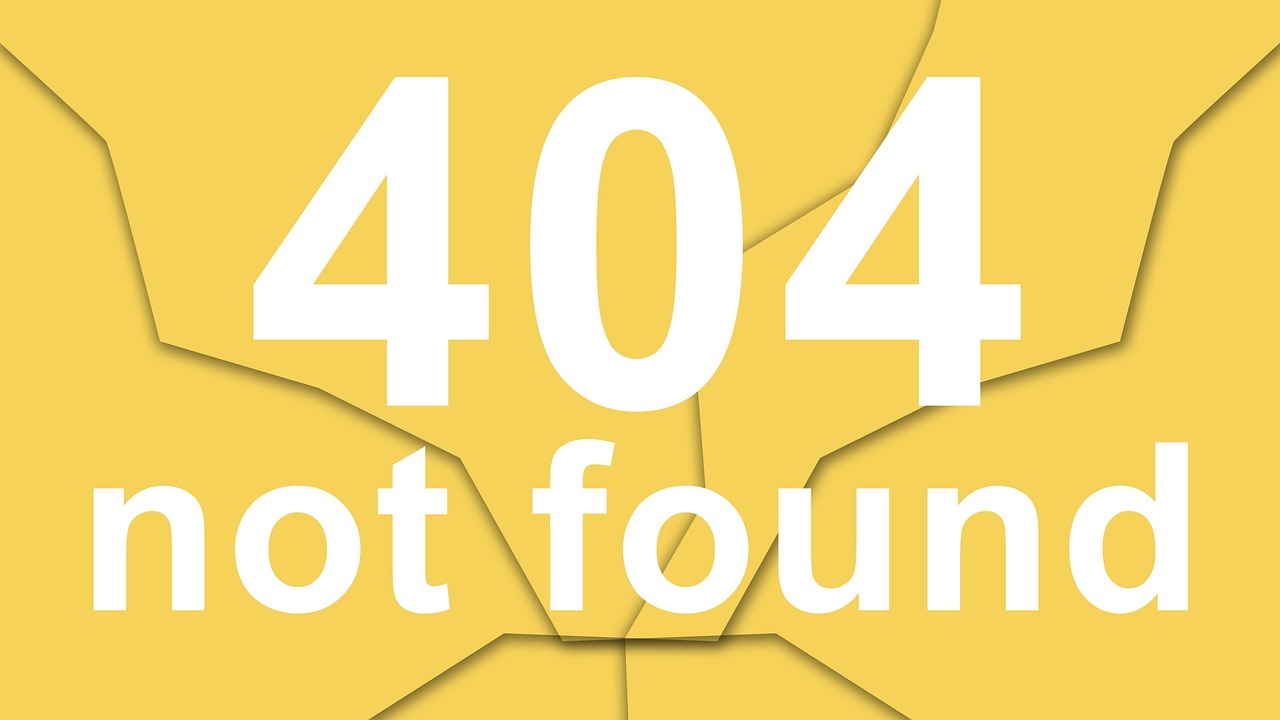 There are a number of reasons why WeVPN may have shut down. One possibility is that the company was simply too small to compete with larger VPN providers. These larger providers have more resources to invest in marketing and development and can offer lower prices due to economies of scale.
Another possibility is that WeVPN was unable to raise sufficient funding to continue operations. The VPN market is becoming increasingly competitive, and new providers need to be able to invest heavily in order to compete.
WeVPN may have struggled to attract investors, or may have been unable to raise enough money to meet its needs.
Finally, it is also possible that WeVPN was shut down due to changes in the overall VPN market. In recent years, there has been a growing trend towards consolidation in the VPN industry, with larger providers acquiring smaller ones. This trend may have made it difficult for WeVPN to survive as a standalone company.
WeVPN customers who still had active subscriptions at the time of the shutdown were offered free subscriptions to Windscribe, another VPN provider. Windscribe is a reputable company with a good track record, so this was a good outcome for WeVPN customers.
However, if you were a WeVPN customer and did not take up Windscribe's offer, there are a number of other VPN providers that you may want to consider.
Best WeVPN Alternatives
Here are the best alternatives to WeVPN:
Steps to Get Started
For only $2.59 per month, getting started was as easy as pie! WeVPN has simplified its startup process to make it possible for all categories of users to get started without needing any third-party or remote help. The steps below will get you started in no time.
Click

here

to get the best WeVPN plan.

Continue to the payment page

Create an account and choose a payment method.

Download and run the WeVPN client,

then

log in with your username and password.
WeVPN Key Features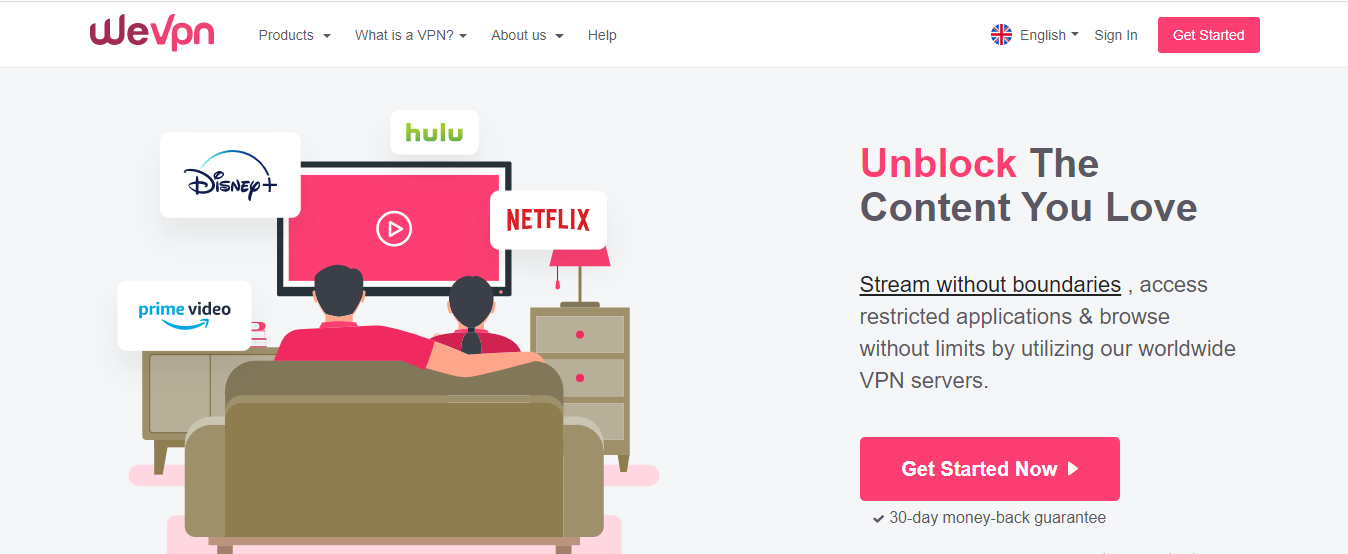 Intuitive user interface
WeVPN has captivating features with a simple user interface that makes it easy to navigate around its features like other top VPN providers. With WeVPN, you have a big centrally-placed auto-connect button that connects you to the fastest server; a menu icon that gives you access to VPN features; a current location drop-down button; IP address bars; download and upload speeds, and duration. 
WeVPN's user interface is quite basic: lacking some features, but simple enough to make navigating around its features a child's play.
VPN protocols
WeVPN essentially supports three VPN protocols: WireGuard, OpenVPN, and IKEv2. It is rather impressive to note that WeVPN supports WireGuard, the newest VPN protocol, which is not supported by many VPN providers.
WireGuard VPN protocol is the fastest VPN protocol available, although OpenVPN protocol also remains the industry's standard for its balance between speed and security. 
In summary, the three VPN protocols supported by WeVPN are the top choice VPN protocols in terms of speed and security.
Encryption technology 
WeVPN protocol uses AES-256 bit military-grade encryption technology—the industry's highest standard of encryption technology—to encrypt users' inbound and outbound data traffic. This encryption technology makes it impossible for VPN-encrypted data traffic to be intercepted and decrypted by unauthorized third parties, even when connected to unsecured public networks.
Servers and locations 
WeVPN has over a hundred servers in more than 48 locations worldwide, including 3 locations in Africa; a rare one at that. Interestingly, all WeVPN servers are streaming and P2P-optimized; hence, users can enjoy fast streaming and torrenting services. 
Simultaneous device connections
WeVPN allows up to 10 devices to connect to a single VPN account irrespective of the device type or OS. This is more than the number of devices permitted by some top VPN providers; kudos to WeVPN.
No-logs policy
WeVPN operates a strict 'no-logs' policy. Also, all its servers use RAM-disk server technology (servers with no permanent storage devices); hence, all data held on the RAM is wiped off at each server reboot. Also, it was headquartered on British Virgin Island, a country independent of 5-9-14 data retention policies. All these make WeVPN a true 'no-logs' VPN provider.
Kill Switch
WeVPN's Kill Switch technology performed well; it instantly cut off the internet connection. From close observations, immediately the VPN connection tripped off, its auto feature automatically reconnected to the internet once the VPN connection was re-established. I am glad to see WeVPN's Kill Switch working fine in all of our tests.
WeBlocker (WeVPN's Ad Blocker) 
WeBlocker outrightly blocked out 2/3 of ads; this is cool but not necessarily an impressive performance compared with top VPN providers. Therefore, I think it will be a splendid idea for WeVPN to improve on its Ad Blocker.
SmartDNS
WeVPN's SmartDNS lets you enjoy access to censored websites and geo-blocked streaming platforms without installing WeVPN's client. However, WeVPN stores your IP address while using this service. Hence, this feature is not popular amongst users who prioritize privacy over streaming or downloading.
WeVPN Review: Test Results
For this WeVPN review, we tested it based on different criteria.
Speed and Performance Test
Although WeVPN had a small number of servers, the servers were optimized for speed and performance. My speed test result came out particularly impressive; the UK server I tested had a whooping 135Mbps download speed, while servers in the US and Australia recorded 103Mbps and 78Mbps download speeds respectively, which was decent and consistent enough for downloading, streaming, torrenting, and gaming.
Streaming Test
Surprisingly, WeVPN was blocked on Netflix US, Australia, and Canada. It could not also unlock HBO Max. However, WeVPN unblocked tons of other streaming sites, including ESPN, Disney+, YouTube, Peacock TV, BBC iPlayer, ESPN, Sky Go, and ITV Hub.
DNS, IPV, and webRTC leak tests
In all the tests we ran on WeVPN, we did not detect DNS, IPV6, and webRTC leaks. This made WeVPN a reliable VPN that could protect your identity online.
WeVPN Apps
WeVPN supported more devices and OS types than a new VPN would. Device types and OS supported included:
Windows OS
Mac OS
Chrome OS
Linux (beta)
Android OS
iOS
Fire OS
Huawei
Fire TV
Android TV
Web browser Extensions

Chrome
Firefox
Edge browsers
WeVPN Customer Service and Resources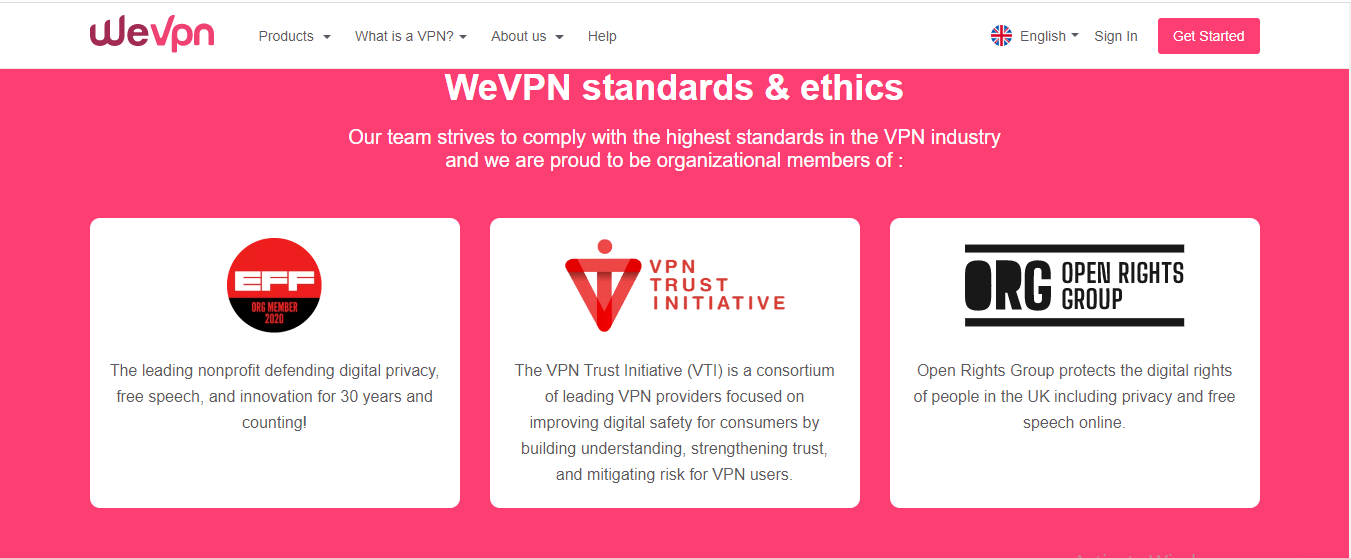 From our WeVPN review, I can say that WeVPN had a rich and well-categorized knowledge base and FAQ page that addressed users' issues and inquiries. It also had a 24/7 available live chat handle where you could easily reach out to a support member and a support form.
However, the response was slow, taking about 4-6 hours to get a response via email. In general, WeVPN had impressive customer support services, but it needed to include phone and email support to give users more options.
Note: WeVPN is no longer active.
WeVPN Pricing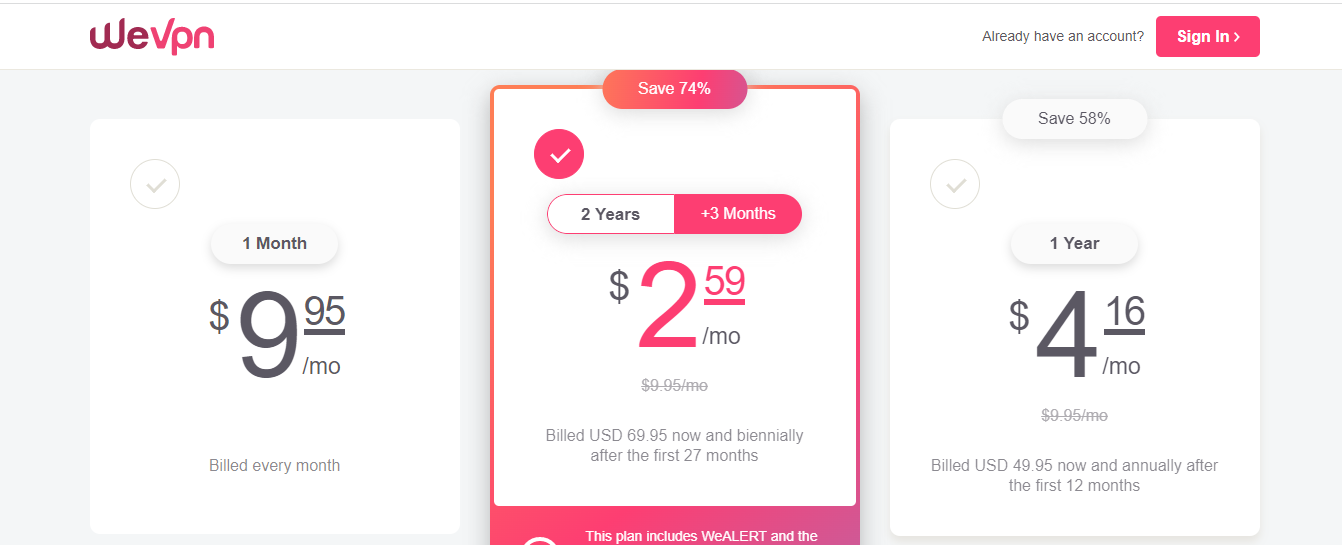 WeVPN has flexible and affordable pricing that gives users access to VPN services for as low as $2.59 per month for the biannual plan payable as a one-time sum of $69.95, which is renewable after expiration.
 Other plans include:
1 Year Plan: $4.16 per month, billed at $49.95 per year

1 Months Plan: $9.95
WeVPN offers a 30-day money back guarantee for its one and two-year plans.
Is WeVPN Safe?
As you can see from our WeVPN review, WeVPN was a 100 percent safe VPN service. It has a range of data safety and security features that ensures that your data and devices remain safe and protected even when connected to unsecured networks.
A Final Word On The WeVPN Review
As much as I would definitely commend WeVPN for its affordability, it does not work in China. It has proven difficult to unlock Netflix, and its WeBlock ad blocker does not seem to work well either. 
Nevertheless, it offers you great download, streaming, and torrenting speeds; plus, it can unblock tons of streaming platforms that include Netflix Japan and Netflix in some other locations.
Editor's Note:
The closure of WeVPN was a blow to its customers, but there are a number of other reputable VPN providers available. If you are looking for a new VPN provider, I recommend that you check out our list of the best VPN services to make a decision.
---
INTERESTING POSTS