Here is an unbiased VirusDie review. Read on.
Websites are susceptible to various types of cyberattacks by malware, hence the need for a robust cybersecurity solution to protect your website.
VirusDie web antivirus is one such solution, and in this review, we will examine what makes VirusDie standout as a website antivirus.
What Is VirusDie?
VirusDie is a cybersecurity solution that eliminates and secures your websites from malware attacks and website hacking using a Website Application Firewall (WAF), elimination and protection from malicious codes.
VirusDie manages your website and offers you protection by uploading a unique sync file to the website's directory, enabling VirusDie to connect to your web server over HTTP/HTTPS. This connection also enables VirusDie to upload its Firewall application to offer you real-time protection against cyberattacks.
==>>> Get VirusDie
How To Get Started
Getting started with VirusDie requires creating a VirusDie account by signing up on VirusDie's official website. The rest is easy with VirusDie's gentle learning curve; the steps below will guide you in getting started with VirusDie.
Log into your free or premium VirusDie account, go to your dashboard, and click on 'Website.'

Click on the Add button (+) and type  your website address 

Download VirusDie's sync file to the root folder of your website and turn on 'Automatic malware clean up.' 

Set the Automatic scan intervals and also enable VirusDie Firewall for complete protection.
VirusDie Key Features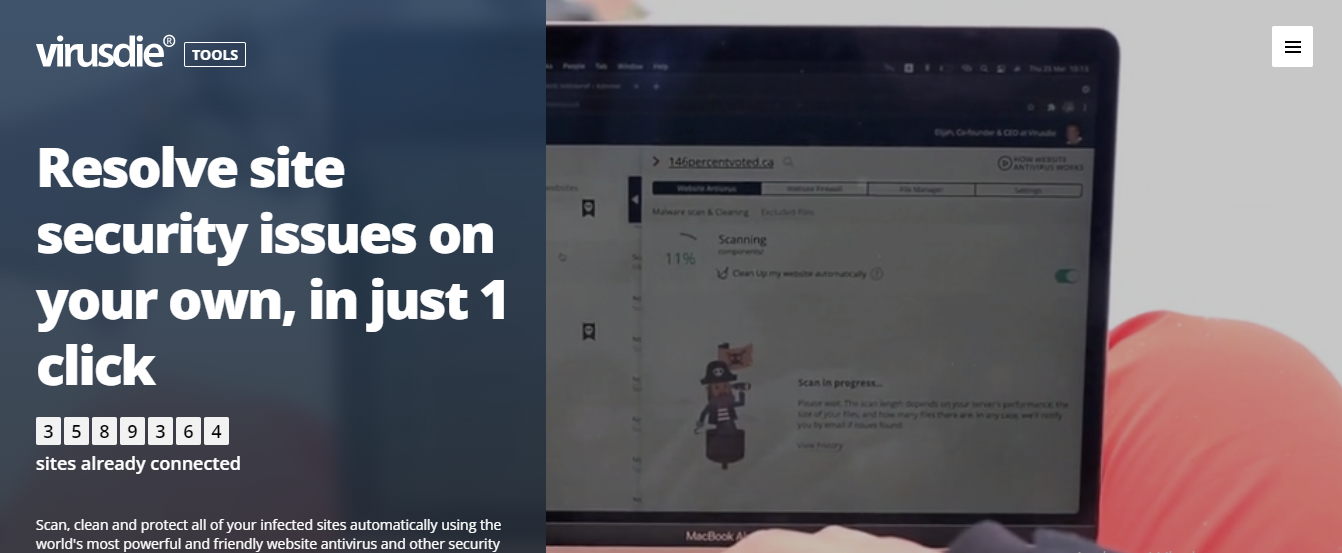 User-friendly Interface
One of the VirusDie features is its user-friendly interface. VirusDie has a well-structured interface that lets you easily manage your websites and tools from the dashboard without getting lost; navigation buttons on the dashboard are well-identified and easy to locate.
Overall, VirusDie's user interface lets you navigate easily and navigate protective features with a click, thanks to its centralized dashboard with all key features just a click away.
Antivirus and Firewall
VirusDie's antivirus and Firewall protect your website from cyberattacks, including DdoSDdoS, malware like viruses, trojans, backdoors, and other malicious codes. VirusDie performs automatic web scans and backup on your website at scheduled time intervals while its Firewall keeps out malicious data traffic. 
You can easily identify your website's scan status with VirusDie's color code: Red blocks indicates that your website is infected, while green blocks show that your website is free from infection, white if no infections are found on your website, yellow blocks indicate that your website is having an issue syncing with VirusDie, while Grey shows indicate a no scan activity.
Compatibility
VirusDie is compatible with a broad range of CMS, including  WordPress, Joomla, Drupal, DLE, ModX Evolution, 1C Bitrix, Yii Framework, OpenCart, CS.cart, PrestaShop, NetCat, UMI.CMS, HostCms, Amiro.CMS, Magento, CMS Made Simple, XenForo Forum, Codeigniter, PhpBB, Webasyst, Stressweb, DiafanCMS, Vtiger CR, koobi CMS, InstantCMS, VipBox, Sympfony, SimplaSimpla CMS, and more. This is an excellent range that ensures that you're covered irrespective of your CMS type.
Manual Search for Undetected malware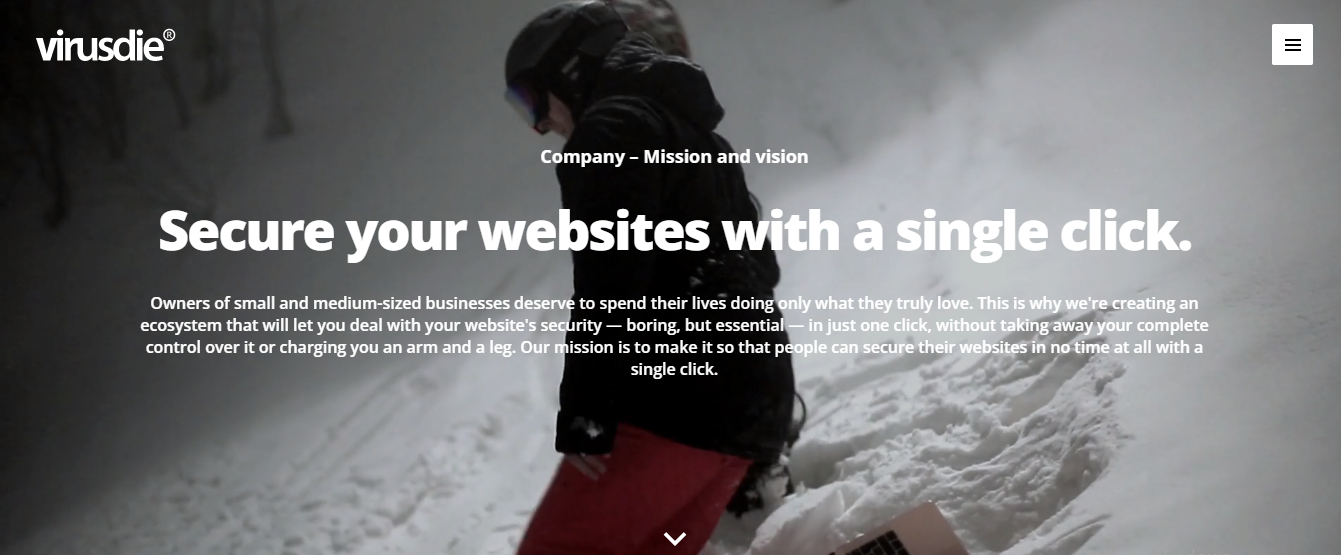 This is a useful feature that lets you report undetected malware to VirusDie's support team for manual search and action. VirusDie finds the undetected malware and archives it in their database for automatic detection and removal at no extra cost.
File Editor and Manager
VirusDie's file editor highlights files with malicious codes for analysis, editing, or removal. In the case of removal, you can easily restore such files from a previous backup with a single click. The File editor and manager also permit you to grant or revoke file permission and view all info about a particular file, including file size, paths, and modification dates.
Blacklist Monitoring 
VirusDie shows your website's blacklist status and helps you unblock it. You can also perform a manual blacklist check and send a whitelisting request with a single click.
VirusDie also scans and detects any internal issues and checks HTML pages, connected JavaScript files, and links that lead to phishing websites.
VirusDie Customer Service and resources
VirusDie's customer service is quite efficient, but I would like VirusDie to include LiveChat and helpline options to resolve customers' issues and inquiries rather than relying on the built-in ticket system and email support.
I was impressed with VirusDie's fast response and issue resolution via the built-in ticket and email support, although a LiveChat or helpline would have provided a faster alternative. 
VirusDie's help desk offers additional support via its well-structured knowledge base/FAQ, where you can look up issues similar to yours and get the best guide or solution.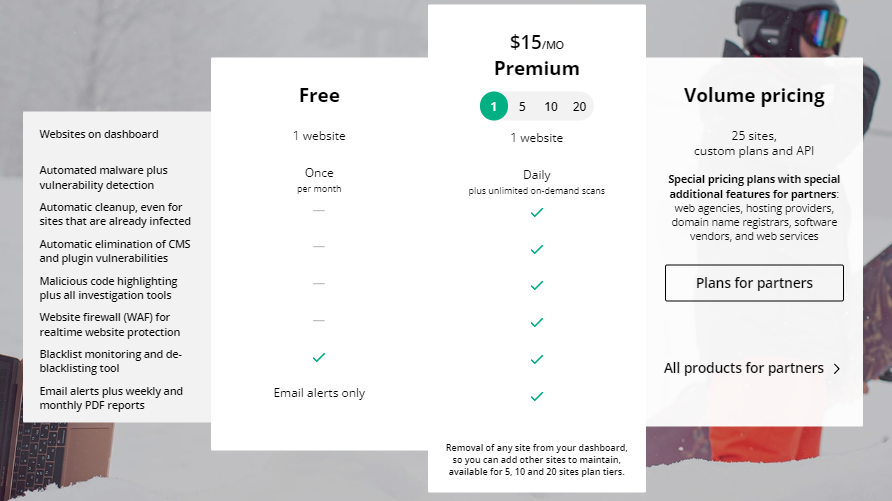 VirusDie offers two subscription types: 
Freemium for testing VirusDie before committing your buck to it.

Premium to offer you access to more of VirusDie's features and also enjoy a wide range of flexibility
The Premium price plan
1 website: $15 monthly 

2-5 websites: $49 monthly

6-10 websites: $98 monthly 

11-20 websites: $196 monthly
 VirusDie is more affordable compared with other cybersecurity solutions for websites, although I would have loved to see VirusDie introduce yearly plans and other flexible plan types. 
==>>> Get VirusDie
Is VirusDie Safe? 
VirusDie is safe for use; it offers robust website protection and data security, and VirusDie secures all websites information by transmitting information over an SSL connection.
A Final Word On The VirusDie Review
To wrap up this VirusDie review, I will say that VirusDie's user-friendly interface, powerful antivirus engine and Firewall, one-click solution, and affordable plan makes it a recommended cybersecurity solution for protecting your website(s) against malware, hackers, and other cybersecurity threats.
==>>> Get VirusDie
---
FURTHER READINGS