This CyberGhost Security Suite review tells you all you need to know about it. 
If you have no idea what it is or looking to know about it, well you are at the right place. Let's dive right into it.
What Is CyberGhost Security Suite?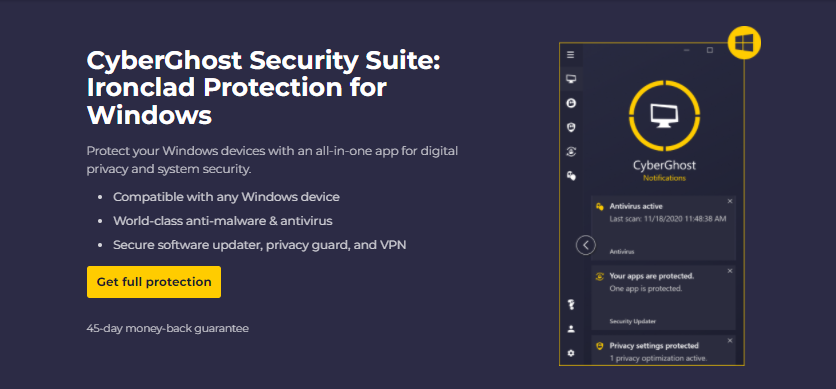 CyberGhost Security Suite is an easy-to-use, all-in-one security solution for Windows. It is a product of CyberGhost in partnership with Intego.
It is a CyberGhost VPN add-on that protects your digital life. Furthermore, it serves as an antivirus, a security updater, and a privacy guard that ensures user's system security, digital freedom, and data privacy.
How Does CyberGhost Security Suite Work?
CyberGhost Security Suite works as ironclad protection for Windows devices. It provides system security and digital privacy.
This CyberGhost VPN add-on performs three functions: it is an Antivirus that protects you in real-time from malware, adware, trojans, ransomware, spyware, etc. 
It is a Privacy Guard that protects your digital identity and gives you complete privacy control with the all-encompassing privacy dashboard. 
Finally, it is a Security Updater that alerts you of applications that need to be updated. This is because outdated apps are not as protected as updated ones.
How To Download And Install CyberGhost Security Suite 
CyberGhost Security Suite can only be downloaded and installed on Windows (32 and 64 bits). This is because it is made specially to protect Windows desktops and laptops from cyber threats. 
To download the CyberGhost Security Suite, 
Subscribe for the CyberGhost VPN

Visit the CyberGhost VPN online account then log in with your username and password.

Locate and click on the Download Hub.

Click on the download button in front of the Windows version.

This should begin the download. Once the download is complete, locate the installation file in the Downloads folder on your device.
To install the CyberGhost Security Suite,
Double-click on the downloaded file.

Select Agree & Continue if you agree to the Terms and Conditions or opt-out if you don't agree.

The installation should be completed in a few seconds. Once it is, the application will automatically start.
CyberGhost Security Suite Features
Compatible with any Windows Device
The CyberGhost Security Suite is compatible with all Windows (32- and 64-bit) versions. This includes Windows 10, Windows 8.1, Windows 8, Windows 7 (minimum SP2), and Windows Vista (minimum SP2).
World-Class Anti-Malware & Antivirus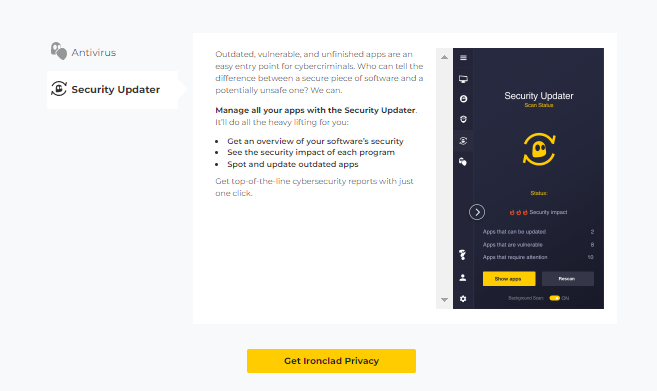 The CyberGhost VPN provides anonymity and digital freedom, but it doesn't safeguard your Windows devices from malware and viruses. This is why the CyberGhost Security Suite is needed because it serves as security against all cyber threats that can tamper with your online privacy and security. It is an antivirus that provides 24/7 protection against adware, trojans, malware, ransomware, spyware, and other threats.
When an application is downloaded newly, CyberGhost scans the app for vulnerabilities and informs you if any. I also scan all existing apps including games.
This add-on is the perfect sidekick you need for your Windows device. Windows devices are powerless against online attacks and so its users' online activities and personal information are exposed and can easily be hacked. CyberGhost Security Suite offers digital protection and protects users' digital identities.
Customer Support & Resources
The CyberGhost Security Suite users enjoy 24/7 customer support and resources. The CyberGhost support team can be reached via email or live chat, and in over 4 languages. 
There are detailed product guides and FAQs that are efficient in answering users' questions. There is also a provision that allows users to send a request.
CyberGhost Security Suite Pricing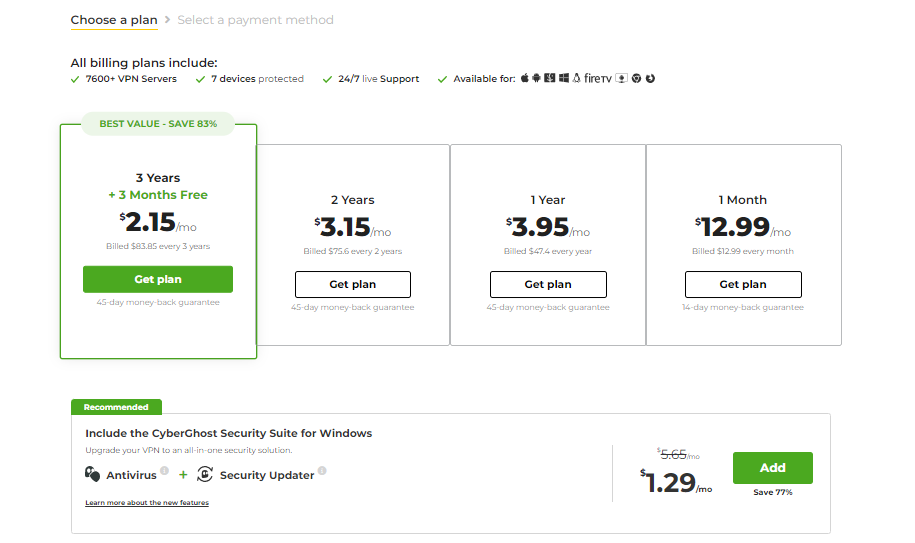 The CyberGhost Security Suite is available as an add-on to a paid VPN subscription. It is billed at $1.29 per month. So, you can add the antivirus package to your VPN plan.
Is CyberGhost Security Suite Safe?
CyberGhost Security Suite is safe. It protects your Windows device against cyber threats that may originate from unsecured networks, malicious apps, and websites. With a CyberGhost VPN plan, it provides you with unlimited security and privacy. 
Is CyberGhost Security Suite Legit?
Yes, the CyberGhost Security Suite is legit. It serves as a wall of defense against any form of cyber threats and protects your digital identity. Furthermore, it protects you from malware, trojans, adware, ransomware, and spyware.
Is CyberGhost Security Suite Free?
The CyberGhost Security Suite is not free. It is an add-on of the CyberGhost VPN and so to get it you will need to add it to your subscription.
I Already Have CyberGhost VPN, How Can I Add the Security Suite to My Subscription?
To add the CyberGhost Security Suite to your CyberGhost VPN subscription, you will need to update your subscription. To do this, log into your CyberGhost account and click on Subscription to update your subscription by purchasing the CyberGhost Security Suite.
Final Thought On The CyberGhost Security Suite Review
CyberGhost Security Suite adds that extra level of security and privacy that Windows users need to the CyberGhost VPN. No matter how vulnerable your network or applications are, it promises top ironclad protection.
If you didn't know about the CyberGhost Security Suite, now you do. If you found this helpful, please share.
---
INTERESTED POSTS