Are you looking for a parental control software to manage your kids' online activities? Qustodio is one of the best parental control app for this purpose.
This parental control software incorporates features for both parents and kids. Nonetheless, the quality is backed up with a price point. Relatively observing, let's quickly check what Qustodio is all about.
What Is Qustodio?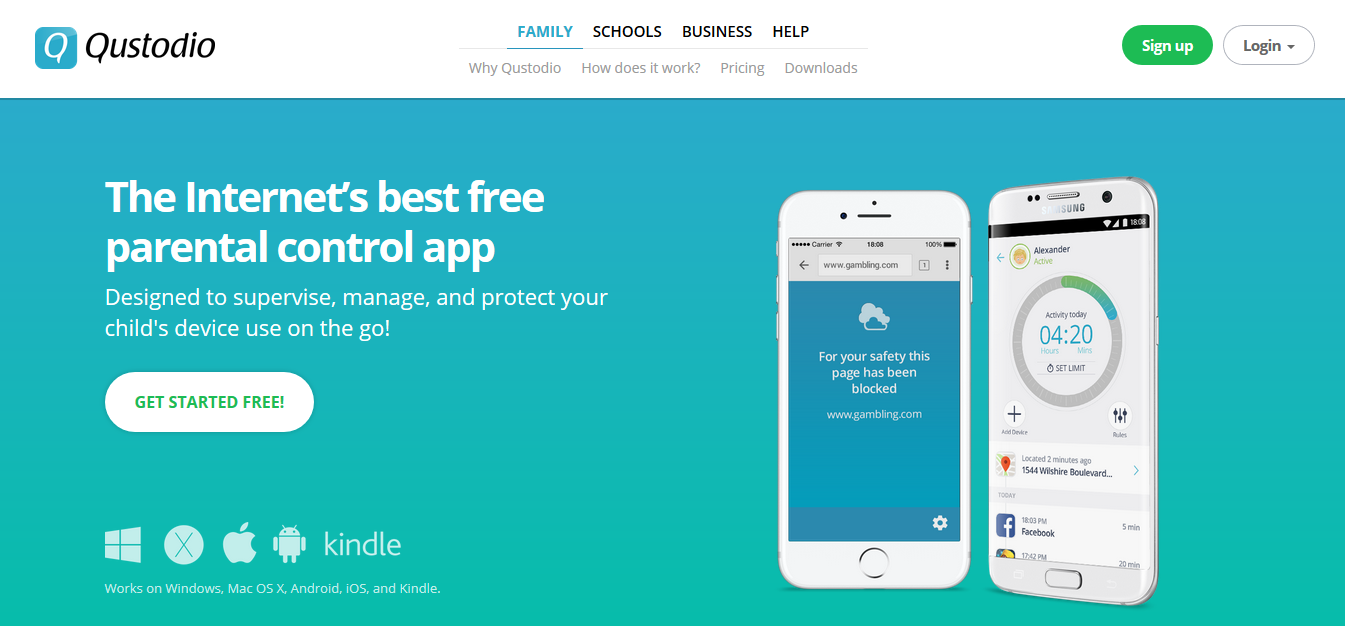 Qustodio is an easy-to-use parental control which can be used for different purposes. Unlike some other parental control software tools that only work on a family PC, Qustodio supports platforms such as Windows, Android, iOS, and Mac. The app keeps its performance at a high standard and boasts about its features, which include web filtering, robust app blocking, and an activity log. You can manage all operations and configurations through the tool's dashboard. Or better still, use the parent app.
One typical usage process of this tool is monitoring a device's activity. For instance, a parent can set up this tool in his or her child's device to control and monitor its operations. Notably, the app imposes a cost, which makes it pricey. The wide range of features possessed by Qustodio earned it the Editors' Choice award for parental control tools.
How To Set Up Qustodio
Upon purchasing a subscription, the app allows you to assign a local client on the device you wish to track. The Mac and Windows installation process will enable you to enable configuration settings for all accounts. It's up to you to do that accordingly or apply them separately.
Qustodio is very much available on Google Playstore and Apple store. You will be requested to select between a child or parent device when setting up. For a child device, you're required to make and assign it to a child profile – either a new or existing one. Considerably, there are some set of permissions that needs enabling on Android, and they include accessibility access, usage access, and device-level access. Additionally, you have to configure it as an admin app.
The benefit that this last process brings is ultimately satisfying, as your kids are denied the privileges to uninstall this app. The admin app, which is Qustodio, acts firmly on the device; attempts made to remove the app will fail. The only way to go about it is to put down the parent password.
Having gotten the ideology behind this tool, this takes us to the benefits obtained by using this parental control app.
Benefits Of Qustodio
Typically, if you were to mention a benefit of this app, you would say it does well with the device managing. Very accurate, however, still broad enough that it contains some underground advantages. In no time, let's consider them.
Web Filtering
Qustodio, in default mode, blocks content from the ten categories, of which some are – drugs, pornography, gambling, and violence. Also, among the 19 groups is Social Network and File Sharing, parents use this feature to polish web content filtering. Users with experience wished each category contains small details, but most of them are self-explanatory. Additionally, there are other options for uncategorized website blockage, Safe Search imposing, and notification opting when it restricts a site.
Qustodio is not depending on a browser, which means kids cannot install other browsers with the hope of avoiding parental control. It works just fine with any installed browser. The mentioned app also blocks HTTP content that carries a ban, meaning your kids will find it challenging to use proxy settings on it.
Time Usage Limit
With Qustodio, you can set up a weekly schedule that defines the operating hours your kids use on their devices. Plus, you can modify the settings by adding an increment or decreasing the time limit. Also, it has an option to set maximum daily usage. Note that tweaking the system does not, in any way, affect the usage limit. However, you can disable per-device settings if you wish to limit the overall screen time.
While the app is designed to block internet access when the set time is over, you can also lock down the entire device upon the expiration of the allocated time. There's an option that notifies you when your kids reach the limit.
Whenever your child launches an app, it displays in the activity feed. A restricted app tells the child that it has been blocked. With just a simple yes/no control, parents can restrict device usage in only one click.
Location Exposing And Social Monitoring
Qustodio dedicates a tab for social media monitoring. Unfortunately for the parents and interestingly for the kids, it only tracks activities on Facebook. The track plug-in activates once your child logs in to Facebook on a device. After that, it indicates and submits reports, even if logged on other devices.
Provided that you have your child's credentials, it is possible to do the setup from your end. Qustodio acts smart towards a device monitoring. A child can't get through to their Facebook accounts when the plug-in is disabled or removed. However, it has a significant limitation, and that is its inability to monitor Facebook messenger.
Qustodio Features
The features of Qustodio are as straightforward as they mean. Nonetheless, they are listed as follows:
Inappropriate content blocking
Screen time balancing
Calls and SMS monitoring
Games and apps management
Panic alerting
Location tracking
Social network monitoring
Pricing Plans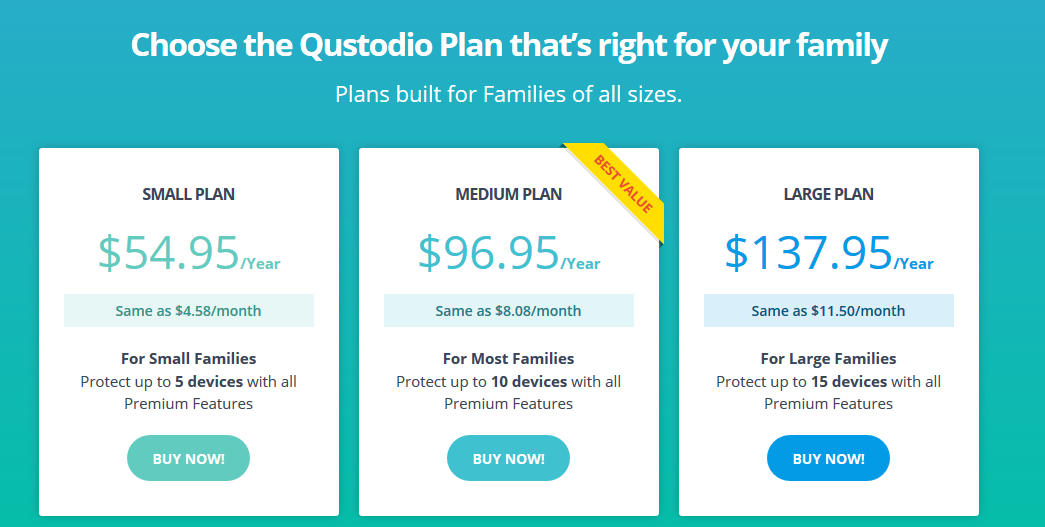 Considering Qustodio cost, it is high for family settings, but also offers a permanently free option. The free version keeps the activity history of seven days. You can also get access to the basic features.
The app structured its paid version in a way that its deliverables are different. The family size has coverage of Small (five devices, Medium (ten devices), and Large (fifteen devices). The costs for the above subscription are consecutive $54.95, $96.95, and $137.95. Possibly distinguishing this from the free plan, they offer an increased range of services rendered, with a lot more benefits. Some pros include 30 days of activity history, location tracking, and application-based time restrictions.
Notably, this deliverable is just a slice of the cake. Qustodio for school makes sure students use school computers effectively. The one for business ensures that employees are working, and not messing around with their devices, so are both plans similar to Qustodio for families. What distinguishes them is the price point.
Download Qustodio
Customer Support
Here, the company offers just one method of customer support. Customers reach out to them through a ticket submission page. Inasmuch, in the company's words, they make a response within 1-2 business working days.
Sincerely, the only odd part about this is the small note at the bottom of the contact page, which states that premium users get priority response. Honestly, this seems a bit awkward, as it looks like a tactic to get customers to prioritize their paid plan.
Bottom Line
The name – Qustodio may sound funny, but its performance is outstanding when it comes to monitoring your device. The apps sure know how to outsmart every move made by users to avoid the restrictions placed. For optimality, its usage stretches across various platforms.
In addition, this parental control software has a well-designed and easy-to-navigate dashboard with an extensive feature list, a stable UI, and an excellent performance. Of course, the price point is a bit high, but rest assured that you will be contentedly served. If you're looking for an excellent parental control app, It's high time you descended from the fence and pick a side – use Qustodio.
RELATED POSTS