In this post, we will show you a review of Kaspersky Antivirus.
Kaspersky is one of the best anti-viruses in the world, with more than 400 million downloads. Kaspersky has a 20-year record as the most preferred choice of antivirus for fighting malware and cyber-crime.
In 2018, Kaspersky participated in 88 independent reviews. Of these reviews, Kaspersky won 73 first places and was among the top three preferred Antivirus in 77 independent reviews.
Based on proven tests conducted by several labs on the efficiency of Kaspersky's features, this Antivirus comes in highly recommended as an efficient security tool for fighting malware and cybersecurity issues.
Going through this review of Kaspersky Antivirus, we will examine Kaspersky's antivirus features in detail and what makes it stand out amongst other Antivirus programs. To give you more knowledge about this security software, check out this Kaspersky Antivirus review.
What is Kaspersky Antivirus?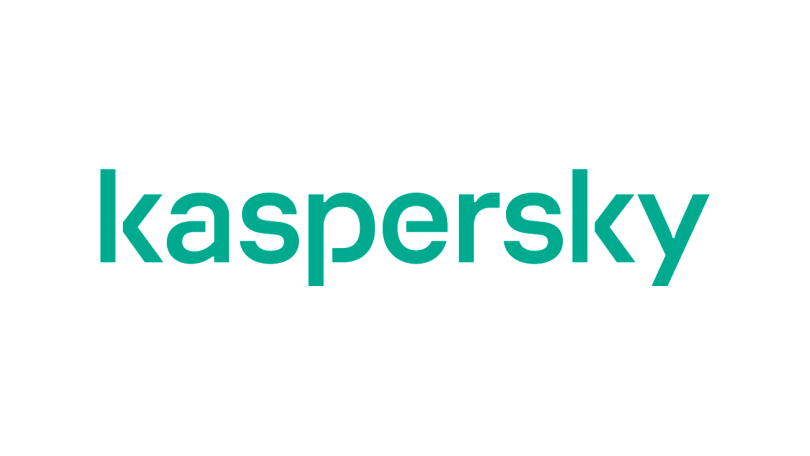 Kaspersky Antivirus is an antivirus protection solution that protects your computers from virus attacks and other threats that may result from internet usage or other forms of usage.
Kaspersky is a cyber-security company founded in Russia in 1997. Kaspersky combines its expertise in 'deep threat intelligence and security to provide evolving security solutions for homes and private users, corporations, and governments. Presently, over 270,000 corporate organizations subscribe to Kaspersky's total security solution.
Of recent, Kaspersky migrated its headquarters from Russia to Switzerland, and also opened a 'Transparency Center' to help serve its teeming clients better.
Benefits of Using Kaspersky Antivirus
Kaspersky offers a comprehensive security solution for individuals and corporate bodies alike. Below are some of the benefits you can get from Kaspersky's 'Total Security' protection.
Malware Protection
Kaspersky's total security solution is one of the best malware-protection programs you can use as an individual or a corporate organization to protect you from malware like a virus, spyware, Trojan horse, worms, and a host of others. Kaspersky antivirus offers you protection against existing, new, and evolving threats.
Kaspersky searches through your system and the cloud for malicious files and activities, and also checks your system security for vulnerabilities. Hence Kaspersky performs a total scan on your system without your data and reducing system performance
File security and protection
File infection spreads quickly through file sharing. Kaspersky antivirus protects your file servers and networks from infections that can spread rapidly through your network.
Internet security
Kaspersky Internet Security protects you from several harmful programs on the internet and ensures you enjoy a more secure internet connection. Also, Kaspersky protects your internet gateways and also secure the data traffic flowing through the internet gateway. Therefore, with Kaspersky, you enjoy a 100% internet protection online and offline.
Identity Protection
Kaspersky antivirus protects you from Phishing, spamming, and other hacking techniques. Therefore, Kaspersky protects your identity and blocks loopholes through which attacks can be launched against your system.
Access Control
Kaspersky provides control features for IT teams for managing devices, applications, and internet usage. Hence Kaspersky gives your IT team control over access permissions granted to systems and also controls internet usage amongst your employees.
Reduced costs on IT
Kaspersky's control feature is a powerful tool for reducing IT and administrative costs. Kaspersky has the capabilities of performing automatic hardware and software inventories, scanning, and providing patch updates to the software. This feature offers relief for growing businesses and helps saves time, energy, and financial resources needed for IT management.
Key Features of Kaspersky Antivirus

Kaspersky Antivirus offers users maximum protection irrespective of the Windows OS. Users enjoy a variety of Kaspersky's security features, some of which are discussed below.
Easy to use user interface
Kaspersky Antivirus is user-friendly with a simple installation process that takes less than 20 minutes to install. After the installation process, you fillup the questionnaire section, select your country and accept Kaspersky's terms of usage.
Kaspersky features a simple, user-friendly panel rich in features. The dashboard displays your computer's status as either a green check for complete protection or red 'X' for vulnerable status.
In the case of vulnerability, Kaspersky shows you what to do from its dashboard to enjoy 100% protection.
On the dashboard, you have features like 'Scan,' 'Parental control,' expiration date, password manager, etc.
From the dashboard, you can perform a full system scan, which usually lasts less than an hour. Kaspersky system scan does not reduce your system's performance in any way. Hence you will not experience a significantly reduced performance while scanning your system.S
Kaspersky's Scanning feature
Kaspersky's scanning feature offers you three options to choose from based on your system's needs.
Full system scan
Quick scan
Customized scan: you can choose to perform selective scans of files and folders, or scan external storage devices.
You can also set up Kaspersky's automated scheduled scan to scan your system at a scheduled time interval.
Protects your Data
Kaspersky antivirus protects your data from file virus, email virus, network virus, instant messaging viruses. Kaspersky launches an application launch control, firewall, network attacks blocker, etc. to protect you from all types of threats, some of which were listed above.
Password manager
Kaspersky's password manager allows you to assign a master password, generate logins and passwords that are crack-resistant, etc. It also stores all passwords in a specific file location, e.g.external drives, etc. Kaspersky's password manager also enters saved passwords automatically in the needed field.
Data encryption                                                                                                                          
Kaspersky needs to encrypt data since it deals with a lot of customers' data. E.g., Kaspersky's password manager stores password in password-protected folders. The data stored in the folders are also encrypted and accessible with the right password.
Safe Money
Kaspersky's safe money feature protects your financial transactions. It launches a secure browser for carrying out safe financial transactions. Hence safe money protects you from phishing attacks, spamming, malware attacks, and all types of attacks targeted at stealing your financial data.
Kaspersky's Network Monitor
Kaspersky's network feature allows you to monitor networks for suspicious activities. Network traffic is represented by incoming and outgoing traffic on each computer of the network. You also get a report of data processed by specific application processes.
Reliability and security
Users enjoy total Protection from Kaspersky antivirus. Some of Kaspersky's protection features include the following:
File antivirus
Mail antivirus
Web antivirus
Proactive and evolving protection
Performance
Kaspersky antivirus can detect viruses dwelling in your system without attacking any files. Tests and product reviews observe that users experience less than 10% reduction in performance. This is insignificant compared with the performance of other antiviruses.
Ransomeware detection and blocker
Kaspersky has a ransomware detection feature to detect and block ransomware camouflaged as a useful tool on your system.
Intelligent Firewall
Kaspersky has a smart Firewall that actively blocks internet attacks without showing alerts or prompts. Also, Kaspersky URL filtering protects you from accessing malicious URLs with a warning. However, you have an option to 'Continue to the website.'
Kaspersky 2019 Pricing Packages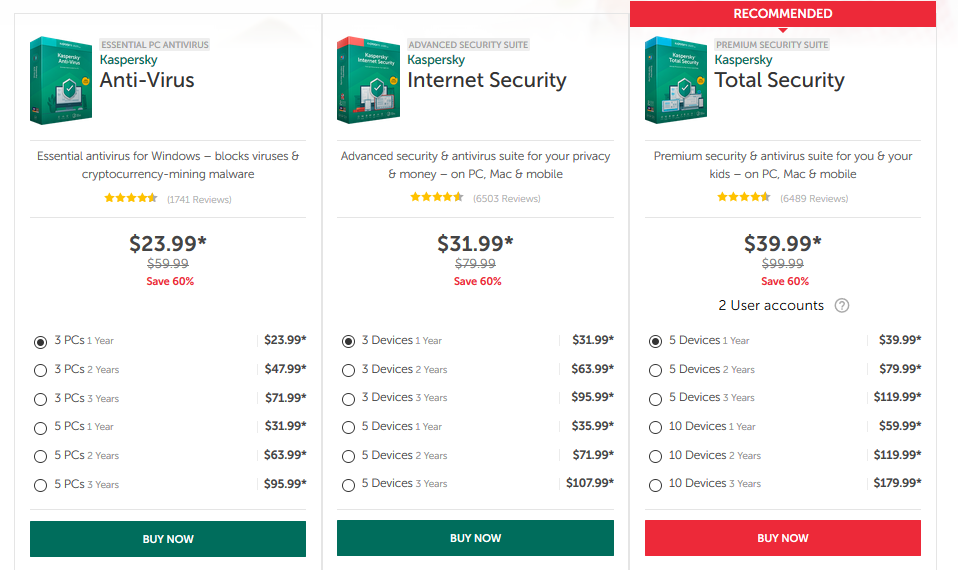 Kaspersky offers users robust plans to suit their needs. To enjoy complete Protection from Kaspersky, subscribe to any of the 'Total Security plans.'
Below are tables of Kaspersky's pricing
Single User account – $31.99
Yearly plan
1PC/yr. $19.99
3PCs/Yr. $31.99
5PCs/Yr. $41.99
2years plan
1PC – $35.99
3PC- $57.99
5PCs – $74.99
2. Kaspersky Internet Security
single user account – 42.99
Yearly plan
1PC/yr. $32.99
3PCs/Yr. $42.99
5PCs/Yr. $54.99
2years plan
1PC – $59.99
3PC- $77.99
5PCs – $98.99
Single user account – $48.99
Yearly plan
1PC/yr. $36.99
3PCs/Yr. $48.99
5PCs/Yr. $59.99
2years plan
1PC – $64.99
3PC- $87.99
5PCs – $106.99
Support
Kaspersky offers comprehensive customer support for clients experiencing technical issues. You can reach out to Kaspersky's customer service center via social media handles and live support.
You can also join Kaspersky's forum where you can share ideas and challenges, if any. Also, you can watch video tutorials on Kaspersky's help and support page to guide you through setting up and using Kaspersky antivirus.
Setting up Kaspersky antivirus on Windows PC
Download Kaspersky antivirus installer from Kaspersky's home page
Using the installer, download and install Kaspersky Antivirus on your system
Select a premium service from the dashboard
Register and subscribe to any of Kaspersky's plan using a payment option of your choice.
Enter the license key provided
Kaspersky's free trial works well for 30 days, after which you have to subscribe to any of Kaspersky's plan to continue enjoying Kaspersky's Protection or uninstall Kaspersky from your system.
Technical Details
Kaspersky works well on all major OS platforms like:
Windows OS
Linux OS
Mac
iOS
Android
Web-based
You can use a single account across multiple OS platforms. Hence subscribing to more three and above devices for a year or two years plan is the best bet for keeping your devices safe all-round the clock.
Subscribing to Kaspersky also gives you access to VPN, but with a limited bandwidth of 200MB. You can subscribe to Kaspersky's premium VPN services to enjoy unlimited bandwidth.
Language support
Kaspersky is available in 5 major languages
English
Dutch
Polish
Turkish
Swedish
Conclusion
Kaspersky Security is one of the most trusted names in the cyber-protection industry that offers 'total security' to subscribers. Users also enjoy a wide array of Kaspersky's features aside basic protection from threats and attacks.
RELATED: