In this post, we want to take a look at the PassHulk password manager. Read on for the PassHulk review.
Passwords are annoying due to the stress of creating and remembering passwords for various accounts ranging from email to Netflix, yet they are needed to secure our digital life, hence the need for a robust password manager.
There are several password managers, but the review will focus on PassHulk, its features, ease of use, compatibility, pricing, and other info you need to know about PassHulk.
What Is PassHulk?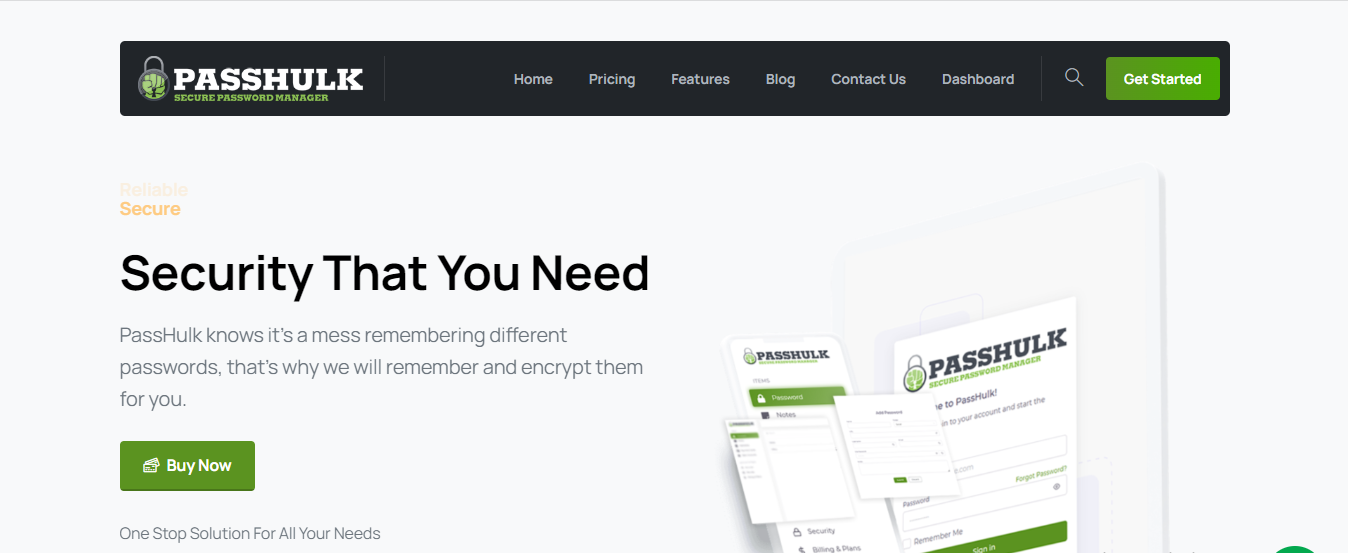 PassHulk is a password manager that can generate, store, and manage passwords and other digital credentials. 
In addition, PassHulk encrypts and safeguards your passwords and other sensitive credentials like credit card details, bank account details, SSN, Licenses, and other Personally Identifiable Information (PII), using the AES encryption protocol (the strongest encryption protocol in use today).
PassHulk users enjoy a user-friendly personalized interface for managing passwords and other stored data. You can choose your password storage location from your dashboard, create and organize your data into separate folders, and do much more. 
When signing up, PassHulk suggests robust Passwords and also prompts you to save new passwords, thus saving you the stress of writing down passwords or manually saving your passwords in a notepad.
How To Get Started With PassHulk
PassHulk simplifies its signup process for new users, and in a few simple steps stated below, you can get started with PassHulk.
Click

here

to get the best PassHulk plan

Choose a preferred subscription plan and fill in your payment details

Get your username and master password, log in to your dashboard and start managing your passwords and other online credentials.
PassHulk Key Features

Security features: AES-256-bit encryption and Secure Remote Password Protocols
PassHulk uses the AES 256-bit military-grade encryption protocol to encrypt and safeguard all users' passwords and online credentials. As a first-time user, PassHulk generates a one-time secret key to access your PassHulk vault the first time you log in. This key will not be required for subsequent logins. 
PassHulk uses the Secure Remote Password (SRP) protocol to store passwords, secret keys, and other online credentials and keep them safe from hacking and interception. Hence, there's no way that hackers can intercept passwords sent to PassHulk's servers.
Multiple Vaults
With PassHulk, you can create multiple folders to manage your online credentials. You can create folders for personal, work, family, banking, and social media credentials for easy organization, storage, and management.
Data Breach Scanner 
PassHulk's data breach scanner notifies you of passwords susceptible to attacks. Such passwords can be weak or used passwords. This feature also monitors the internet and notifies you of any password breaches.
Aside from monitoring passwords, PassHulk's data breach monitoring also monitors your credit card details and notifies you when your credit card is nearing expiration. I love this feature because it keeps me updated about the state of my credit cards without posing any security risk to my credit cards.
Manage Passwords from multiple devices 
Aside from your native device, you can log in to your PassHulk account from other devices, platforms, and OS. Whether you're on the go, you can manage, edit, or store passwords across multiple platforms irrespective of where you're.
One-click Logins
With PassHulk, you can log in to multiple accounts with a single click; hence, you do not have to go through the pains of remembering password credentials for various websites or platforms.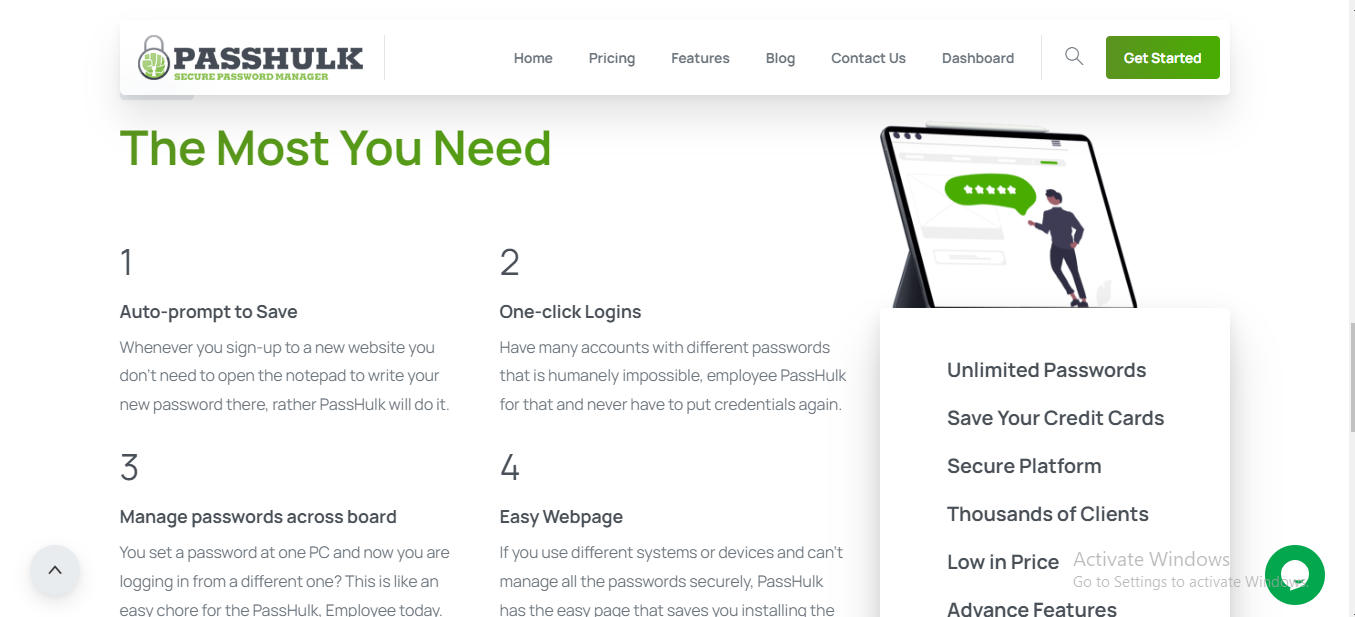 PassHulk Apps
As at the time of writing this PassHulk review, I observed that PassHulk has an app for Android device users only. 
However, other users can enjoy PassHulk's web-based version; although this is disappointing, I would like to see PassHulk support other device types and platforms, including Windows, Mac, iOS, and Linux. 
Nevertheless, PassHulk integrates with most websites, apps, and platforms, including Google, MailChimp, Amazon, Spotify, PayPal, Facebook, and Airbnb, to save and manage passwords and fill up forms.
PassHulk Customer Service and Resources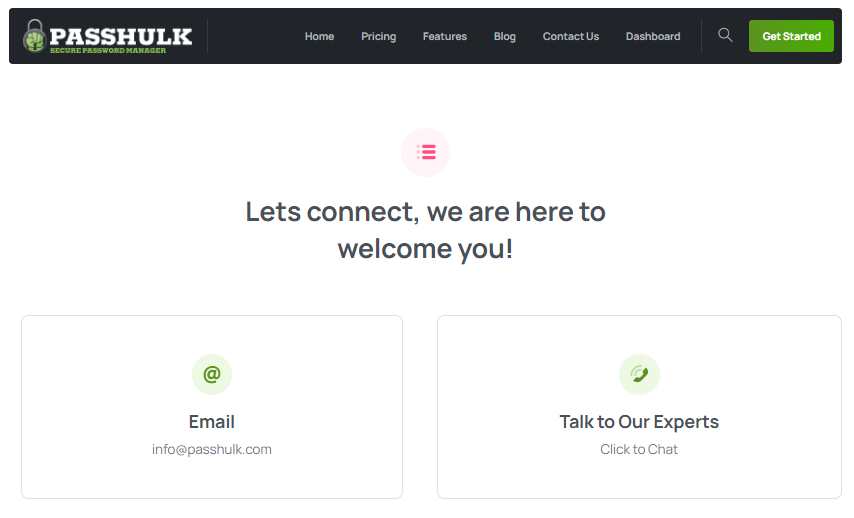 Overall, for this PassHulk Password Manager review, I will say that I am impressed with PassHulk's customer service. I got an instant response when I contacted PassHulk's customer support via their LiveChat feature; also, the customer support staff was friendly and professional, taking his time to answer my questions and inquiries. 
Although support via PassHulk's email channel is not instant like the LiveChat feature, I got a satisfactory reply within 4 hours, which is an impressive response time via email considering the number of email-based inquiries pouring in.
PassHulk Pricing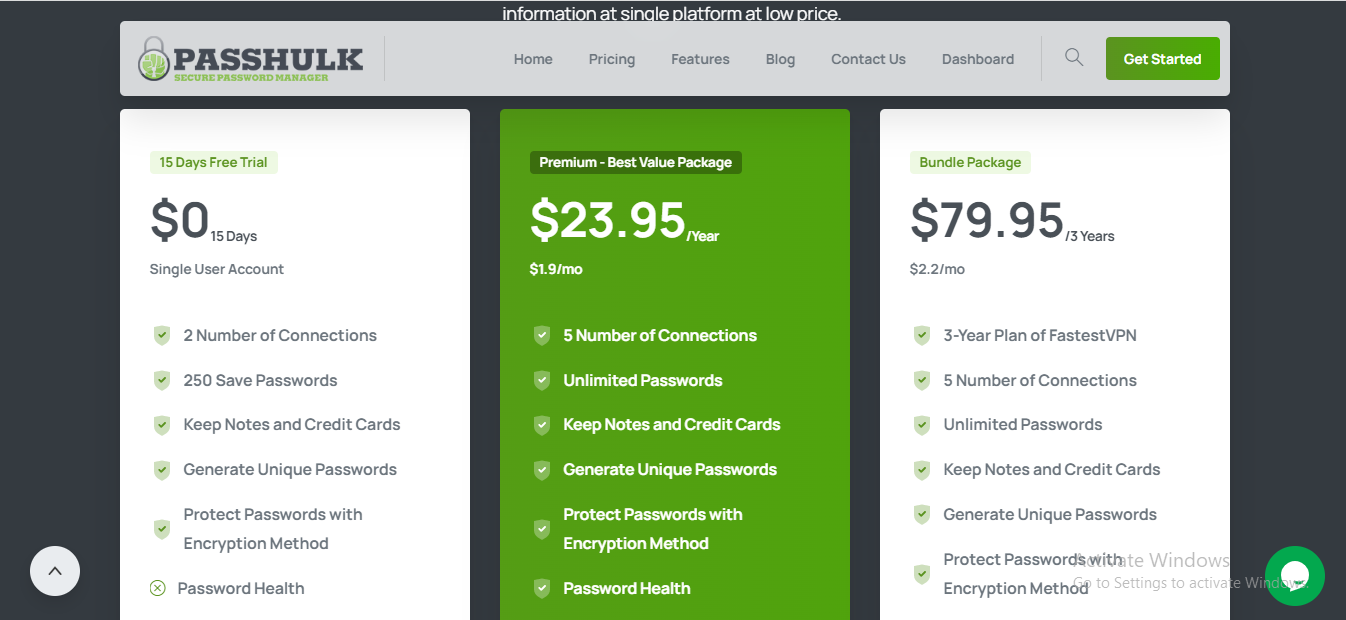 PassHulk offers 3 subscription tiers for prospective users:
Free Trial: Users can try out PassHulk for free for 15 days. This free plan offers users 2 Numbers of connections, 250 password storage, password encryption, data breach monitor, and much more.

Yearly plan: for $23.95 per year, users can enjoy access to 5 connections, unlimited password storage, notes, credit card storage, password health, and other features.

3-year plan: for $79.95 for three years, users enjoy all the benefits available to other PassHulk plans in addition to a free, 3-year FastestVPN plan
For all plans, users enjoy a 15-day trial and 30-day moneyback guarantee. This is a fair deal considering that you have 15 days to try out PassHulk, and also get your money back within 30-days if you feel PassHulk is not for you.
Is PassHulk Safe?
PassHulk is absolutely safe; it uses a range of robust security features like military-grade encryption and Secure Remote Password Protocols to secure, protect, and manage your passwords and online credentials. 
A Final Thought On The PassHulk Review
It will be ideal to conclude this review by mentioning some of the PassHulk password manager features that make it an outstanding password manager; such features include:
Unlimited password storage

Military-grade encryption and Secure Remote Password protocols

One-click login

Notes and credit card storage

Auto-filling 

Multiple vaults 

Save password Auto-prompts 

Online shopping support

24/7 live support
In concluding this PassHulk review, I will give PassHulk a 5-star rating and recommend it as a secure password manager for storing and managing passwords, banking credentials, credit card details, notes, and other online credentials.
---
INTERESTING POSTS