Today, we will review the IOLO Malware Killer. It is coming under our radar for its radical malware removal technology, which utilizes the heuristic algorithm and Proprietary Scan Cloud technology for scanning, detecting, and removing new malware in suspicious file scans. 
What Is IOLO Malware Killer?
IOLO Malware killer is a malware removal engine developed by IOLO technologies. It is available as a standalone malware killer and as part of the System Mechanic Ultimate Defense suite, formerly known as Phoenix 360. 
A distinguishing feature of this useful tool is its compatibility with other antivirus engines. This feature lets you retain your favorite antivirus on your computer while allowing the IOLO malware killer to find and remove malware that may have escaped detection by the traditional antivirus software on your system.
How IOLO Malware Remover Works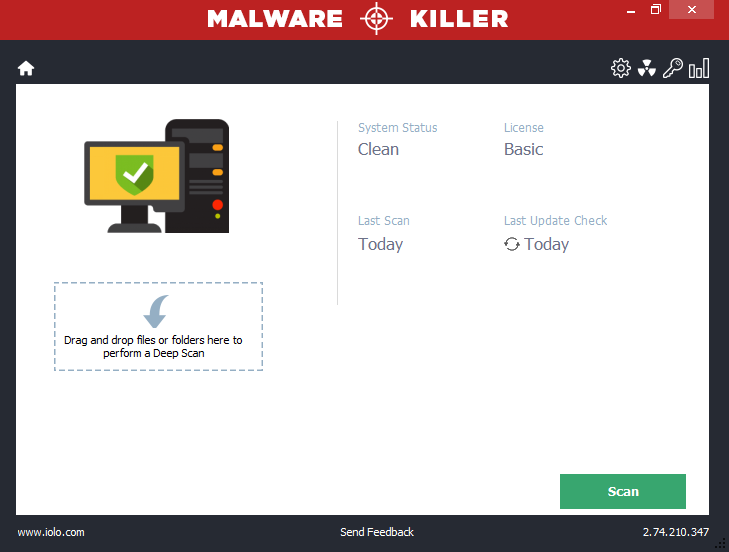 IOLO malware killer runs on both 32 and 64 bits systems as a standalone software or as part of System Mechanic Defense suite. The malware killer efficiently finds and removes viruses, worms, Trojans, spyware, and other malware from your computer using heuristic malware detection methods. 
In addition, its heuristic algorithm can recognize and detect harmful commands by scanning the commands used in files on your computer. 
This makes it highly efficient in detecting new threats when compared with the traditional signature-based antivirus engine that detects malware by comparing malware signatures with a database of known malware signatures. 
IOLO malware killer sends suspicious files to its proprietary Scan Cloud Sandbox, where suspicious files are scanned for potential risks before removal from your computer.
IOLO Malware Killer Features
Heuristic algorithm:

It uses the heuristic malware detection algorithm for efficient malware removal

Proprietary Scan Cloud:

It sends suspicious files to its proprietary scan cloud for identification and profiling of new threats

Reduced detection time:

It scans your files faster using the heuristic algorithm than traditional antivirus engines, which uses a signature-based algorithm to scan your files. 

Detecting unknown threats:

It can detect threats that have managed to evade detection by traditional antivirus engines, thus ensuring that your computer is free from threats. 
Pricing Plans
Annual Plan
The yearly plan offers users a one-time payment option of $199.95 per year or a 12-month payment plan at $14.95 per month and a one-time setup fee of $30 
For the annual plan, subscribers enjoy unlimited troubleshooting and support for a single computer.
Basic Repair
Users can enjoy one-time troubleshooting and support for $99.95 for a single computer 
Available at $19.96, users enjoy as much as 20% discount and a wide range of credit card payment options, including DISCOVER, American Express, MasterCard, and Visa.
System Requirements And Compatibility
Processing speed: No specific processing speed

HDD: minimum of 65 MB storage space

RAM: minimum of 512 MB 

OS: compatible with Windows 7, 8, and 10

Connectivity: requires internet connection 

Account: Admin user account
Support Details
Users enjoy 24/7 customer service and technical support from IOLO customer service personnel. Hence, users can contact IOLO on the toll-free line: 1-877-857-9280 for users in the US and Canada.  
FAQ Page: IOLO's FAQ page offers users solutions to a variety of technical issues. 
Online support: Users can get help for downloading, licensing, installation, and adding time, all from IOLO online support
Wrapping Up…
IOLO Malware Killer is an efficient malware remover that frees your PC from malware infection and boosts your PC performance, thus offering you more value for your money. 
RELATED POSTS