Read on for the NetNut Proxies review…
In the digital age, data is the new gold. Businesses, researchers, and marketers all require extensive data to remain competitive and informed. NetNut is a service designed to facilitate this process.
It is a residential proxy service provider, designed for a wide range of users, from digital marketers to data analysts, aimed at providing secure, fast, and reliable web scraping and data gathering capabilities.
NetNut Products

Rotating Residential Proxies: With an impressive range of over 52 million auto-rotating proxies,

NetNut

ensures users can enjoy unlimited sessions without the worry of IP blocks, providing a smooth web browsing experience.

Static Residential Proxies: This service offers over 1 million undetectable static IPs that are available 24/7. The benefit here is the ability to hold "forever" website sessions without disruption.
Mobile IPs: NetNut offers a wide range of over 250,000 mobile IPs from top carriers. This service ensures full online anonymity and security and enables users to bypass geographical restrictions easily.
Datacenter Proxies: These are blazing-fast US proxies that offer an incredible 99.99% uptime. They also offer high scalability for optimal performance, making them a reliable choice for business operations.
Each product in NetNut's suite has been thoughtfully designed to cater to various needs, providing a comprehensive proxy solution for a variety of online tasks, from data scraping to secure browsing.
Features
NetNut offers a host of robust features, the cornerstone being its vast network of over 52 million residential proxies. This extensive network provides users with a high level of anonymity and security, minimizing the risk of being blocked or blacklisted.
One standout feature is the direct ISP connectivity, which allows for superior speed and performance by eliminating the need to route through secondary servers.
The service also emphasizes flexibility with custom packages available, tailoring to specific business needs. Furthermore, NetNut's proxy services are compatible with a broad range of popular web scraping tools, adding to its versatility.
Usability
NetNut has designed its service to be as user-friendly as possible. The dashboard interface is clean and intuitive, allowing users to monitor their usage and manage their proxies with ease. While new users may face a learning curve to familiarize themselves with all the functions and features, the overall experience is streamlined and straightforward.
Integration
NetNut scores high on integration, working seamlessly with various third-party software and web scraping tools. This adaptability makes it a flexible choice for businesses with complex software ecosystems.
Performance
Performance is a crucial factor when it comes to proxies, and NetNut does not disappoint. Thanks to its direct ISP connectivity, users can expect high-speed data gathering with minimal lag or downtime. The extensive network of proxies also ensures that the service can handle high-volume data scraping tasks efficiently.
Security
NetNut takes security seriously. The company does not log user activity, ensuring data confidentiality. Furthermore, the residential proxies provided by NetNut are fully compliant with GDPR regulations, highlighting its commitment to data privacy and security.
Pricing
NetNut offers a variety of pricing plans to cater to different needs and budgets. While the cost may seem higher compared to some competitors, the value proposition – superior speed, extensive network, and robust security – justifies the investment.
Customer Support
NetNut provides 24/7 customer support, ready to assist with any issues or queries. Users have reported satisfactory experiences with the support team, highlighting their responsiveness and helpfulness.
Pros and Cons
Pros:
Extensive network of over 52 million residential proxies.

Direct ISP connectivity for superior speed and performance.

User-friendly dashboard.

Excellent customer support.

High security and privacy standards.
Cons:
There are cheaper competitors, but the quality of NetNut is better, NetNut offers a cost-effective residential proxy, that you will not get with the cheap competitors.
Use Cases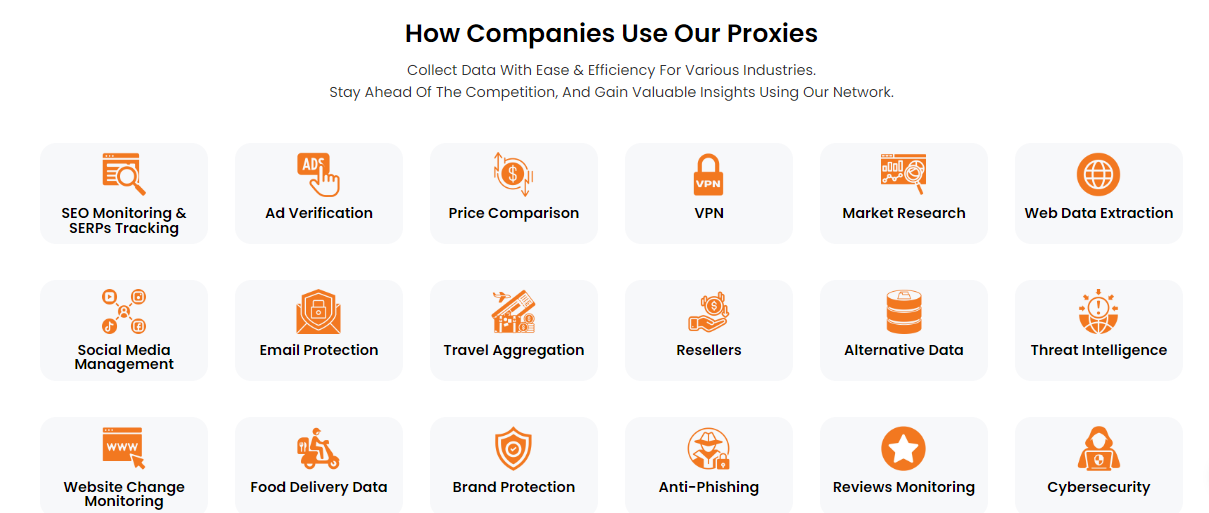 Expanding on the utility of NetNut, it's important to discuss the varied use cases that make it a compelling choice for different types of users.
Marketers, for instance, can use NetNut for web scraping to gather intelligence on competitors and stay updated with market trends. By using the service, they can easily collect data from various online sources while maintaining anonymity.
Similarly, SEO professionals can leverage NetNut to track search engine rankings accurately. Given the localized nature of many search engine results, using a proxy can help simulate searches from different locations, leading to more accurate and diversified insights.
Researchers can also take advantage of NetNut's residential proxy network to gather a wide array of data from multiple geolocations. This opens up opportunities for more expansive and detailed studies.
Scalability
An important aspect of NetNut is its scalability. The extensive network of residential proxies means it can comfortably handle tasks of varying sizes.
From small businesses to large enterprises, NetNut offers the potential to scale according to your needs without sacrificing performance or speed. This scalability, coupled with the custom packages, allows businesses of all sizes to leverage the power of NetNut's proxy services.
Compatibility
NetNut demonstrates great compatibility with various devices and platforms. Whether you're using a desktop computer, a tablet, or a mobile device, you can expect seamless performance.
This adaptability extends to operating systems as well. Whether you're on Windows, MacOS, or Linux, you can use NetNut effectively.
Furthermore, NetNut offers APIs for various coding languages, including Python, Node.js, and more. This makes it a fitting choice for developers who wish to integrate NetNut's services into their applications.
Who is NetNut for?
NetNut is designed for a wide array of users, ranging from individuals to large enterprises. It's an invaluable tool for marketers seeking to conduct comprehensive competitor analysis or gather market intelligence without revealing their digital footprint.
SEO professionals can utilize NetNut to accurately track localized search engine rankings. Furthermore, researchers benefit from NetNut's geographically diverse IP pool, which facilitates extensive data collection.
Finally, developers may find NetNut's API compatibility useful, enabling them to integrate proxy services into their software applications.
NetNut Proxies Review: FAQs about NetNut
What is NetNut? 
NetNut is a residential proxy service provider offering users access to a vast network of IP addresses to facilitate anonymous and efficient web browsing and data extraction.
How does NetNut ensure data privacy and security? 
NetNut utilizes industry-standard security measures, including encryption, to protect user data. Their services are compliant with relevant data privacy regulations, and they have a clear privacy policy outlining their data handling practices.
What types of proxies does NetNut offer? 
NetNut offers residential and static residential proxies. The residential proxies rotate IP addresses to prevent detection and blocking, while static proxies provide a dedicated IP from a specific location.
Does NetNut provide customer support? 
Yes, NetNut offers 24/7 customer support, ensuring prompt and efficient resolution of any issues or queries users may have.
Can I use NetNut for web scraping? 
Absolutely. NetNut is designed to facilitate efficient web scraping. Its IP rotation feature helps prevent detection and blocking, making it a great tool for data extraction.
Conclusion
In the fast-paced digital world, where data forms the bedrock of informed decision-making, a reliable and efficient residential proxy service provider can be an invaluable asset. NetNut, with its impressive array of features, reliable performance, and commitment to user security, is a powerful tool in this regard.
While it does have a slight learning curve and its pricing may be higher than some competitors, the benefits it brings to the table can be a game-changer for businesses and individuals alike.
From web scraping to localized SEO tracking, NetNut's use cases are varied, making it a versatile choice for the data-driven world.
---
INTERESTING POSTS