This post will show you how to optimize your PC with IOLO System Mechanic Ultimate Defense.
Over time, your PC may slow down in its performance, take longer to boot up, experience crashes and freezes, or even stop working. All these can be due to any or a combination of factors such as low RAM space due to accumulated files and programs, malware infection, low storage space, and disk fragmentation.
These are unavoidable happenings as a result of regular PC usage. However, there are PC optimizer software tools used to optimize PC performance and ensure that your PC gives you its best performance irrespective of how heavy you use it or not.

Thankfully, IOLO has a wide range of PC optimization tools for optimizing PC performance, repairing system glitches, and protecting computers and digital devices from malware infections. 
Apart from PC optimization tools, IOLO also has tools that can carry out recovery functions, protect internet privacy, or wipe out data from your PC. Whatever your PC needs, IOLO has got you covered with its PC optimizer toolsets.
Interestingly, IOLO has caught our attention with its performance, protection, and privacy suite known as IOLO System Mechanic Ultimate Defense.
What Is The IOLO System Mechanic Ultimate Defense All About?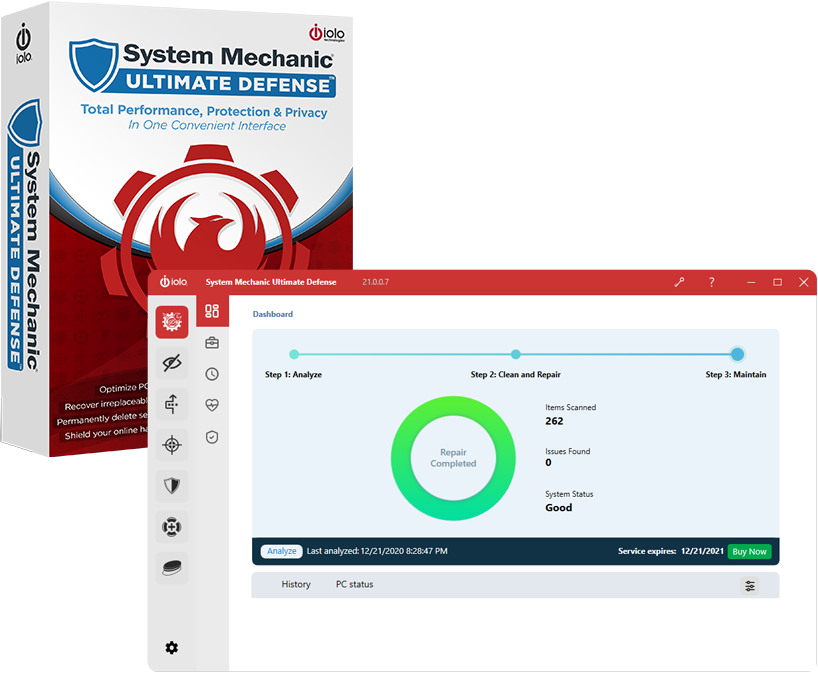 The new System Mechanic Ultimate Defense from IOLO is a PC optimizer suite designed to perform the ultimate function of optimizing your PC, protecting your data privacy online, and protecting your PC from malware infection. 
For $79.95, you get the following tools from IOLO's System Mechanic Ultimate Defense: System Mechanic, Privacy Guardian, System Shield, Malware Killer, ByePass, Search and Recover, and DriveScrubber.
Note: System Ultimate Defense costs $79.95, but you can get it for $31.98 by using our coupon link.
1. System Mechanic Pro (PC Optimizer)
System Mechanic is IOLO's PC optimizer tool that uses proprietary automated maintenance technology to optimally keep your PC functioning.
This is IOLO's stand-alone PC optimizer tool designed to improve your PC's speed and performance, clean your PC, resolve PC errors, and fix crashes and freezes, such as the Blue Screen of Death. 
Additionally, it has built-in features that protect you from malware infection and keep you safe online.
2. System Shield (Anti-malware Solution)
System Shield is IOLO's stand-alone AntiVirus and AntiSpyware that protects your PC from existing and novel malware threats using the reactive and proactive approach to find and remove malware. It also eradicates all threats and restores stability to your PC without weighing down its performance.
3. Search and Recover (Advanced File Recovery)
Search and Recover is IOLO's data recovery tool, which uses a robust recovery technology to search and retrieve all types of deleted files, including documents, photos, emails, videos, music, etc.
If you feel there are files you need to recover from any drive type, IOLO's Search and Recover will do the magic for you.
4. Malware Killer (Malware Neutralizer)
IOLO's Malware Killer finds and neutralizes all malware types that may exist on your PC. Thus, together with System Shield, IOLO offers its users.
Read our IOLO Malware Killer review.
5. DriveScrubber (Hard Drive Wiper)
This is IOLO's data shredder tool that uses military-grade technology to shred and delete sensitive information beyond retrieval. This way, sensitive information does not fall into the wrong hands when selling or donating your PC.
6. Privacy Guardian (Online Privacy Protection)
Privacy Guardian protects users from online trackers and third-party cookies, protects your browsing history, detects phishing emails, and also shields you from Windows data collection processes, which may violate your privacy.
Thus, you enjoy surfing the internet as an anonymous user by enjoying Privacy Guardian's privacy protection.
7. ByePass (Password Manager)
This is IOLO's secure password manager that generates, manages, and stores robust passwords. Additionally, ByePass protects all your devices from keyloggers and other threats targeted at stealing your passwords and credit card details. Hence, you do not need to worry about creating and memorizing passwords anymore.
Note: These tools that makeup IOLO's System Mechanic Ultimate Defense suite are also available for a single purchase.
Wrapping Up The IOLO System Mechanic Ultimate Defense Review
In summary, IOLO PSystem Mechanic Ultimate Defense can help you maintain a clutter-free PC by regular auto-cleaning of memory and storage disks, defragmenting your hard drive, keeping your PC safe from malware infection, protecting your privacy online, and a lot more features.
For an affordable price range, you can get this IOLO suite of optimization tools for keeping your PC at peak performance.

---
Interesting Reads