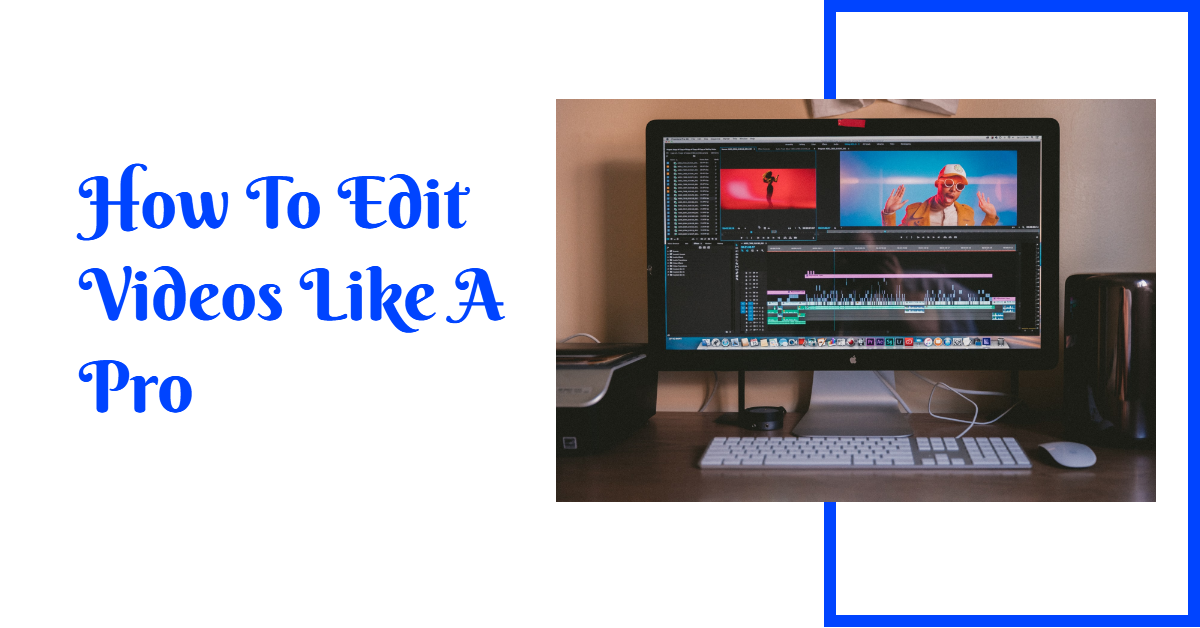 Here, I will show you how to edit videos like a pro.
Once the shooting for the video is over, the most challenging and time-consuming process of editing starts.
The first video editing work can become the most tedious, if you are new to all of it. Once you start to get the feel of it, things can get better, but to make your video look like it has been the work of a professional can still be a bit daunting.
Here are the top few tricks to help you through the roller coaster ride. It is important to remember here that professional editing work requires a lot of patience and a well understanding of the work. You need to have an eye for details, and also be ready to work in an organized and planned manner. Remember, this is not the kind of job where you can take any chances in following the steps. You need to execute the same with perfection.
So, let's get started!
How To Edit Videos Like A Pro
Tip 1: Planning is the Key to Success
This may sound cliché, but it is the truth, it can help you create your personal brand too, to check out how you can do it click here. There is nothing better than organizing your work. The work, in this case, is editing a  video. The first and initial step is to organize the work. How?
Create a folder for the project – you could name it relevantly, for example, name it on the project name or simply call it the Project Directory.
Create sub-folders within this folder. Each of these sub-folders should sync with one aspect of your work. For example, there could be one on audio, one on graphics, one on images, music, footage, and so on.
Next, whichever file you need to use during the editing process, name it relevantly – connect it with the folder name – so that it is easy to track.
Arrange all these files into the sub-folders as per their type and nature.
Besides this, also make a work plan to detail out colors, music, sound effects, fonts, headers and footers, titles, transitions, and so on.
Tip 2:  Ensure that you Have a Good Quality RAW Footage to Work With
With the kind of advanced tools that we have today, it is possible to process any kind of image to get a realistic feel. However, there is nothing like a good raw image! So, rule number two for professional editing is to choose the best files that you have got. That way, you can edit videos like a pro.
READ ALSO: How To Get Into Video Editing
Tip 3:  Invest in a Professional Video Editing Software Tool
It may sound obvious, but many video editors feel that the video editing software that comes with their professional camera is good enough. It is not so. If you wish to bring in that professional streak in your edited video, you need to use a software tool that is made for experts. These are tools that come with advanced controls and the latest features that make your work effective and easy.
Prosumer-level tools cost money – some could be quite expensive, but none come for free. Research, speak to your colleagues from the fraternity, and seek expert advice before you go ahead with putting your money into a pro tool.
Tip 4: Ensure that You Have a Secondary or External Audio
While the video primarily is all about motion, without effectual audio or poor audio quality, you could very well be putting the video's life at stake. No one likes to watch a video with a low, distant, and muffled sound, or let's just say not professionally done.
Besides using a better quality microphone during the shooting, make sure that you have the option to add sound during the editing. The advantage of using a proficient and powerful tool is that you can use it to treat background noise realistically and relevantly. The editor will enable you to add music – free or licensed – to make it look more effective.
Tip 5: Ensure that you Have a Backup File
This is another crucial aspect of a professional video editing job. Make a copy of all the work that you are doing. While you can choose to go for hard drives, keeping the backup on the cloud is highly advisable.
Once the work is over, ensure that you put the entire folder onto a separate hard drive or cloud space.
Tip 6: Cuts
A critical part of video editing is cutting out unrequired or distracting elements from the footage. Using the right pro tool will come to your rescue during such times. Often, to replace the cut parts, you would need to bring in other layers of clips to make the video look seamless and good-to-go. This is where the trick lies – if you are able to do a good job, the transition is going to be immaculate; however, if you are bad at it, things could be quite embarrassing.
Using a Prosumer-grade tool is advised because you have advanced controls to get over with this job with ease. You should also spend time learning the techniques. Another great way to learn is by watching videos and movies made by others.
Tip 7: Enroll for a Professional Course
One way of hitting the bull's eyes is to learn from professionals. There are numerous online tutorials available – free or paid. How does it help? You get a lot of pro tips from the instructors. You could choose to go with a short video-editing course or do a proper full-time certification from accredited institutes.
Tip 8: It is Good to Use Different Shots in the Video
To remove monotony, this is an effective way to make videos more interesting. Showing the same thing from different angles can make videos attractive. However, do it rationally – use your discretion; do not make it a random affair, work to make this feature smooth and optimized.
Conclusion
You need to decide which platform you will be using for putting up your video because if it's decided beforehand it can help you select your editing tool, for example if you want to put your video on YouTube, you can try InVideo for editing your videos like a pro.
Video editing is no joke. It is a kind of work that takes years for people to master. So, treat it with that kind of seriousness and dedication. Also, remember, in the end, you need to narrate a story – go about editing your video with this in mind!
Hope you can now edit videos like a pro?
RELATED POSTS