Do you know that cloud computing plays a crucial role in the business world?
We live in a tech-driven era when all business leaders depend heavily on innovative applications and tools to grow their companies. This simple fact allows entire organizations to scale their operations more efficiently, automate a whole slew of processes, and of course, to build their brand reputation on innovation, as well.
With so many available solutions based on advanced technology, business owners often have a difficult time picking out just the right opportunities for their companies and employees. The experts of Sumatosoft stress on the opportunities are unlimited, and each industry can find ways to implement technology to boost their business. However, cloud computing is a no-brainer. 
Cloud computing has become an essential pillar of professional growth no matter your industry, and it enables companies to adapt more easily to these ever-changing market trends and needs. If you look at the ongoing pandemic that has pushed so many businesses to adapt to the remote model – the cloud has been a pivotal part of that adaptation. The role of cloud computing extends beyond a single perk, so let's break it down into a few key benefits cloud computing brings to the world of business, and you'll likely rush to implement your own cloud solution soon enough. 
Benefits Of Cloud Computing In The Business World
1. Immeasurable business flexibility
Now more than ever, remote work is a prerequisite for business success. With the pandemic in full swing, companies have had to send their workers home, and those who have failed to adapt have suffered tremendous losses. Cloud-based collaboration means that your employees can work from anywhere and communicate with their teammates without delay.
Add to that, cloud-based customer support grants your teams access to all the customer data they need to help your customers and retain your business reputation. All communication is centralized, and all collaboration simplified, so you have enough flexibility to keep your business running despite the current setbacks. 
2. Enhanced business security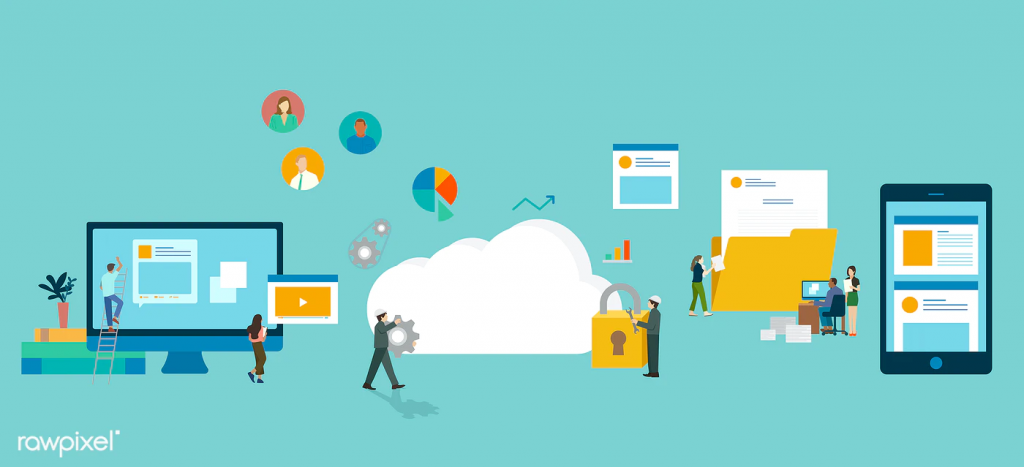 With advanced technology come more refined hackers with tools most small businesses have no means to defeat. That is, with a traditional infrastructure. Cloud computing, on the other hand, has the most advanced computer network security solutions to offer, so that you can adapt your own protection based on your needs. Software malware protection paired with hardware firewalls perfectly suited for your business network, as well as traffic monitoring all works in favor of increased security for your organization. 
Cloud-based security solutions offer business-wide protection for each of your devices, especially if you use specialized network protection, as well. This will allow you to prevent security breaches and data loss that could otherwise set you back immeasurably. Security has become the most appealing aspect of cloud computing that has inspired companies to transition to the cloud from their legacy systems. 
READ ALSO: 4 Best Cloud Backup Services For Personal Use
3. Reduced business costs across the board
Even if you are the leader in your industry and a well-established brand that is perfectly stable as far as your finances go – cutting costs is always a perk. In fact, every single company in existence owes its stability to resourcefulness in terms of reducing operational costs and expenses. This thrifty mindset and proper budget allocation are what keeps companies strong and afloat during a crisis such as the ongoing pandemic. 
Cloud computing leverages various smart operational solutions that allow your business to reduce its expenses. Switching to the cloud means reducing your IT maintenance expenses as well as the need to purchase more hardware to expand your storage capacity. 
With a monthly fee, you can work into your budget well in advance, you have plenty of room to adapt your finances if the need arises to scale your business to a new cloud solution. In fact, scalability is much less of an issue with the cloud at hand. With automated processes, built-in security, and efficient IT support, you can focus on business growth, and the cloud can surely handle that growth. 
4. Easier collaboration
Remote or not, your teams could always use a more efficient platform to work and interact. This is where cloud computing becomes essential for organizations of all shapes and sizes, because it's much easier to integrate various communication tools, analytics, and reporting tools, as well as store your data when you work on the cloud. 
That fact alone gives your teams access to your business processes and all of your tools and software to make things much easier. Office-based staff won't need to set up meetings when they can collaborate through cloud-based documents in real-time, while they actively chat or video-chat with remote-based employees. 
READ ALSO: Summer Sales: Top Cybersecurity Products Special Offers And Deals
5. Streamlined workflow 
Have you noticed that using locally stored applications can be extremely burdensome for your systems, thus slowing your employees down? Then again, it's difficult to integrate all of your digital tools locally, especially if you run a smaller business organization with limited resources. With the cloud at your disposal, you can store many cumbersome tools, apps, and programs on cloud servers without overburdening your own local devices. In fact, your own systems will work more easily, without delays, and your programs will load more quickly on the cloud.
As a result, your employees will become significantly more productive, their work regularly backed up on the cloud, and properly protected for their peace of mind. With such a setup, your entire IT department can also automate many processes, thus letting you run your business smoothly. 
Bottom Line
Cloud computing has advanced so much from its humble origins, that most companies cannot imagine operating without it today. However, if you've had your doubts so far, this is the perfect moment to transition your business to the cloud and use all of its advantages, only a handful of which we've managed to mention here. Additionally, you can consider getting an online cloud computing certification from Caltech to learn online.
You can expect the cloud to become one of the main tools for your business growth and an essential piece of your infrastructure to allow you business as well as financial stability. 
RELATED POSTS