In this post, I will show you the Telios review, a decentralized, secure, and encrypted email service. 
Telios is a decentralized and encrypted Peer-to-Peer email service provider that promises high-level security using a P2P network to provide secured and private email services for its clients.
How well can Telios secure your emails? Is sending and receiving emails via a P2P network more secure than the conventional method of sending and receiving emails? What competitive advantage does Telios have over other email service providers? You're about to find out in this Telios review.
What Is Telios?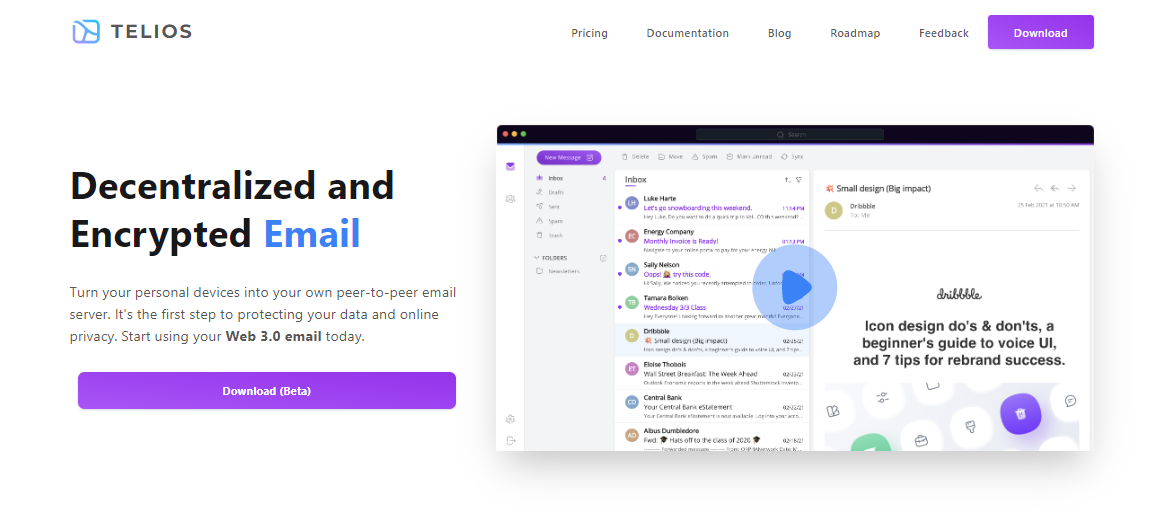 Telios is a private email services provider that lets you send and receive encrypted emails securely over a decentralized, peer-to-peer network rather than the conventional centralized email servers in use. 
It is an open-source project built on the Hypercore Protocol that allows you to send and receive data over a peer-to-peer network without needing a centralized server. 
Hence, users do not have to worry about security issues like server compromise via hacking, malware infections, DDoS, server downtime, maintenance, etc., synonymous with the use of centralized security servers. 
How To Sign Up For Telios Email Address
Signing up for a Telios account is a straightforward process that does not require you to be an expert IT person. As a secure and anonymous email service provider, you're not required to provide personal details while opening a Telios account.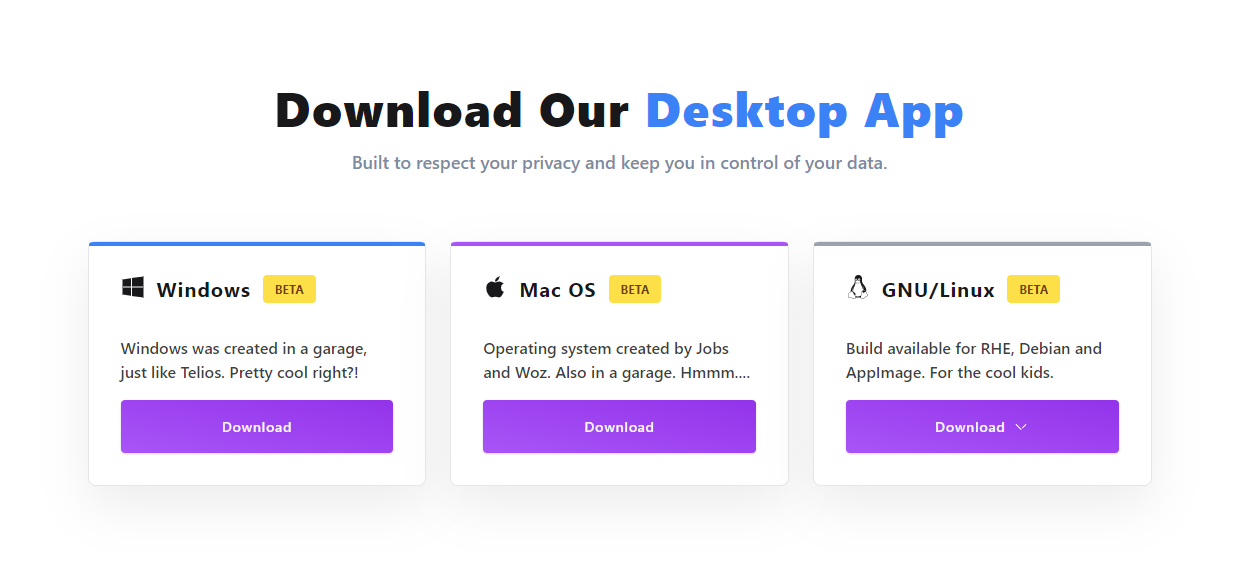 Download and run the

Telios Beta version

.

You will need to accept Telios' Beta consent, provide a recovery email, and store your passphrase for retrieval purposes while running the Telios Beta version.

Start sending and receiving emails using your new P2P Telios email account
Telios Features
Peer-to-Peer Network
Rather than use a centralized email server system, Telios uses a decentralized P2P that puts you in control of your data. 
When sending an email to a recipient on the Telios network, Discovery keys (comparable to wallet address) are automatically created and stored on your local storage for each new Telios contact you save and used to send emails to your recipient on the Telios network. 
Emails are streamed directly from your local drive by the recipient using the encryption key provided by the sender. Hence, your email is much safer and secured since it doesn't have to pass through a centralized, third-party server which can be subject to several external forces.
End-to-end Encryption 
Telios uses the Open PGP encryption protocol to encrypt and store users' metadata on the API server, which houses instructions on retrieving emails from the sender's drive. 
Metadata encrypted includes timestamps, locations, and recipients' RSA keys for decrypting the necessary information for retrieving email messages from the sender's drive. 
Hence, messages sent are secured since the message remains in the sender's local drive and is only decrypted by the recipient's device.
Open-source Nature
The Telios email client is an open-source project with source code accessible to internet users. This makes Telios one of the most secured and transparent email service providers.
Anonymous email service 
While creating a Telios account, the Telios team will require your email address for recovery purposes, making Telios a privacy-focused email service provider.
Support For External Email Services
Sending mails to non-Telios users is a simple process; messages are sent to external email addresses using the SMTP (Simple Mail Transfer Protocol) to deliver emails to the recipient's external mailbox by the Telios mail server. 
However, messages are sent as plain text for external users whose email providers do not support encrypted email services.
Telios App platforms
Telios is in its Beta state; hence its apps are only available for Windows, Mac, and Linux OS. 
However, mobile apps for Telios are under development, and Telios developers are working tirelessly to release the mobile app versions in good time. 
Therefore, you can download the appropriate app version for your device by visiting the Telios official web page.
Privacy Logs
Telios does not store users' data, keep a log of users' activities, or store users' metadata; hence, Telios does not operate any data retention policies.
Customer Support
At the time of this writing, Telios does not offer phone support and LiveChat. However, you're sure of getting support within 24 hours via email, blog page, knowledge base, and Discord.
I look forward to Telios adding more customer support features like LiveChat and phone support while making it easy for users to get faster support services via email support.
Although Telios FAQ is pretty basic and does not include technical issues, it addresses issues you might be concerned about at the moment.
You can get fast support by joining the Discord server and contributing to the Telios beta version development.
Telios Pricing Plans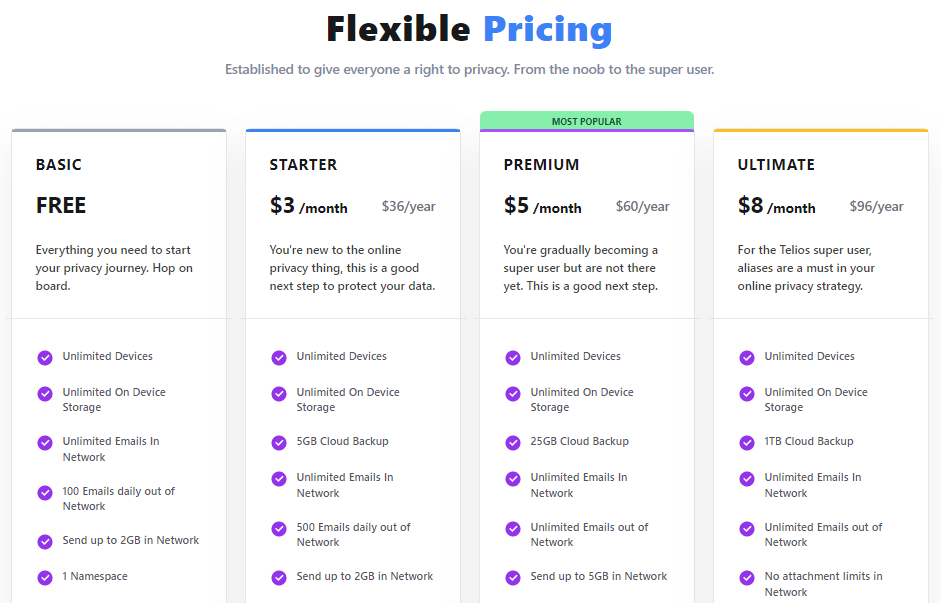 There are two categories of Telios users: free and paid users. Free users will access basic email services, including access to email accounts from all device types, unlimited storage, 2GB bandwidth allocation, one Namespace, five aliases, and community support.
Both free and premium users can send encrypted messages to non Telios users.
Below are Telios' plans
Free plan: $0

Starter Plan: $3 monthly, or $36 per yeard

Premium Plan: $5 monthly, or $60 per year

Ultimate plan: $8 monthly, or $96 per year
Depending on your preferred subscription plan, the Starter Plan starts from $3 per month. It comes with additional features, including 5GB encrypted cloud storage, 500 emails daily limit for sent emails, and 10 Aliases.
These plans are flexible, and they vary in their features. However, all Telios plans enjoy robust security features, including strong encryption protocols over P2P networks. 
Telios should consider offering more flexible subscription packages by offering flexible discounts and promos for its subscribers.
TL;DR – Wrapping Up The Telios Review
To conclude this Telios review, here are the key takeaways:
Telios is a new email service provider still in its beta stage

It uses a decentralized peer-to-peer network to offer mail services to its subscribers, which is a more secure way of sending and receiving emails since emails do not have to go through third-party centralized email servers.

Telios Subscribers can send and receive messages from non-Telios users since it also has a mail server that serves as gateways for non-Telios users.

Telios uses strong encryption protocols to encrypt users' metadata, including sender and recipients' discovery keys, location, subject, etc.

Emails sent and received enjoy end-to-end encryption.

No data collection and adverts since it uses a P2P system to send and receive emails

Free pricing plan and affordable premium subscription plans

Telios app clients are not yet available for mobile devices
Based on the above points, I will gladly recommend Telios as a secure P2P email service provider for anyone desiring to send secure emails and also enjoy 100 percent privacy without worrying about digital footprint monitoring, cookie data collection, and annoying adverts.
What's your take on this Telios review?
---
INTERESTING POSTS