In this iTop Screen Recorder review, we will show you all its features and benefits.
iTop screen recorder is gaining popularity as an easy-to-use screen recording app for recording your screen, games, audio, voice, and webcam video. 
Presently, the app has recorded more than 8 million downloads, hence the need for this review. Is the iTop screen recorder a worthy screen recording alternative? Find out from this iTop Screen Recorder review.
What Is iTop Screen Recorder, And How Does It Work?
iTop Screen Recorder is an intuitive screen recording app for recording webinars, lectures, video conferences, games, 4k films, video conferences, presentations, etc.; the app also features a lightweight inbuilt video editor with cutting and trimming tools for precise video editing. 
The app uses a GPU encoding technology for an enhanced screen capturing experience; this feature is essential for gamers because it allows gamers to record gaming without experiencing lags or frame dropping even while enjoying high-performance games at 120FPS.
iTop's flexibility makes it a desirable screen recorder that allows you to switch seamlessly between screen, games, audio, or voice, making it a preferable option for online meetings and web streamings.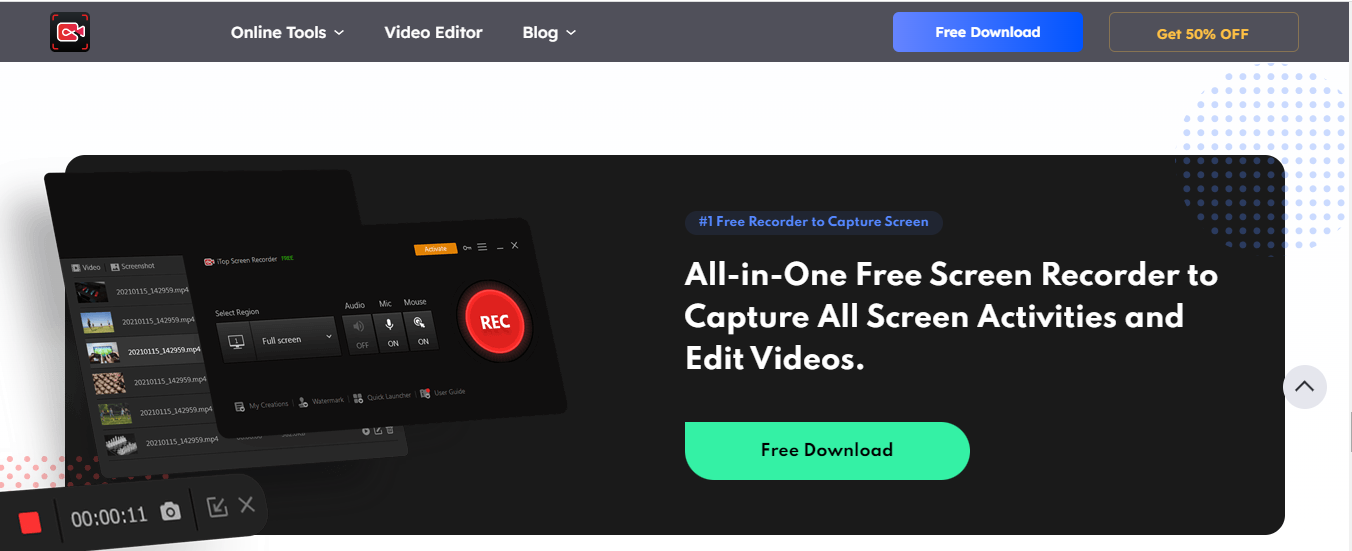 How To Get Started With iTop Screen Recorder 
iTop screen recorder is available as a free or paid app version. The free app version places a watermark on all your screen recordings and records at lower quality, while the paid version offers more advanced features that include recording in 4k HD quality. 
The following steps will get you started on how to use the iTop Screen recorder.
Visit

iTop's official website

to download and install iTop Screen Recorder. Or choose a suitable subscription plan and follow through with the payment process.

Launch the iTop screen recorder app and select your recording area. Options available include Full Screen and Fixed ratio.

Turn on the speaker, microphone, mouse, or webcam, depending on your purpose.

Set your screen, and tap on the red record button to start recording

Click on the Stop button to stop recording 

Check your recordings under the 'My Creations' section

Click on the edit icon to edit your recording with iTop built-in video editor.
iTop Screen Recorder Features
1. Record Screen
iTop Screen Recorder lets you make a high-resolution video capturing at 1080P and 120FPS without any lag. You can make a full-screen recording or record a part of your screen, capture screenshots, and other unique options.
2. Record Audio
iTop's audio recorder is well suited for audio-only recordings. You can make voiceover audio, record songs, instrumental sounds, or system sounds helpful in recording podcasts and audio stories.
3. Record Gameplay
iTop Screen Recorder records gameplay seamlessly without any lag during gaming. You can also add comments using the external microphone and a webcam video of yourself to show your reaction during gameplay.
4. Schedule Recording
You can schedule recording for automatic screen recording. This feature is available for premium subscribers only, and it lets you set the duration and also save your recordings automatically at the end of the auto-recording session. 
5. Video Editing 
With iTop's built-in video editor, you can edit your recordings, cut them to size, and add filters, stickers, images, subtitles, and background music. You can also save or export edited videos easily.
6. Customization
iTop's customizability makes it a popular screen recorder that allows you to change settings such as video resolution, frame rate, bitrate, file format, etc. you can also set up key combinations as hotkeys for faster and easier operations like taking screenshots with hotkey while recording.
7. Compatibility
iTop Screen Recorder is compatible with a wide range of video and audio formats, including MP4, AVI, FLV, MKV, MOV, TS, and GIF. Hence, you can save your recordings in any video or audio format of your choice.
8. Quick Launcher 
iTop's Quick Launcher lets you launch and starts recording on streaming and social media platforms like YouTube, ESPN, Whatsapp, Zoom, Spotify, Twitch, etc., with a single click
9. Quick Share
With a single mouse click, the Quick Share tool lets you share videos on platforms such as Facebook, YouTube, Instagram, Vimeo, and Dropbox.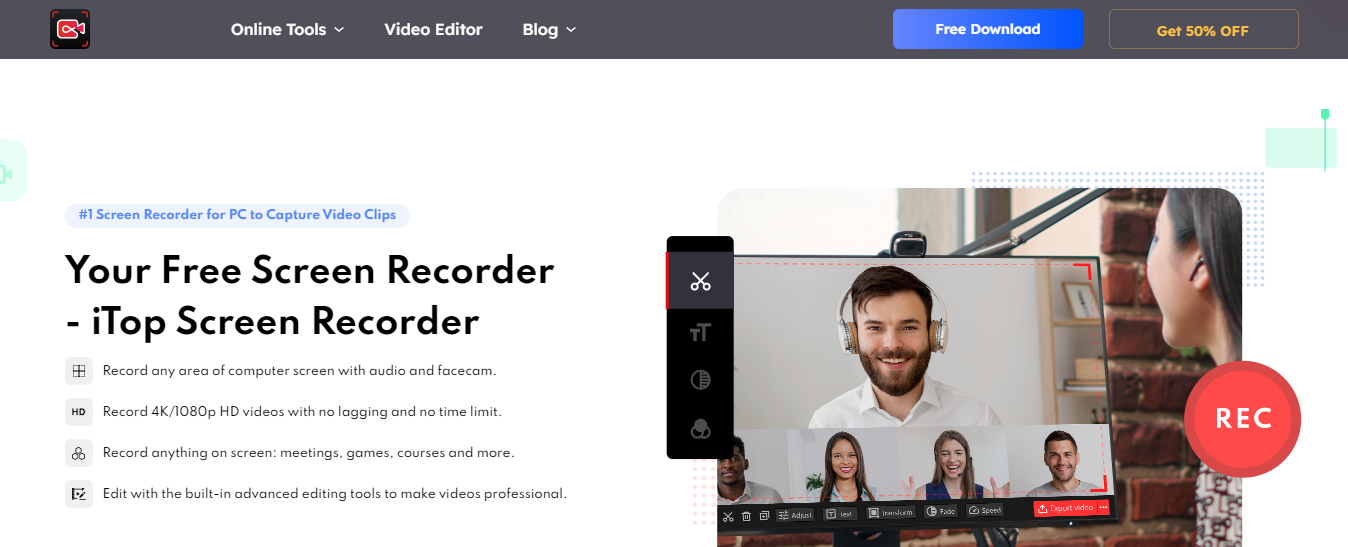 iTop Screen Recorder Apps
iTop Screen Recorder app version is available for the following OS and devices
Windows OS

Mac OS

Android OS

iOS
iTop Screen Recorder Pricing Plans 
iTop Screen Recorder has four subscription tiers: 
Free version:

iTop Screen Recorder

is free to use; however, the free version entitles you to two minutes of screen recording with no option of saving or exporting your screen recording. 

1-month plan (1PC): $19.99 per month

1-year plan (1PC): $32.99 per year

1-year plan: This plan covers 3 PCs at $39.99 per year.
All iTop Screen Recorder paid plans provides you with full access to all its features and a 15-day moneyback guarantee.
iTop Screen Recorder Customer Support
iTop does not offer a helpline, live chat, or email support. Support is via online feedback page, FAQs, and blogs. However, you're sure of getting feedback within 24 hours after contacting iTop's online feedback page.
Is iTop Screen Recorder Safe To Use?
iTop screen recorder is safe to use; iTop prioritizes data safety and security; hence all data are stored in an encrypted format to prevent hacking. The app also gets regular updates to ensure that it continues to enjoy robust privacy and security features.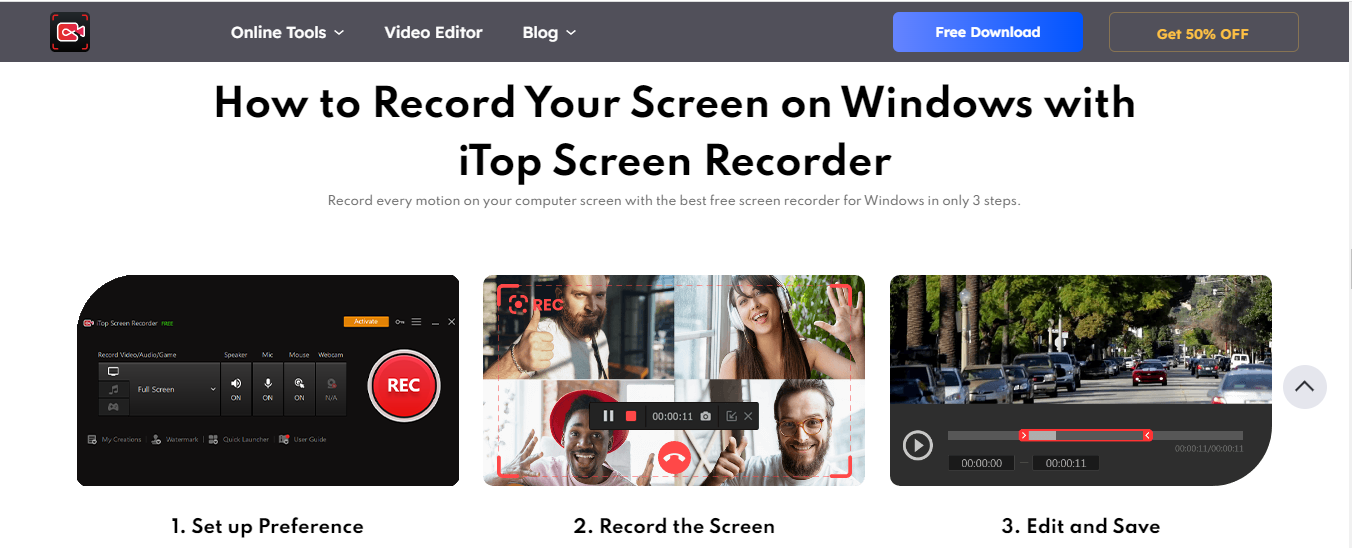 A Final Word On The iTop Screen Recorder Review
Will I recommend iTop Screen Recorder? Yes! Although iTop Screen Recorder is a relatively new and affordable app with excellent features that can give you an awesome screen recording experience as a free or premium user.
If you're skeptical about iTop Screen Recorder, you can try out iTop's free version or its premium version risk-free by taking advantage of its moneyback guarantee.
---
INTERESTING POSTS