This post will show you our McAfee Total Protection review.
With increasing security concerns and emerging threats, users need more than just a basic antivirus. There's the need to keep personal information and financial details secure without compromising on system security. McAfee Total Protection is designed to do just that and much more. 
This review gives detailed information about McAfee Total Protection, its suite of security and privacy protection tools, which includes a robust Antivirus engine, Firewall, VPN, Password Manager, Identity Theft Protection, etc., and how you can get the best out of McAfee Total Protection.
What Is McAfee Total Protection?
McAfee Total Protection from McAfee is a premium security and privacy software security suite designed to give its users total protection from security concerns, existing and emerging threats, identity theft, and privacy violations.
Additionally, McAfee Total Protection suite consists of a powerful antivirus engine capable of 100% malware and threat detection; a spam filter to protect users' inbox; firewall to block out malicious websites and traffic; file encryption to protect users incoming and outgoing data traffic; a VPN to keep users safe online, etc.
https://www.youtube.com/watch?v=UIthE5zmrPs
McAfee Total Protection Features
McAfee Total Protection has a re-ordered and organized interface that takes into consideration users' needs. The interface is organized into three categories based on available features and functionalities. A click on 'PC' gives users access to Antivirus, Firewall, Secure apps, App boost, and other security tools. 
A click on the 'Web page' gives users access to Browser security features and settings, VPN connection, Tracker remover, Web boost, Browser security, and other web protection tools.
Under Identity, users can manage and tweak features such as password manager, ID protection, File shredder, File encryption, File lock, etc.
The 'Settings' option accommodates all other essential tools and features such as a Vulnerability scanner, Network analyzer, Spam filter, etc.
With an organized and less-cluttered dashboard, users can customize McAfee features, activate and deactivate features, and customize basic settings.
McAfee's robust antivirus engine has consistently maintained a top position in results from independent virus labs. With McAfee's antivirus engine, users have the choice of performing a full system scan, quick scan, or custom scan.
McAfee's antivirus engine can scan, identify and remove existing and novel malware such as viruses, trojans, spyware, ransomware, rootkit, etc. with very high accuracy, scoring 9.7 points in threat detection. The antivirus engine also protects users from cryptojacking by websites that use users processing power to mine cryptocurrencies.
McAfee's intelligent firewall monitor's users' incoming and outgoing data traffic and blocks out malicious websites. This feature is turned on by default, and it works intelligently, knowing what programs can or cannot access the internet without users' awareness.
Technologically savvy users get a whole lot of options to customize McAfee's firewall settings. Such users can choose to open or close ports as they deem fit and define new rules for applications.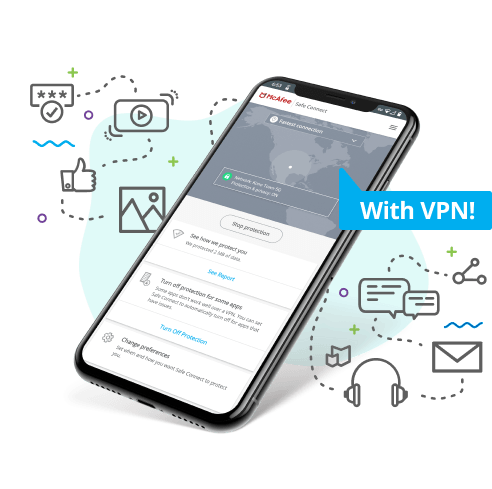 McAfee VPN protects users' data traffic using a highly secured VPN protocol that encrypts users' data, therefore blocking access to users' sensitive information.
Its multiple servers covering widespread locations enable users to access censored websites and geo-restricted content under the anonymity cloak. 
For users on the move connecting to unknown Wi-Fi sources, McAfee VPN protects users' data from hacking attempts and blocks out spies snooping around.
McAfee's spam filter performs accurately well. It can detect spam emails from legitimate emails and direct such to appropriate quarters. Hence, it ensures its users are protected from spam mails without worrying about their legitimate mails getting flagged as spam mails.
McAfee's password manager not only creates and manages passwords; it can sync users' passwords across multiple devices. It uses multiple authentication methods such as second device, fingerprint, email, etc. to authenticate users' access to accounts, thus ensuring that such accounts are not compromised via unintended access to login details.
McAfee's vulnerability scanner keeps installed apps updated. It does this by checking and monitoring users' applications for updates. This feature is enabled by default to ensure users don't compromise their security via outdated software.
Other features of McAfee Total Protection include:
App Boost optimizer to optimize CPU performance for running apps 

Web Boost to prevent web videos from playing automatically 

QuickClean to remove trackers and temporary files 

File Shredder to delete confidential files without the possibility of retrieval 

Network Monitor to monitor users' Wi-Fi for intruders, etc.

Safe Family with robust parental control features

McAfee Identity Protection for US subscribers

File Lock Encrypted storage to protect sensitive files

Technical Details
Supported devices and OS: Windows, Mac, Android, iPhone, Web-based
Pricing model: 1-year subscription, 2-year subscription
Customer types: individuals, businesses, and corporate organizations
Mobile applications: Android, iOS
McAfee Total Protection Pricing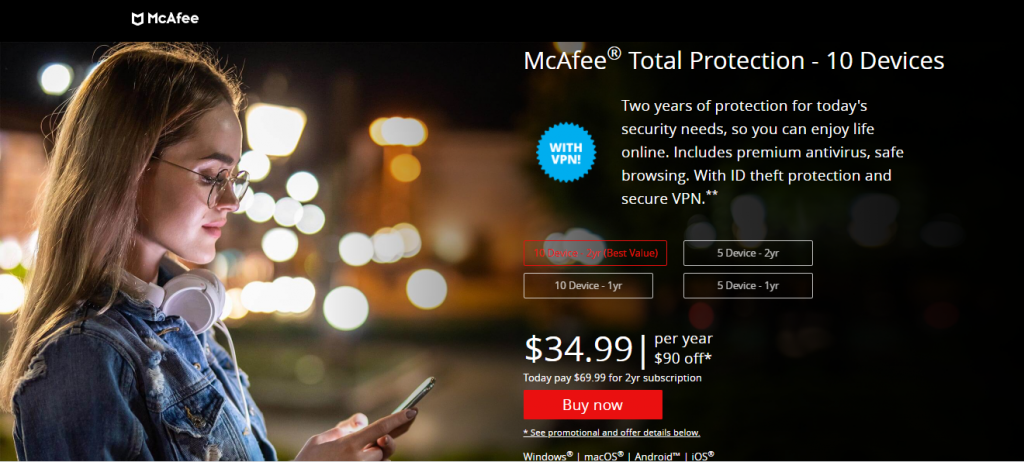 McAfee Total Protection is tailored to suit individuals' needs, small and large business enterprises across all sectors.
New users enjoy a 30-day trial period to allow them to experience McAfee's extraordinary security and privacy protection features. Users will be required to subscribe to any of the available plans suitable to their needs.
Available plans 
Single Device 
Price: $29.99 per year

A single device, 1-year subscription 

Award-winning antivirus 

Secure VPN (5 licenses included)

Performance optimization 

Home Network Security

Security Experts and Online Support

Multi-device Compatibility

Password Manager

Safe Web Browsing 

McAfee Shredder

Encrypted Storage
Individual/Couples 
Price: $34.99

Five devices, 1-year subscription

All features of Single device plus:

Identity Protection Essentials 
Family (best plan)
Price: $29.99 per year (2-year subscription)

1-year subscription: $39.99 per year
All features of Single device plus:

Identity Protection Essentials 

Safe Family

Is McAfee Total Protection Safe?
McAfee Total Protection is safe to use. It protects you against malware such as viruses, trojans, spyware, ransomware, cryptojacking, and other existing and emerging threats with a high degree of efficacy in detecting and eliminating threats. It also protects you from malicious websites, spam messages, identity theft, hacking attempts, etc. 
Conclusion
To conclude this McAfee Total Protection review, I will say it has diverse and functional features that make it suitable for top-notch protection against increasing threats and privacy violations. It is recommended as a top-choice antivirus for online and offline protection.

---
SUGGESTED READS