In this post, we will review the iMyFone Fixppo, an iOS system repair tool for iPhone, iPad, and other Apple devices. 
Established in the Asia-Pacific region in 2015, iMyFone is a brand that focuses on providing solutions to every system problem that might be bedeviling iOS devices.
Thankfully, the iMyFone Fixppo offers you the best system repair tool for fixing all kinds of iOS issues without the help of a technician. 
You will surely find it a satisfying tool to use by trying out the free version.
What Are The Benefits Of iMyFone Fixppo? 
You do not need to be a tech-savvy person to use iMyFone Fixppo to resolve any issue your iOS devices might be having. 

You can fix 'Frozen screen' and other issues without losing data. 

You can revert to the previous iOS version without jailbreak.

You can enter and exit the recovery mode quickly. 

With iMyFone Fixppo, you won't experience any error with the iTunes repair tool.
Key Features of iMyFone Fixppo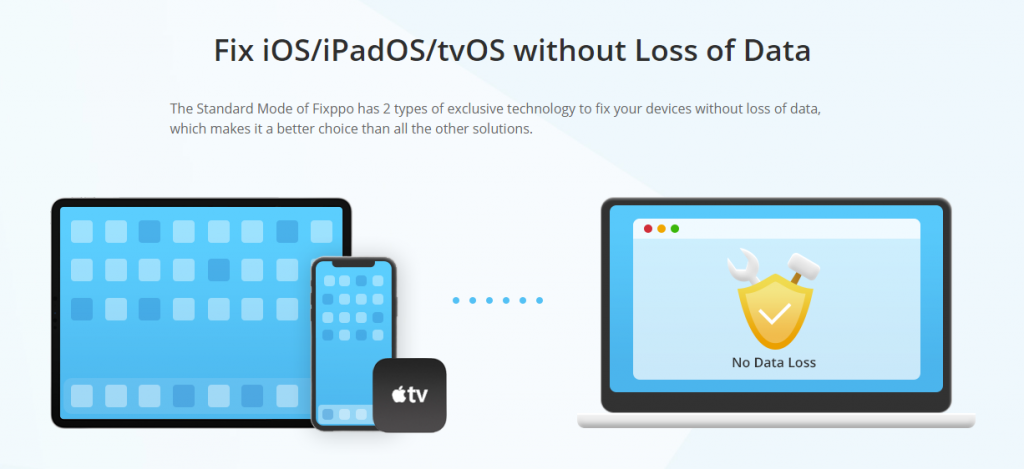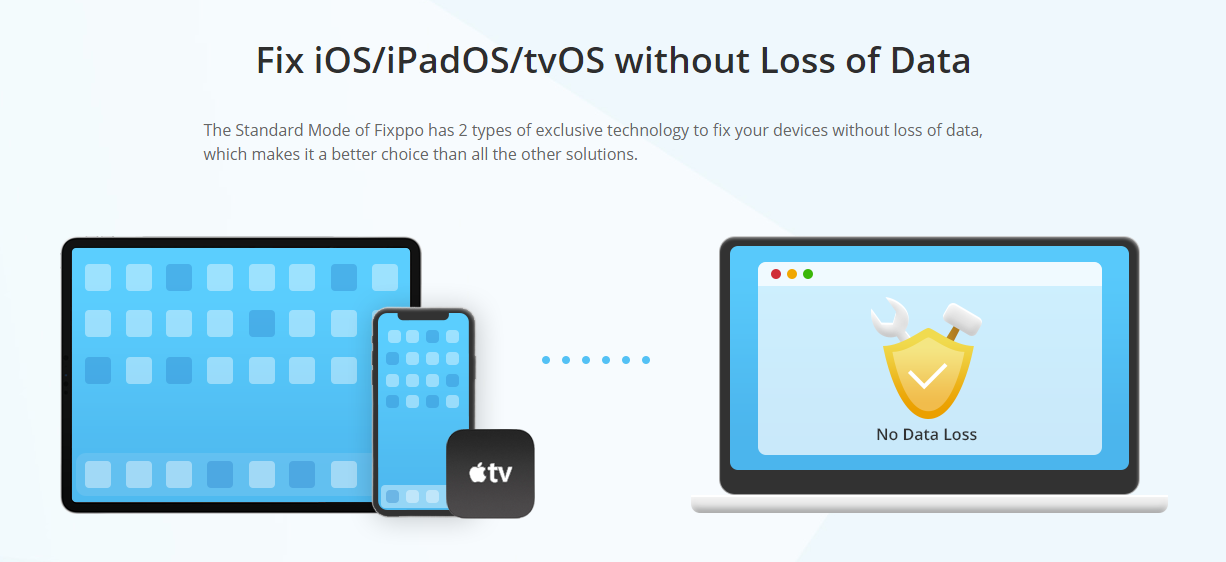 Here are the key features of iMyFone Fixppo that makes it an efficient iOS repair tool:
User Interface
iMyFone Fixppo has an amazingly simple and user-friendly GUI (graphics user interface) that makes it a favorite amongst the non-tech-savvy users. Its GUI guarantees you a fantastic user experience with features easily accessible from its dashboard. 
Privacy and Security 
iMyFone Fixppo is a secure system repair tool free from malware and adware. You also enjoy 100 percent data privacy and protection as iMyFone does not share your data with third-parties.
Technology 
iMyFone's exclusive technology makes it easy to fix iPhone, iPad, and other Apple devices with a few clicks.
Support
Users enjoy one-on-one technical support via email channels, helplines, and support form available at their support page. A fantastic feature of their customer support service is their fast response time if you're reaching out to the iMyFone support team.
You can get answers on technical issues from iMyFone's rich FAQ page with a vast collection of resolved customer issues. 
Compatibility 
IMyFone is compatible with a wide range of Apple devices such as iPhone (including the recently released iPhone SE running on iOS 13), iPad, Apple TV, iPod touch, etc. Also, it is compatible with all iOS versions, including the recently released iOS 13.
Common iOS Errors You Can Fix With iMyFone Fixppo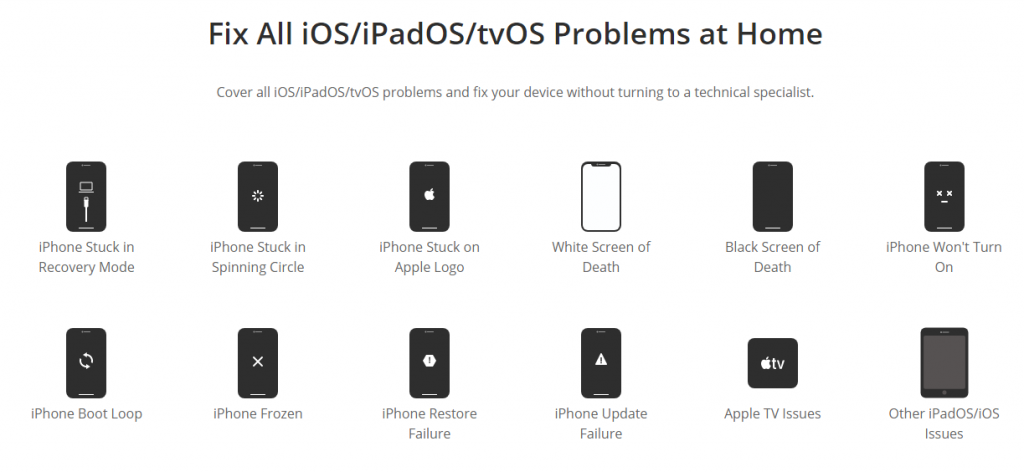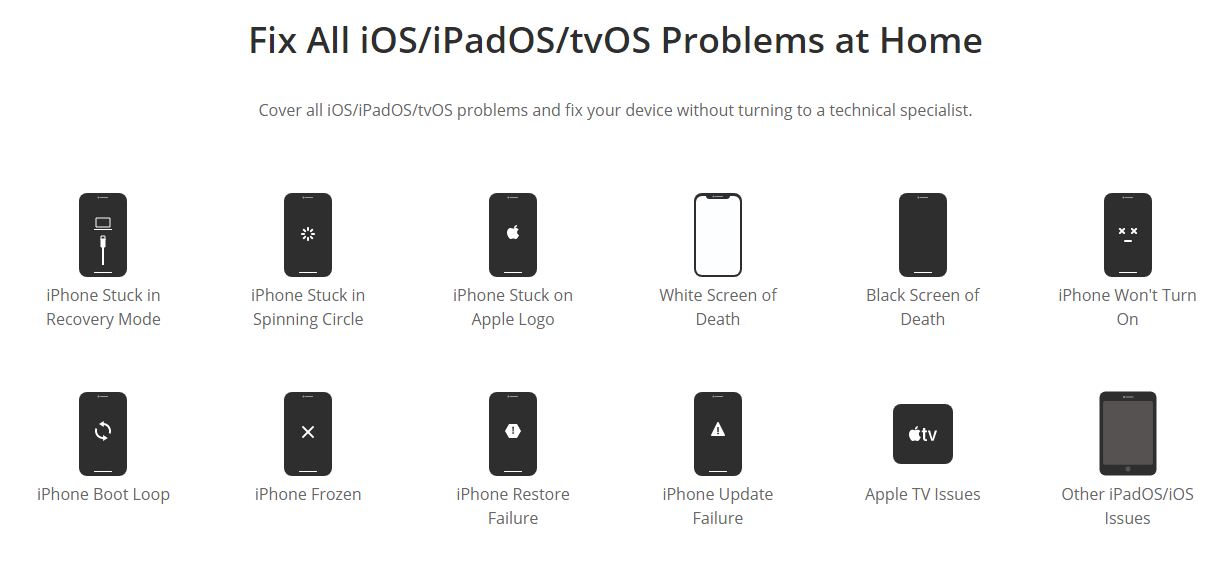 IMyFone Fixppo can fix a myriad of iOS issues, including errors that prevent your iOS device from booting up. 
Nonetheless, here are some common errors it can fix:
Stuck in Recovery mode 

Stuck in spinning mode

Stuck on Apple Logo

Showing the 'White Screen of Death'

Showing' Black screen of Death

Not turning on

Stuck in 'boot loop' mode

Frozen screen issue

Fails to Restore 

Fails to update

Apple TV issues

Other iPad OS/iOS issues
How To Use iMyFone Fixppo iOS System Repair Tool


With this fantastic iOS repair tool, you don't have to be tech-savvy. Follow these steps to resolve any issues your iOS device may be experiencing.
Download and install iMyFone Fixppo from the official website.

Connect your iOS device to your computer.

Launch the iMyFone system repair tool from your computer.

Choose a repair mode: Fixppo has two repair modes. 
The standard repair mode for fixing iOS issues without losing any data.

The advanced mode is used to fix iOS issues that cannot be resolved using the standard repair mode. When using the advanced repair mode, users have to back up their data because the advanced repair mode wipes off all data from the iOS device. To learn more about what the advanced repair mode can do, hover your mouse on the 'Advanced mode' icon on the screen to display a list of issues you can resolve.

Enter/exit recovery mode, which allows iOS users to enter and exit recovery mode when troubleshooting your device.

Download Firmware by selecting your device model, and choosing the latest firmware version (You can choose any of the older firmware versions)

Click 'Download' to initiate the firmware download process.

Once the firmware download is completed, click on 'Start' to initiate the repair process. 

Your device boots up after the repair process.
Note: During the installation process, you may have to enter your device's passcode or press the Home button to continue the installation process.
iMyFone Fixxpo Pricing Plans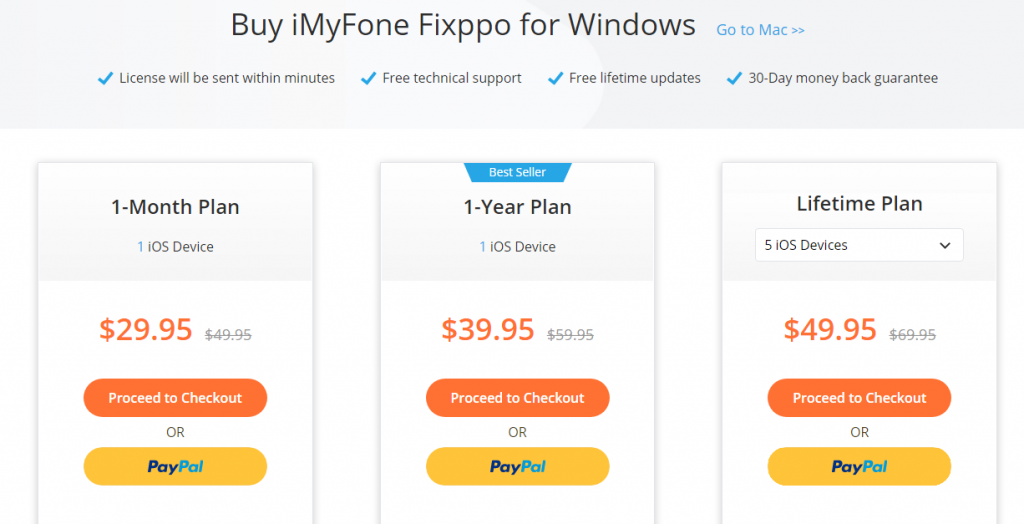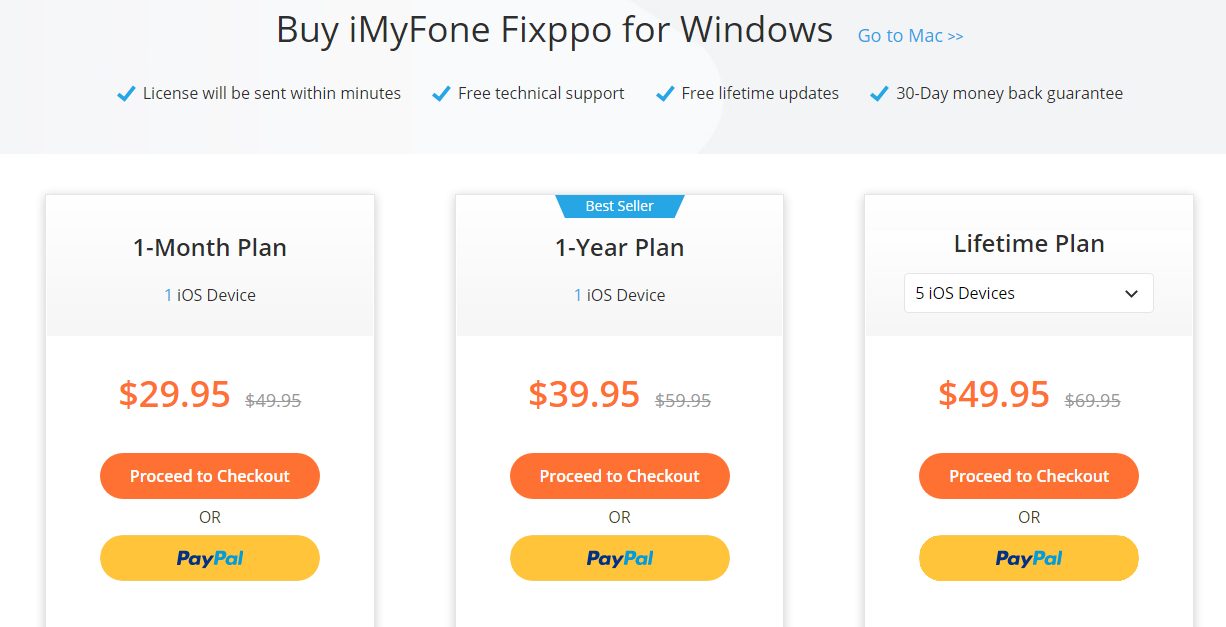 iMyFone Fixxpo has two separate pricing plans for both Windows and Mac system.
Here are the iMyFone Fixppo pricing plans for Windows:
1-Month Plan – $29.95 per month for 1 iOS Device
1-Year Plan – #9.95 per year for 1 iOS Device
Lifetime Plan(highly recommended) – $49.95 for 5 iOS Devices
Here are the iMyFone Fixppo pricing plans for macOS:
1-Month Plan – $29.95 per month for 1 iOS Device
1-Year Plan – $49.95 per year for 1 iOS Device
Lifetime Plan(highly recommended) – $49.95 for 5 iOS Devices
Note: iMyFone also offers lifetime licenses for 10, 15, and unlimited iOS devices
Wrapping Up…
iOS devices are solid devices designed with security in mind. However, the chances of an iOS device developing a system error cannot be ruled out. In such instances, iTunes might not be capable enough to resolve some of iOS's complex plethora of issues. 
Therefore, you will need the help of iMyFone Fixppo, an excellent iOS system repair tool that can fix any iOS issues you might experience.
RELATED POSTS