In this post, we will show you a review of the F-Secure Antivirus.
The F-secure is absolutely a fantastic antivirus solution that is going to shake the market, no doubts. The high price and the absence of alluring features are some reasons it may lag in the coming years. However, if you prioritize your security over whistles and bells, all you need to do is to check out the F-Secure Antivirus review.
For a very long time, F-secure has been the base for reliable antivirus. It was a recipient for the AV-Test award for the best antivirus protection up to five times. However, these awards were years back, and the latest tests have declared F-secure seeing a decline in features.
What is F-Secure?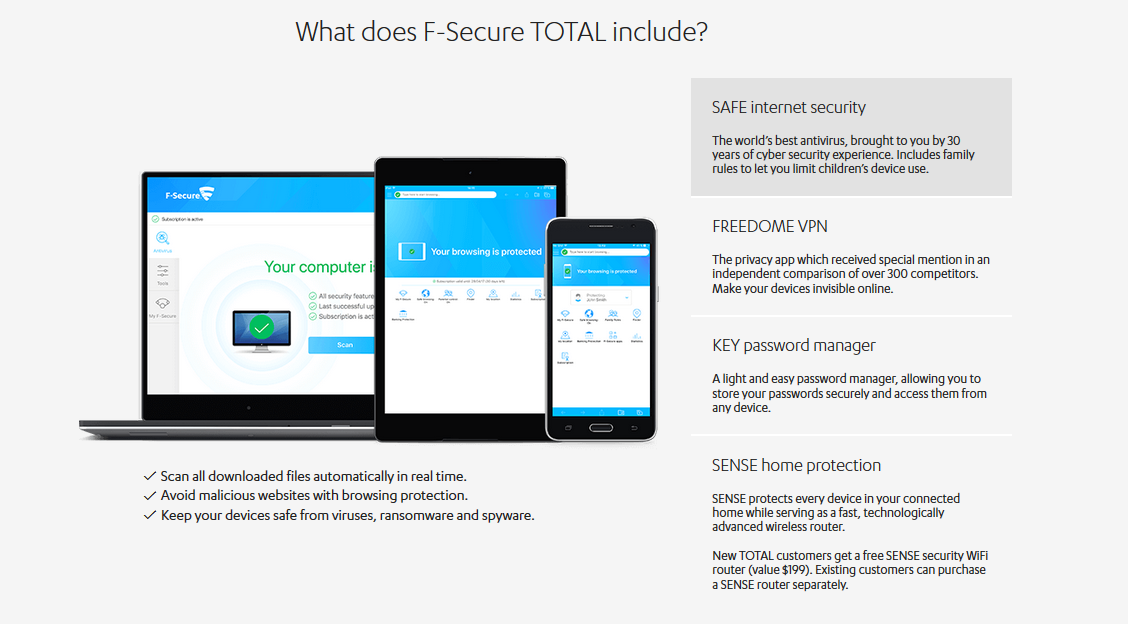 F-secure is a highly secured antivirus software with outstanding performance. It has such an outstanding performance which is the reason we include it in our list of the best antivirus software. Only for the fact that it lacks some features that are common with antivirus software and high prices make it unsuitable. However, if you desire internet security, you won't mind the price.
Pros
It is easy to use
Lightweight application
It has a minimal performance impact
It supports a robust system
Cons
The cheap plans available are only for windows
Features of F-Secure antivirus
When talking about features in F-Secure antivirus safe review, this antivirus can't be regarded as a king. As the basis was covered using a browser extension, necessary virus protection, and the banking model. Some other antivirus comes with better features, and the cost is relatively cheap. However, in security terms, F-secure is a viable contender.
In this review, we are going to overlook the browser security and the virus protection because this is general and common for any Antivirus to have. The Internet security and the Antivirus only have one notable feature as the earlier mentioned two; it is the Banking Protection.
Judging by tests from many internet research laboratories, F-secure has proven to be one of the best antivirus software in terms of protection. Techradar claimed to have tested the antivirus software and gotten a satisfactory outcome.
AV-Comparatives runs monthly malware protection tests, and F-secure is found to block 100% of all malware it was tried with so far. However, what reduces the authenticity of the scores, F-secure blocked a few non-malware that shouldn't be blocked.
While testing F-secure, Windows 2018 Home User Report reported that F-secure blocked 100% of test threats. However, an issue that could bother is the issue of false threats. F-secure raises some false alarms, though not much. To clear this easily,start by choosing to whitelist the wrongly flagged software.
When last did you use an antivirus program that didn't slow down your computer? We know Antivirus software's for their size and complexity. Good news, we found an antivirus that works perfectly, giving you 100% protection against any malware without slowing down your computer. That antivirus is F-secure.
F-secure makes your online banking transactions more secure using F-secure banking protection. Whenever you visit any banking website, the website is queried by the F-secure cloud to check if it is part of their trusted banking sites. If it is, it permits your connection. Otherwise, F-secure disconnects the connection. This is our favorite part of the f-secure antivirus safe review.
Also, all untrusted connections disconnect during a banking session to prevent hijackers from hijacking your money. Therefore, you can only visit safe sites during a banking session. Otherwise, it blocks.
F-secure also features automatic updates, so you never have to worry your security has expired. Once it expires, it automatically updates itself to keep your computer safe from all kinds of viruses without having to worry about manual updates.
Read Also; The Full Review of the Kaspersky Antivirus
Plans and Pricing
Comparing the F-Secure to some other sort of Antivirus that you can get to see at the market, the F-Secure is expensive. Not that we are fans of the Internet Security and Antivirus that are only for windows and are coming with some limited feature set. On the contrary, the best form of F-Secure comes from the more expensive plans.
Though the F-secure plans may not be so pocket-friendly. However, if you desire a high grade of virus protection on your computer.
The F-secure Antivirus is responsible for keeping your computer antivirus up to date. This costs you $29.99 on a PC for one year and $35.99 on three PCs for one year. This gives you all-round protection against computer viruses and malware across your computers and devices for a full year.
However, with F-secure SAFE which gives you access to all of F-secure's security products which includes a password manager and synchronization, you can get F-secure at it's best just by paying a higher fee.
F-secure SAFE costs $69.99 on three devices for a year and $119.99 on three devices for two years. We highly recommend buying this to get all features missing from the antivirus plan alone.
F-Secure Antivirus Protection Review
Hands-on testing and the lab result are making use of to get a clear image of how well the Antivirus can perform. While talking about a lab result, we all understand the fact that it has a testing environment that is strict and samples that are larger
Support
F-Secure has a robust system that is secured, and it is so much accommodating. You will get to see a long list of tutorials and some Frequently Asked Questions coupled with a forum for the product discussion. People who to make direct contact can do well by contacting the F-Secure making use of the live chat and phone and their team responds promptly.
So there you have it, our complete review of the f-secure antivirus. Though this antivirus may not have the best price when on budget, you won't mind if you are looking for the perfect security for your device.