Want the best cybersecurity podcasts? Read on!
Every cybersecurity expert needs to stay updated on the latest happenings, tips, and information in the cybersecurity field. However, not everyone loves to read newspapers or paper magazines which are fast becoming old-fashioned.
Technology has made cybersecurity information more accessible with the advent of podcasts, a more flexible option. You can listen to podcasts while carrying out daily activities like driving, cleaning, and cooking, which makes it a great option for busy people.
Therefore, we will be sharing some of the best cybersecurity podcasts to choose from today. There are over 50 here. So, enjoy.
Best Cybersecurity Podcasts
If you don't want to be involved in extra stress finding cybersecurity podcasts, you can choose as many as you want from the list of 54 best cyber security podcasts below.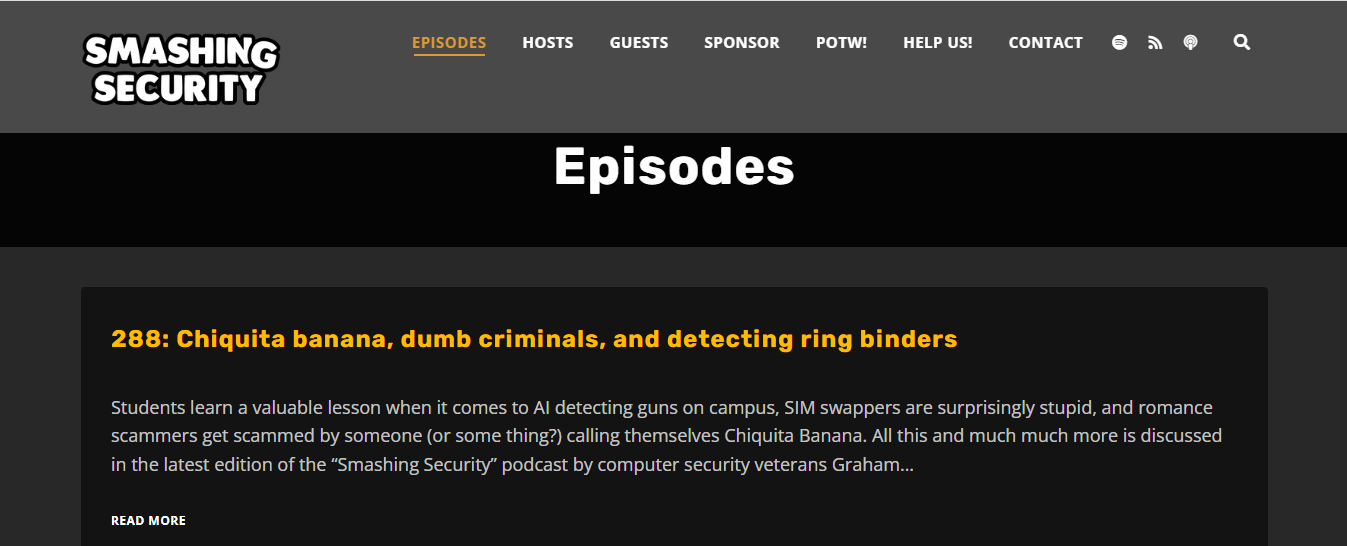 One of the best cybersecurity podcasts so far is Smashing Security. According to their website, it was nominated as the best security podcast in 2018 and 2019. This podcast will help you better understand cybersecurity topics like cybercrime, individual privacy, hacking, etc.
The Shared Security Show should be your number one podcast if you love cybersecurity NEWS, tips, and tricks. This podcast is a weekly host cybersecurity podcast hosted by Tom Eston, Scott Wright, and Kevin Johnson.
Darknet Diaries is a real-life story of the dark side of the Internet podcast. This podcast is based on cybercrime, data breaches, hacking, and malware topics. If you are someone who loves those topics, Darknet Diaries is there for you.
This podcast focuses on cybersecurity news. It provides other cybersecurity news every weekday. This is good for those who want to stay updated about cybersecurity trends.
In 2015, Daniel Miessler launched an unsupervised learning podcast. And in his podcasts, he primarily discusses the importance of cybersecurity and technology. This podcast will be the best for those interested in knowing more about the importance of cybersecurity. 
This is an educational podcast that Rafal Los launched. The main aim of this podcast is to educate listeners on business hacks, threats, and risks. If you are a business owner who is concerned about your business security, you should consider listening to this podcast.
Social engineering podcasts focus on how humans communicate and interact and provide information on how to protect ourselves from social engineering attacks.
As the name sounds, this is a popular cybersecurity podcast. This brings cybersecurity experts from different sectors to discuss insider threats, the mind of a hacker, cybersecurity jobs, and more.
Security Unfiltered podcast psoriasis hosted by Derrick and Joe to keep people updated on cybersecurity trends and get more people into the field. If you are someone who wants to deepen their knowledge in cybersecurity, this podcast will help you achieve that.
BarCode Podcast was invented by Chris Glanden in 2020 during the Time of Coronavirus when people were in lockdown. Chris Glandlen, who has a great desire to discuss cybersecurity topics, came up with an alternative to the issues without a physical audience.

Cybereason launched this podcast. Malicious life podcast analyzes insider information on the figures and occasions influencing the development of the cybersecurity sector. 
Cyber Security with Bob G is another podcast that focuses on distributing the latest cybersecurity NEWS tips and updates. This is another podcast that will keep you updated on cybersecurity trends. The valuable information shared on this podcast will help you protect your computer, home, devices, and identity.
Cyber Security Sauna brings experts to discuss various cybersecurity topics. Consider checking this podcast if you love getting ideas from different cyber security experts.
This is an event cyber security podcast. The hosters of this even focus on the news, real-life experiences, and what they think about the future of cybersecurity.
This podcast hosts security professionals who share and learn from one another. You can follow their episodic series to improve your cyber intelligence.
This podcast series is hosted by two cyber security experts, Rob Aragao and Stan Wisseman. in each of their podcast episodes, they discuss cybersecurity, exploring common challenges, trends, and solutions for today's CISOs and CIOs.
This podcast is hosted by professional white heart hearkens. Every weekly podcast episode discusses the latest cyber security headlines and trends.
This is one of the best cybersecurity podcasts, with millions of monthly listeners. ESET podcast was a forerunner in antivirus security at first, developing acclaimed threat detection programs. ESET wants to ensure that everyone can use technology's incredible potential. Follow the podcast to stay up to date on the newest press releases, security studies, business honors, and security analysis related to IT security.
This is another good cybersecurity podcast that will keep updated on cybersecurity and relevant topics. This podcast helps you deepen your cybersecurity smartness.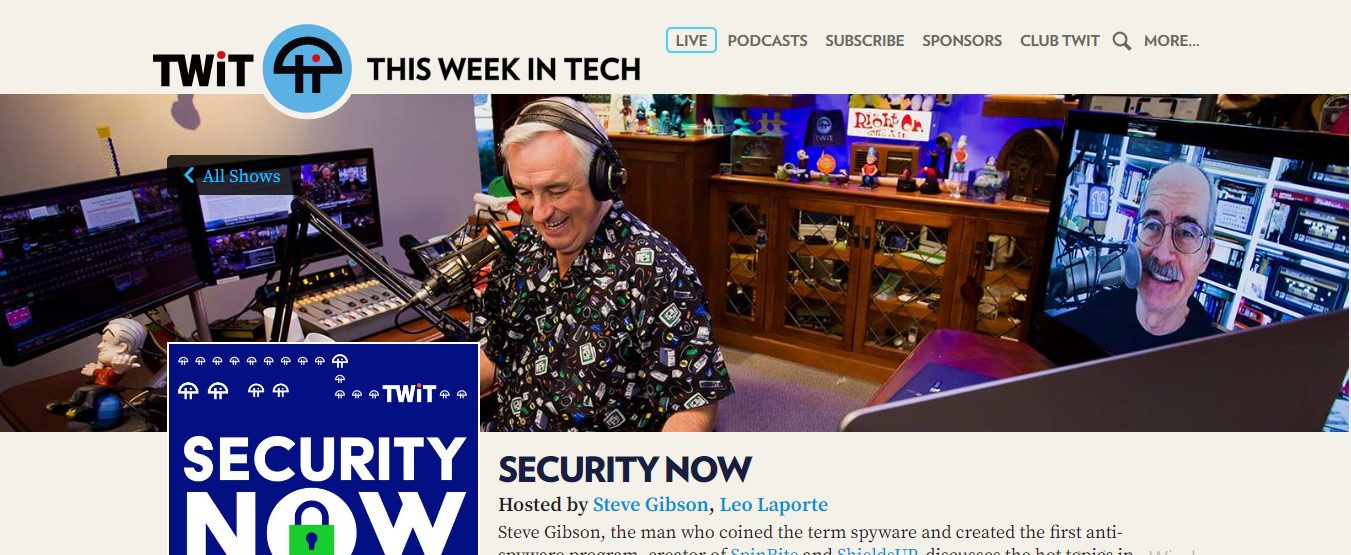 As the name entails, this podcast deals with cybersecurity matters. Dominic Vogel and Christian Redshaw host different episodes every Monday. They invite experts to each series and discuss how you can protect yourself and your business.
Tripwire hosts a 20 minutes podcast series of conversations with experts who protect people from cyber-attacks. Listening to the experts will give you ideas on how to protect yourself and others from cyber-attacks.
This is a podcast hosted by Mike Mimoso. His main goal is to discuss topics affecting cybersecurity professionals with researchers, influencers, innovators, and cybersecurity leaders.
Infosec Overnights is also known as Daily Security News. The podcast is hosted weekly and provides relevant information and stories on cybersecurity.
Claudette McGowan hosts the C Suite podcast. She focuses on increasing cyber literacy among people by educating them through her podcast series. This may be the best podcast for aspiring cybersecurity.
This is a straight to the point podcast. Each episode only lasts for about five minutes. Yet, it provides relevant and helpful information for security professionals and novices.
TEISS is a UK-based podcast that provides information, analysis, and insights about cyber security. 
This podcast is not just about cybersecurity. Professionals from different fields are always invited to share their stories in this podcast.
Weird Security is a podcast that deals with News, stories, Advice, and More based on cybersecurity, national Security, hacking, and privacy. The aim is to prevent people from falling into cyber attacks.
Tevora Talks cybersecurity by Kash Izadseta and Matt Mosley. This podcast lets us stay updated on the cyber threats, vulnerabilities, and software tools you help fight against cyber war.
The Naked Security podcast provides plenty of technical guidance you may use at work and home, in a manner that is both enjoyable and serious and in plain English. This podcast is entertaining and available for everybody with prior knowledge of the English language.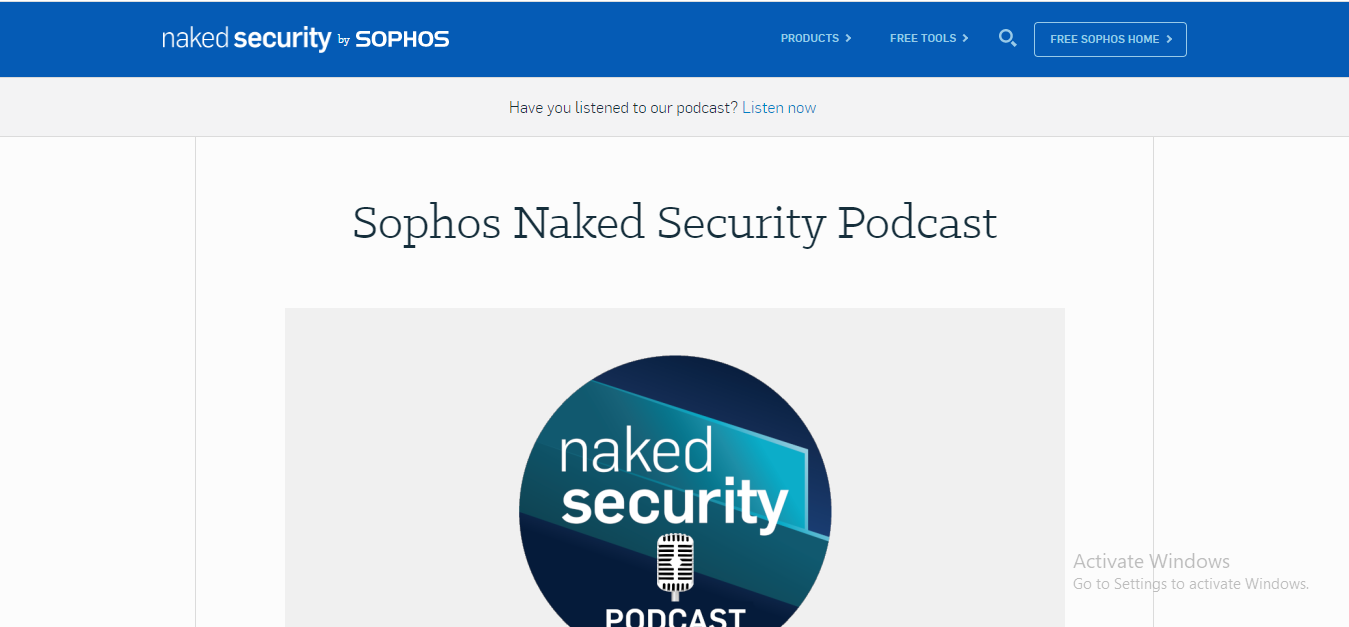 Threat researchers host this podcast. It is based on security news and the latest cybersecurity threats.
Escaping hackers has never been easier. And to stay alert always, the secure AF podcast provides news, tips, and security tools that help you fight against hackers. This podcast has an episode for everyone, no matter where they are on the cyber security knowledge ladder.
Lock and Code are known as the Malwarebytes cybersecurity podcast. This podcast is hosted every two weeks and covers various topics like deep fakes, VPN myths, privacy, and more.
Tuesday Morning Grind is a knowledge-sharing podcast series. If you are interested in improving your cybersecurity knowledge, this podcast will help you achieve that.
Paul Roberts hosts The Security Ledger Podcast. This features cybersecurity interviews with security experts. The discussions are mainly based on security NEWS and opinions.
PWNED is a podcast that covers many topics in the cybersecurity field in different episodes, which last about 30 minutes. And in each episode, they discuss technology, Security, privacy, and how-tos.
This is a discussion-based podcast. In each episode, experts gather and discuss various topics in cybersecurity. This podcast helps in getting ideas on different issues of Security.
Podcast from a CheckPoint is a podcast that gets information on various cybersecurity topics and discusses them in their episodes. This podcast is ideal for those who want to have ideas on different aspects of cybersecurity.
This is an interview-based podcast. Different professionals from different angles are invited to each episode for an interview. It is an excellent podcast for its professionals and those aspiring to be professionals.
Cybersecurity magazine podcast is another good podcast for cybersecurity that focuses on news and trends. The main aim of this podcast is to distribute cybersecurity information to everyone in a straightforward language.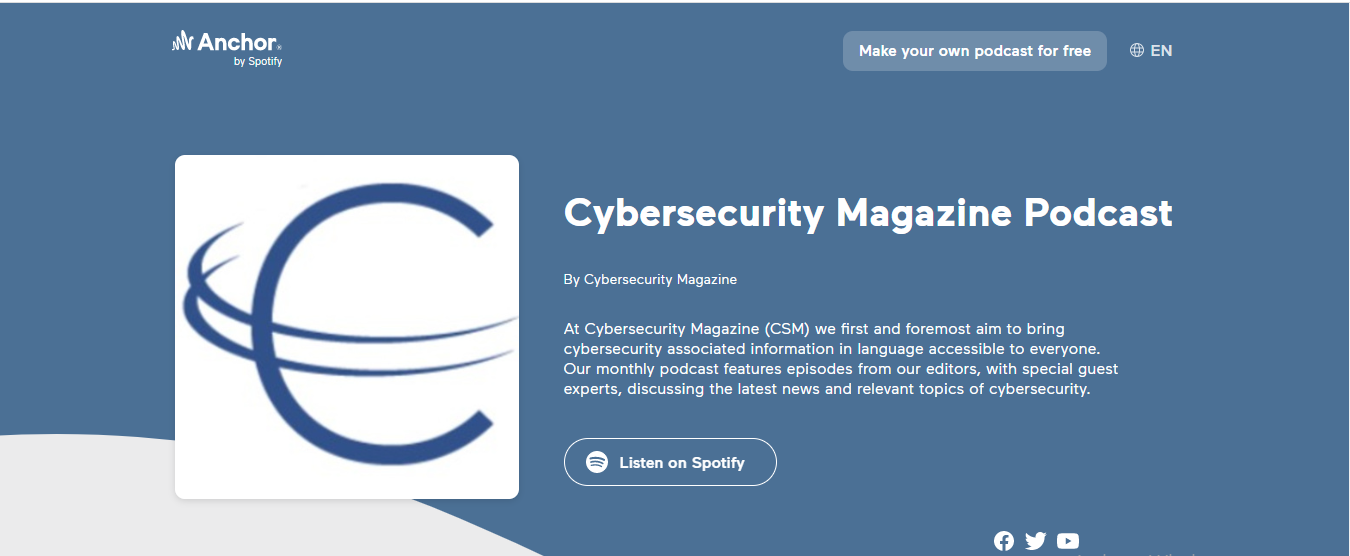 Cybersecurity forever is a podcast mainly for professionals and those who want to stay updated on cybersecurity trends. In each episode of this podcast, they share tips and tricks and educate people on the relevant topics.
This is a knowledge-based podcast. This will be a good podcast for those interested in improving their cybersecurity knowledge.
Security Headlines discusses the most recent security vulnerability in the area of cyber security. Suppose you're interested in the newest security flaws, whether you're a tech-savvy penetration tester, a DevOps specialist, a programmer, or just someone who regularly follows the latest developments in technology security news. This podcast is there for you.
Proactive Cyber security shares daily tech, cybersecurity, and compliance risk news updates in their weekly podcast episodes.
ITSP magazine podcast focuses on analyzing and exploring the past, present, and future and the relationship between humanity and technology.
Cyber24 is another great podcast for business owners. This focuses primarily on business leaders and policymakers understanding the often-intimidating subjects of cybersecurity and data privacy. If you are a business owner that wants to stay safe online, consider checking this podcast.
This podcast discusses current cybersecurity trends, incidents, and the best ways to secure your everyday life.
Section 9 is a US-based cybersecurity podcast aiming to share and simplify IT and information security.
Defensive Security is a podcast to keep people updated on the strategies and tips they can use to defend themselves against cyber-attacks.
This is an excellent podcast for IT professionals and those interested in learning cybersecurity. In their episode, they cover topics that are of vital interest to the cyber security expert.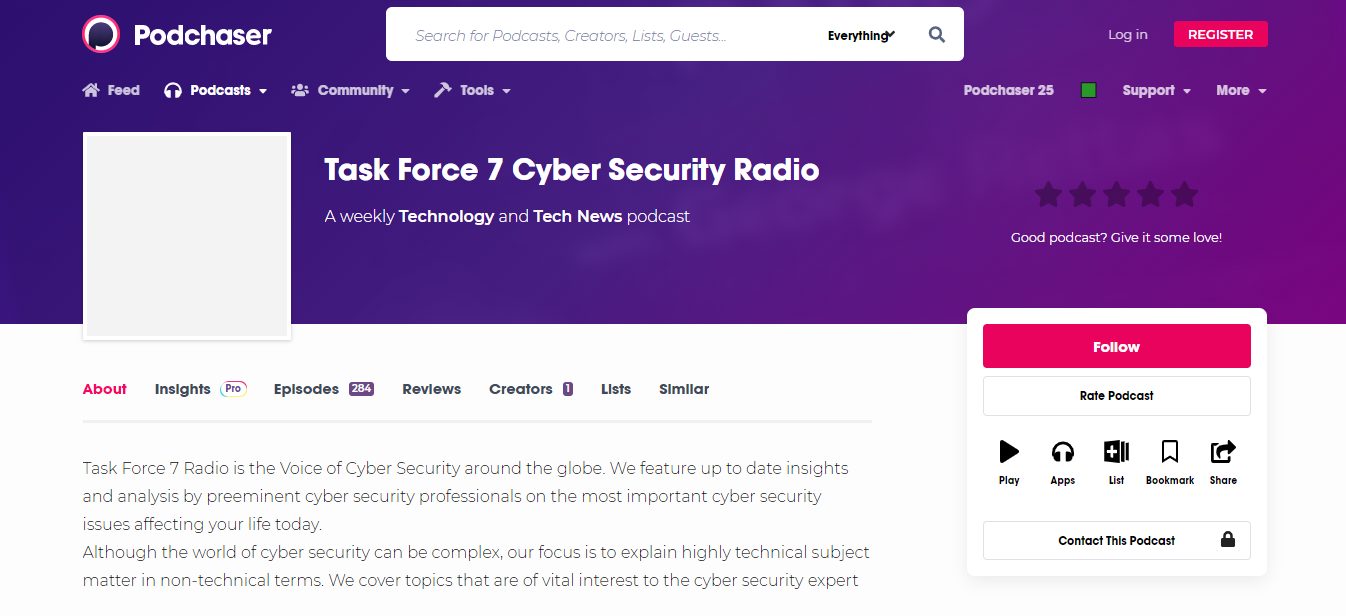 Cybersecurity today focuses on cyber threats to businesses and data. They discuss the latest cyber threats and how to prevent them. Listening to this podcast will help you in risky management.
This podcast has short and valuable episodes. In every episode, they invite guests to the show. Each guest was invited to discuss different topics in the cybersecurity field. Cyber pro podcasts are a great podcast for people who want to get ideas for different security experts.
CYBER is a popular weekly podcast hosted by a small group of people. In each episode, they share reports from their trusted researchers. This podcast is also good for distributing the latest security threats, challenges, and stories.
The breach was launched not long ago. And it has gained thousands of listeners—the hosts of this podcast focus on distributing the latest security news and the history of notorious hackers. If you wish to listen to the history of those hackers, the breach is the best podcast for you.
Conclusion
Follow up with cybersecurity updates from this list of the best cybersecurity podcasts. There are a lot of options to choose from. So it is left for you to explore and select your favorite. 
---
SUGGESTED READS