Read this Atlas VPN review to learn more about it.
With so many VPN providers on the market today, finding one that offers something unique can be challenging. But that's precisely what you get with Atlas VPN.
When you're traveling to a new country, it can be nerve-wracking to figure out how you can use the Internet securely and also access geo-restricted content.
If you're an avid user of streaming services like Netflix, for example, you'll likely have run into issues where a show isn't available in your current geographical location. This is because some streaming services have different licenses for content based on your IP address.
As such, if you're traveling or live somewhere that has restricted Internet usage (like college campus WiFi!) then it might feel like there aren't many options left for getting access to the things that you want online.
Thankfully, VPNs help to solve these problems by giving users new IP addresses from locations all over the world. Now, let's get started with the Atlas VPN review.
What Is Atlas VPN?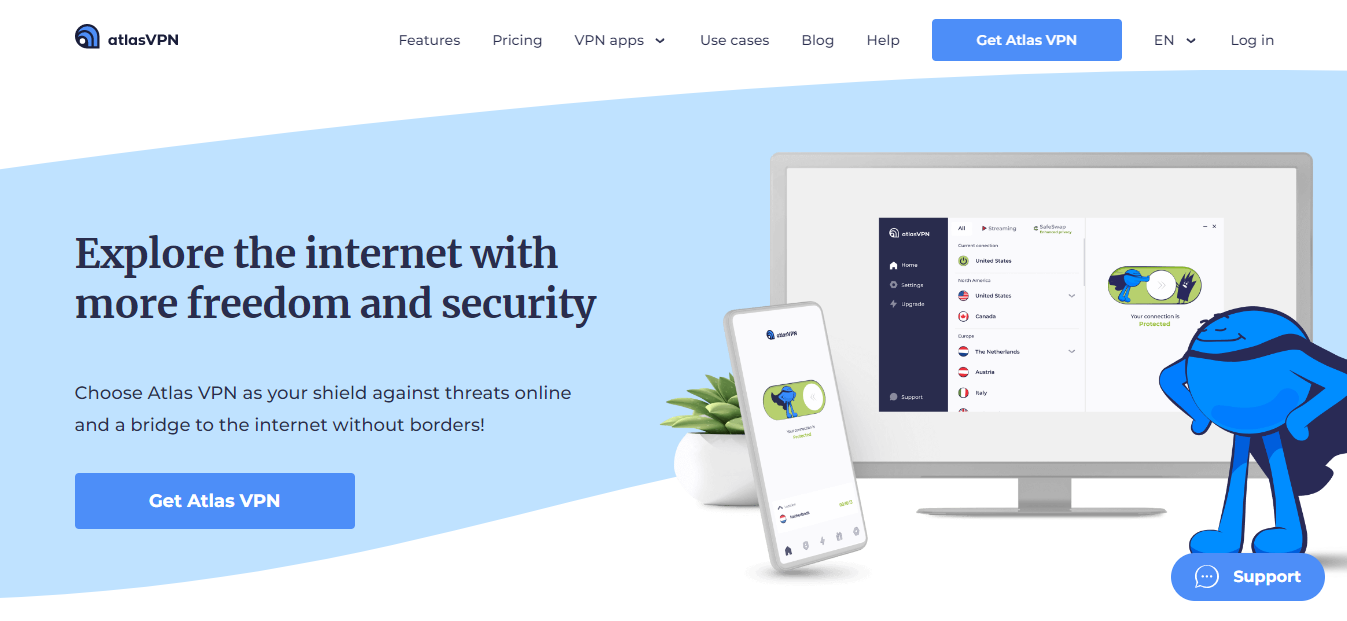 Atlas VPN is a VPN service provider that makes available the use of private server networks to internet users with the intention to provide online privacy, data security, protection from hackers and unauthorized third-party interference, and access to restricted internet services and information.
Atlas VPN is among the latest VPN service providers. It was established in 2019 as a freemium VPN service intended to make the internet safe and accessible for every user. Conversely, Atlas VPN is now part of Nord Security, a leader in the VPN market.
Like other VPN service providers, Atlas VPN routes your traffic through an encrypted virtual data tunnel to any of its chosen private (VPN) servers using modern and fast VPN encryption protocols such as WireGuard and IKEv2.
85% OFF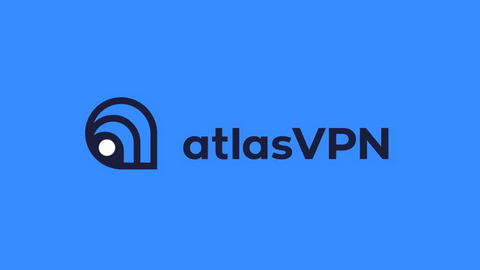 Atlas VPN Premium
Enjoy ultra-speed VPN services for an unlimited number of devices.
==>> Get Atlas VPN
How To Get Started/Sign Up
Getting started with Atlas VPN protocol is relatively simple, as tested by our technical team on Windows, Mac, Android, and iOS platforms. 
Getting started on any of the platforms listed above follows the same installation process; follow the steps below to get started on your preferred platform.
Visit Atlas VPN's official website; scroll down to the bottom of the webpage, tap on the 'App' dropdown menu and select any OS platform of your choice (the Android OS was used for this test).

Tap on the 'Download free' icon redirects you to the Atlas VPN app on the Google play store page or Appstore

Click 'Install' to start the installation process on your android device

Launch the Atlas VPN app on your Android device and tap on 'Connect' to enjoy free VPN service from Atlas VPN without a username.

To upgrade to the premium version, tap on the 'Get Premium,' provide the necessary information, choose a plan, and make payment using the available Atlas payment options.
85% OFF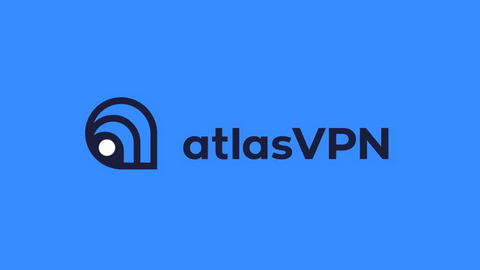 Atlas VPN Premium
Enjoy ultra-speed VPN services for an unlimited number of devices.
Atlas VPN Key Features
User-friendly Interface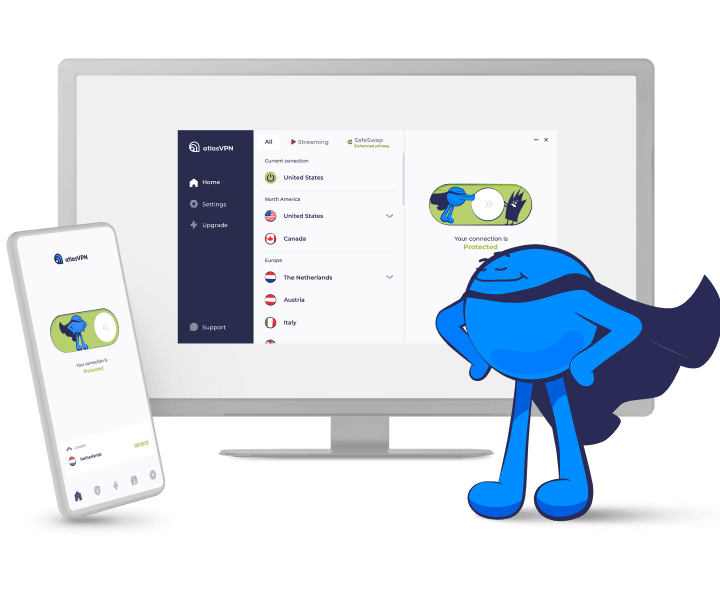 Atlas VPN user interface is designed with non-tech-savvy users in mind. Launching the app and tapping on the 'on' button connect you to the nearest server available. 
Swiping up reveals a list of 45 (for premium users) server locations you can choose from. On the left side of the screen are four tabs which include 'settings,' 'kill switch,' 'Assistant,' and 'support.' 
Overall, navigating the Atlas VPN interface is relatively straightforward, with no need for a third-party assistant to find your way on the Atlas VPN interface.
VPN Protocol: How Atlas VPN transmits your data 
Atlas VPN uses WireGuard, IKEv2, and IPSec VPN protocols. WireGuard is a more modern VPN protocol optimized for speed and security, while IKEv2 and IPsec are VPN protocols long in use for their security and stability. 
VPN protocols are secured virtual encryption tunnels through which data traffic leaves or enters your device to a VPN server, bypassing detection by your ISP. 
Encryption Protocol: How Atlas VPN protects your data
Atlas VPN uses a military-grade AES-256 bit encryption algorithm to scramble data traffic leaving or entering your device; hence, at no point is your data vulnerable to unauthorized third-party such as hackers and spies, even when connected to unsecured public WiFi networks. 
There has not been any known technology to crack the AES-256 bit military-grade encryption algorithm, so while using Atlas VPN, your data remains safe with no possible ways of gaining access to data traffic from your device. 
Kill Switch: How Atlas VPN secures your data traffic when your VPN connection goes off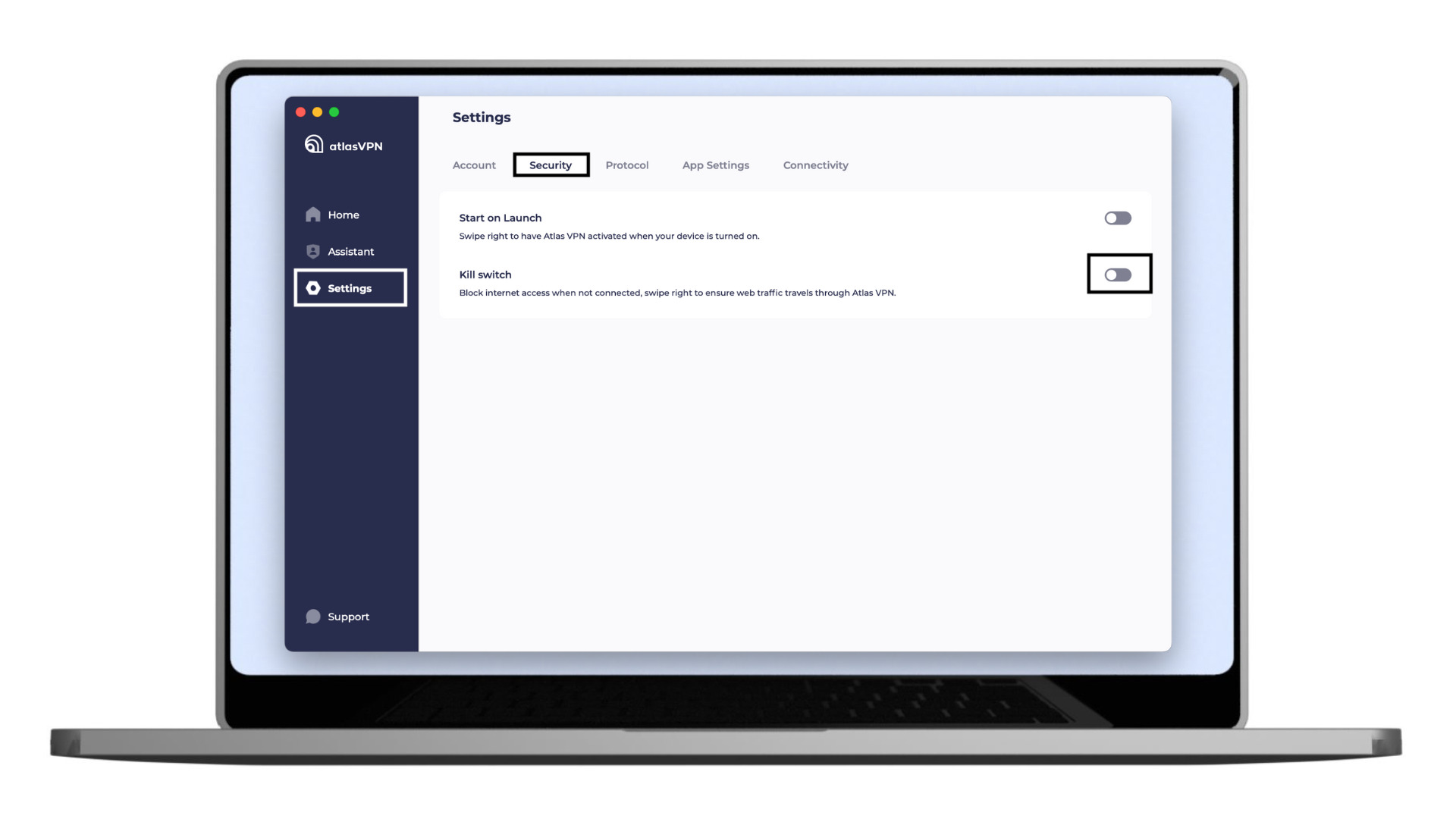 A VPN connection can go off due to an unstable connection or other factors. When this happens without realizing it, your data traffic becomes exposed and vulnerable since data traffic from your device follows the regular unprotected route to your ISP, exposing all your activities. 
However, activating Atlas VPN Kill Switch feature trips off your internet connection automatically, immediately your VPN connection trips off, preventing unprotected data traffic from leaving your device.
You remain protected with no possible data leakage even when the VPN connection accidentally goes off.
Tracker blocker: How Atlas VPN protects you from Ads and malware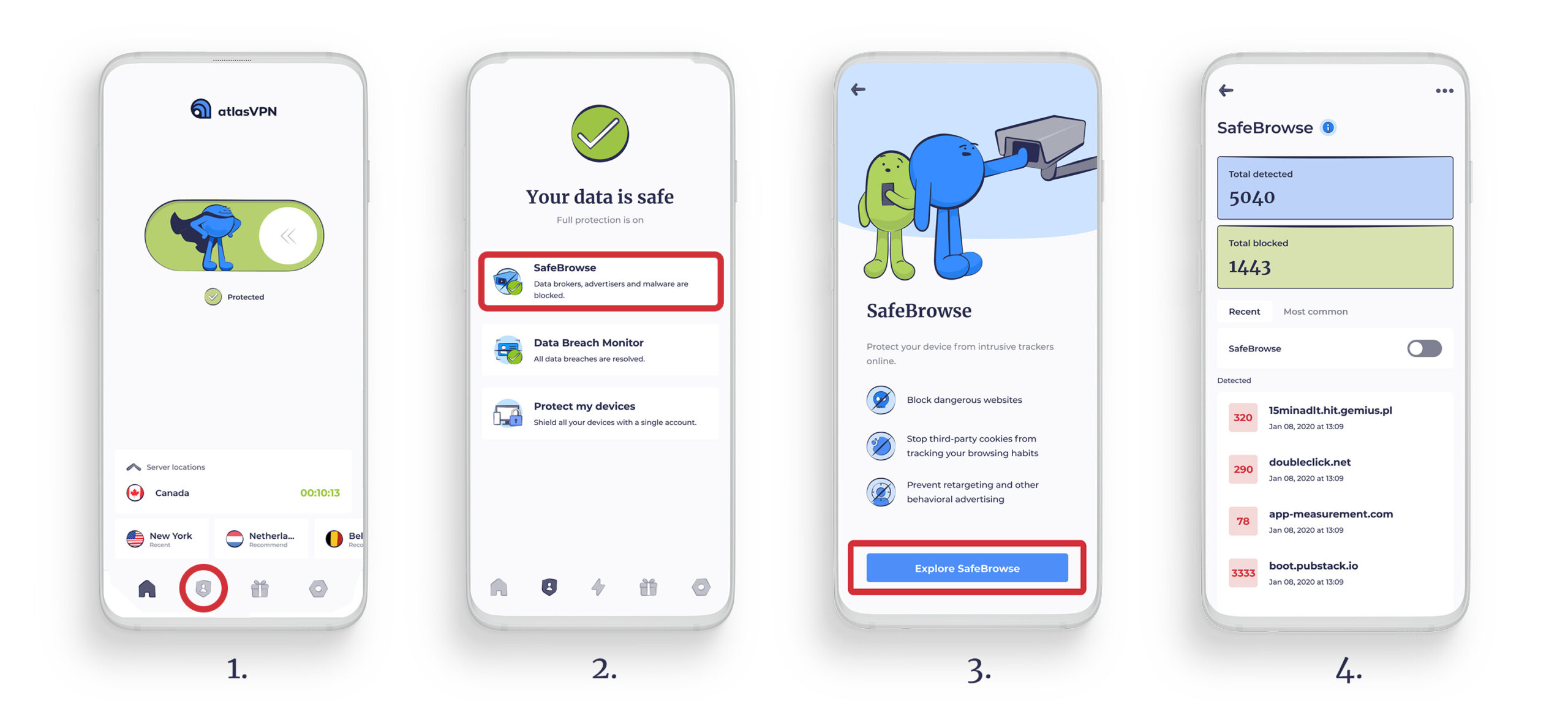 Atlas VPN has a Tracker blocker known as SafeBrowse. This helps to protect you from advertising companies who collect data from your device via cookies and third-party trackers to serve you with tailored ads.
It also keeps out malicious websites, thus protecting your device from adware and malware infection by acting as a strong Firewall. 
Atlas VPN Tracker blocker works well, keeping off all ads that display when you're connected to the internet without using a VPN client.
Servers: The core of Atlas VPN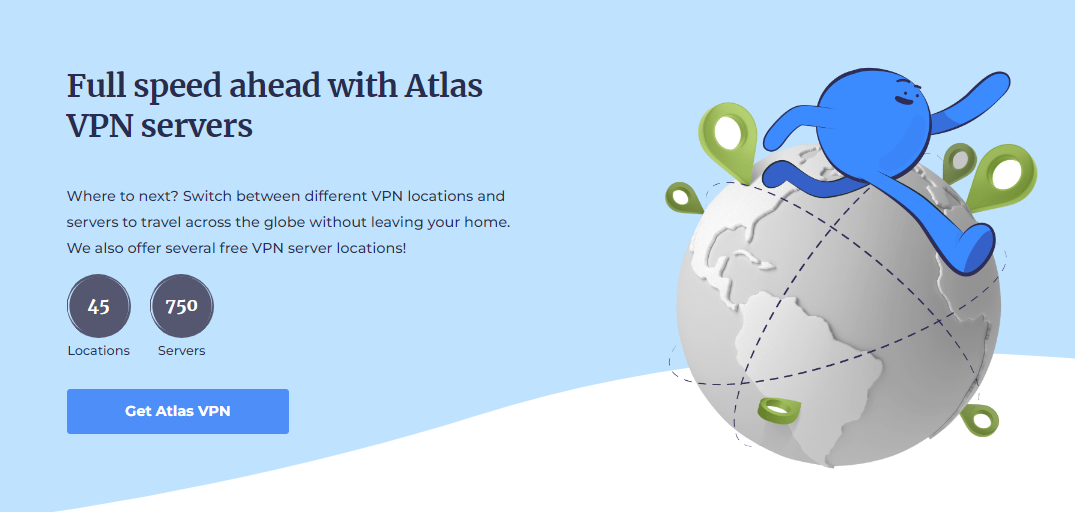 Atlas VPN has over 750 servers in 45 locations worldwide; this may be a far cry from the over 6000 servers owned by top VPN providers, but you sure can enjoy what such a VPN provider offers its users from Atlas VPN:
Fast internet speeds

data security

online anonymity

access to servers optimized for P2P torrenting, and streaming. 
If you're security conscious, choosing between SafeSwap and MiltiHop servers provides extra security layers bypassing your data traffic through several server layers.
85% OFF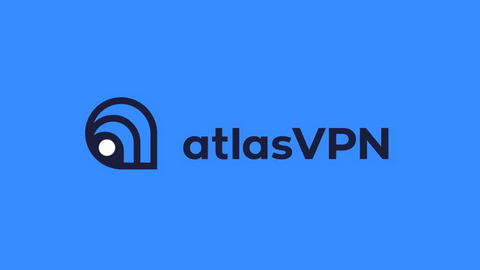 Atlas VPN Premium
Enjoy ultra-speed VPN services for an unlimited number of devices.
Email Protection: Can Atlas VPN stop spam and linking via email?
Spam, fraud, and phishing links are regular with emails nowadays. They can effect a significant level of damage, so, as a business or individual, it's important to protect yourself from it. And you can count on Atlas VPN for that.
Hackers usually send phishing and spam links that you can relate to. That way, there's a higher chance of you clicking on the link. They know what you can relate to because they can get information from your exposed IP address.
Now, when you connect to an Atlas VPN server, the case is different. Anyone who tries to spy on your IP address will encounter the VPNs instead. So, it becomes easier and more apparent to detect and stop spam and phishing links. 
Furthermore, since the VPN is encrypted with some of the best encryption algorithms, your email paths are secure. No one will be able to intercept your messages.
Ad Blocker: How Atlas VPN protects you as you browse
One of Atlas VPN's best features is the ad blocker tool known as SafeBrowse. SafeBrowse works as a tracker and malware blocking tool. Ultimately, it'll ensure you have a clean browsing experience.
Already, the VPN is masking your real IP address and keeping you anonymous online. This protects you as you browse. Hence, SafeBrowse brings an extra security layer into the equation. You don't just browse safe but safer.
SafeBrowse will automatically disable third-party trackers. And you can always review to find out which websites attempt to track you.
In similar fashion, the ad blocker tool will stop you from visiting malicious websites. Malicious websites that can steal your data or infect your device with virus and malware. The ad blocker will also stop spyware, ransomware, and cryptojacking scripts.
You can activate SafeBrowse on your Atlas VPN via the Assistant section of the app. You only need to tap the toggle bar.
No logging policy: Does Atlas VPN log your data?
With Atlas VPN, you can rest assured that only your eyes see what you do online. Typically, ISPs and online trackers can monitor your activities via logs. Logs reveal everything you do when connected to WiFi or mobile data. And they're well-detailed, revealing your device type, time stamp, visited URLs, IP addresses, and more.
Hence, for you to stay truly anonymous online, your logs shouldn't exist. That's what Atlas VPN accomplishes with the strict no-log policy. In particular, it doesn't store your browsing data and ensures websites can't store them, too.
However, based on our observations during this Atlas VPN review, Atlas VPN still keeps some of your information. These include the information you share while creating your account, like your email address, for example. Note that there's no risk with this. You're still 100% safe.
Furthermore, Atlas VPN may securely store your payment data. This is necessary in cases of subscription renewal or refunds. Again, it's 100% safe as the VPN employs the full weight of its security infrastructure to protect your info. 
Other information the VPN collects includes standard Internet cookies and in-app event data. All of these, too, are stored securely.
Streaming Servers: How Atlas VPN Works For Netflix, Spotify, Disney+, and Others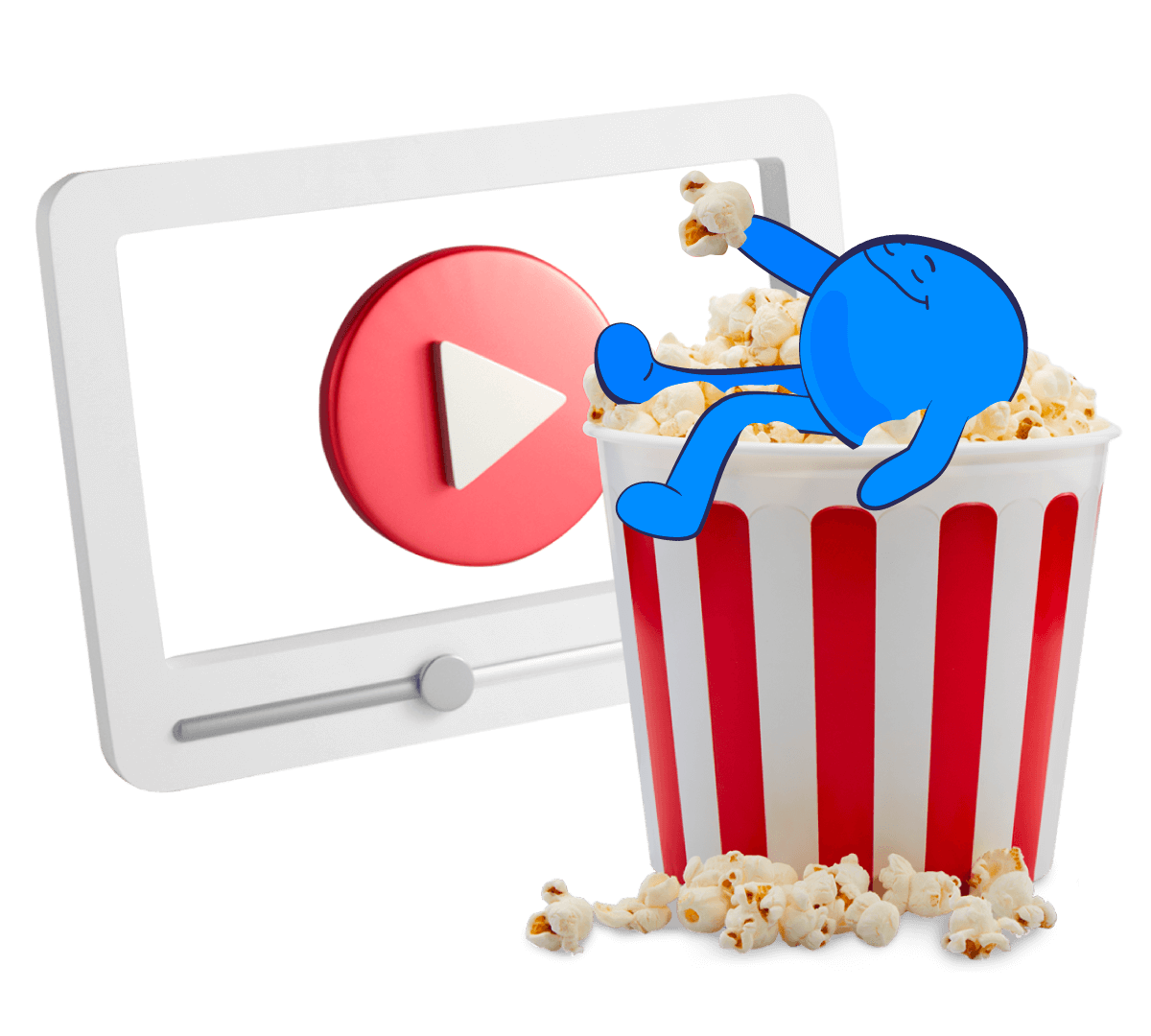 As mentioned previously, AtlasVPN has more than 750 VPN servers. A good number of them are particularly optimized for streaming. In particular, the servers are fast and maintain their speed all through a task.
The speed is uniform from start to end, irrespective of where you're browsing from. With this, Atlas VPN becomes a worthwhile option for streaming content on Netflix, Spotify, Prime Video, Disney Plus, and more.
However, you only get access to Atlas VPN's optimized streaming servers if you're a premium user. In addition, as a premium user, you can request a server from Atlas VPN.
By default, the country streaming server you connect to will determine what content you can stream. Suppose you want to stream content from a country whose server isn't available in Atlas VPN. In that case, you can contact Atlas VPN and request a server in that country.
Simultaneous Connectivity: How many devices can connect to the Atlas VPN subscription
Do you have one device, two, ten, a hundred, a thousand? It doesn't matter with Atlas VPN. The platform doesn't limit the number of devices you can use per premium account. Therefore, you can connect as many devices as you own.
After testing the tool, we confirmed that the settings and customizations stay the same across all devices.
For example, your server preferences set on your Android device will also reflect on your Windows PC, iOS mobile, and other apps you own. With this, you don't just get simultaneous connectivity but also real-time synchronization.
Atlas VPN Data Breach Monitor: Does it work?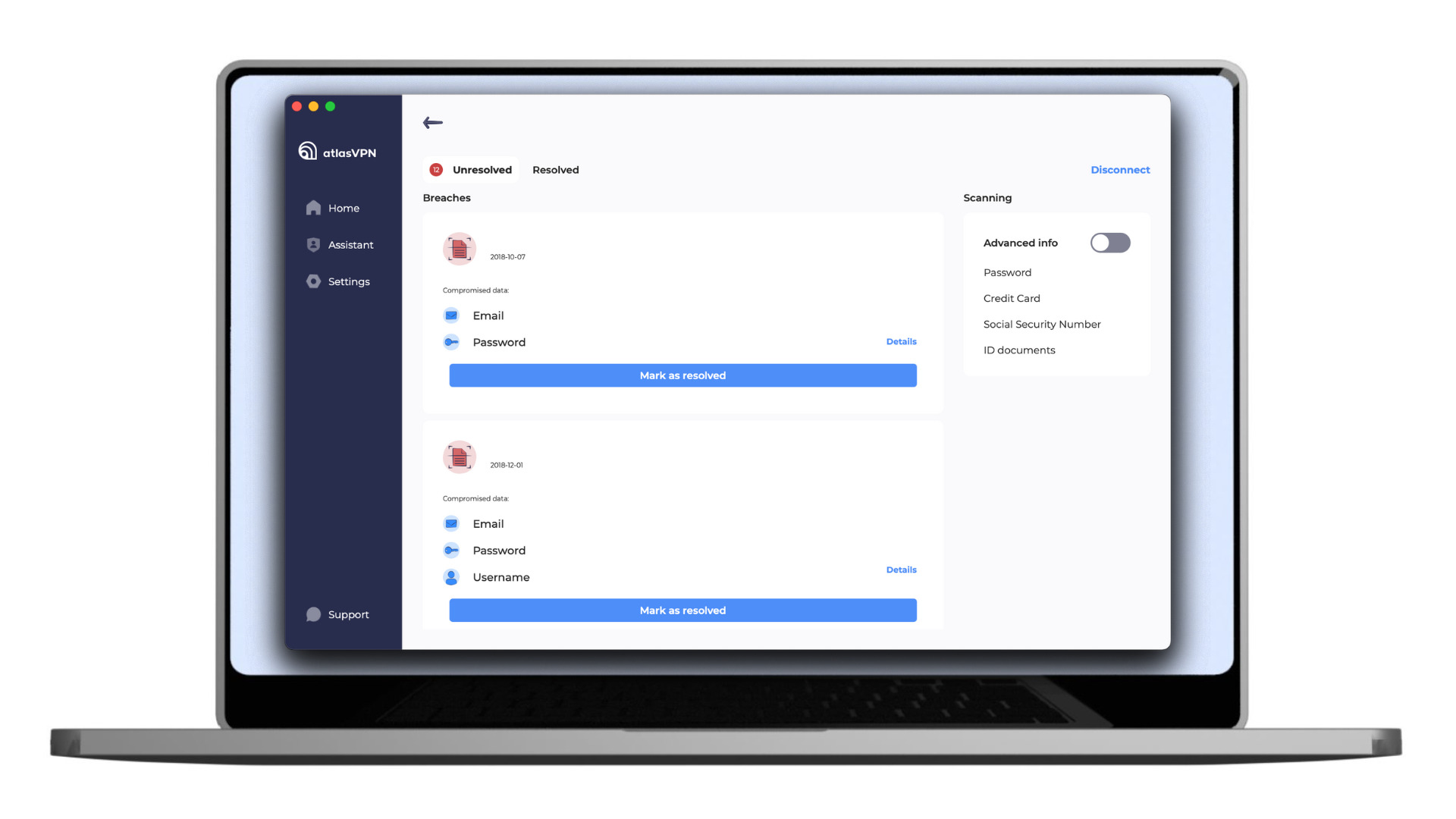 Atlas VPN has a data breach monitor that scans the web for your personal data exposed online. It also alerts you whenever your personal data is compromised.
85% OFF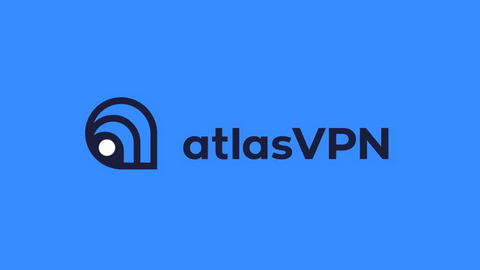 Atlas VPN Premium
Enjoy ultra-speed VPN services for an unlimited number of devices.
Atlas VPN Review: Tests
Speed and Performance: How fast is Atlas VPN?
Our technicians tested out Atlas VPN based on speed performance; on its fastest server, Atlas VPN clocked an average of 80.2Mbps, compared with 80.5Mbps base speed.
Although we recorded lower speed for distant servers, streaming and downloading at an average speed of over 40Mbps isn't bad for a VPN server.
Bypassing Geo-blocks: Can you enjoy your favorite TV shows even when you're out of reach?
Our test result for this Atlas VPN review shows that this VPN service can bypass geo-blocks and access streaming services like Netflix US, Spotify, Hulu, HBO Max, Disney+, BBC iPlayer, etc., without lag. However, this feature is available only to premium subscribers.
If you live in countries or you work in organizations where some websites are restricted, you can bypass such restrictions using Atlas VPN. 
Atlas VPN Apps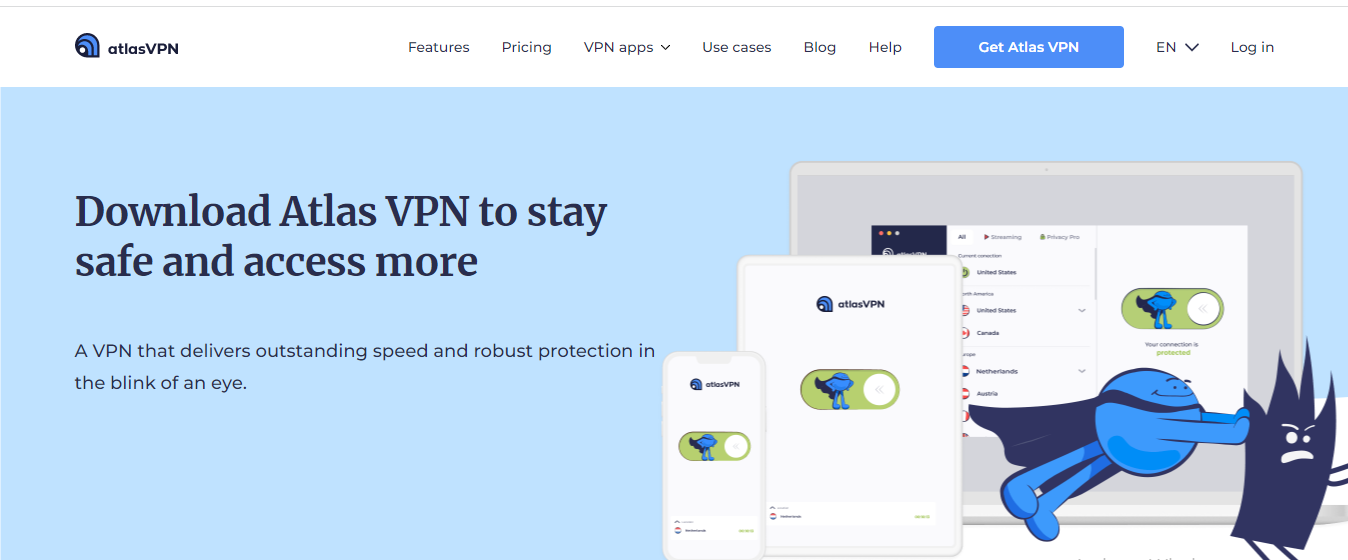 Atlas VPN is available in the following app versions:
Android

iOS

Windows

Mac

Android TV

Amazon Fire TV Stick
Atlas VPN Customer Service And Resources
At the time of writing this Atlas VPN review, we observed that it offers its customers a live chat feature and accessible support channel options.
As an Atlas VPN customer, you get real-time support with live chat. However, that's only possible if you're a premium subscriber. Users leveraging the free VPN cannot access it. 
Here's what you get when you initiate the live chat: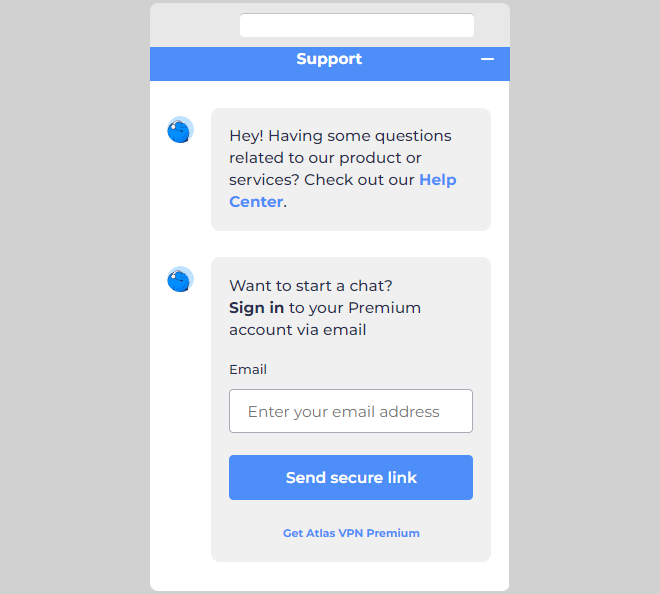 The first requirement is to provide your premium account email. That won't be the case if you are logged in. You would simply start chatting at once.
The best option for reaching Atlas VPN customer support is via email. In particular, the address is support@atlasvpn.com. If you don't want to send a direct email, you can submit a contact form. Whichever, you'll still get a response and follow-up in your email.
If you don't contact the customer service team, then, you can source support on your own. This is workable using the Atlas VPN Help Center. Here's what you get when you launch the section: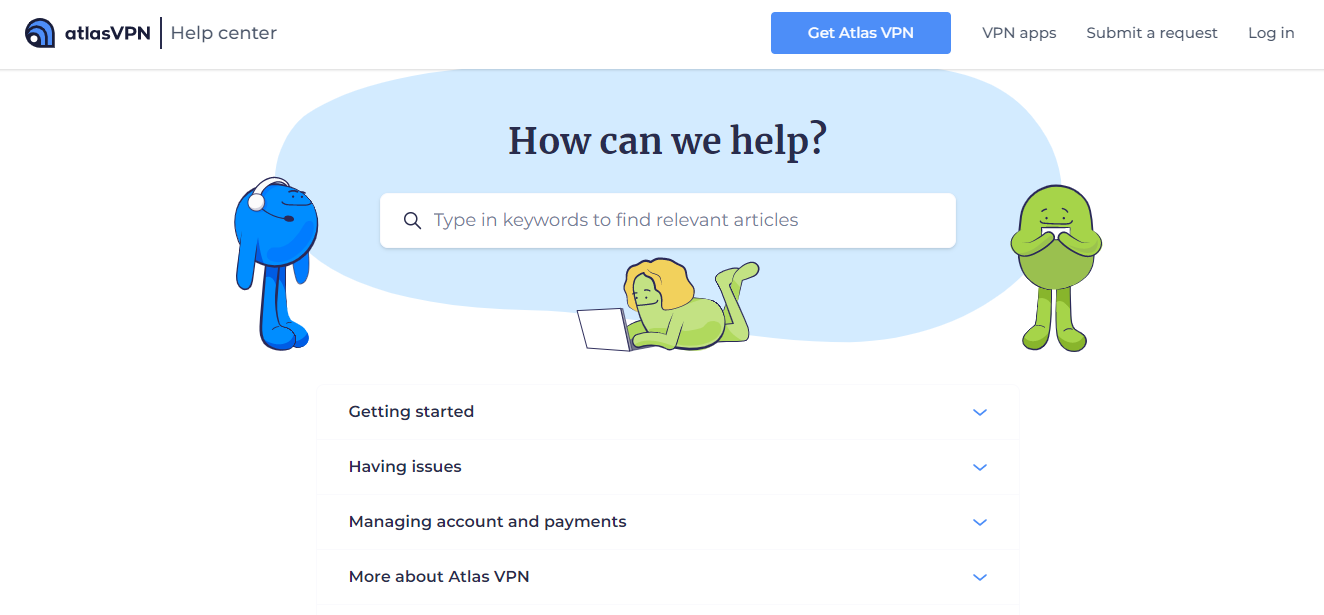 From our observations, the Help Center is well-laid out. You can quickly sort different sections, including:
Getting started

General info

Billing and account

Troubleshooting
To make things even easier, simply type a keyword in the search bar to locate an article. The articles are well-written with related images, meaning they're easy to follow.
Atlas Free VPN
Before paying a subscription, we tried the Atlas VPN free version. Let's discuss our observations in this section.
To start with, the Atlas free VPN is safe. It doesn't contain ads or trackers as typical with many other services. Also, it's available for all major devices, including Windows, iOS, Mac, and Android.
We tested the tool and found that it works on unlimited devices. In addition, the supported servers are fast, with zero speed limits. However, the server count is poor. You only get three locations to use.
With just three servers, you don't get many IP addresses. Consequently, you don't get many options for bypassing geo-restrictions. Based on our experience, you can leverage a VPN's full capacity when limited to only a few locations. 
Furthermore, you can't rely on the free VPN for heavy streaming. Likewise, it doesn't include the ad blocker, SafeSwap, P2P, and other advanced technologies Atlas VPN offers.
So, while the free VPN is a good way to start, you shouldn't depend on it in the long run. If you'll continue using Atlas VPN, prepare to pay for a premium plan as soon as possible.
Atlas VPN Premium Pricing
To get past the limitations of the free version, you must pay an Atlas VPN premium subscription. The subscription is straightforward, and you can access all features irrespective of your plan.
However, you can save more money when you pay for long-term plans.
Here's a breakdown of the different pricing options: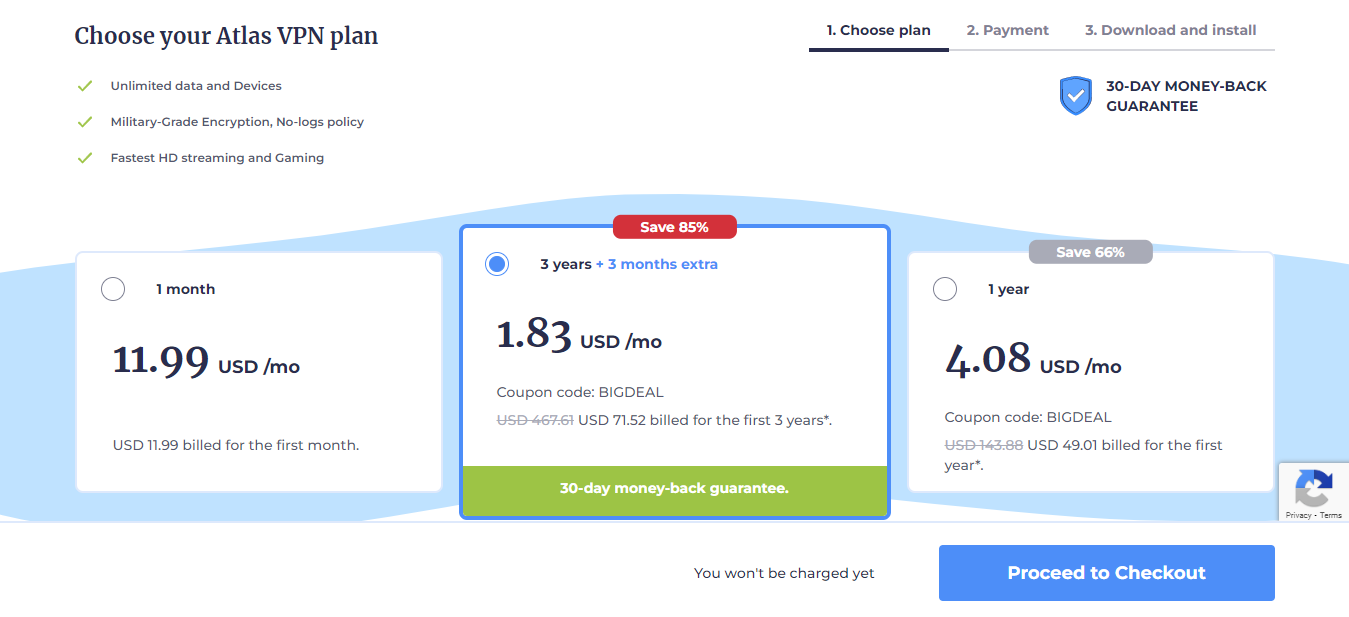 Monthly Plan: $11.99 per month
This is Atlas VPN's starting price, and it's simple. Sign up and pay $11.99 after every 30 days. It's recommended if you plan to use the VPN for the short term.
1-Year Plan: $$4.08 per month
The 1 Year plan gives you a 66% discount for paying long term. While the cost is listed as $4.08 per month, you don't get to pay monthly. You simply pay $49.01 for your first year. Emphasis is on "first year" because the price may differ at the start of the next billing cycle. Atlas VPN explicitly states that prices are subject to change from time to time. 
3-Year Plan: $1.83 per month 
The 3-Year plan is the highest you can get with Atlas VPN and comes with the highest discount.  As typical, the cost is $1.83 on average each month, so you'll pay $71.52 for the first three years. Again, don't expect the price to remain the same at the start of the next payment period.
85% OFF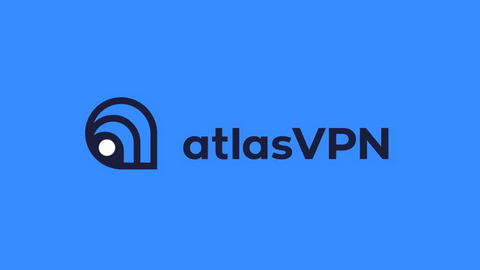 Atlas VPN Premium
Enjoy ultra-speed VPN services for an unlimited number of devices.
==>> Get Atlas VPN
Atlas VPN Review: Ratings
Here's a run-down of how Atlas VPN rates in different areas: 
User Experience
The Atlas VPN website is intuitive and responsive across all device types. Therefore, you'll have no problem loading and navigating it. From the website, you can switch to app stores to download the VPN. However, you first need to pay.
From first-hand observations, the process of registering and paying for the VPN is straightforward.
Here's a screenshot of the Atlas VPN checkout page: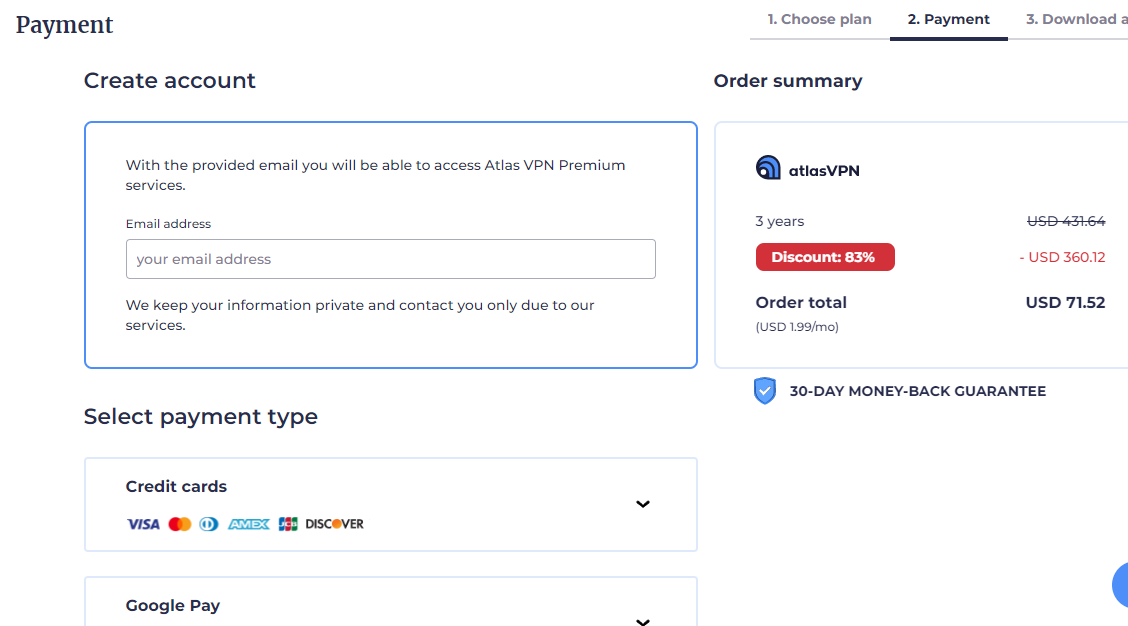 As evident from the image, the VPN app supports multiple payment options. You can use credit cards, Google Pay, PayPal, and cryptocurrency. Accordingly, you can choose the most convenient, ensuring you have no hassles with payment.
Once your payment is completed, you can then proceed to download and install the VPN. The platform further improves user experience with an intuitive VPN interface.
See the image below for confirmation: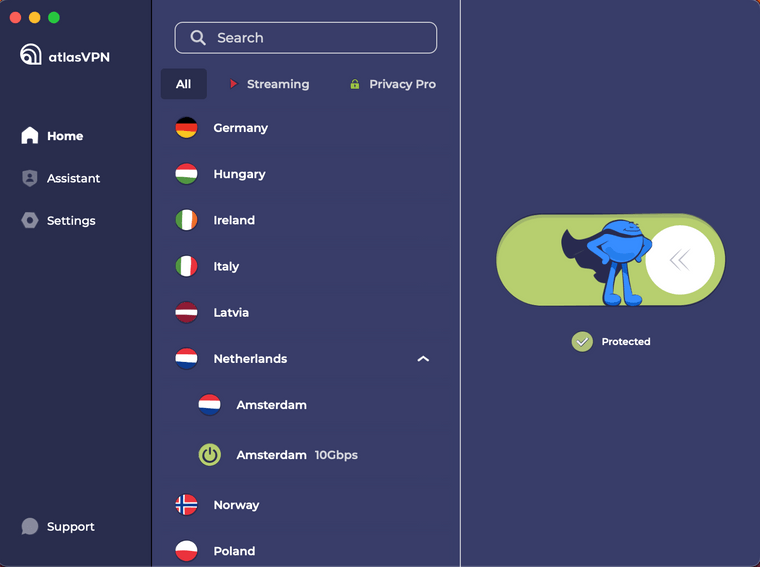 The above is the screenshot of the VPN on a PC. On mobile and tablet devices, it's not much different.
Connecting to a VPN server is as easy as tapping the large button on the right. Meanwhile, you can scroll the list on the left side of the dashboard to pick a preferred server. 
The sorting options — Streaming and Privacy Pro — allow you to narrow the server list. Hence, picking a preferred one becomes much easier. With all these, we can confirm the VPN offers a positive user experience.
Score: 4.5/5.
Features
The primary function of a VPN is to keep users safe on the web and allow them to bypass geo-restrictions. Atlas VPN offers features that satisfy these requirements and more.
In safety, for example, the app uses multiple encryption technologies, including ChaCha20 and AES-256. Besides encryption, Atlas VPN supports some of the most secure protocols in the VPN industry. Protocols like IPSec/IKEv2 and WireGuard. SHA-384 and PFS are also included.
After testing and reviewing the app, we can confirm that these security features are reliable. Extra features that put the VPN in the spotlight include the kill switch, ad blocker, and strict no-log policy.
Let's now consider servers, which are the core for bypassing geo-restrictions. Atlas VPN supports over 750 of them. In truth, the count is relatively low when compared to other top VPNs. However, Atlas VPN makes up for less quantity with more quality. 
The servers Atlas VPN features are not everyday types. Instead, you get optimized streaming servers and safe swap servers. The optimized streaming options ensure you experience zero lag when streaming movies, shows, and playing games. 
For the Safeswap options, they allow you to use multiple IP addresses simultaneously. This introduces even more anonymity and security as you surf the web. Having satisfied the core requirements of a VPN, Atlas VPN performs relatively well in terms of the features it supports.
Score: 3.9/5.
Pricing
Atlas VPN bridges premium service and affordability. First, the VPN has a free option you can try out. From earlier statements on our observations, it's clear that the free VPN has many limitations. As a result, you can't depend on it much.
Through our practical knowledge, then, it's better to opt for a paid plan. The plans start at $11.99 per month. From our experience, this is not much different from the starting price of popular VPNs. As a matter of fact, some other services cost more. So, Atlas VPN's kick-off price is accommodating.
Checking the pricing list, you can confirm that the cost reduces significantly if you pay annually. The annual cost is $4.08 per month. That's about 66% off the regular monthly price. Accordingly, you'll pay $49.01 for your first year. 
Atlas VPN further offers a 3-year plan that lets you save a whopping 88% off the regular monthly price. In particular, the 3-year plan costs $1.99 monthly, meaning you'll pay $71.52 at once. Suppose you paid $11.99 monthly for three years; the price would be $431.64.
Considering the huge discount on long-term costs, we can conclude that Atlas VPN pricing is agreeable.
Score: 4/5.
Customer Support
Atlas VPN's first line of support to customers is the live chat. After testing the platform, we found that the live chat response is relatively fast, earning a high rating.
However, as earlier stated in this Atlas VPN review, this medium is only available to premium users. If you don't have an active subscription, you'll have to settle for other support options.
The next is email. Anyone can email the Atlas VPN customer support team, whether a premium or free user. With email, responses can take a few minutes to hours. It depends on the time of the day. 
Typically, you'll expect a fast reply if you contact the team during business hours. From our first-hand observations, that is true. However, sometimes responses delay if the support team has a lot on their desks. This is relatively expected for a company handling many customers. 
Besides live chat and email, there's no third option to reach the support team directly. You'll have to visit the help center. Our investigation demonstrated that the help center is a rich resource. It covers all the key topics of using the VPN app. As a result, it earns a high rate.
To wrap everything up, Atlas VPN customer support is manageable for all but first-rate for premium users.
Score: 3.5/5.
Apps
Most Internet users today use either Windows or Mac for desktop devices. For mobile, they interchange between iOS and Android. A VPN that doesn't have apps for these operating systems would have relatively low ratings.
Atlas VPN does feature apps for the four platforms and more. You can download the Windows app directly from the website. The same applies to the Mac app. For mobile, however, you must visit the application store.
You'll find the Atlas VPN app in the Google Play Store and Apple App Store. The fact that the apps are allowed on these download stores signifies that they're safe for users. 
Besides the four platforms, Atlas VPN also has apps for Linux, Android TV, and Amazon Fire TV. With this, the VPN is workable on smart televisions, making browsing and streaming more seamless. Accordingly, we can rate Atlas VPN highly in this aspect.
However, not all users prefer downloading apps, particularly on PC. Some would prefer using browser extensions. Indeed, almost all top VPN apps we've tested support extensions for Google Chrome and Mozilla Firefox, at least.
Unfortunately, Atlas VPN has no browser extension as at the time of writing this Atlas VPN review. That affects its rating in this area.
Score: 3.5/5.
Atlas VPN Pros And Cons
Pros
Unlimited connections 

Top-notch encryption technology

Streaming servers and safe swap servers

Easy to use

Includes Ad Blocker

Includes email protection 
Cons
Live chat is limited to premium users

No browser extensions
Atlas VPN Review: Frequently Asked Questions
Is Atlas VPN Safe And Secure? 
Atlas VPN is safe to use. Atlas VPN has essential security features, such as VPN protocols, encryption algorithm, kill switch, tracker blocker, multiHop, etc., which ensures that you enjoy maximum safety and protection while online.
Is Atlas VPN still free?
Yes, Atlas VPN is still free. You can use the free VPN on all major device types, including Android, iOS, Windows, and macOS. Atlas VPN also has free browser extensions.
With Atlas VPN free version, you get access to three locations. Also, there are no speed or device limits. You can browse as much as you want and on as many devices as you want.
That it's free doesn't mean it is not safe. Atlas VPN free maintains the same encryption and security algorithms as the premium software.
However, you'll need to update to the premium version to access more features. For example, you want to access more than three server locations — that's only possible with Atlas VPN free version.
Atlas VPN premium will cost $10.99 per month. The price reduces to $4.08 per month if you pay for one year; and $1.99 per month if you pay for three years.
85% OFF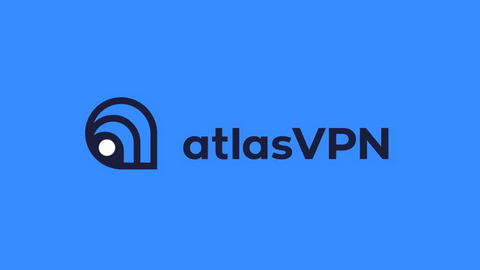 Atlas VPN Premium
Enjoy ultra-speed VPN services for an unlimited number of devices.
Does Netflix block Atlas VPN?
Netflix does not block Atlas VPN. On the contrary, you can use Atlas VPN to unblock Netflix in any country. This means with Atlas VPN, you get unrestricted access to Netflix TV shows and movies.
Netflix releases some shows for specific regions. For example, a movie or TV show may be released to viewers in Europe. If you're in the United States or any other country in North America, you'll be unable to access the content.
However, you can access Netflix with this VPN service based on our practical results for this Atlas VPN review. All you need is to switch to an Atlas VPN server in Europe as we did for this Atlas VPN review. It could be the UK, France, Spain, Germany, Italy. Once you successfully connect to the server, the movie or TV show becomes available to you in North America.
However, to have access to that range of servers, you must be an Atlas VPN premium user. Since the free version is limited to three locations, you may be unable to connect to a preferred server. 
Does Atlas VPN slow down the internet?
Atlas VPN does not slow down the internet. If anything, it makes your browsing faster, particularly when you connect to a speed-optimized streaming server. As you can see from our test results in this Atlas VPN review.
Atlas VPN's speed-optimized servers have no bandwidth limit. This is why they are ideal for streaming and gaming tasks.
Another way Atlas VPN speeds up your internet connection is with SafeBrowse. As earlier explained, Atlas VPN eliminates ads and trackers, giving you a clean browsing experience.
Ads and trackers require data to load, hence they contribute to a web page's loading time. When they do not load, the result is a faster loading time.
Furthermore, Atlas VPN features such as MultiHop and SafeSwap ensure your browsing is at its best. SafeSwap, for example, lets you browse using multiple IP addresses. 
You can leverage the speed of each IP address and browse with the fastest one. 
Which is better: Atlas VPN or NordVPN?
NordVPN and Atlas VPN are two VPNs people always compare. Both have their strengths and weaknesses. NordVPN has some notable advantages over Atlas VPN, but, at the end of the day, the best one depends on your VPN needs.
In particular, NordVPN's primary audience are individuals and organizations. On the other hand, Atlas VPN targets tech enthusiasts and regular browsers who need a free VPN.
Hence, it's not surprising that Atlas VPN is more affordable than NordVPN. It is also not surprising that NordVPN doesn't have a free version like Atlas VPN.
Some NordVPN features that Atlas VPN lacks include remote access and multi-language access. Also, NordVPN provides some proxy servers.
Nevertheless, it's important to note that Atlas VPN is relatively new compared to NordVPN. NordVPN has been around since 2012, while Atlas VPN was launched in 2019.
What Are The Best Atlas VPN Alternatives?
Here are the best Atlas VPN alternatives: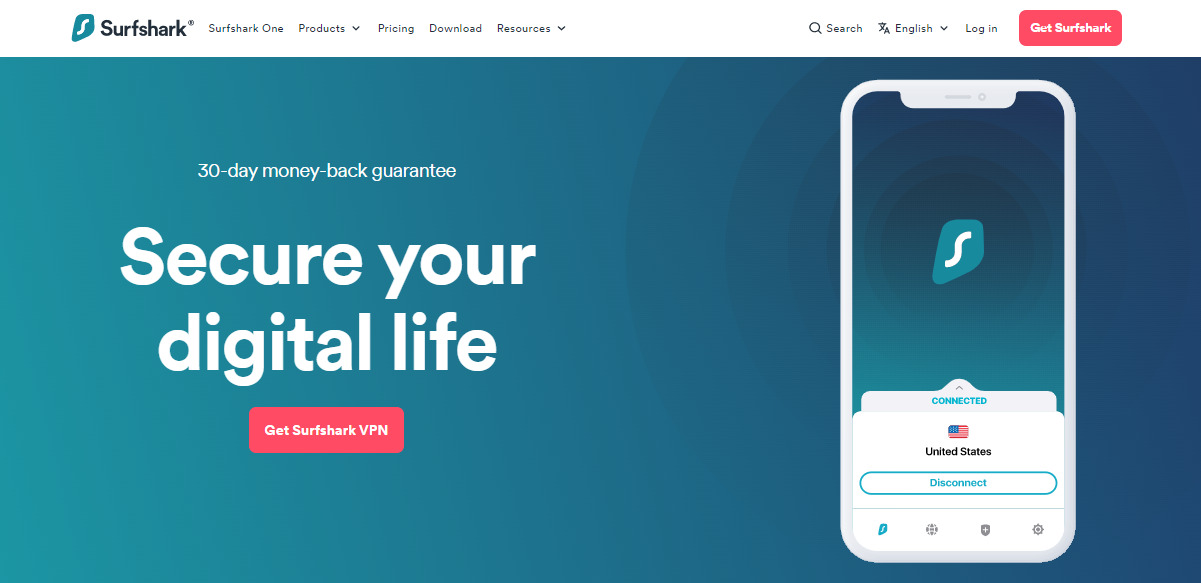 Surfshark VPN and Atlas VPN are both lightweight and easy to use. Surfshark takes the lead over Atlas VPN when it comes to servers. The software has more than three thousand servers in more than hundred countries. Meanwhile, Atlas has around seven hundred and fifty.
With Surfshark VPN, you can stream and unblock content, protect your email accounts, and browse free of ads and trackers. These are notable features the software shares with Atlas VPN. Also, both VPNs are available for all major devices and have browser extensions.
CHECK OUT =>> Surfshark Antivirus
Nevertheless, you have to pay from the onset to use Surfshark VPN. The software has no free version or free trial. But you get only protection with the 30-day money-back guarantee. Atlas VPN, on the other hand, has a free trial and a free version.
84% OFF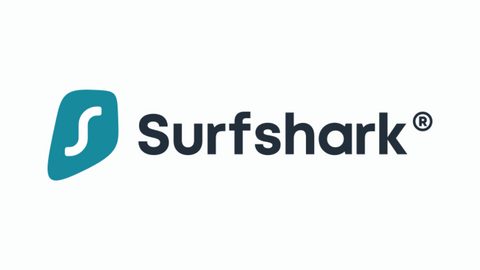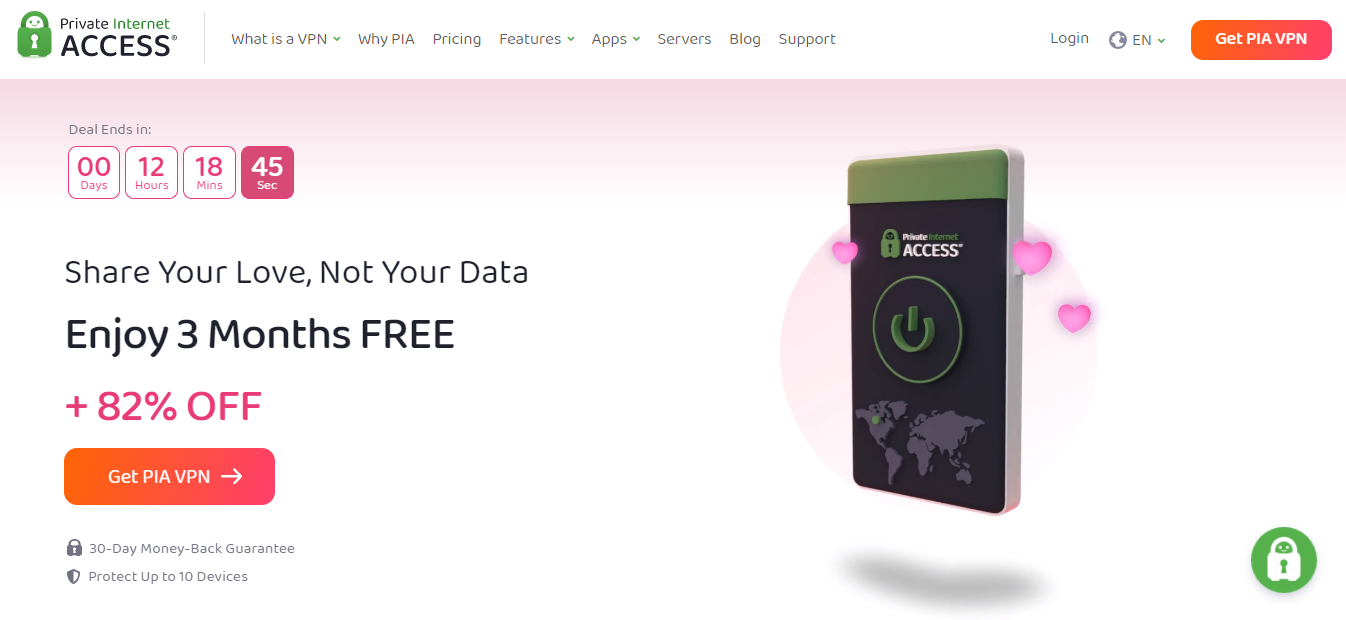 Private Internet Access VPN is a popular VPN among people that prioritize online privacy. The VPN was launched in 2010, meaning it's ten years older than Atlas VPN, which was launched in 2020.
One notable similarity between both is that they are US-based VPN services. But a serious difference between both is that Private Internet Access VPN is open-source.
As an open-source software, Private Internet Access VPN is highly transparent. As a user, you can keep tabs on the software features to ensure nothing is amiss.
PIA VPN and Atlas VPN are alike if you consider server count. But Atlas VPN takes the lead over PIA VPN when it comes to pricing and supported devices per account.
With one PIA VPN subscription, you can protect up to ten devices. That's impressive, but Atlas VPN supporting an unlimited number of devices per subscription is more impressive.
83% OFF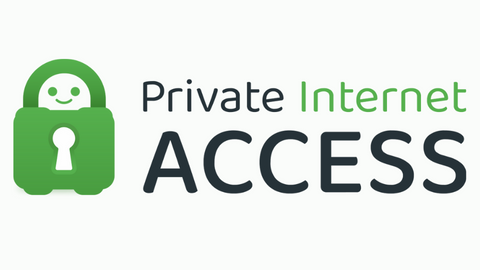 Private Internet Access
Private Internet Access uses world-class next-gen servers for a secure and reliable VPN connection, any day, anywhere.
Private Internet Access uses world-class next-gen servers for a secure and reliable VPN connection, any day, anywhere.
Show Less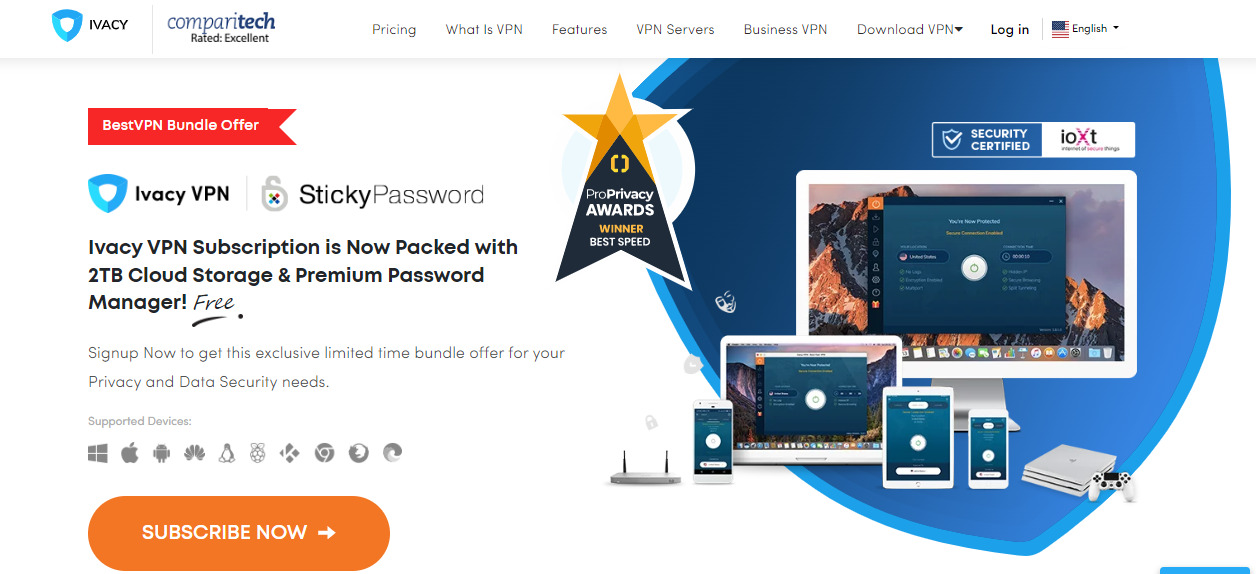 Ivacy VPN is one of Atlas VPN's top alternatives when it comes to streaming. The VPN is popular for its fast and wide-range servers. Servers that are present in Europe and North America and South America and Asia and Africa.
In total, Ivacy VPN has over 5,700 servers, which is a lot more than Atlas VPN. Another advantage of Ivacy VPN is that the VPN supports more device types.
Furthermore, Ivacy VPN is the only alternative so far that has a slightly cheaper price than Atlas VPN. However, Ivacy VPN still limits users to ten devices per subscription, and that gives Atlas VPN an advantage.
90% OFF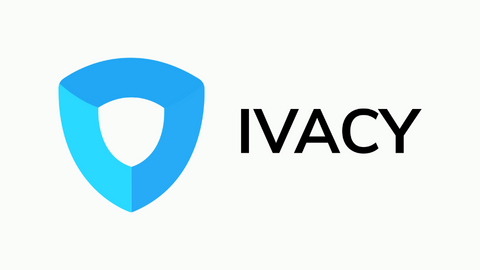 Ivacy VPN
Ivacy VPN is an Award-Winning VPN service provider geared towards providing users with online digital freedom. Unlock...
Show More
Ivacy VPN is an Award-Winning VPN service provider geared towards providing users with online digital freedom. Unlock geo-restricted websites and enjoy uninterrupted streaming with absolute anonymity. One of the best and most secure VPN services that simultaneously supports up to 10 devices.
Show Less
Wrapping Up The Atlas VPN Review
To conclude this Atlas VPN review, I will say that it is a recommended VPN service provider that offers VPN services at an affordable rate of less than $2 monthly.
Though limited, its free plan offers you unlimited bandwidth connectivity and access to essential VPN features.
Leave a comment below regarding this Atlas VPN review.
85% OFF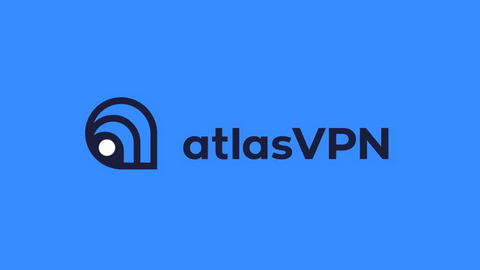 Atlas VPN Premium
Enjoy ultra-speed VPN services for an unlimited number of devices.
==>> Get Atlas VPN
---
INTERESTING POSTS