Read this Atlas VPN review to learn more about it.
With so many VPN providers on the market today, it can be challenging to find one that offers something unique. But that's exactly what you get with AtlasVPN.
When you're traveling to a new country, it can be nerve-wracking to figure out how you can use the Internet securely and also access geo-restricted content.
If you're an avid user of streaming services like Netflix, for example, you'll likely have run into issues where a show isn't available in your current geographical location. This is because some streaming services have different licenses for content based on your IP address.
As such, if you're traveling or live somewhere that has restricted Internet usage (like college campus WiFi!) then it might feel like there aren't many options left for getting access to the things that you want online.
Thankfully, VPNs help to solve these problems by giving users new IP addresses from locations all over the world. In this article, we will be exploring the Atlas VPN service.
This review focuses on 
What Is Atlas VPN?

Atlas VPN is a VPN service provider that makes available the use of private server networks to internet users with the intention to provide online privacy, data security, protection from hackers and unauthorized third-party interference, and access to restricted internet services and information.
Atlas VPN is among the latest VPN service providers. It was established in 2019 as a freemium VPN service intended to make the internet safe and accessible for every user. Conversely, Atlas VPN is now part of Nord Security, a leader in the VPN market.
Like other VPN service providers, Atlas VPN routes your traffic through an encrypted virtual data tunnel to any of its chosen private (VPN) servers using modern and fast VPN encryption protocols such as WireGuard and IKEv2.
==>> Get Atlas VPN
How To Get Started/Sign Up
Getting started with Atlas VPN protocol is relatively simple, as tested by our technical team on Windows, Mac, Android, and iOS platforms. 
Getting started on any of the platforms listed above follows the same installation process; follow the steps below to get started on your preferred platform.
Visit Atlas VPN's official website; scroll down to the bottom of the webpage, tap on the 'App' dropdown menu and select any OS platform of your choice (the Android OS was used for this test).

Tap on the 'Download free' icon redirects you to the Atlas VPN app on the Google play store page or Appstore

Click 'Install' to start the installation process on your android device

Launch the Atlas VPN app on your Android device and tap on 'Connect' to enjoy free VPN service from Atlas VPN without a username.

To upgrade to the premium version, tap on the 'Get Premium,' provide the necessary information, choose a plan, and make payment using the available Atlas payment options.
Atlas VPN Key Features
User-friendly Interface
Atlas VPN user interface is designed with non-tech-savvy users in mind. Launching the app and tapping on the 'on' button connects you to the nearest server available. 
Swiping up reveals a list of 42 (for premium users) server locations you can choose from. On the left side of the screen are four tabs which include 'settings,' 'kill switch,' 'Assistant,' and 'support.' 
Overall, navigating the Atlas VPN interface is relatively straightforward, with no need for a third-party assistant to find your way on the Atlas Vpn interface.

VPN Protocol: How Atlas VPN transmits your data 
Atlas VPN uses WireGuard, IKEv2, and IPSec VPN protocols. WireGuard is a more modern VPN protocol optimized for speed and security, while IKEv2 and IPsec are VPN protocols long in use for their security and stability. 
VPN protocols are secured virtual encryption tunnels through which data traffic leaves or enters your device to a VPN server, bypassing detection by your ISP. 
Encryption Protocol: How Atlas VPN protects your data
Atlas VPN uses a military-grade AES-256 bit encryption algorithm to scramble data traffic leaving or entering your device; hence, at no point is your data vulnerable to unauthorized third-party such as hackers and spies, even when connected to unsecured public WiFi networks. 
There has not been any known technology to crack the AES-256 bit military-grade encryption algorithm, so while using Atlas VPN, your data remains safe with no possible ways of gaining access to data traffic from your device. 
Kill Switch: How Atlas VPN secures your data traffic when your VPN connection goes off
A VPN connection can go off due to an unstable connection or other factors. When this happens without realizing it, your data traffic becomes exposed and vulnerable since data traffic from your device follows the regular unprotected route to your ISP, exposing all your activities. 
However, activating Atlas VPN Kill Switch feature trips off your internet connection automatically, immediately your VPN connection trips off, preventing unprotected data traffic from leaving your device. You remain protected with no possible data leakage even when the VPN connection accidentally goes off.
Tracker blocker: How Atlas VPN protects you from Ads and malware
Atlas VPN uses a Tracker blocker to protect you from advertising companies who collect data from your device via cookies and third-party trackers to serve you with tailored ads. It also keeps out malicious websites, thus protecting your device from adware and malware infection by acting as a strong Firewall. 
Atlas VPN Tracker blocker works well, keeping off all ads that display when you're connected to the internet without using a VPN client.
Servers: The core of Atlas VPN
Atlas VPN has over 750 servers in 42 locations worldwide; this may be a far cry from the over 6000 servers owned by top VPN providers, but you sure can enjoy what such a VPN provider offers its users from Atlas VPN: Fast internet speeds, data security, and online anonymity, and access to servers optimized for P2P torrenting, and streaming. 
If you're security conscious, choosing between SafeSwap and MiltiHop servers provides extra security layers bypassing your data traffic through several server layers.
No logging policy: Does Atlas VPN log your data?
Atlas VPN does not log users' data, but you will need to supply your email address and payment info when subscribing to a paid plan and other necessary data required to serve you better.
Simultaneous Connectivity: How many devices can connect to Atlas VPN subscription
Atlas VPN allows unlimited device connectivity per subscription; hence, you can connect all your device to a  single Atlas VPN subscription to enjoy unlimited protection.
Atlas Data Breach Monitor: Does it work?
Atlas has a data breach monitor that scans the web for your personal data exposed online. It also alerts you whenever your personal data is compromised.
Atlas VPN Review: Tests
Speed and Performance: How fast is Atlas VPN?
Our technicians tested out Atlas VPN based on speed performance; on its fastest server, Atlas VPN clocked an average of 80.2Mbps, compared with 80.5Mbps base speed.
Although we recorded lower speed for distant servers, streaming and downloading at an average speed of over 40Mbps isn't bad for a VPN server.
Bypassing Geo-blocks: Can you enjoy your favorite TV shows even when you're out of reach?
Our test result shows that Atlas VPN can bypass geo-blocks and access streaming services like Netflix US, Spotify, Hulu, HBO Max, Disney+, BBC iPlayer, etc., without lag. However, this feature is available only to premium subscribers.
If you live in countries or you work in organizations where some websites are restricted, you can bypass such restrictions using Atlas VPN. 
Atlas VPN Apps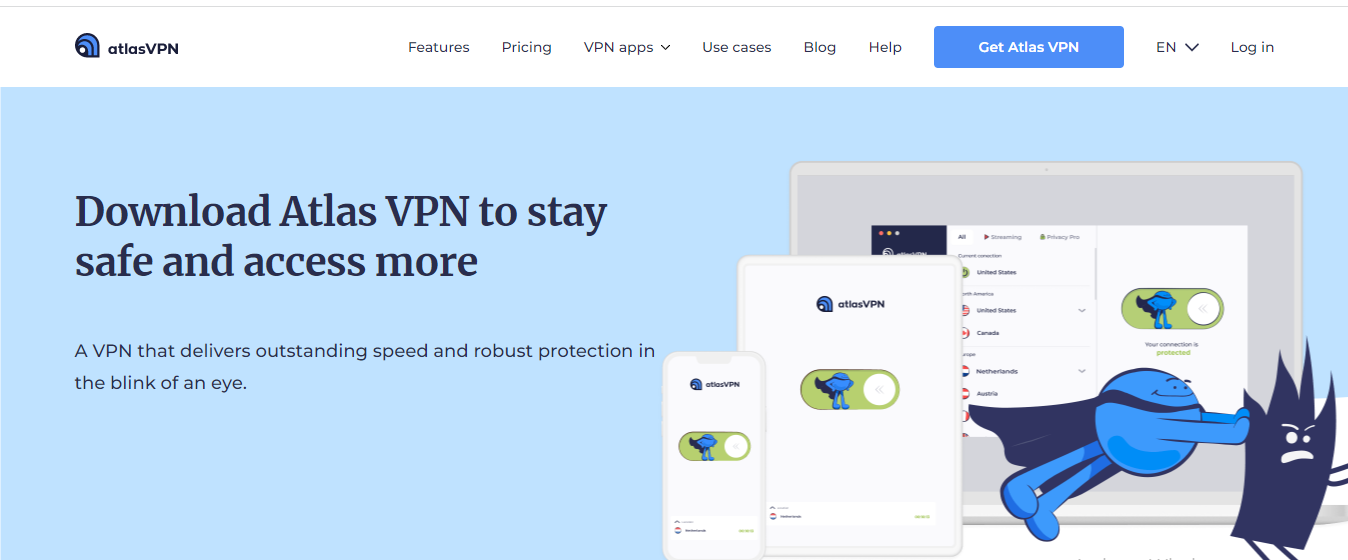 Atlas VPN is available in the following app versions
Android

iOS

Windows

Mac

Android TV

Amazon Fire TV Stick
Atlas VPN Customer Service and resources
At the time of writing this Atlas VPN review, we observed that it offers its customers a live chat feature and accessible support channel options. 
Atlas VPN relies much on its 'submit a request' feature, which can take longer for Atlas VPN to get back to you. However, Atlas VPN does have a rich FAQ resource that tackles every possible issue you might encounter. This is good; it does not provide a quick means of contacting Atlas customer care for immediate resolution.
Atlas VPN Pricing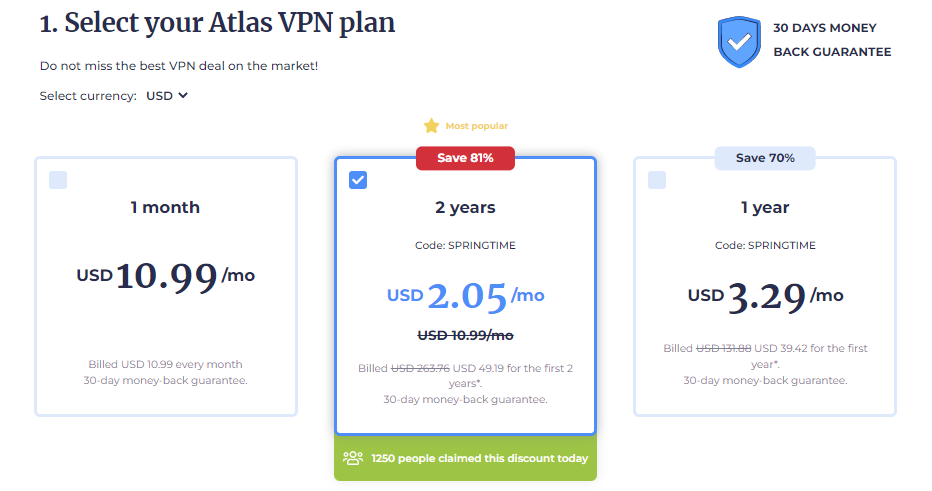 The best of Atlas VPN's subscription plan is the 2-year plan at $2.05 per month, amounting to $49.19. Compared with Atlas VPN's monthly plan at $10.99 per month, that's over 82%. Atlas VPN's yearly discount comes with a 70% discount at $3.29 per month, billed yearly at $39.42/year.
==>> Get Atlas VPN
Is Atlas VPN Safe And Secure? 
Atlas VPN is safe to use. Atlas VPN's essential features, such as VPN protocols, encryption algorithm, kill switch, tracker blocker, multiHop, etc., ensure that you enjoy maximum safety and protection while online.
Wrapping Up The Atlas VPN Review
To conclude this Atlas VPN review, I will say that it is a recommended VPN service provider that offers VPN services at an affordable rate of less than $2 monthly. Though limited, its free plan offers you unlimited bandwidth connectivity and access to essential VPN features.
==>> Get Atlas VPN
---
INTERESTING POSTS