Here is a Malwarebytes review, read on.
Malwarebytes is a popular anti-malware program that has been around for years and years. It protects you from various forms of malware, spyware, rootkits, and other nasties without slowing down your computer.
Malwarebytes was established in 2006, and it quickly rose to popularity as a free and easy-to-use antivirus that offers basic protection against malware.
In this Malwarebytes review, I'll tell you about its features and performance, who it's aimed at, and whether it's good value for money. I'll also discuss the free version, Malwarebytes Anti-Malware, which offers many of the same features as the premium version.
What Is Malwarebytes?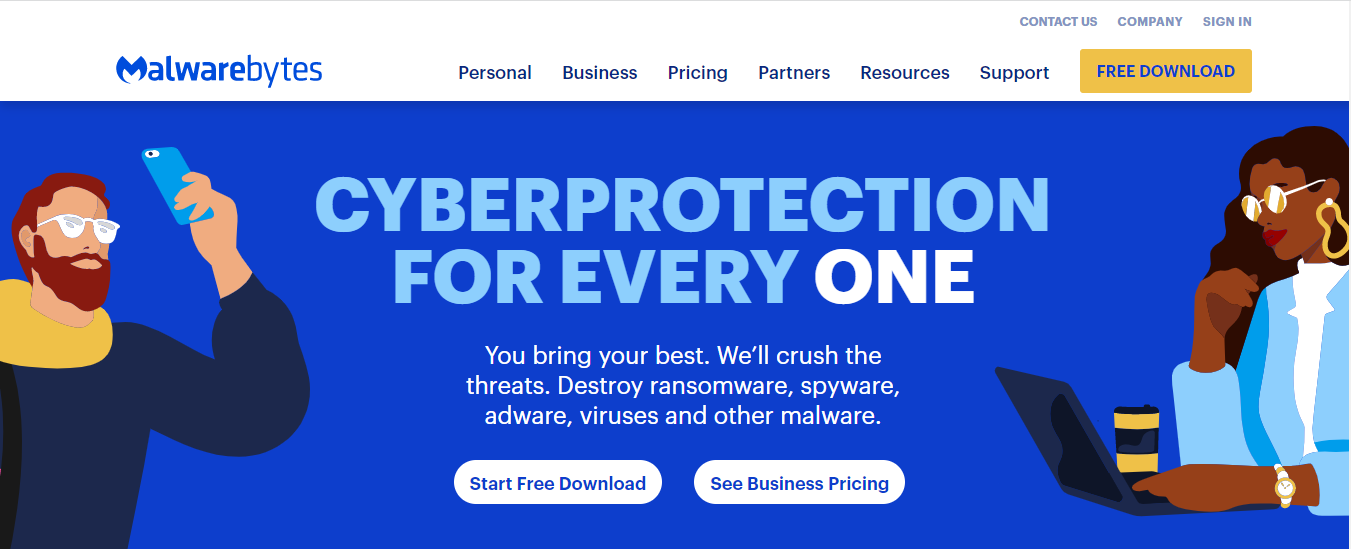 Malwarebytes is a basic, easy-to-use antivirus program that provides complete protection against malware like viruses, trojans, keyloggers, ransomware, spyware, etc., using both signature-based and heuristic approaches to detect malware.
Malwarebytes is a great program to have on your computer if you want to keep your system protected against malware, phishing sites, and other online threats.
It's particularly useful if you use your computer for browsing the Web, watching videos, or downloading files. It offers complete protection against malware, PUPs, and other security threats through both software updates and real-time defense.
When you run it, you'll see that it has an easy-to-use interface with useful features that can protect you against online threats. It also gives you the option of running a full-system scan to test your system for vulnerabilities.
With Malwarebytes, you can ensure that your PC is fully protected and the likelihood of catching a potential threat is maximized.
==>>> Get Malwarebytes
How To Get Started/Sign Up
Getting started with Malwarebytes is quite easy, even for a less tech-savvy person. Follow the steps below to get started.
Visit Malwarebytes' official website and subscribe to a premium plan

Download and run Malwarebytes's antivirus software 

Input the provided license key to enjoy Malwarebytes' premium antivirus feature.
Malwarebyte does offer a 14-day trial to enjoy its premium features and a 60-day moneyback guarantee.
Malwarebytes Key Features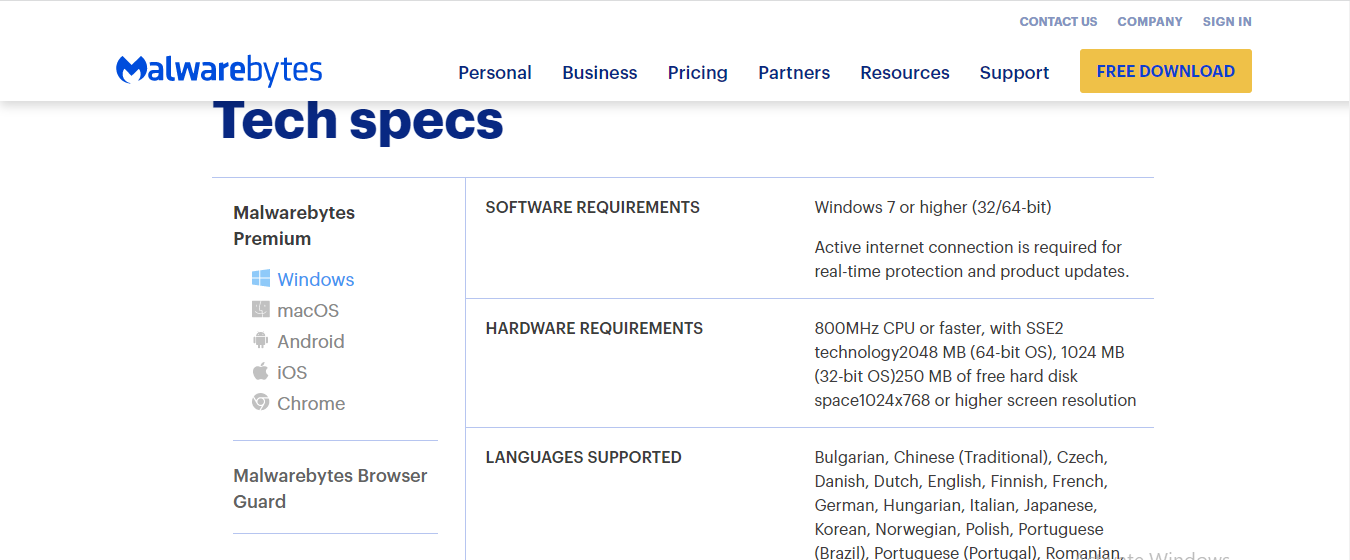 User-friendly interface
Malwarebytes has a clean and user-friendly interface that makes navigation easy. Right on the dashboard, you can choose to perform a 'Custom Scan,' 'Threat Scan,' 'Quick Scan,' or a 'Single File/Folder Scan.' All security features are turned on by default, so there's no need to customize your security settings. 
In addition, Malwarebytes runs well in the background without slowing down your PC performance, and you can choose to pause all notifications when watching movies or gaming. 
Overall, Malwarebytes has an intuitive and user-friendly interface that makes usage and navigation simple, even for non-tech-savvy individuals.
Malwarebytes AV Engine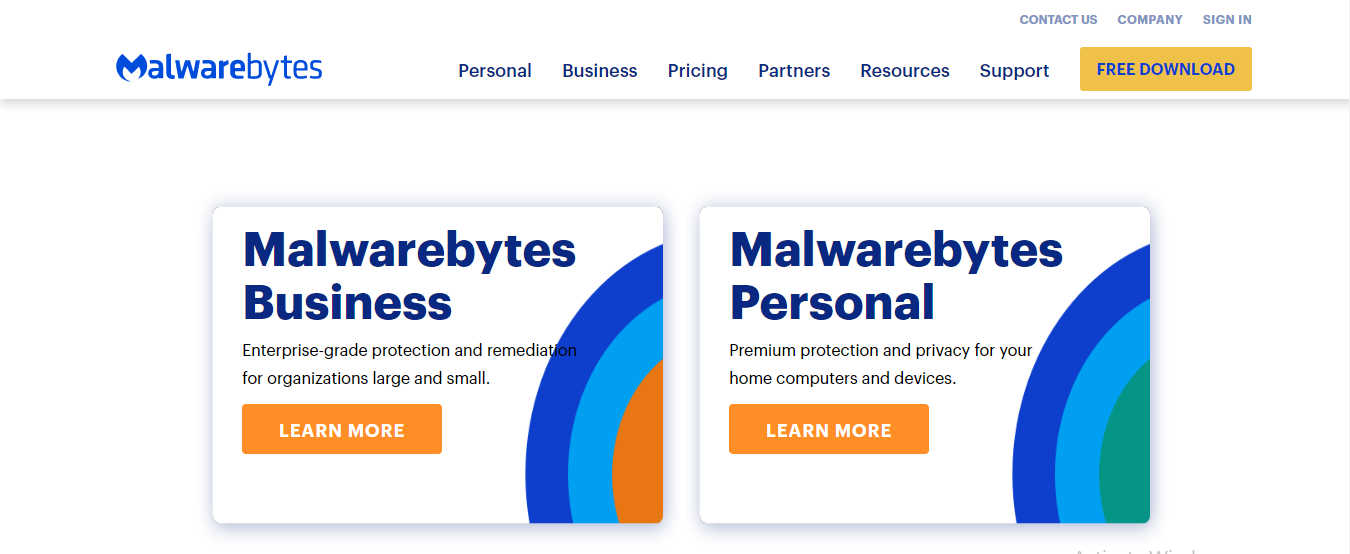 Malwarebytes' AV Engine is a fast antivirus scanner that uses a signature-based and heuristics approach to detect malware. Therefore, Malwarebytes detects new and existing malware using a database of existing malware as well as watching out for suspicious file behavior to detect novel malware not yet included in its malware database. 
During the test period, Malwarebytes completed 500,000 file scans in two minutes and 10 seconds; It also detected 96% of all malware-infested test files, although it took about 2 hours and 45 minutes to complete a full system scan (Malwarebytes does not offer full system scan, but you can perform full system scan by custom-scanning your system's entire disk).
Overall, Malwarebyte has a 96% malware detection rate comparable to leading antivirus providers in the market and an impressive scan rate.
Real-time Protection 
Malwarebytes' real-time protection feature offers protection layers which are: Web Protection, Malware, and PUP Protection, Ransomware Protection; and Exploit protection. However, this feature is only available for premium subscribers. 
Based on the test conducted, Malwarebytes' real-time protection feature had a 97% success rate. However, this feature only blocked out 90% of the phishing sites we visited. 
Overall, Malwarebytes' real-time protection feature had a record-high success rate at blocking malware, but we would be glad to see Malwarebyte improve its phishing detection feature.
Browser Guard
Malwarebytes' Browser Guard is its browser extension compatible with Firefox, Chrome, and Edge browsers. The feature protects you against malware ads, trackers, PUPs, and scams. 
The Browser Guard is effective at blocking malicious websites, but you can whitelist trusted websites by toggling off this option for the websites.
Overall, Malwarebytes' Browser Guard had a 90% success rate by blocking out 45 out of 50 known phishing websites we visited while improving our browsing speed significantly by blocking ads and PUPs from displaying. 
Malwarebytes VPN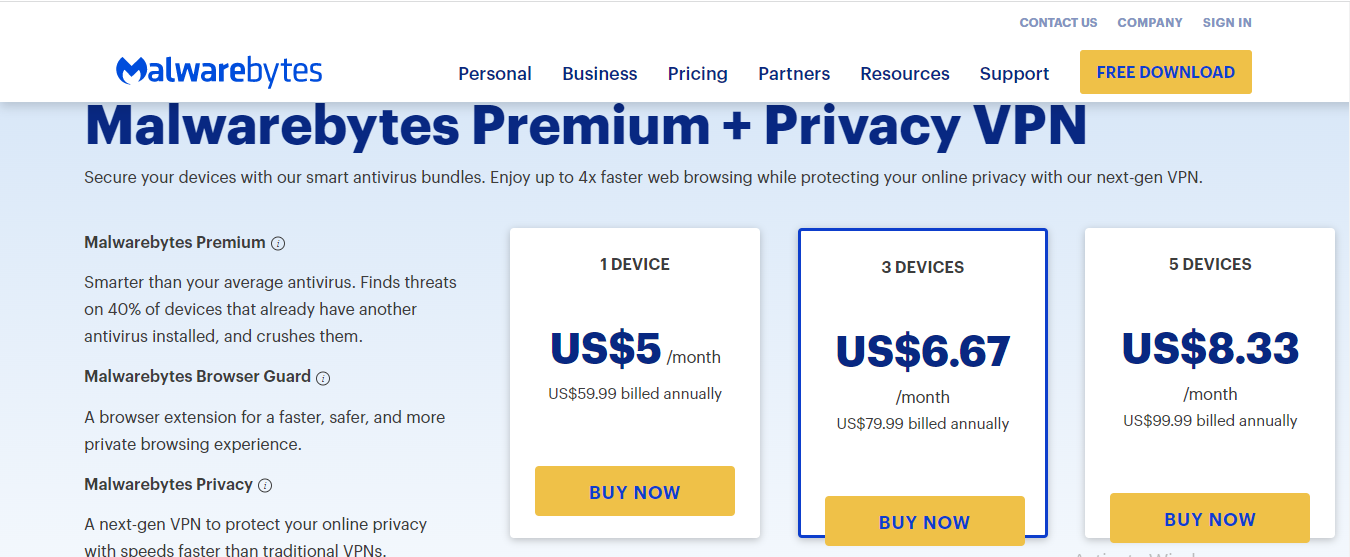 Malwarebytes VPN feature is available for premium subscribers only. This feature offers decent internet speed thanks to its choice of WireGuard VPN Protocol optimized for speed and security.
Although Malwarebytes VPN does not support torrenting and streaming on Netflix and similar platforms, it guarantees fast internet speed and robust data protection even when connected to public WiFi networks.
Overall, Malwarebytes' VPN may not offer you all the added features of top VPN providers, but you're sure of getting decent internet speed and robust data privacy and security.
Malwarebytes Apps
Malwarebytes apps are available on the following platforms
Windows OS

Mac OS

Android OS

iOS

Support for Chromebook devices
Note: For this Malwarebytes review, we tested its apps across all devices and they worked perfectly well.
Malwarebytes Customer Service and resources
Malwarebytes has an efficient customer support team reachable via email. However, Malwarebytes rely more on its vast knowledge base to treat customers' issues and inquiries. 
Also, Its Livechat handle is pretty basic, and it does not connect you to a human; rather, it will provide you with links to relevant FAQs that deal with your issues. This is efficient, but it cannot provide immediate help and assistance.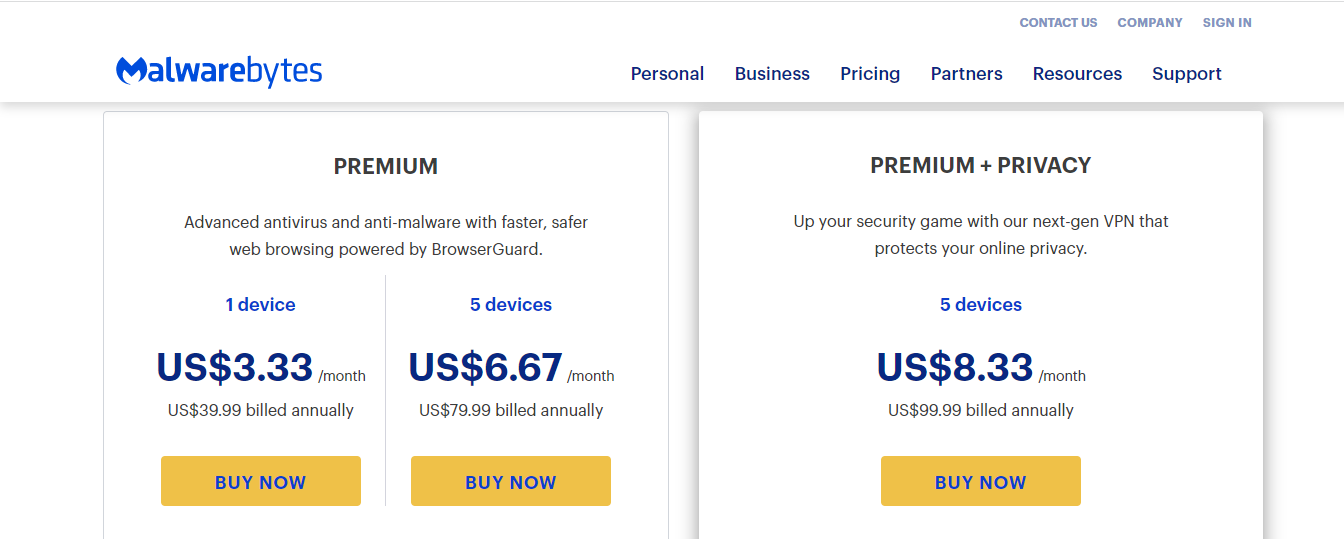 Premium + Privacy (VPN): Protection for 5 devices, charged at $8.33 monthly billed annually @ $99.99

Premium (5 devices): $6.67 monthly, billed annually @ $79.99

Premium (1 device): 8.33 monthly, billed annually @ $39.99
Visit Malwarebytes' official webpage for Business plans and pricing
All subscription package comes with a 60-day moneyback guarantee.
==>>> Get Malwarebytes
Malwarebytes Review: Frequently Asked Questions
Is Malwarebytes Worth It?
Yes, Malwarebytes is definitely worth it. It's a great investment for your computer's security, and it will help keep your computer safe from all sorts of threats. Malwarebytes is constantly updating its definitions to stay ahead of the latest threats, so you can be sure that your computer will be protected against the latest malware.
In addition, Malwarebytes is a security program that helps protect your computer from malware and other threats. It is available in both a free and paid version. The paid version offers more features, including real-time protection, anti-ransomware protection, and priority customer support. Overall, Malwarebytes is a great security program that is worth the investment.
Is Malwarebytes Legit?
Yes, Malwarebytes is a legitimate anti-malware software company. Malwarebytes was founded in 2008 by Marcin Kleczynski and Bruce Harrison. The company's flagship product is Malwarebytes Anti-Malware, a program that can detect and remove malware from a computer.
Not to mention, Malwarebytes provides comprehensive protection against all types of malware, including viruses, Trojans, rootkits, and spyware. Also, Malwarebytes has a strong reputation in the security industry.
Is Malwarebytes Safe? 
Malwarebytes is safe; its multi-layered protection offers you protection from online and offline threats and vulnerabilities. Its Chrome-based plugin offers added protection against phishing websites and other online malicious resources. So, Malwarebytes can be trusted.
Is Malwarebytes A Chinese Company?
No, Malwarebytes is an American company. It has its headquarters in Santa Clara, California, United States. Also, there are no ties that link Malwarebytes as a Chinese company.
A Final Word On The Malwarebytes Review
Malwarebytes is a worthy buy if you need a basic antivirus with a user-friendly interface and robust protection against malware, phishing sites, and other cybersecurity threats.
The best way to stay safe online is to use an antivirus solution that offers both real-time protection and enhanced detection against new threats.
If you need a simple and easy-to-use antivirus solution that won't take a lot of your time, but will still protect your device against malware and other threats, then Malwarebytes is the right option for you.
Malwarebytes is worth your money if you are looking for an easy-to-use antivirus software that covers all the bases of cybersecurity. It provides protection against malware, PUPs, and other threats. You can also configure Malwarebytes to protect your privacy and shield your device from hacker attacks.
Why we like it: Malwarebytes is easy-to-use and gives you multiple layers of anti-malware protection to keep your device safe from all sorts of threats.
Despite Malwarebytes being free and easy to use, it offers a wide range of features that professionals need. As a premium service, the paid versions offer even more protection against online threats.
If you choose to purchase a premium subscription, you will get a 10% discount, as well as access to remote support options and some additional protection features.
Overall, we hope you have found this Malwarebytes review helpful in your quest to find the best antivirus software on the market. If we missed anything, feel free to reach out via email.
==>>> Get Malwarebytes
---
INTERESTING POSTS