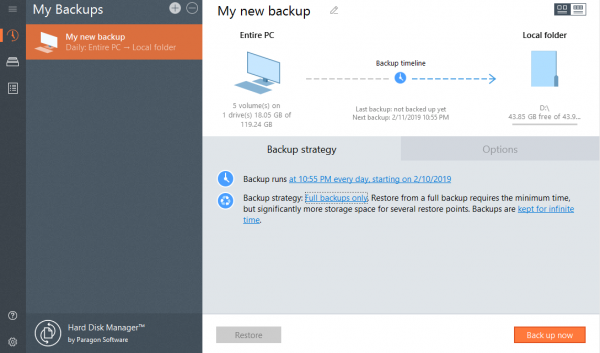 Is Paragon Hard Disk Manager one of the best hard disk manager for Windows?
For protection against viruses and malware, managing your computer's hard disk is very essential. Disk management is a feature that should be exploited by all computer users to ensure the absolute safety and workability of the computer. Sadly, most people do not put their hard disk managers to use or lack access to a good one.
Disk management was introduced in Windows computers with Windows XP. It allows users to manage their disk drives and partitions without hassles. A disk management tool, when utilized properly can create, format and delete disk drive partitions.
For effective management of your computer's hard drive, an excellent hard disk manager is necessary. Here is a review of Paragon Hard Disk Manager, which is regarded as one of the best disk management tools.
What is Paragon Hard Disk Manager?
Paragon hard disk manager is a disk management tool that offers much more than the basic disk management features that come preinstalled in Windows. Not only does Paragon manage hard disk, but it also helps in managing hard disk partitions.
Paragon Hard Disk Manager Features
Why should you use Paragon hard disk manager when you could manage your hard disk with the built-in hard disk management tool for Windows?
However, here are a few features of the software that makes it stand out as one of the best hard disk management tools for Windows computers.
Paragon hard disk manager enables a user to create and manage disk partitions. With the disk management tool, it becomes easy to carry out basic partitioning functions like creating, formatting, deleting and undeleting, hiding and unhiding, activating and deactivating disk partitions. It also enables you to carry out basic file system conversions (FAT to NTFS and vice versa, HFS to NTFS and vice versa).
Advanced Disk Partitioning
For advanced users that may not have satisfiation with the basic disk partitions functions;Paragon hard disk manager also provides advanced disk partitioning functions. This includes redistribution of free space, splitting and merging partitions, converting to logical or primary partitions and many other functions advanced users will want in a hard disk manager.
Restore Files From Backup
The disk management software's file restoration feature enables users to restore data from backups. Data that may be restored ranges from files and folders to hard disk partitions and even hard disks as a whole. Any imported backups are restored in WinPE. To prevent unauthorized access to backups, it can also be protected with a password.
The software also allows users to transfer data from one place to the other. It supports copying disk partitions, entire disks and even migrating hardware. It also makes it easy to migrate from a hard disk to a solid-state drive, without losing any data.
Paragon hard disk manager makes it possible to create an exact copy of a disk into another disk, saving migration time.
The software makes it easy to clean up a hard drive, clear free space, clear disk drive partitions and Solid-State Drives (SSD) with ease.
Paragon Hard Disk Manager for Windows

Pricing review of the

Paragon Hard Disk Manager is available for free and has premium versions too. The free version only allows very basic functions that will not be satisfying, even to the most basic user.

However, the premium version opens the door of endless possibilities. With the premium version, you can access all of the software's features.

For the premium version, you purchase it with a license fee. The license for a single PC costs $49.95. There is also a license for three PCs, and it costs a discounted $79.95 only. These are license fees, and once you pay, the software becomes completely free to be used for a lifetime.

However, you should be note that the prices above are for personal licenses only. Which is strictly for the home setting. It is not allowed whatsoever to be used in a workplace setting.

To enjoy the amazing features of Paragon Hard Disk Manager in a workplace setting, the Business plan is the way. The business plan comes at a rather steep price when compared to personal plans. However, there are also many more features.

The Business Plan starts at $99 (workstation), and ranges from that amount through $499 (Server), $599 (Technician) and the highest plan, which is the Site starts from $899.
Conclusion
For all users of Windows computers, it is necessary to manage the computer hard disk to keep it free and safe. The built-in Windows default disk management tool is not anything to write home about when it comes to disk management.
Paragon Hard Disk Manager does the job of perfectly managing hard disk on a Windows computer, available for personal and business use for affordable prices and unbelievable features.