Unleash your creativity with Wondershare Black Friday Deal for 2023!
SecureBlitz readers, get ready to elevate your digital game with Wondershare's incredible Black Friday deals! From video editing to PDF mastery and data recovery, Wondershare has the tools you need.
The sale is live from November 16th to November 26th, offering discounts up to 79%, free AI credits, and exclusive bundles. Don't miss out on turning your creative visions into reality!
Wondershare Black Friday Deal Top Picks – Unbelievable Prices!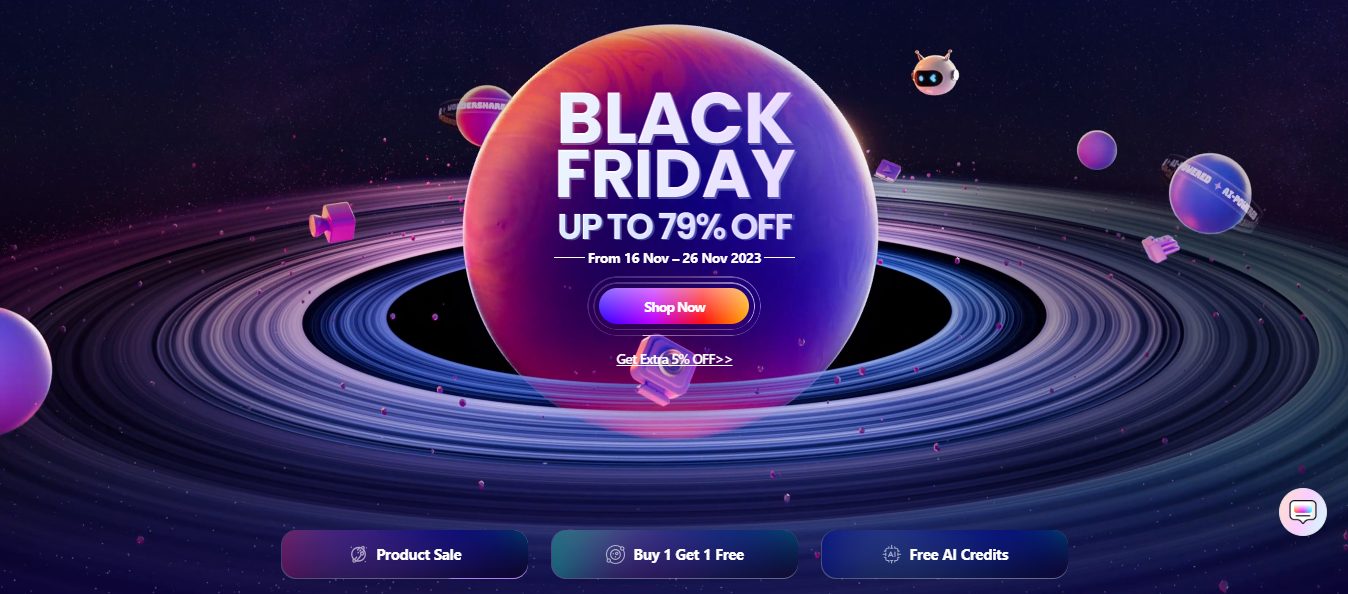 Filmora X: Create Cinematic Masterpieces
Starting from $39.99
🎬 Unlock Pro-level Editing: Filmora X provides intuitive tools for professional video editing without the hefty price tag.
💡 Exclusive Features: Access advanced features to add flair to your videos, making every project a masterpiece.
🔥 Limited Time Offer: Secure your copy at this unbeatable price and take your video creations to the next level.
PDFelement 8: Master Your PDFs with Ease
Starting from $27.99
📄 Revolutionize Document Management: PDFelement 8 is your all-in-one solution for effortless PDF editing, conversion, and organization.
🚀 Boost Productivity: Seamlessly annotate, convert, and collaborate on PDFs with advanced tools.
📈 Value-Packed Deal: Grab this deal to streamline your PDF workflows and enhance document precision.
Recoverit: Your Data's Guardian Angel
Starting from $29.99
🛡️ Data Recovery Simplified: Recoverit ensures the safety of your crucial data with an easy-to-use yet powerful recovery solution.
🔄 Effortless Restoration: Get back lost files from various storage devices effortlessly.
🌐 Don't Lose Out: Secure your digital memories and essential files with Recoverit at an exclusive Black Friday price.
==>> Get Wondershare Black Friday Deal
Save More with Exclusive Bundles – Your Ultimate Creative Toolkit!
1. Wondershare Video Editing Bundle
Starting from $116.32
🎥 All-in-One Editing Suite: The Video Editing Bundle equips you with Filmora X and more, providing a comprehensive toolkit for video enthusiasts.
💻 Versatile Functionality: Unleash your creativity across various projects with this exclusive bundle.
🌟 Bundle Bonus: Enjoy additional features and effects to enhance your video editing experience.
2. Wondershare PDF & Office Bundle
Starting from $69.99
📰 Efficient Document Management: Combine PDFelement 8 with office tools for a seamless document management experience.
🤝 Office Harmony: Bridge the gap between PDFs and office documents, ensuring a smooth workflow.
🚀 Boost Collaboration: Elevate collaboration with a bundle designed for both PDF mastery and office efficiency.
3. Wondershare Data Recovery Bundle
Starting from $49.99
🔄 Comprehensive Data Protection: Safeguard your data with Recoverit and additional tools in this exclusive bundle.
💾 All-in-One Recovery: Recover lost files and ensure the longevity of your digital assets.
🌐 Data Security at Its Best: Get peace of mind with a bundle that covers all aspects of data recovery.
Explore All Offers: From AI-Powered Tools to Data Solutions
🎥 Video Editing Software: Starting from $19.99
📄 PDF Editors: Starting from $27.99
💾 Data Recovery Tools: Starting from $19.99
🛠️ Other Products: Starting from $9.99
🚀 Diverse Solutions: Find the perfect tool for your needs with offerings ranging from video editing to utility tools.
==>> Get Wondershare Black Friday Deal
Creative Tools – Unleash Your Imagination!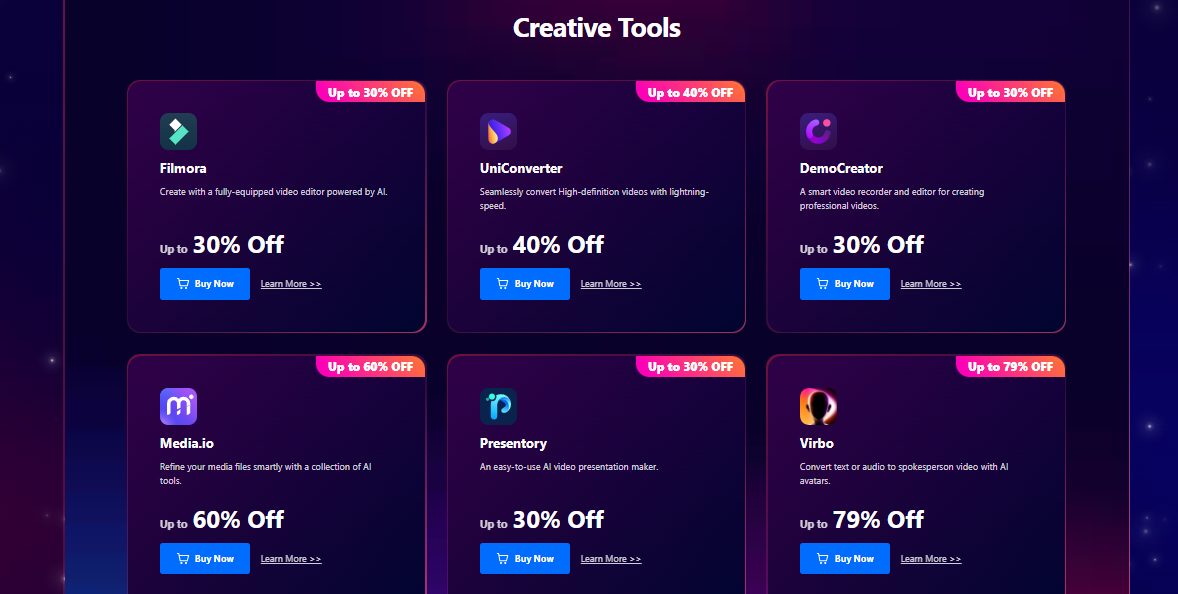 1. Filmora X: Your Gateway to Cinematic Brilliance
Starting from $39.99
🎬 Empower Your Vision: Filmora X empowers you to bring cinematic brilliance to your videos, making your storytelling visually compelling.
🎨 Limitless Possibilities: Explore creative options with a wide range of effects, transitions, and advanced editing features.
🌈 Express Yourself: Craft videos that reflect your unique style and leave a lasting impact.
2. DemoCreator: Capture and Create
Starting from $25.99
🎥 Capture Any Screen: DemoCreator is your go-to tool for capturing any screen activity, ideal for tutorials, gaming, and more.
🖌️ Edit with Ease: Edit your recordings effortlessly with intuitive tools for a polished and professional look.
🚀 Create Engaging Content: Whether for work or play, DemoCreator helps you create engaging content with ease.
3. UniConverter: Convert, Edit, and Enhance
Starting from $29.99
🔄 Universal Converter: UniConverter is a versatile tool for converting, editing, and enhancing your multimedia files.
🎞️ Effortless Editing: Edit videos precisely, add effects, and optimize your multimedia for any platform.
🌟 Optimize Your Media: Ensure your videos and audio are in their best form for any purpose with UniConverter.
4. Virbo: Transform Your Ideas into Reality
Starting from $44.90
✨ Visualize Your Concepts: Virbo is a powerful design tool to transform your creative ideas into visually stunning presentations.
🎨 Create Impactful Designs: Craft presentations, infographics, and more with Virbo's user-friendly features.
🚀 Professional Results: Elevate your design game and make a lasting impression with Virbo.
==>> Get Wondershare Black Friday Deal
PDF and Diagram – Master Your Documents with Precision!

1. PDFelement 8: Control Your PDF Universe
Starting from $27.99
📄 Effortless PDF Mastery: PDFelement 8 gives you full control over your PDFs, from editing to conversion and collaboration.
🚀 Streamline Workflows: Experience improved document workflows with advanced PDF management tools.
💼 Business-Ready Documents: Create professional documents easily, perfect for business and personal use.
2. EdrawMax: Diagrams Beyond Imagination
Starting from $39.99
📐 Endless Diagram Possibilities: EdrawMax unleashes your creativity with a wide array of diagramming options.
🎨 Visualize Ideas: Bring your ideas to life with customizable and visually appealing diagrams and charts.
🚀 Versatile Design Tool: Ideal for students, professionals, and creatives, EdrawMax is your all-in-one diagramming solution.
3. EdrawMind: Unleash the Power of Mind Mapping
Starting from $31.20
🧠 Mind Mapping Magic: EdrawMind helps you organize thoughts, brainstorm ideas, and enhance productivity with mind maps.
🌐 Collaborate Effectively: Share and collaborate on mind maps, fostering creativity and teamwork.
🚀 Unlock Your Mind's Potential: Utilize mind mapping to enhance learning, planning, and idea generation.
==>> Get Wondershare Black Friday Deal
Utility Tools – Optimize Your Workflow!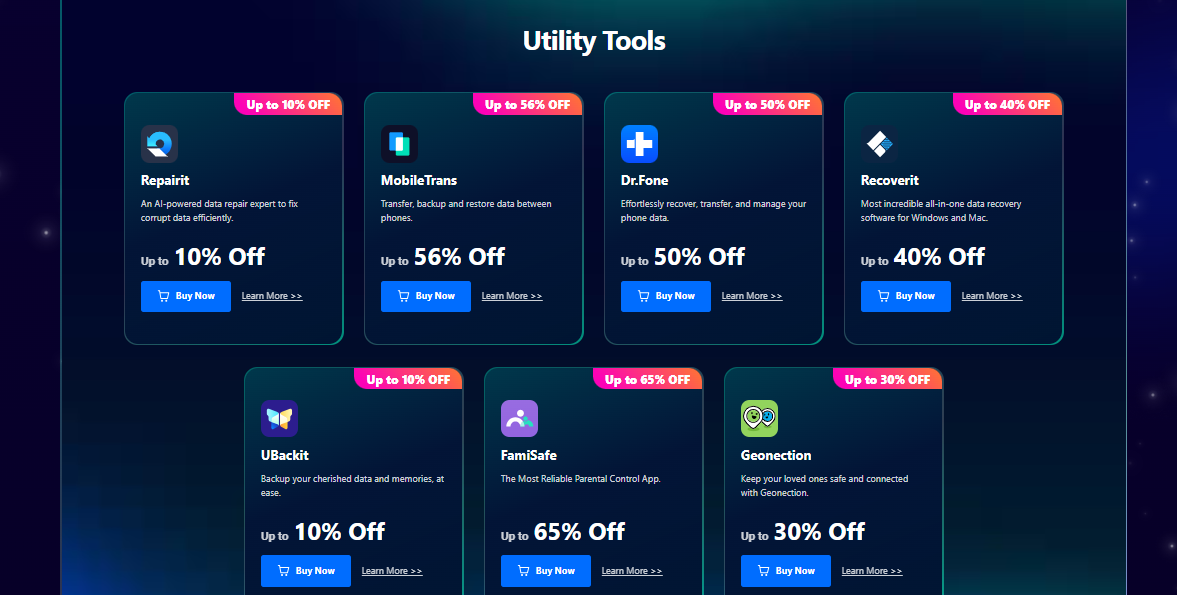 1. Mockitt: Bring Your Ideas to Life
Starting from $19.99
🎨 Prototyping Excellence: Mockitt lets you bring your design ideas to life with interactive prototypes.
🌐 Seamless Collaboration: Collaborate with your team in real-time for efficient and effective project development.
🚀 Elevate Design Projects: Whether for apps or websites, Mockitt is your go-to tool for superior prototyping.
2. Document Cloud: Cloud Power for Documents
Starting from $2.99 per month
☁️ Document Cloud Power: Access, store, and collaborate on your documents effortlessly with Document Cloud.
🚀 Enhanced Accessibility: Enjoy the benefits of cloud storage and collaboration for a more streamlined document management experience.
💡 Future-Proof Your Files: Secure your documents in the cloud for easy access and collaboration.
3. PDF Reader: Your Gateway to Seamless Reading
Free
📖 Effortless Reading: Wondershare's PDF Reader provides a user-friendly platform for seamless reading and document navigation.
🌟 Lightweight and Efficient: Experience a lightweight yet powerful PDF reader that ensures a smooth reading experience.
🚀 Free Forever: Enjoy the benefits of a high-quality PDF reader without spending a dime.
4. HiPDF: Simplify Your PDF Tasks
Starting from $9.99
🛠️ PDF Tasks Made Easy: HiPDF simplifies complex PDF tasks, from editing to conversion, in a user-friendly interface.
💼 Boost Productivity: Streamline your workflow with HiPDF's efficiency in handling various PDF-related tasks.
🌟 Affordable Solutions: Get premium PDF tools without breaking the bank with HiPDF's budget-friendly offerings.
5. Repairit: Rescue Your Data in a Click
Starting from $29.99
🛠️ Data Recovery Simplified: Repairit is your go-to solution for recovering lost or corrupted files with a single click.
💾 Comprehensive Recovery: Ensure the safety of your valuable data with Repairit's powerful yet easy-to-use recovery features.
🌟 One-Click Rescue: No more lost files – repair and recover your data effortlessly with Repairit.
6. MobileTrans: Seamless Data Transfer
Starting from $29.99
📱 Effortless Data Migration: MobileTrans ensures seamless data transfer between devices, making upgrading a breeze.
🌐 Cross-Platform Compatibility: Transfer data between iOS and Android devices with ease.
🚀 Upgrade with Confidence: Upgrade to a new device without the stress of data loss using MobileTrans.
7. FamiSafe: Protect Your Loved Ones
Starting from $2.99 per month
👨‍👩‍👧‍👦 Family Safety First: FamiSafe provides advanced parental control features to ensure the safety of your loved ones online.
🌟 Secure Digital Spaces: Monitor and manage your family's digital activities for a safer online experience.
💼 Peace of Mind: Protect your family in the digital age with FamiSafe's comprehensive parental control solutions.
==>> Get Wondershare Black Friday Deal
Exclusive Deals and Offers – Because You Deserve More!

1. Join Contests for Exclusive Prizes!
🏆 Visit the Wondershare website to learn more about their Black Friday contests.
🎁 Win Big: Participate in exciting contests for a chance to win exclusive prizes and elevate your creative toolkit.
2. Buy One Get One FREE
🎉 Select products available for buy-one-get-one-free.
🤩 Double the Joy: Don't miss out on the opportunity to get additional products for free with select purchases.
3. Follow Wondershare on Social for Extra 5% OFF
📲 Follow Wondershare on Facebook, Twitter, and Instagram to receive an extra 5% off your purchase.
🤑 Social Savvy Savings: Stay connected and enjoy an extra discount when you follow Wondershare on social media.
4. Save & Get FREE AI Credits for Your Works
💰 Save up to 50% on select products and receive free AI credits for your works.
🎨 AI-Powered Creativity: Unlock AI credits to enhance your creative projects while enjoying significant savings.
General Overview of the Wondershare Black Friday Deal Discounts:
🎉 Up to 79% off on Video Editing Software
📈 Up to 50% off on PDF Editors
📊 Up to 50% off on Data Recovery Tools
🎁 Buy-one-get-one-free offers on select products
==>> Get Wondershare Black Friday Deal
Mark Your Calendar – Sale Details:
📅 Sale Period: November 16th, 00:00 am EST to November 26th, 23:59 EST.
SecureBlitz readers, dive into the world of Wondershare Black Friday Deal Extravaganza and unlock the tools to transform your creativity into reality!
Don't miss out on these exclusive deals; make this Black Friday your most productive one yet! 🚀
==>> Get Wondershare Black Friday Deal
Wondershare Black Friday Deal Extravaganza – Frequently Asked Questions
How long will the Wondershare Black Friday sale last?
The Wondershare Black Friday Extravaganza is live from November 16th, starting at 00:00 am EST, and concludes on November 26th, ending at 23:59 EST. Make sure to mark your calendar and grab these exclusive deals within this timeframe.
Can I combine discounts from different bundles during the sale?
While each bundle offers substantial savings, the discounts are exclusive to their respective bundles. However, you can explore individual product deals for additional savings across various categories.
Are the Filmora X features consistent across all pricing tiers?
Absolutely! Whether you opt for the base or premium pricing, Filmora X provides a comprehensive set of features to cater to both beginners and advanced video editors. Each pricing tier unlocks a spectrum of editing tools and capabilities.
How do I participate in Wondershare's Black Friday contests?
To join the Black Friday contests and stand a chance to win exclusive prizes, visit the Wondershare website during the sale period. Look for contest details, rules, and entry instructions to be a part of this exciting opportunity.
Can I apply the extra 5% discount from following Wondershare on social media to any product?
Yes, indeed! By following Wondershare on Facebook, Twitter, and Instagram, you can avail an extra 5% off on your purchase. This additional discount applies across the entire range of products featured in the Black Friday Extravaganza.
==>> Get Wondershare Black Friday Deal
---
INTERESTING DEALS