Here is the HostPapa Black Friday Deal for 2023!
Dear SecureBlitz readers, the moment we've all been eagerly anticipating has finally arrived – Black Friday at HostPapa is here, and it's better than ever! 🎉
This year's deals are officially live, and we're thrilled to share the exciting news with you.
HostPapa Black Friday Deal 2023: Discover Unbeatable Deals – Act Fast!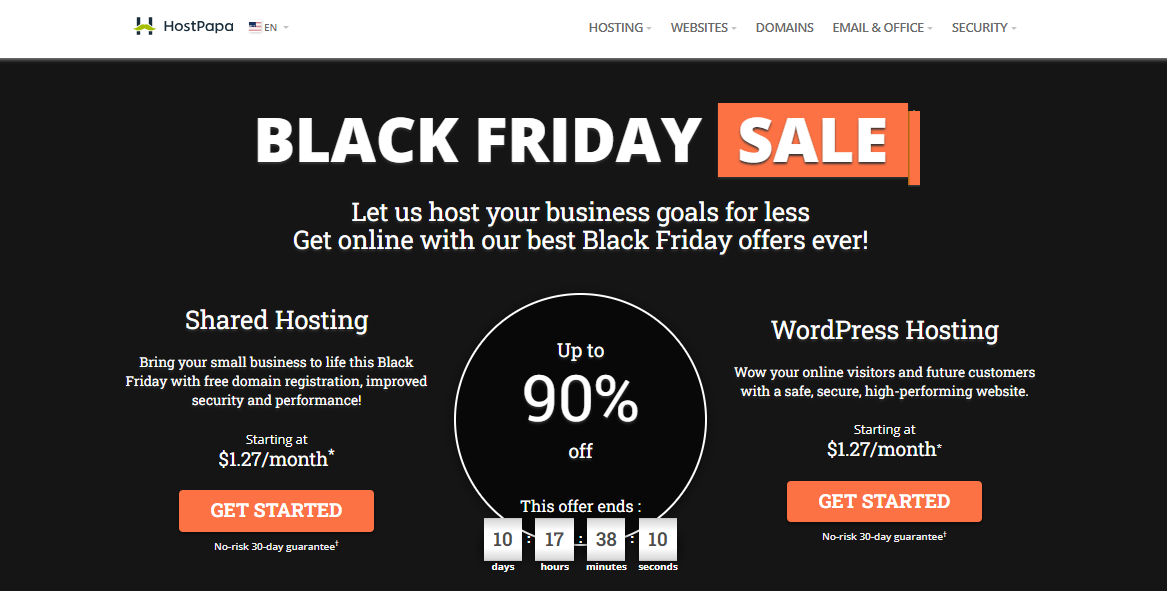 1. Shared Hosting – Starting at $1.92 per month
SecureBlitz readers, dive into the world of shared hosting with HostPapa at an unbeatable starting price of $1.92 monthly. Elevate your website's performance and reliability without breaking the bank. This deal is a game-changer for those seeking affordable and top-notch hosting.
🚀 Unmatched Affordability: Starting at just $1.92 per month.
💡 Perfect for All: Ideal for bloggers, small businesses, and startups looking for reliable hosting without breaking the bank.
🌐 Global Reach: HostPapa's shared hosting ensures your website is accessible globally, catering to a diverse audience.
2. Optimized WordPress Hosting – Starting at $1.92 per month
For our WordPress enthusiasts, HostPapa brings you Optimized WordPress Hosting starting at the same unbeatable price of $1.92 monthly. Enjoy optimized performance, security, and a seamless WordPress experience without the hefty price tag.
🌐 Tailored for WordPress: Crafted specifically for WordPress users, ensuring optimal performance.
🔐 Enhanced Security: Protect your WordPress site with top-notch security features.
🚀 Speed Optimization: Experience lightning-fast load times, which is crucial for user satisfaction and search engine rankings.
3. VPS Hosting – Starting at $12.99 per month
Need more power and control over your hosting environment? SecureBlitz readers, grab VPS Hosting from HostPapa starting at just $12.99 per month. Experience enhanced performance, flexibility, and reliability for your growing online ventures.
💪 Power and Control: Ideal for businesses that need more control over their hosting environment.
📈 Scalability: Scale your resources as your online presence grows.
🔒 Enhanced Security: Enjoy the benefits of a private server environment, ensuring heightened security for your data.
Important Details – Don't Miss Out!
Promotion Period: November 13th-30th, 2023
Exclusive Discounts:
Shared Hosting: Starting at $1.92 per month
Optimized WordPress Hosting: Starting at $1.92 per month
VPS Hosting: Starting at $12.99 per month
Billing Cycles:
Available in 12, 24, and 36-month cycles
*Price refers to 36-month subscriptions only
*Renews at regular rate
Act Fast – Offer Valid: Nov. 13-30, 2023
Why HostPapa? SecureBlitz's Top Picks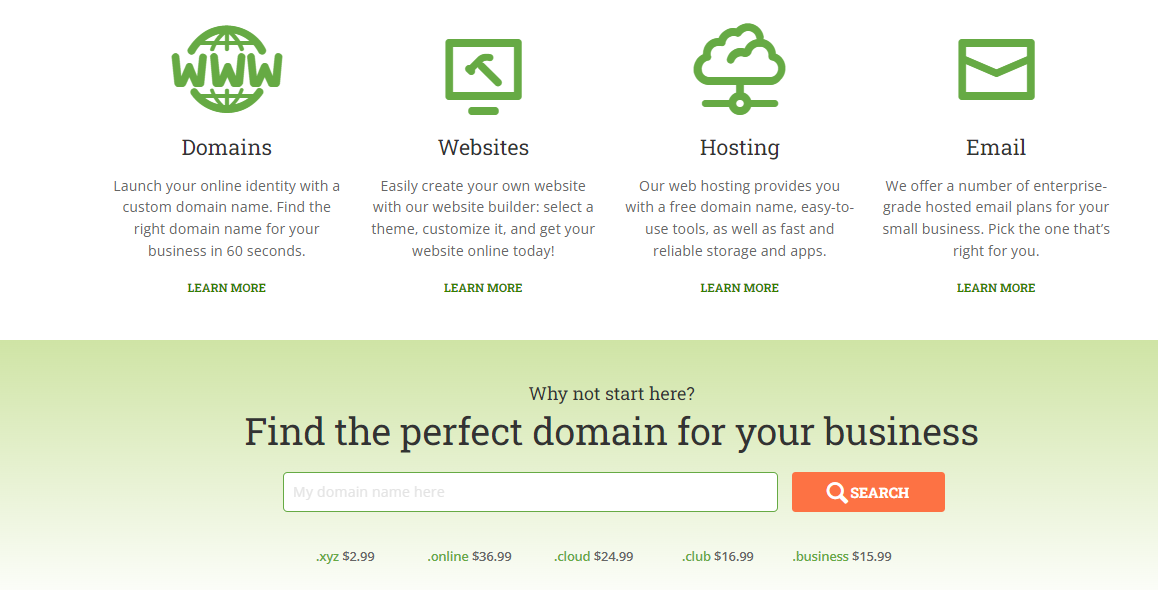 1. HostPapa's Commitment to Excellence
HostPapa stands out for its commitment to excellence, providing reliable and secure hosting solutions. Join a hosting provider that prioritizes your online success.
🏆 Reliable Hosting: Count on HostPapa's robust infrastructure for uninterrupted website performance.
🔄 Proven Track Record: With years of experience, HostPapa has a track record of delivering top-notch hosting services.
2. Unparalleled Customer Support
Experience top-notch customer support available 24/7. HostPapa is dedicated to ensuring you have the assistance you need whenever you need it.
🌟 Customer-Centric: Enjoy round-the-clock support to address any hosting-related queries or concerns.
🤝 Personalized Assistance: HostPapa's support team goes the extra mile to provide personalized assistance tailored to your needs.
3. Cutting-Edge Technology
HostPapa invests in cutting-edge technology to deliver optimal performance, security, and reliability for your websites and applications.
🔧 Latest Technology: HostPapa ensures the latest advancements in technology power your hosting.
🚀 Innovative Solutions: Stay ahead of the curve with HostPapa's commitment to adopting innovative hosting solutions.

How to Claim Your HostPapa Black Friday Deal: SecureBlitz Exclusive!
Visit HostPapa: Head to HostPapa's official website to explore the exciting Black Friday deals.
Select Your Hosting Plan: Choose the hosting plan that best suits your needs – Shared, Optimized WordPress, or VPS.
Sign Up: During checkout, sign up for a 36-month subscription to unlock the special starting price.
Enjoy Stellar Hosting: Dive into a world of reliable, secure, and high-performance hosting with HostPapa.
HostPapa Black Friday Deal 2023: Frequently Asked Questions (FAQs)
How long is the Black Friday promotion at HostPapa valid?
The Black Friday promotion at HostPapa is valid from November 13th to November 30th, 2023. Make sure to take advantage of these exclusive deals within this period.
Can I choose a billing cycle other than the 36-month subscription for the advertised prices?
The prices starting at $1.92 per month are applicable to 36-month subscriptions. However, HostPapa offers flexibility with billing cycles, including 12, 24, and 36 months. Please note that the prices may vary based on the chosen billing cycle.
What distinguishes VPS Hosting from Shared Hosting at HostPapa?
VPS Hosting provides more power, control, and resources than Shared Hosting. It is ideal for businesses or websites that require enhanced performance, scalability, and dedicated resources.
Are the promotional prices applicable to renewals?
The promotional prices are applicable to the initial 36-month subscription and renew at the regular rate thereafter. HostPapa aims to provide transparency, ensuring you are informed about the renewal rates.
Does HostPapa offer a money-back guarantee for these Black Friday deals?
Yes, HostPapa offers a 30-day money-back guarantee for its hosting services, even with the Black Friday deals. If you are unsatisfied within the first 30 days, you can request a full refund. HostPapa is committed to ensuring your satisfaction.
TAKE ACTION!
SecureBlitz readers, don't miss out on HostPapa's Black Friday Bonanza! This is your chance to elevate your online presence with unbeatable hosting deals. Act fast, secure your hosting, and let your online ventures thrive! 🚀
---
INTERESTING DEALS