Here is the Tenorshare Black Friday deal!
It's that exciting time of the year again—Black Friday and Cyber Monday are upon us, and I'm thrilled to share groundbreaking news that promises to not only fortify your cybersecurity arsenal but also shower you with fantastic digital prizes!
Join us for the Tenorshare Black Friday & Cyber Monday Big Sale in 2023, an event where you can win lucky digital prizes, secure free orders, and embark on an exclusive journey beyond mere discounts. Let's dive into an experience that transcends traditional sales!
Unlocking Digital Prizes: A Black Friday Bonanza!
🌟 Score Big with Tenorshare: This Black Friday, Tenorshare is not just offering discounts; it's a chance to Win Lucky Digital Prizes and Free Orders with every purchase!
Elevate your digital lifestyle with complimentary subscriptions to YouTube TV, YouTube Premium, Spotify Premium, and, of course, exclusive Tenorshare product orders. This isn't just a sale; it's a celebration of your digital security!
🎉 Free Subscriptions: Immerse yourself in ad-free content streaming, premium music, and more with free subscriptions to YouTube TV, YouTube Premium, and Spotify Premium. Each Tenorshare purchase opens the door to an array of digital luxuries, enhancing your digital journey with a touch of luxury.
🎁 Lucky Digital Prizes: Engage in the thrill of our digital prize draw for a chance to win additional free orders and premium subscriptions. It's not just a sale; it's an opportunity to enrich your digital experience, turning every purchase into a potential gateway to exciting digital rewards.
🛒 Exclusive Discounts: Enjoy substantial savings of up to 20% OFF on Tenorshare products. Boldly enhance your digital toolkit at a fraction of the cost, ensuring your devices are fortified against cyber threats. It's more than a purchase; it's an investment in the security and efficiency of your digital life.
==>> Get Tenorshare Deal
🛒 How to Redeem Your Exclusive Discount?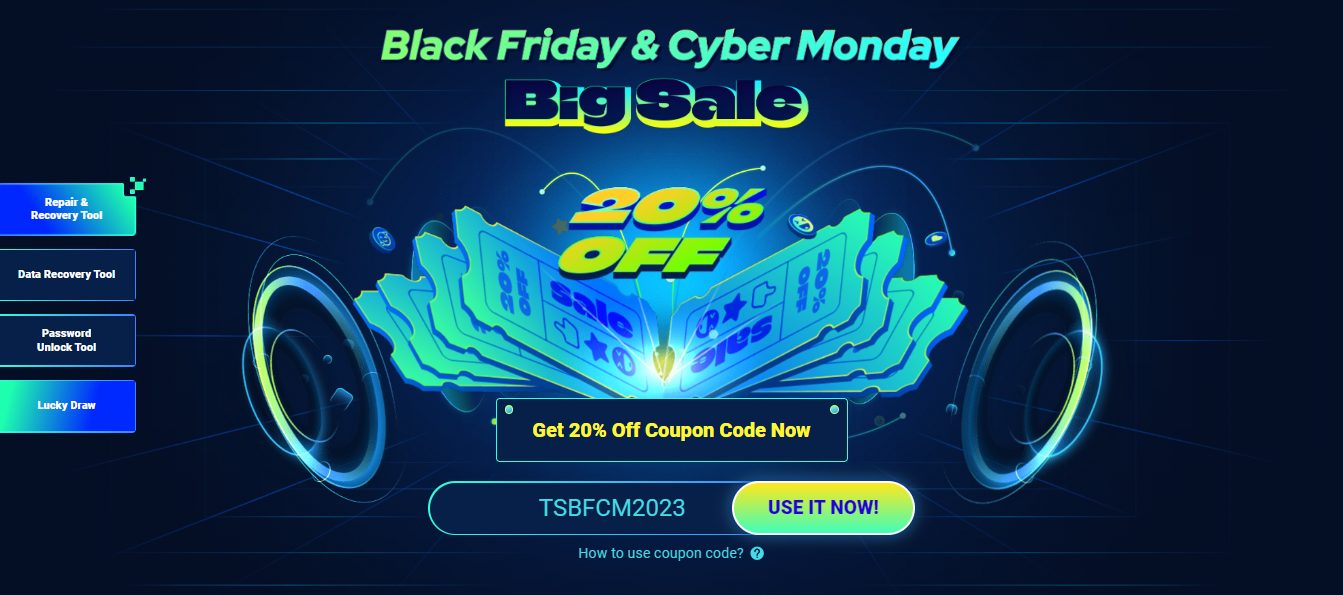 Unlocking your Black Friday discounts is a breeze with Tenorshare. Follow these steps to make the most of the Tenorshare Black Friday & Cyber Monday Extravaganza:
Step 1:
Copy the Coupon Code: TSBFCM2023
==>> Get Tenorshare Deal
Step 2:
Click the "Buy Now" Button: Embark on a journey to the order page by clicking the "Buy Now" button. Let the adventure in bolstering your digital defenses commence, and navigate through a user-friendly interface designed to streamline your purchase process.
Step 3:
Paste the Code: Effortlessly paste the copied coupon code (TSBFCM2023) into the designated code box on the order page. Witness the magic as the price automatically adjusts to reveal the discounted amount, ensuring transparency and simplicity in your purchase.
Step 4:
Automatic Adjustment: Marvel at the seamless automatic adjustment of the price to the reduced, discounted amount. Experience the power of Black Friday savings in real-time, making your purchase not just a transaction but a celebration of smart shopping.
Step 5:
Check Your Email: Post-purchase, check your email for the registration code. It's not just a code; it's your digital key to unlocking the full potential of your discounted Tenorshare product! It's not just a purchase; it's a journey to an enhanced digital experience, with your inbox being the gateway to exciting new possibilities.
==>> Get Tenorshare Deal
🧰 Tenorshare's Toolbox: Empowering Your Digital World
Explore a meticulously crafted range of powerful tools designed to repair, recover, and unlock your devices, ensuring you have the right solution at your fingertips for any digital challenge. Let's delve deeper into the remarkable capabilities of each tool:
Repair & Recovery Tool

1. ReiBoot
Repair 150+ iOS system problems.
Boldly tackle iOS issues with ease.
Easily fix common iOS problems like the infamous Apple logo freeze or the never-ending boot loop. ReiBoot is your go-to solution for a seamless iOS experience, providing a smooth digital journey and ensuring your device operates at its peak performance.
Social App Recovery Tool

1. UltData WhatsApp Recovery
Recover WhatsApp data on iPhone/Android.
Boldly restore your social conversations.
Ensure no cherished chat, photo, or video is lost; recover your WhatsApp data effortlessly. UltData WhatsApp Recovery is your digital safety net for preserving meaningful conversations and securing your digital memories. It's not just a tool; it's a guardian of your digital connections.
Data Recovery Tool

1. UltData for Android
Recover deleted data from Android without root.
Support with 6000+ Android phones and tablets.
Boldly reclaim your lost Android data.
Whether it's photos, contacts, or documents, UltData for Android ensures you can regain access to your deleted Android data hassle-free, offering a reliable solution to digital setbacks. It transforms data recovery into a straightforward, empowering process, ensuring you are never without your crucial information.
2. UltData for iOS
Recover deleted data from iOS devices.
Support data recovery for 35+ file types.
Boldly revive your lost iOS data.
Salvage accidentally deleted photos, messages, or notes from your iPhone or iPad effortlessly. UltData for iOS returns what you thought was gone forever, ensuring no digital footprint is left behind. It's not just data recovery; it's a resurrection of your digital history.
Password Unlock Tool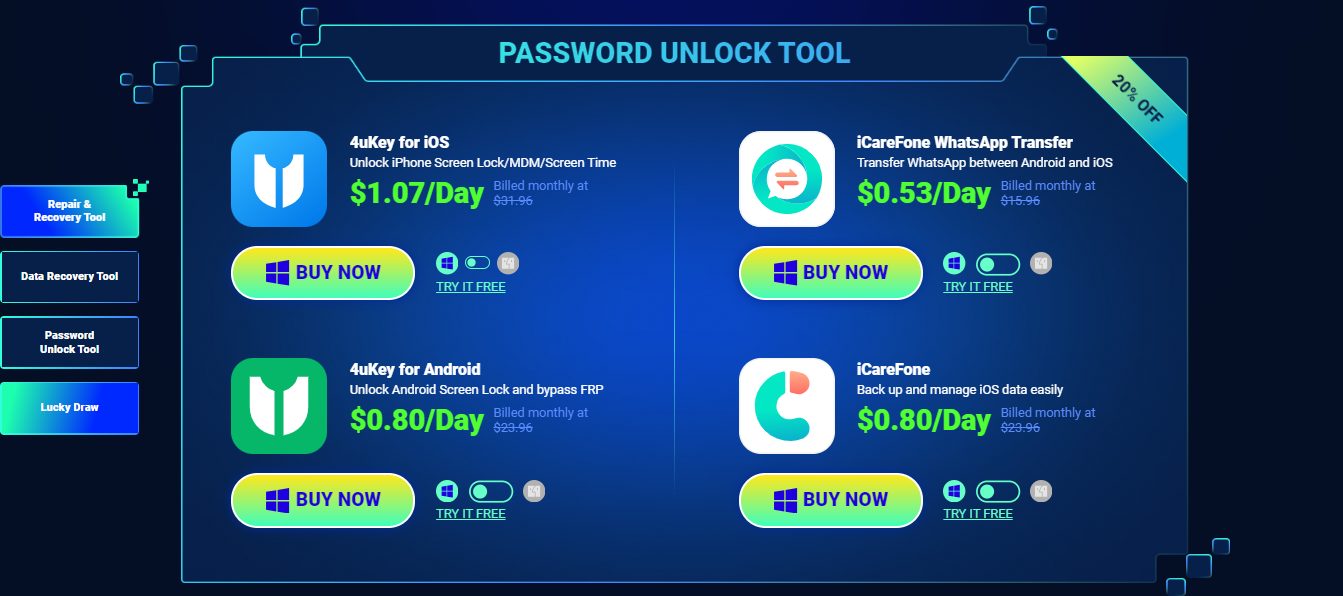 1. 4uKey for iOS
Unlock iPhone Screen Lock/MDM/Screen Time.
Boldly regain control of your iPhone.
Seamlessly bypass iPhone lock screens, MDM profiles, or Screen Time passcodes. 4uKey for iOS empowers you to take back control of your iPhone, unlocking new possibilities and ensuring uninterrupted access to your device. It's not just an unlocking tool; it's your key to liberation within the iOS ecosystem.
2. 4uKey for Android
Unlock Android Screen Lock and bypass FRP.
Boldly break free from Android locks.
Unlock your Android device without losing data, even if you've forgotten your password. 4uKey for Android ensures that you are never locked out of your Android device again, providing a straightforward solution to regain access. It's not just a password reset; it's your digital escape route.
3. iCareFone WhatsApp Transfer
Transfer WhatsApp between Android and iOS.
Boldly bridge the gap between devices.
Seamlessly migrate your WhatsApp messages between Android and iOS devices without a hitch. iCareFone WhatsApp Transfer ensures a smooth transition in your digital communication, enabling you to connect your devices effortlessly. It's not just a transfer tool; it's a bridge connecting your digital worlds.
4. iCareFone
Back up and manage iOS data easily.
Boldly take charge of your iOS data.
Effortlessly manage and back up your iOS data, ensuring you control your digital life. iCareFone provides a user-friendly platform for managing and safeguarding your valuable iOS data, putting you in the driver's seat of your digital journey. It's not just data management; it's your digital command center.
Each tool in Tenorshare's Toolbox is designed with precision and care, empowering you to overcome digital challenges with confidence.
From repairing iOS glitches to seamlessly transferring WhatsApp data between devices, these tools redefine what's possible in the realm of digital empowerment.
==>> Get Tenorshare Deal
🎁 Lucky Digital Prizes & Free Orders: Your Ticket to Extra Excitement!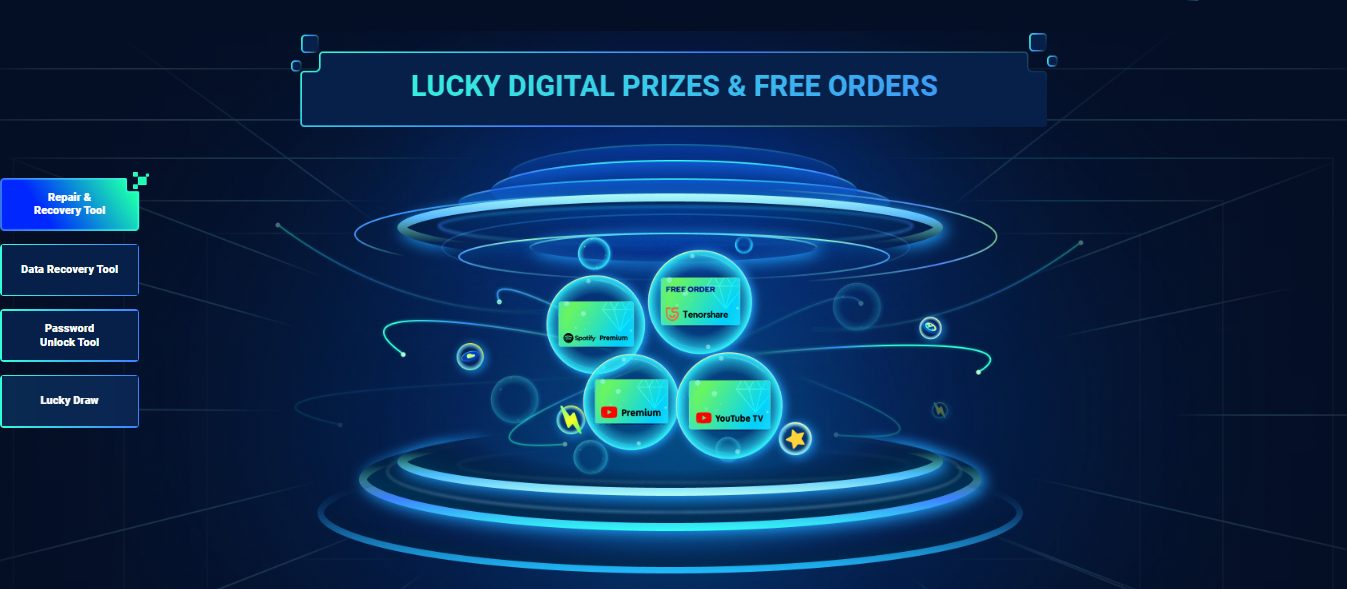 What is Lucky Digital Prizes & Free Order?
Submit your email for a chance to draw lucky prizes and free orders.
Terms and conditions apply.
==>> Get Tenorshare Deal
Tenorshare Black Friday & Cyber Monday Deal: Frequently Asked Questions
How long does the Black Friday & Cyber Monday sale last?
The Tenorshare Black Friday deal event starts on November 08, 2023, and concludes on December 7, 2023. Be sure to mark your calendars and secure your digital treasures within this timeframe.
How will winners be notified of the Lucky Digital Prizes and free Orders?
After the Tenorshare Black Friday deal event, winners will be contacted via email. Ensure that the email address used for the lottery matches your order for successful redemption.
Can I use multiple discount codes for a single purchase?
No, only one discount code can be applied per purchase. Make sure to use the most advantageous code for your specific needs.
What if I encounter issues with my purchased Tenorshare product?
Tenorshare provides comprehensive customer support. If you encounter any issues, contact their support team for prompt assistance. Your satisfaction is their top priority.
ACT NOW!
Join SecureBlitz in celebrating Tenorshare's Black Friday & Cyber Monday Extravaganza. Unleash the power of digital prizes, free orders, and exclusive discounts that go beyond the ordinary.
Tenorshare Black Friday deal is not just a sale; it's an experience. Happy shopping, Cyber Protectors!
==>> Get Tenorshare Deal
---
INTERESTING DEALS