Check out the Quizplus Black Friday deal for 2023!
SecureBlitz readers, get ready for an educational shopping spree because Quizplus is rolling out its incredible Black Friday Sale! 🎓 This sale is not just an opportunity; it's your key to academic excellence.
The event is live now and will continue to amaze you from November 17th to November 24th. Quizplus is committed to providing you with all the tools you need to make this learning season a resounding success.
Unlock the Black Friday Savings – 50% Off Sitewide at Quizplus!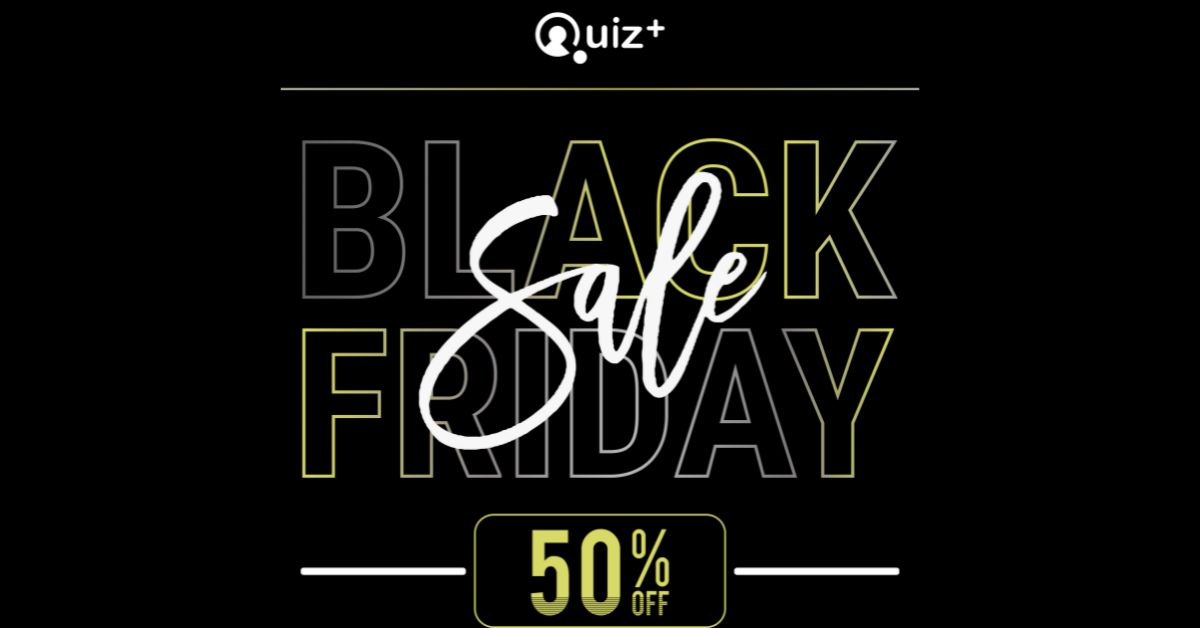 Exclusive Quizplus Black Friday Offer Details:
Discount: Enjoy a massive 50% off on all Quizplus plans
Sale Period: November 17th to November 24th, 2023
Why Quizplus? Elevate Your Learning Experience!
1. Comprehensive Study Tools
Quizplus is not just an online learning platform; it's your academic companion equipped with various study tools designed to boost your performance.
📚 Quizzes: Test your knowledge with interactive quizzes covering various subjects.
🗂️ Flashcards: Reinforce your learning with visual aids for better retention.
📝 Practice Tests: Simulate exam conditions and refine your test-taking skills.
📖 Textbook Solutions: Access detailed solutions to textbook problems for in-depth understanding.
📚 Homework Help: Get assistance with your homework, ensuring every concept is crystal clear.
🎓 Leaderboard: Turn learning into a friendly competition and measure your success against peers.
2. 24/7 Support for Your Academic Journey
Quizplus understands that learning doesn't have a schedule. That's why they offer 24/7 support to guide you whenever you need assistance.
🕒 Round-the-Clock Assistance: Have a question at midnight? Quizplus support is just a message away.
🌐 Online Assistance: Access support from anywhere, making your learning journey seamless.
💡 Expert Guidance: Receive expert guidance to enhance your understanding of challenging concepts.
🚀 Responsive Support Team: Benefit from a responsive support team dedicated to resolving your queries promptly.
3. Mobile App for Learning on the Go
Your learning journey doesn't stop when you leave your desk. Quizplus provides a mobile app to keep your study materials at your fingertips.
📱 Study Anytime, Anywhere: Whether you're commuting or waiting for a friend, use the Quizplus app to study on the go.
🚀 Effortless Access: Instantly access your quizzes, flashcards, and study materials from your mobile device.
🎯 Mobile-Friendly Interface: Experience a user-friendly interface optimized for mobile learning.
🌟 Seamless Cross-Device Sync: Transition between devices seamlessly, ensuring a continuous learning experience.
4. Customizable Study Plan for Personalized Learning
Quizplus understands that every learner is unique. That's why they offer a customizable study plan tailored to your individual needs.
🎯 Personalized Learning: Create a study plan that suits your pace and preferences.
📊 Track Your Progress: Monitor your progress and adjust your study plan for optimal results.
🎓 Goal-Oriented Learning: Set academic goals and let Quizplus guide you towards achieving them.
🧠 Adaptive Learning Paths: Benefit from adaptive learning paths catering to your strengths and weaknesses.
5. Leaderboard for Friendly Competition
Turn your learning journey into a friendly competition with Quizplus's leaderboard feature.
🏆 Compete and Learn: Challenge yourself and others to climb the leaderboard, adding a fun element to your studies.
📈 Measure Your Success: Track your performance against peers and celebrate your academic achievements.
🎓 Motivation Boost: Use the leaderboard as motivation to excel in your studies.
💬 Community Engagement: Join a vibrant community of learners, fostering collaboration and knowledge-sharing.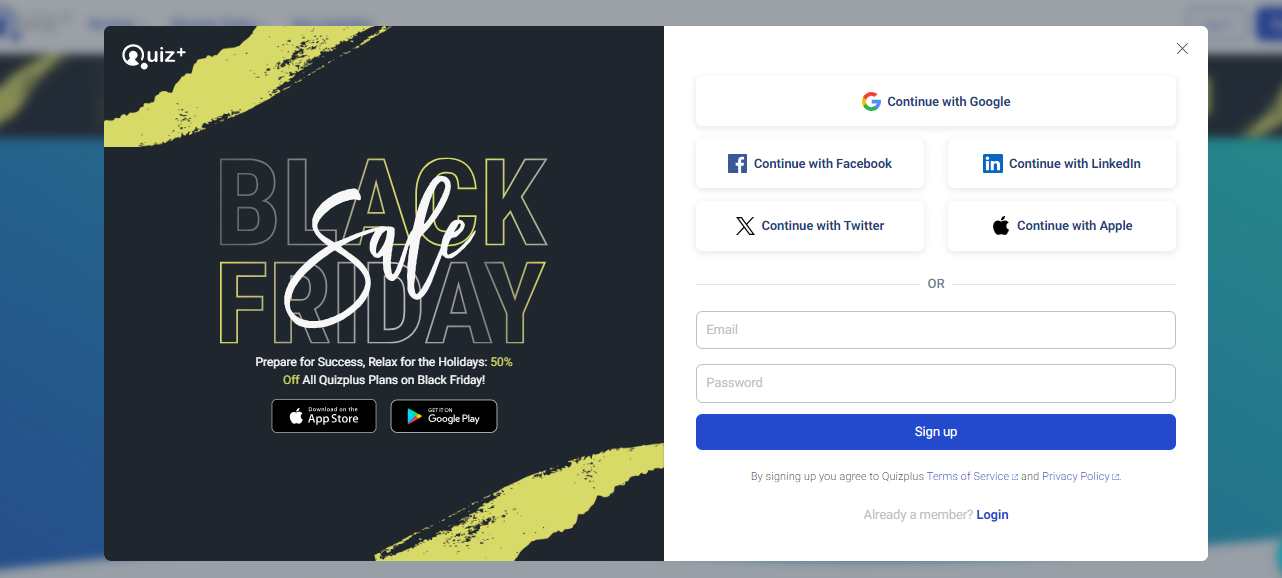 How to Supercharge Your Learning with Quizplus: SecureBlitz Exclusive!
Visit Quizplus: Head to Quizplus's official website to explore the incredible Black Friday deals.
Select Your Plan: Choose the Quizplus plan that aligns with your learning needs.
Unlock Savings: Enjoy the sitewide 50% discount automatically applied during the Black Friday sale.
Elevate Your Learning: Dive into a world of comprehensive study tools, 24/7 support, and customizable learning plans with Quizplus.
Quizplus Black Friday Deal 2023 – Frequently Asked Questions
How long is the Quizplus Black Friday Sale valid?
The Quizplus Black Friday Sale is live from November 17th to November 24th, 2023. Make sure to take advantage of this exclusive opportunity within this period.
Is the 50% discount applicable to all Quizplus plans?
Yes, the 50% discount is applicable sitewide, covering all Quizplus plans. Whether you're a student seeking individual study tools or an educator exploring options for a group, this Black Friday offer has you covered.
Can I access Quizplus from multiple devices?
Absolutely! Quizplus provides a seamless cross-device experience. Whether you're using your computer, tablet, or smartphone, your study materials and progress sync seamlessly for uninterrupted learning.
How do I track my progress and customize my study plan on Quizplus?
Quizplus offers a user-friendly interface that allows you to track your progress effortlessly. You can customize your study plan based on your pace and preferences, ensuring a personalized learning experience. Detailed instructions and guidance are available within the platform.
Is there a community aspect to Quizplus?
Yes, Quizplus fosters a vibrant learning community. Engage with other learners, participate in friendly competitions on the leaderboard, and join discussions to enhance your understanding. Learning becomes more enjoyable and collaborative with the Quizplus community.
Unlock Your Learning Potential with Quizplus – 50% Off on All Plans!
SecureBlitz readers, seize this limited-time opportunity to enhance your learning experience with Quizplus Black Friday Deal Extravaganza! This sale is not just about discounts; it's your chance to unlock a world of academic success. Act now and make this learning season your most successful one yet! 🌐🎓
---
INTERESTING DEALS