Get the eUKhost Black Friday Deals. Are you ready to take your web hosting to the next level this Black Friday? Look no further than eUKhost, your trusted partner in web hosting solutions.
We're thrilled to bring you unmatched Black Friday deals on a wide range of web hosting services, with jaw-dropping discounts of up to 50%!
Whether you're a small business owner, a web developer, or an e-commerce enthusiast, these unbeatable offers have something for everyone.
Discover Incredible Managed Web Hosting Solutions at Unbelievable Prices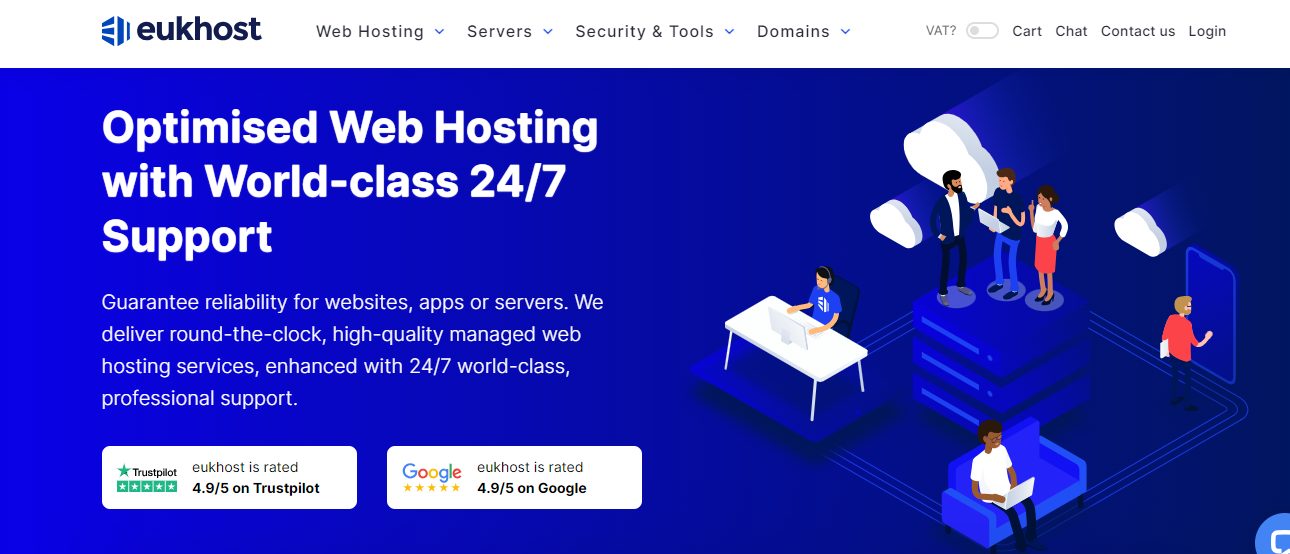 At eUKhost, they pride themselves on delivering top-tier managed web hosting solutions that are not only reliable but also budget-friendly.
This Black Friday, they are raising the bar and ensuring that your online presence stays strong and secure. Dive into a world of remarkable deals with eUKhost and make the most of your online journey.
Here's a sneak peek at these incredible eUKhost Black Friday DEALS:
50% OFF WEB HOSTING
Use Code: BF50WH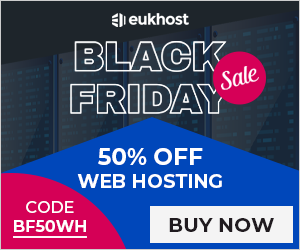 Are you looking to establish an online presence or upgrade your existing hosting plan? With 50% off web hosting, eUKhost makes it easier than ever. Their web hosting solutions offer lightning-fast loading times, robust security features, and 24/7 expert support. Whether you're starting a blog, launching a business website, or setting up an e-commerce store, eUKhost Black Friday deal ensures you can do it all with ease.
15% OFF CLOUD SERVER
Use Code: BF15CS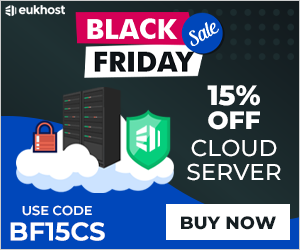 Cloud servers are the future of hosting. They offer unmatched flexibility, scalability, and reliability. With 15% off cloud server hosting, you can enjoy high-performance computing power that adapts to your needs. Ensure your website stays online and responsive, even during traffic spikes. Join the cloud revolution this Black Friday with eUKhost!
10% OFF DEDICATED SERVERS
Use Code: BF10DS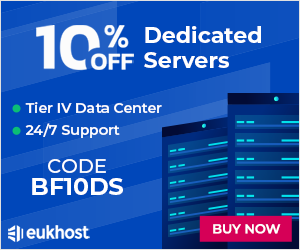 For the ultimate in web hosting control, security, and performance, dedicated servers are the way to go. With 10% off dedicated server hosting, you can have a server all to yourself. Customize it to your exact requirements and enjoy top-tier performance, security, and stability. It's the ideal choice for businesses and websites with high traffic demands.
15% OFF LINUX VPS HOSTING
Use Code: BF15VS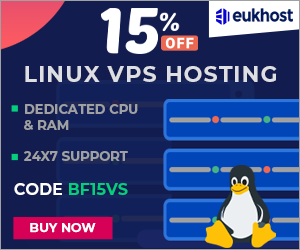 Linux VPS hosting combines the best of both worlds – the power of a dedicated server and the cost-effectiveness of shared hosting. With 15% off, you can harness the full potential of Linux for your website. Enjoy root access, advanced security, and exceptional performance. eUKhost's Linux VPS hosting is perfect for developers, small businesses, and online projects of all sizes.
15% OFF WINDOWS VPS HOSTING
Use Code: BF15VS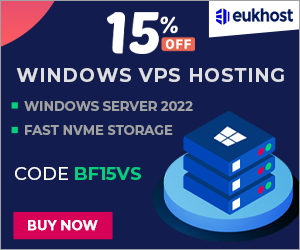 If you prefer Windows for your hosting environment, their Windows VPS hosting is the answer. Get 15% off and take advantage of the reliability, security, and familiarity of Windows for your web projects. With eUKhost, you get full administrative control, a range of Windows OS options, and exceptional support.
25% OFF BUSINESS WEB HOSTING
Use Code: BF25BH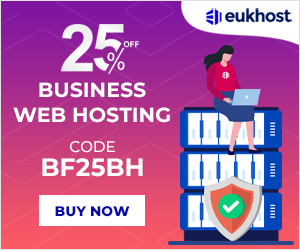 For businesses that demand the best, eUKhost's business web hosting is the ultimate solution. With 25% off, you can enjoy premium features such as high-speed performance, advanced security, and priority support. Whether you run a small business or a large e-commerce site, their business hosting plan is designed to meet your needs.
25% OFF WORDPRESS HOSTING
Use Code: BF25WP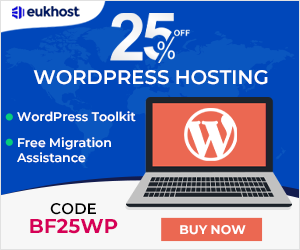 Are you a WordPress enthusiast? With 25% off WordPress hosting, you can supercharge your WordPress website. Their optimized hosting ensures lightning-fast loading times, top-notch security, and expert WordPress support. Take your WordPress site to the next level with eUKhost.
20% OFF LINUX RESELLER HOSTING
Use Code: BF20RS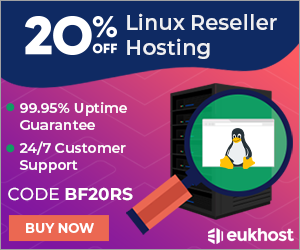 If you're a web professional or an agency, their Linux reseller hosting is perfect for you. With 20% off, you can create your own hosting business or manage multiple websites easily. Enjoy the power of Linux, combined with eUKhost's reliability and support.
20% OFF WINDOWS RESELLER HOSTING
Use Code: BF20RS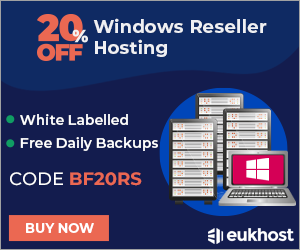 For those who prefer the Windows environment, their Windows reseller hosting is a fantastic choice. Get 20% off and harness the potential of Windows for your reseller business. Provide hosting services to your clients with confidence, knowing you have eUKhost's backing.
20% OFF EMAIL HOSTING
Use Code: BF20EH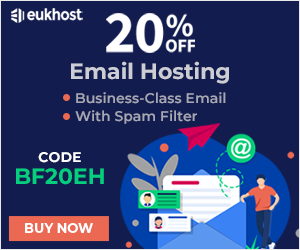 Don't underestimate the importance of reliable email hosting. With 20% off, you can ensure that your email communication is secure, fast, and always available. Whether you need it for personal use or business purposes, eUKhost's email hosting has you covered.
20% OFF SSL CERTIFICATE
Use Code: BF20SL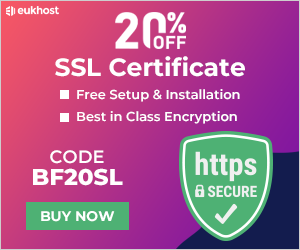 Security is paramount for any website. Secure your website and build trust with your visitors with their SSL certificates. With 20% off, you can encrypt your data, protect sensitive information, and boost your search engine ranking. Don't miss this opportunity to fortify your online presence.
These limited-time offers are tailor-made to help you get the best out of this Black Friday season.
Whether you're looking to create a personal blog, launch a business website, or upgrade your existing hosting plan, eUKhost has you covered. It's time to seize the opportunity and ensure you don't miss out on these incredible savings.
Why Choose eUKhost?
Reliability: eUKhost is known for its industry-leading uptime and reliability. Your website will always be available to visitors when it matters most.
24/7 Support: Their expert support team is available around the clock to assist you with any questions or issues you may encounter.
Top-Notch Security: They take the security of your website seriously, so you can rest easy knowing your data is safe and sound.
Scalability: As your online presence grows, eUKhost can grow with you. Their scalable hosting solutions adapt to your changing needs.
Cutting-Edge Technology: They stay up to date with the latest technologies to ensure your website is running on the best possible infrastructure.
eUKhost Black Friday Deals: Frequently Asked Questions
What makes eUKhost's web hosting services stand out from the competition?
At eUKhost, they take pride in their exceptional service quality. They stand out from the competition through their commitment to reliability, 24/7 expert support, top-notch security measures, and their ability to adapt to your changing needs. Their hosting solutions are designed to deliver a seamless and secure online experience. With industry-leading uptime, robust security, and scalability, eUKhost ensures your website is in the best possible hands.
How do I apply the eUKhost Black Friday discount codes to my purchase?
Applying your Black Friday discount codes is a straightforward process. After selecting your desired hosting plan, proceed to the checkout page.
You'll find a field for entering your promo code. Simply type in the relevant code from these eUKhost Black Friday deals, such as "BF50WH" or "BF15CS," and click 'Apply.'
Your discount will be automatically deducted from your total bill. Make sure to double-check that the discount has been applied before completing your purchase.
Are these Black Friday deals available for existing customers, or are they exclusive to new customers only?
They believe in rewarding both their loyal existing customers and welcoming new ones. eUKhost Black Friday deals are available to everyone! Whether you're an existing eUKhost customer looking to upgrade your current plan or a new customer looking for high-quality web hosting services, you can take advantage of these incredible discounts.
It's their way of showing appreciation to their existing clients and extending a warm welcome to new ones. Don't miss out – these deals are for everyone!
Act Now and Supercharge Your Online Presence!
Don't let these incredible Black Friday deals slip through your fingers. Act now and take your web hosting to new heights with eUKhost.
Whether you're a business owner, developer, or simply someone looking to establish an online presence, their unbeatable discounts have something for everyone. But remember, these deals won't last forever!
Are you ready to unlock the full potential of your website this Black Friday? Don't wait! Grab your coupon codes, apply them at checkout, and watch your savings stack up. Join the eUKhost family and experience web hosting like never before.
Let eUKhost be your trusted partner in this exciting Black Friday season. Start your journey to online success with us today. Your dream website is just a click away!
---
INTERESTING DEALS