Read on for the GetResponse Black Friday deal for 2023!
SecureBlitz readers, get ready to revolutionize your marketing game with the highly anticipated Mega Black Friday & Cyber Monday sale from GetResponse.
From November 20th to November 30th, immerse yourself in a world of unprecedented discounts that will redefine the possibilities of digital marketing.
Why GetResponse? Elevate Your Marketing Game!
GetResponse transcends traditional email marketing – it's a dynamic powerhouse that doesn't just manage emails but transforms your entire digital approach.
With features like AI-powered email marketing, quick landing page creation, seamless welcome emails, and effortless newsletter generation, it's not just marketing; it's a digital evolution.
🌐 Features that WOW
AI-Powered Email Marketing: Harness the power of artificial intelligence to tailor your email campaigns for maximum impact. Let the algorithms optimize your content for the best engagement.
Quick Landing Page Creation: Build visually stunning and high-converting landing pages in minutes. No coding skills are required – just drag, drop, and customize.
Seamless Welcome Emails: Make a lasting impression from the start. Craft automated welcome emails that greet your subscribers with personalized messages and valuable content.
Effortless Newsletter Generation: Streamline your newsletter creation process. GetResponse simplifies the design, allowing you to focus on delivering compelling content.
Up to 40% Off – Unlock the Savings!*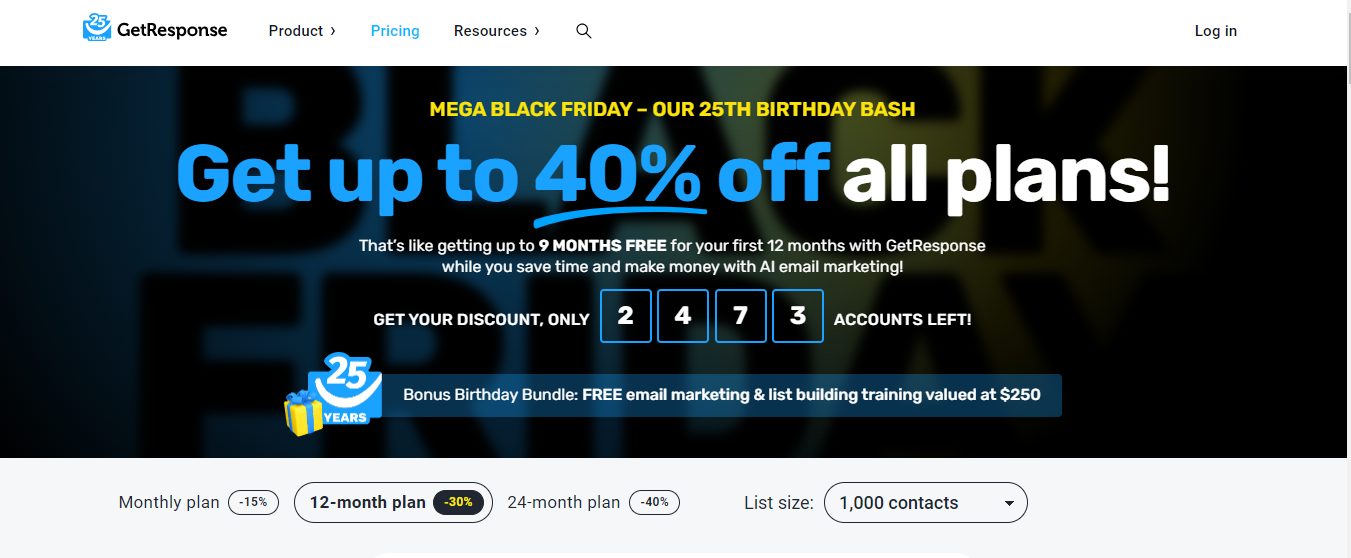 Embark on a savings journey with GetResponse Mega Black Friday & Cyber Monday sale.
Promotional Period: November 20th to 30th, 2023
15% off discount for new accounts
15% off discount for upgrades
30% off when paired with a 1-year plan discount
40% off when paired with a 2-year plan discount
*Note: The Ecommerce Marketing 24-month plan is not included in this promotion.
Why Act Now? Don't Miss Out on the Savings!
🔥 Limited-Time Offer: The Mega Black Friday & Cyber Monday sale is your golden ticket to elevating your marketing strategy at an unbeatable price. Act fast; this opportunity is fleeting, and the savings could reshape the future of your business.
💼 For New Accounts and Upgrades: Enjoy a generous 15% off, whether you're starting your digital journey or upgrading your existing plan. GetResponse has tailored discounts for every stage of your business.
📅 1-Year and 2-Year Plans: Take your savings to the next level with 30% off for a 1-year plan and an incredible 40% off for a 2-year plan. This isn't just a discount; it's an investment in the long-term success of your business.
How to Secure Your Savings? It's Simple!
Visit the Special Pricing Page: Navigate to the exclusive GetResponse pricing page filled with banner ads and links customized for SecureBlitz readers.
Select Your Plan: Choose the plan that aligns with your business needs – whether you're a startup establishing your online presence or a seasoned player seeking enhanced features.
Apply the Discount: Enjoy the automatic application of the Black Friday and Cyber Monday discounts, making the process smooth and hassle-free.
Why Choose GetResponse? The Future of Marketing Awaits!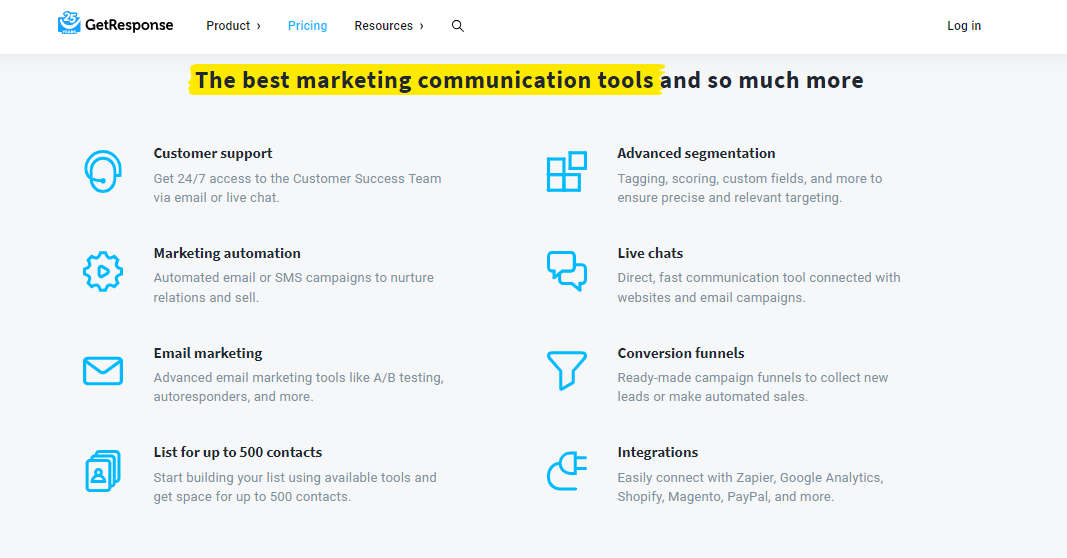 GetResponse isn't just a platform; it's a revolution in marketing technology. The AI-driven capabilities, combined with ease of use, make it a must-have for businesses aiming to stay ahead in the digital age.
More Reasons to Choose GetResponse
Email Marketing: Craft compelling email campaigns that resonate with your audience, utilizing drag-and-drop builders and pre-designed templates.

Marketing Automation: Automate repetitive tasks, such as email sequences and customer segmentation, to streamline your workflow and maximize efficiency.

Landing Pages: Create high-converting landing pages that capture leads and drive conversions using a variety of templates and customization options.

Webinars: Host engaging webinars to educate your audience and promote your brand with integrated registration forms and follow-up automation.

E-commerce Marketing: Boost your online store's sales by leveraging targeted email campaigns, abandoned cart recovery, and product recommendations.

Analytics and Reporting: Gain valuable insights into campaign performance with detailed analytics and reports, enabling data-driven decision-making.
Benefits that Propel Businesses Forward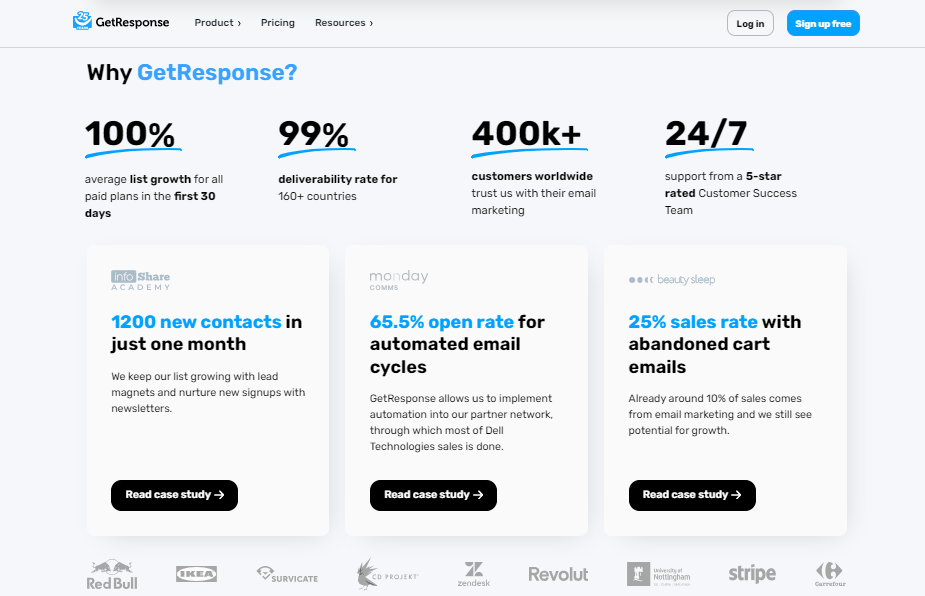 With GetResponse, businesses reap a multitude of benefits that propel them towards success:
Increased Engagement and Conversions: Reach a wider audience, nurture leads, and drive conversions through targeted email campaigns and personalized marketing strategies.

Enhanced Customer Experience: Deliver personalized and timely interactions throughout the customer journey, fostering stronger relationships and brand loyalty.

Improved ROI: Optimize marketing spending and maximize return on investment by making data-driven decisions that align with business goals.

Streamlined Workflow and Efficiency: Automate repetitive tasks and centralize marketing activities, freeing up time for more strategic initiatives.

Enhanced Brand Awareness and Recognition: Build a strong brand presence and increase brand visibility through consistent and targeted marketing efforts.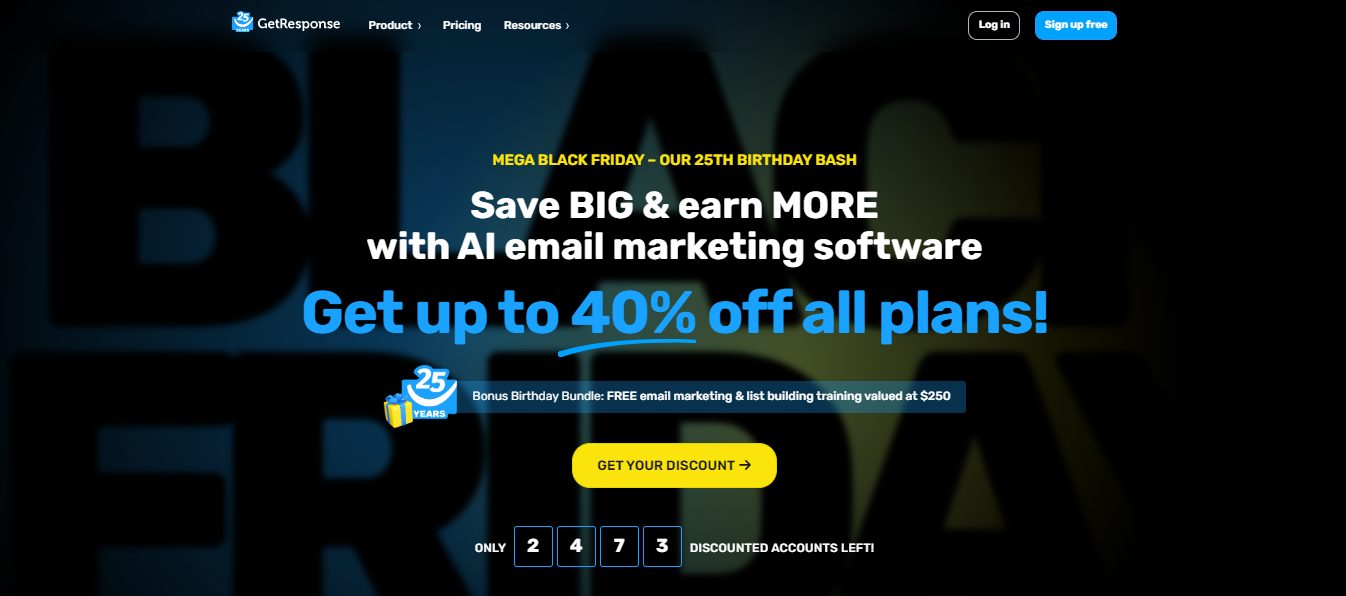 GetResponse Black Friday Deal 2023: Frequently Asked Questions (FAQs)
How does GetResponse's AI-powered email marketing benefit my campaigns?
GetResponse's AI harnesses the power of machine learning to analyze user behaviour and optimize your email campaigns. This ensures that your content is tailored for maximum engagement, leading to improved open rates and conversions.
Can I integrate GetResponse with my e-commerce platform, and how does it enhance my marketing efforts?
Absolutely! GetResponse seamlessly integrates with various e-commerce platforms, synchronizing your email marketing efforts with your online store. This integration enhances customer engagement, drives sales, and provides a cohesive experience for your audience.
What kind of analytics does GetResponse offer, and how can it help make data-driven decisions?
GetResponse provides in-depth analytics that offers valuable insights into your campaign performance. From open rates to click-through rates and subscriber behaviour, these analytics empower you to make informed, data-driven decisions, allowing you to refine and optimize your marketing strategy for the best results.
Don't Miss Your Ticket to Marketing Excellence! 🎟️
SecureBlitz readers, the Mega Black Friday & Cyber Monday sale from GetResponse is your golden ticket to transforming your marketing strategy. Whether you're a startup, a small business, or a marketing maestro, the GetResponse Black Friday deal is an opportunity you can't afford to miss. Act now and redefine your marketing game! 🚀
---
INTERESTING DEALS