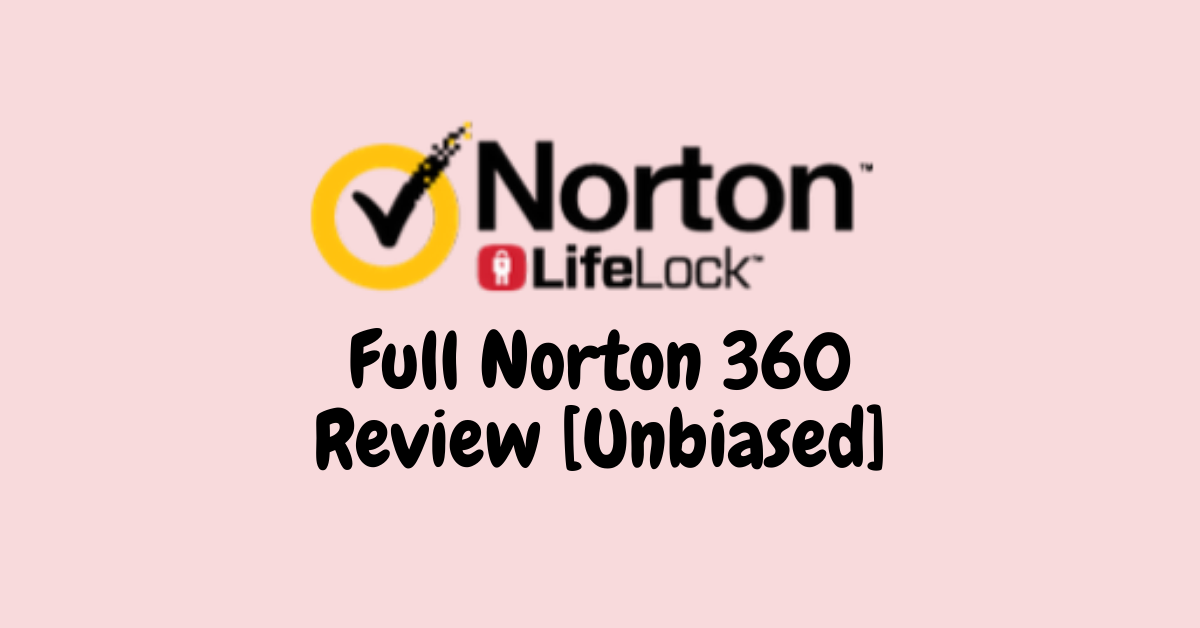 This post will show you the full Norton 360 review.
Norton is one of the leading cybersecurity companies meeting the challenges of increasing cybersecurity concerns and emerging threats. Apart from offering all-round protection, Norton 360 provides additional features to its customers.
This review focuses on providing detailed and accurate information about Norton 360 Deluxe, its antimalware engine, VPN, dark web monitoring, firewall protection, and other features, system requirements, technical specifications, and other details.
So, let's get started with the Norton 360 review.
What Is Norton 360?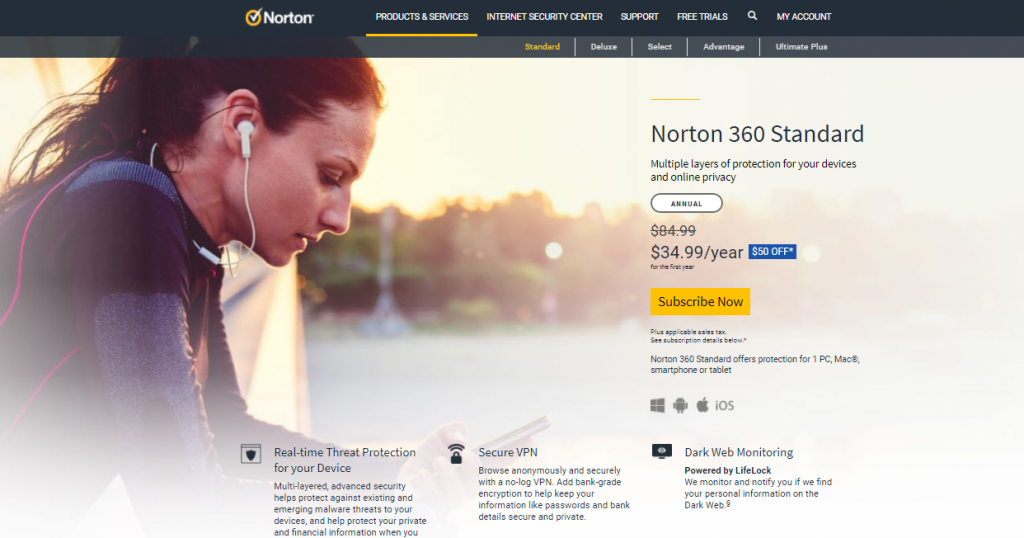 Norton 360 is a complete privacy and security suite offering users protection from viruses, trojans, ransomware, worms, spyware, and other malware. Besides, it offers users complete privacy protection and other features, including dark web monitoring, password manager, cloud backup services, parental control, camera protection, etc.
Norton 360 Deluxe offers protection for a minimum of 5 devices covering desktops and mobile devices and OS, including Windows, Mac, Android, and iOS.
Norton 360 Features
User-Friendly Interface
Norton 360 has an intuitive interface that makes navigating Norton's features easy for users. Users can access and configure Norton 360 Deluxe features with a single click right from the dashboard.
Right from the dashboard, users can access Norton 360's key features such as Device Security, Dark Web Monitoring, Secure VPN, Cloud Backup, Password Manager, and Parental Controls.
A click on the settings icon on the right part of the dashboard gives you access to other security tools and lets you tweak security and privacy settings to suit your needs.
Thus, with a well-laid-out dashboard, users can navigate and customize any of Norton's features as well as turn on or off other settings.
Antimalware Engine
Norton 360 has an antimalware engine that can detect and remove existing and emerging threats.  It uses its proprietary SONAR Protection technology and cloud support services to detect malware by monitoring installed and running apps for inconsistent behavior.
It can scan users' systems in the background without obstructing users' activities nor exerting much pressure on system resources. Also, users enjoy protection from malicious websites and harmful downloads.
An additional feature of Norton's antimalware engine is its Intrusion Prevention module, which can prevent infected computers on the same network from infecting users' computers. Thus, users enjoy protection even on local networks.
From tests and results from independent virus labs, Norton 360 recorded a fantastic performance. Its fast and efficient scan detected all malware, thus recording such an impressive 100% performance. 
To affirm its efficiency in wiping out malware, Norton is offering a 'money-back' guarantee if its antivirus engine cannot remove 100% of detected malware.
Dark Web Monitoring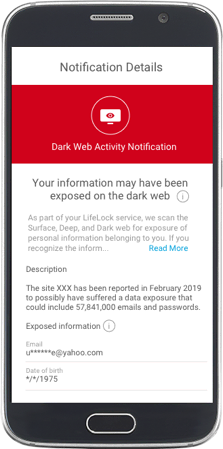 Norton 360 integrates the LifeLock tool in its security and privacy suite. The LifeLock feature continually scans the web for users' personal information alerting users if any personal information appears on the dark web.
LifeLock searches the dark web for email addresses, but users can add other information such as Driving license details, Social security numbers, financial details, gamers tags, addresses, phone numbers, etc.
SafeCam
Cybercriminals are notorious for hijacking users' webcams to spy on users. Thus, SafeCam watches out and alerts the users if any app or webpage is making unauthorized requests to use the webcam.
VPN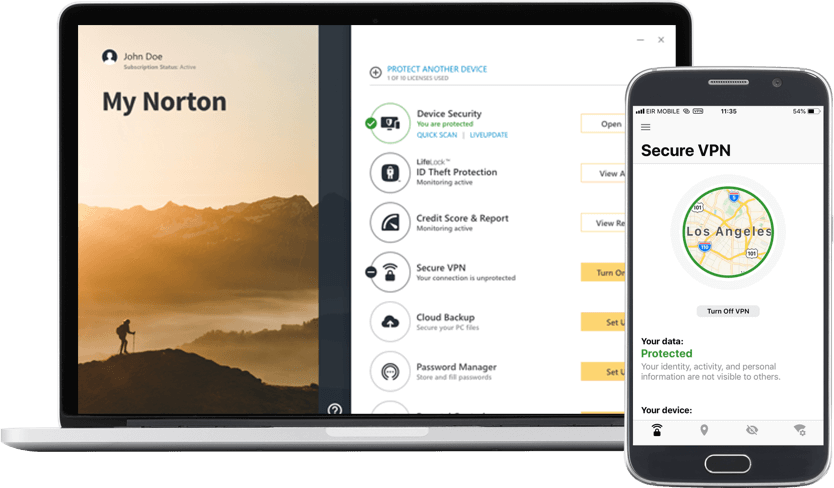 Norton 360 Deluxe's VPN uses bank-grade encryption technology to encrypt and keep users personal and financial information safe. It also protects users' data and browsing sessions when connected to public Wi-Fi networks. Thus, users are protected from online tracking and identity theft while enjoying anonymous online surfing. 
Cloud Backup
Cloud Backup is an additional service that lets users recover stored data in Norton's cloud backup. Thus, in case of physical damage, hardware failure, or other unforeseen occurrences, users can keep their files safe and secure and restore such files to other devices.
Firewall Protection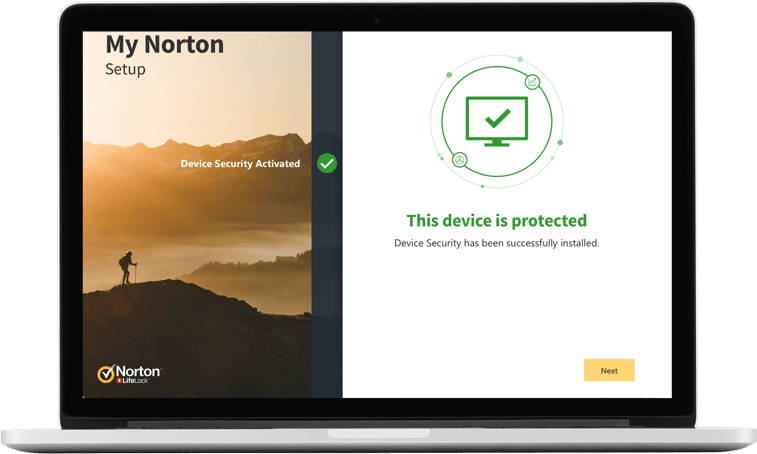 Norton 360's firewall monitors inbound and outbound data traffic and ports for malicious requests. It intelligently screens out applications that can or cannot access the internet without the user's permission.
Users can also define new rules, close or open ports, and customize the Firewall settings to suit their needs, although we would recommend leaving it at default.
Additional Features
Here are other Norton 360 features:
Password manager

School time

Online threat protection

Credit monitoring

Privacy monitor

LifeLock Identity Alert system

Stolen Wallet Protection

US-based Identity Restoration

Data Breach Notifications

SSN & Credit Alerts

Identity Verification monitoring 
Technical Details
Supported devices and OS: Windows, Mac, Android, iPhone, Web-based
Pricing model: Monthly and annual subscription 
Customer types: Individuals, businesses, and corporate organizations
Mobile applications: iOS and Android
Norton 360 Pricing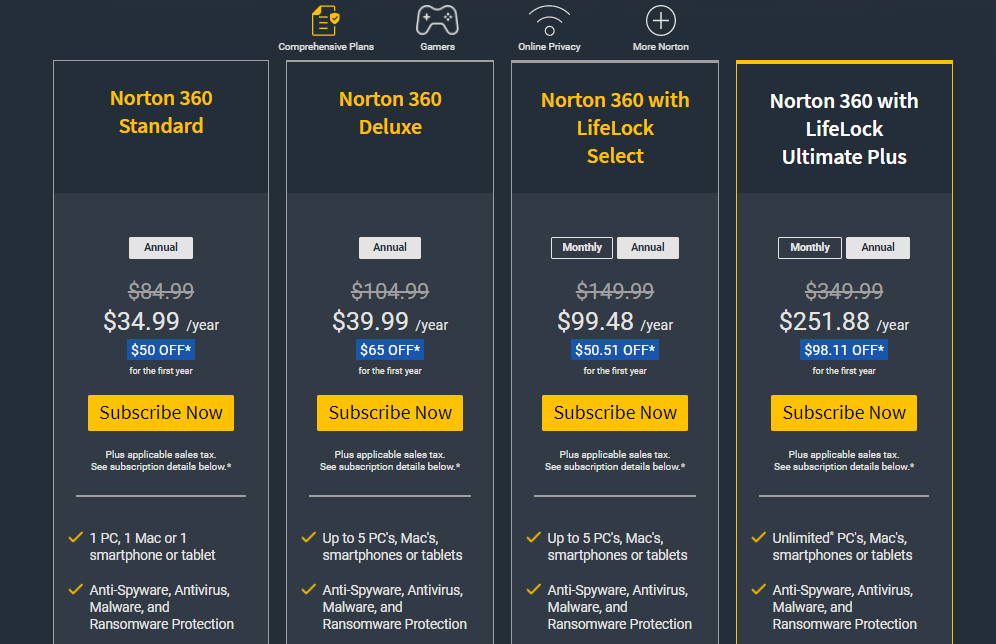 Norton 360 meets the needs of a broad range of users, including individuals, businesses, and corporate organizations.
New users enjoy 30 days free trial and a 60-day money-back guarantee if they feel Norton is not meeting their needs.
Available Norton 360 plans are listed below.
Norton 360 Standard for a single device
Price: $34.99 per year 
Features 
Antimalware protection

Online Threat Protection

Cloud backup

Smart Firewall

Password Manager

100% Virus Protection Promise

Secure VPN

PC SafeCam

Dark Web Monitoring
Norton 360 Deluxe for 5 Devices
Price: $39.99 per year 
Features
All features of Norton 360 Standard

Parental Control

School Time

Secure VPN
Norton 360 with LifeLock Select (covers minimum of 5 devices)
Price
Features
All features of Norton 360 Deluxe

Privacy Monitor

LifeLock Identity Alert System

US-based Identity Restoration Specialists

Stolen Wallet Protection

Million Dollar Protection Package

Credit Monitoring

SSN and Credit Alerts

ID Verification Monitoring 

Data Breach Notifications
Get Norton 360

Is Norton 360 Safe?
Norton 360 is safe for use because it offers users one of the most comprehensive privacy and security features. Users also enjoy additional features, including parental control, dark web monitoring, privacy monitoring, etc. Overall, Norton 360 is a fantastic choice of privacy, and security suite users can bank on for comprehensive online and offline protection.
Bottom Line
That's it, the Norton 360 review!
Norton 360 is a recommended antivirus suite that can protect its users from malware threats and attacks, including viruses, ransomware, spyware, Trojans, worms, etc. Also, users enjoy Norton protection, even when browsing on the dark web. 
If you want an antivirus that continually scans your system in the background with not much demand on system resources, keeps you protected while browsing over public Wi-Fi networks, and can also protect additional devices without incurring extra cost, then Norton 360 is the best option.

---
INTERESTING READS