In this post, we are going to share the best free VPN services for PCs that will enable you to surf the web anonymously while protecting your online privacy.
Virtual Private Network (VPN) is a technology which encrypts your internet connection thereby preventing anyone from tracking your internet activity. For instance, you can be from India and set your internet location to USA while browsing online.
What is a Free VPN?
A free VPN is a service by VPN service providers offering you access to their VPN server network and applications without paying a dime. In other words, you get access to VPN services without paying anything. This is more or less like getting a freebie service from cybersecurity technology providers.
What are the Drawbacks of a Free VPN?
Just like the popular saying, there is nothing like free lunch in Freetown. In addition to protecting your online privacy, does a free VPN come with its own disadvantages.
So, what's the catch?
Here are drawbacks from using a free VPN:
Some Free VPN gives you only a small fraction of privacy. For instance, you only get a 'foreign' IP address and nothing more.
Due to bandwidth limit or the heavy traffic on their free server, you may have to get used to browsing at a slower speed i.e. snail pace.
They will definitely disturb you to go for the premium version which is unlimited in features. Besides, you are provided with limited servers – some which might be 'inactive' for certain period of time.
A free VPN app might include a spyware which can compromise your online privacy.
When obliged, they might disclose your online identity to online authority.
Some free VPNs may sell your online data to advertisers for targeted marketing or may potentially spam you.
Note: Before you opt for any free VPN service, ensure you research about it. You can start with the user reviews about the free VPN service.
Recommended Best Free VPN Services
There are plentiful VPN services available for users. However, for this post, we have compiled this list of absolutely free VPN services.
Note: they are not free trial VPN services.
Avira Phantom VPN (Editor's Pick)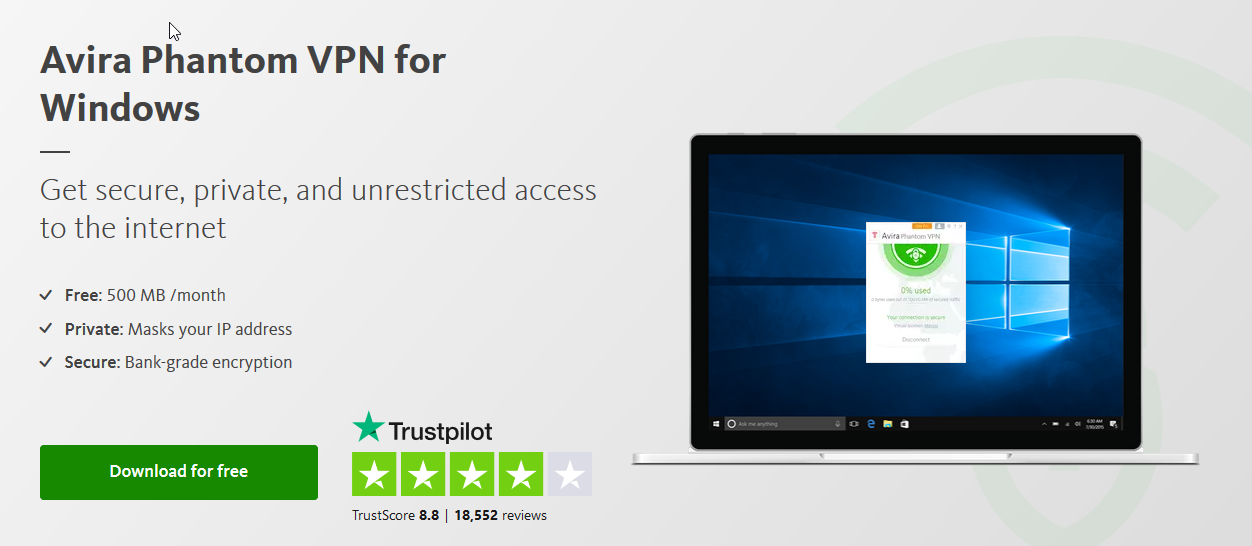 Avira is a renowned cybersecurity technology provider with series of products in its lineup. As a result, Avira provides users with Avira Phantom VPN – a free VPN indeed.
Here's what to expect from Avira Phantom VPN:
Bank-grade encryption protocol
Strict No Logs policy
Virtual IP Address
DNS leak prevention
1GB/month after user registration (500MB/month without registration)
Above all, you get access to the Avira Security Suite which consists of free antivirus software and other 9 powerful security tools (free).
Note: User registration for the VPN usage is free.
Download Avira Phantom VPN
Hide.me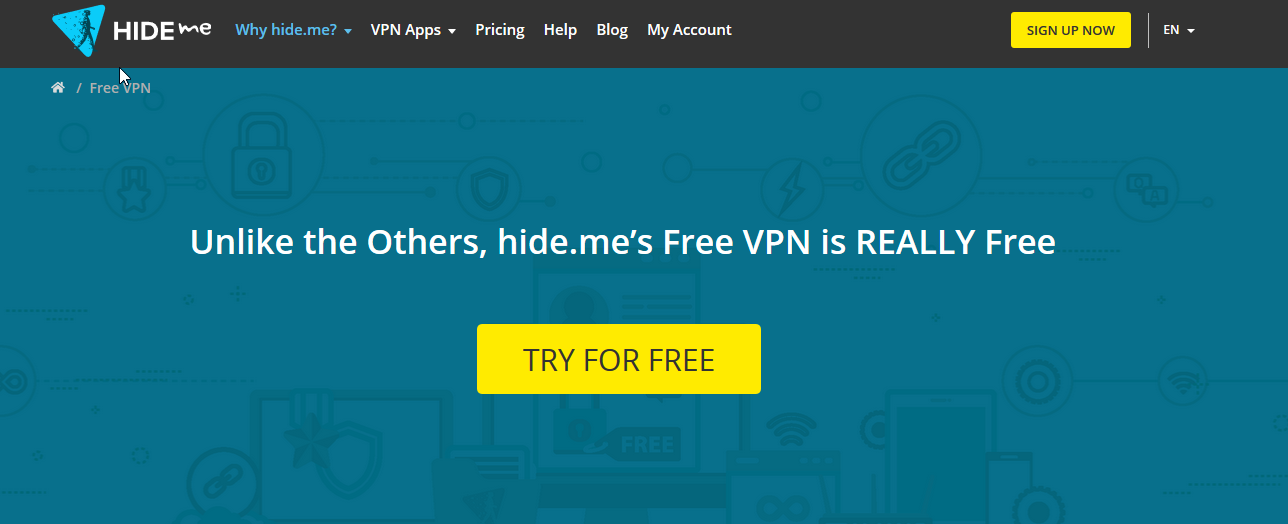 Hide.me is one of the fastest free VPN service providers in the world. In the same vein, Hide.me' free VPN service is an equal match with other premium VPNs.
Here are the benefits of Hide.me free VPN service:
Privacy-conscious VPN
Ultra-fast VPN server networks (no speed throttling)
Zero ads
5 server locations (Canada, Netherlands, US East & West, and Singapore)
Unlimited bandwidths
Cross-platform native software (Android, iOS, Windows, and Mac OS)
24/7 technical support
However, the only downside is that this free VPN is limited to only 1 device. Also, the 2GB data monthly limit which can be upgraded in the premium plan.
Hotspot Shield Free VPN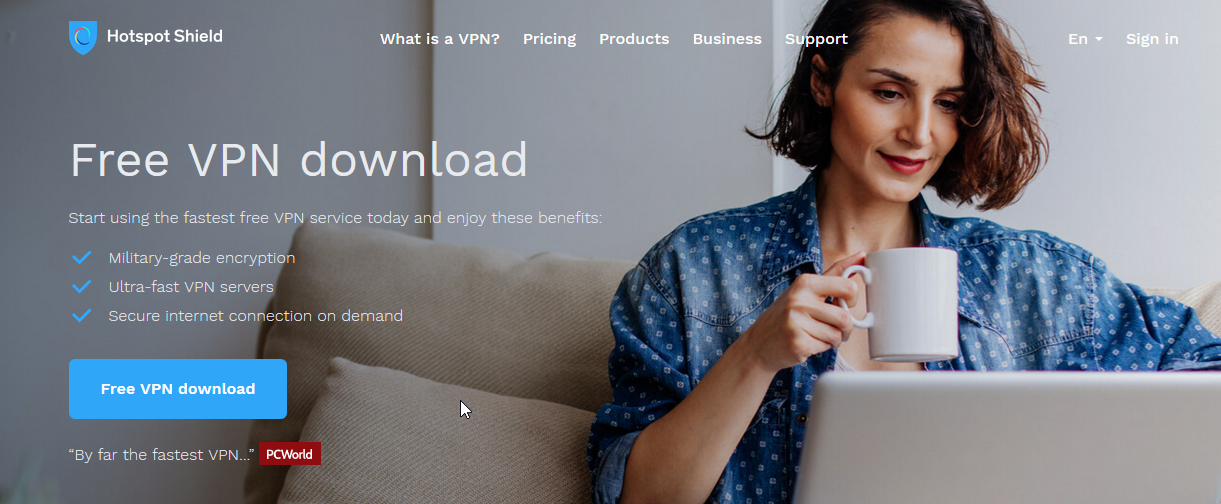 Hotspot Shield is one of the premium VPN technology providers across the world. In the same vein, they provide users with a free VPN service known as Hotspot Shield Free VPN.
Here's what to expect:
Military-grade encryption protocols
500MB daily data allowance
25 server locations
Ultra-fast VPN network servers
Zero logs policy
Cross-platform support (Windows, MacOS, Android, iOS and more)
However, you have to get used to the ads and the unavailability of 24/7 support. Besides that, Hotspot Shield Free VPN is a must-try free VPN service.
Download Hotspot Shield Free VPN
Windscribe

Windscribe offers you more data allowance unlike other free VPN services. With Windscribe, you can protect your online privacy on unlimited number of devices.
In addition, you can connect to 10 server locations spanning across the globe. Also, it comes with Firefox and Chrome browser extensions and it is supported on Operating System such as Windows, Mac, iOS, and Linux. As at the time of this writing, Android client for Windscribe is unavailable.
Download Windscribe for free
SurfEasy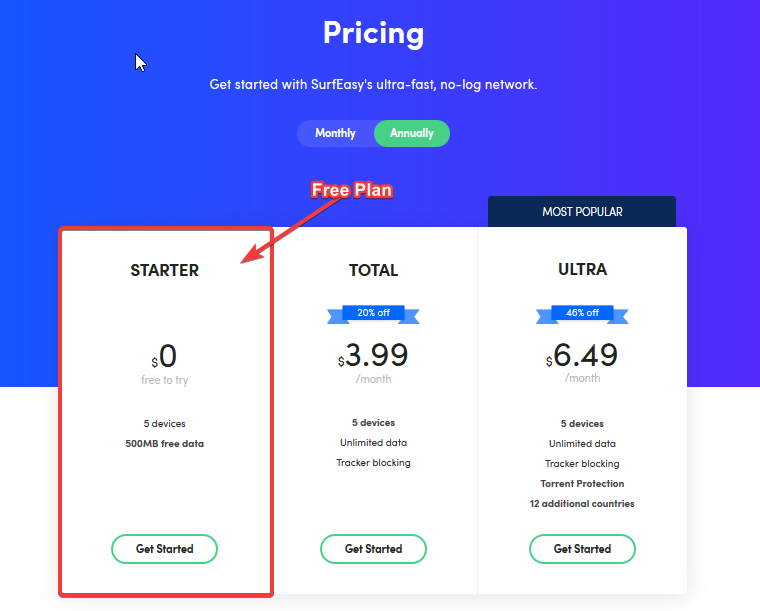 If free access to 1000 servers in 28 different countries is what you require, then SurfEasy should be your choice. Formerly owned by Opera Software but acquired by Symantec, SurfEasy is one of the most secure free VPN which prioritizes your privacy above all.
Here's what you should expect from SurfEasy:
User-friendly applications
Ultrasonic speed
Zero logs
Cross-platform support (Mac, Windows, iOS, Android, etc)
Web browser extensions (Opera & Chrome)
Amazon
Wi-Fi security
On the other hand, the 500MB monthly data limit should be enough for light browsing. For unlimited data, you can try any of its premium versions.
Speedify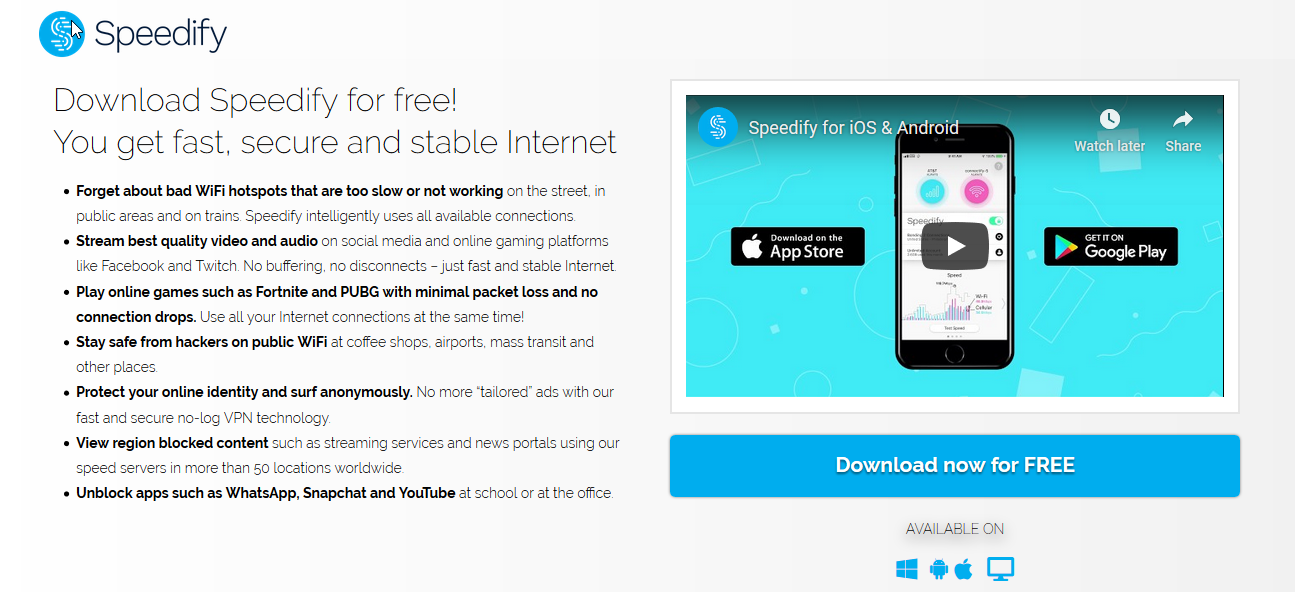 Speedify is one of the newcomers in the VPN market which facilitates free VPN services with its turbocharging speed technologies. Just as its name implies, Speedify is ultra-fast and second to none when it comes to speed.
Here are some benefits and features of Speedify free VPN:
Military-grade encryption (AES-based or ChaCha encryption)
Speed: Better Streaming, Better Gaming
Server network across 38 countries
No Log VPN policy
BitTorrent friendly
5GB Monthly Data
And more
One of the perks of Speedify free VPN is its channel bonding feature which allows it to combine multiple internet connections together without hassles.
TunnelBear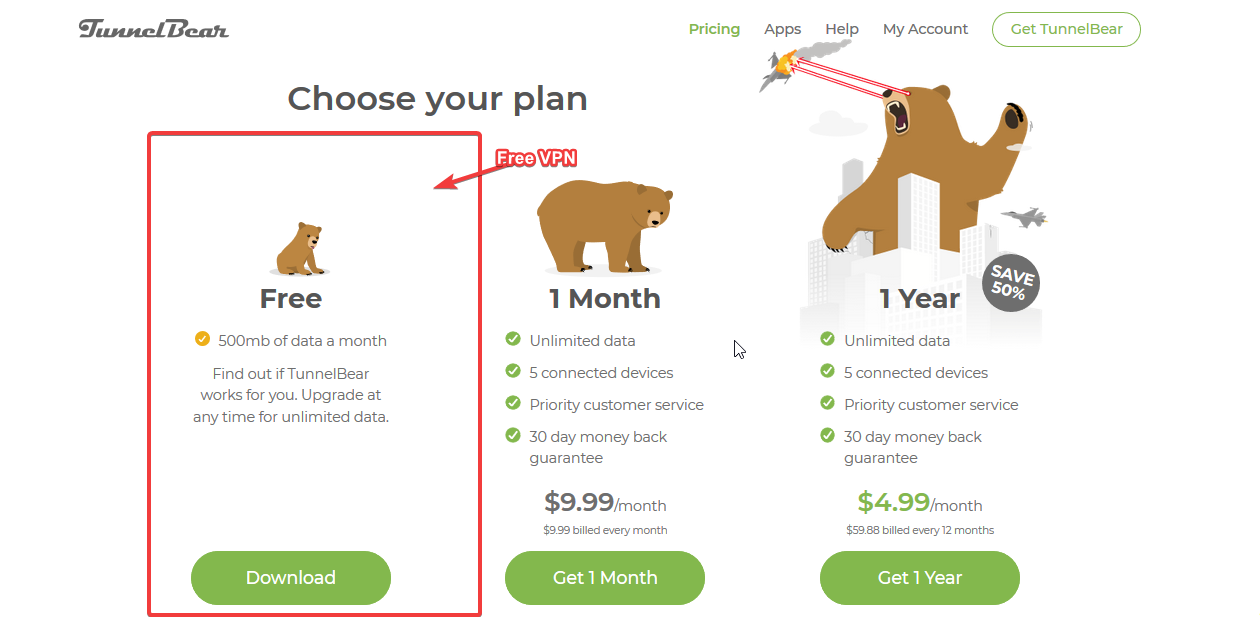 TunnelBear is a VPN service recently acquired by McAfee – a cybersecurity firm. Just like other free VPN services on our list, TunnelBear allows you to encrypt your internet connection by spoofing your real location for anonymity and privacy.
Some features of the TunnelBear free VPN includes the following:
AES 256-bit encryption (default)
User-friendly desktop and mobile applications
Server locations in 22+ countries
Zero Logs policy
Auto-connection to the fastest available server
500MB free data per month
However, priority customer service is not available for its free version. But, you can surf the internet anonymously with its blazing VPN server network.
Download TunnelBear
ProtonVPN Free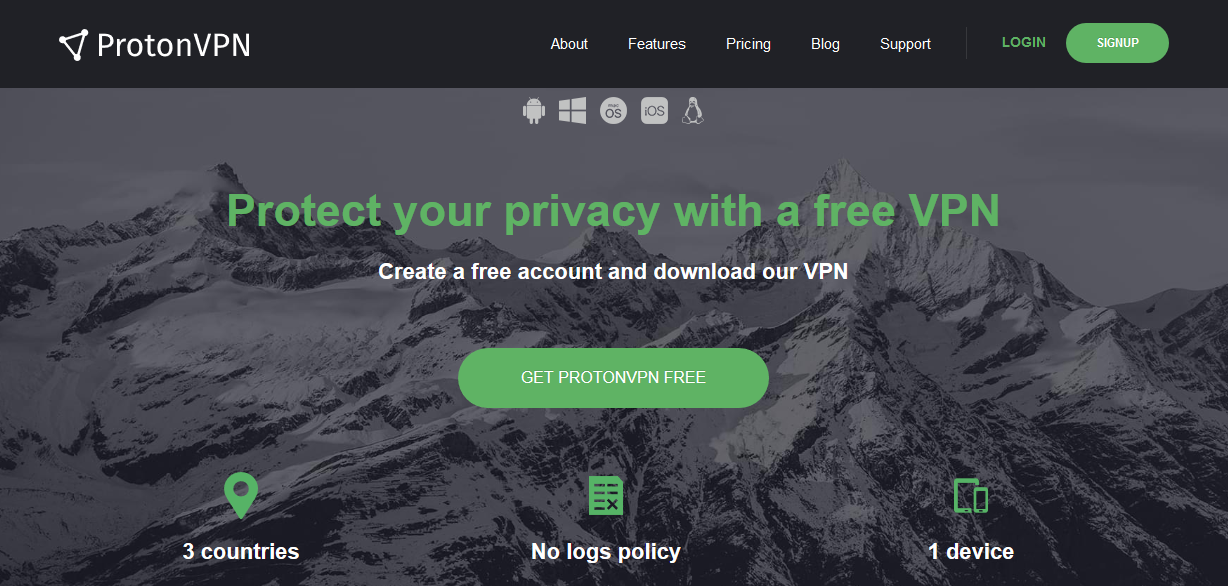 Another free VPN service worth mentioning on our list is ProtonVPN Free. Because of its security-focused VPN service combined with unlimited data allowance on its free VPN, you can surf the web without surveillance.
Here are some highlights of ProtonVPN Free:
Bank-grade encryption
VPN servers in 3 countries
DNS Leak prevention
Access to ProtonMail (secure email account)
No Logs policy
Zero Ads
Supported on Windows, Android, Linux, iOS and Mac OS
In contrast, you can only connect 1 device while using the free version of this VPN service.
Download ProtonVPN Free
Betternet
Furthermore, Betternet is another free VPN services which should be used by anyone who wants an anonymous online identity.
Although, Betternet is one of the latest VPN service, it offers users solid security options, OpenVPN encryption, strict no logs policy, and GUI apps. In addition, they support popular OS such as Windows, Mac, iOS, and Android.
However, Betternet serve ads through their applications as a monetization technique. For instance, you may be required to watch a video before connecting the VPN. Also, there are concerns about their unclear documentations and privacy policy.
You can download Betternet at their official website.
Notable Free VPN Mentions
ZPN: Another free VPN service(10GB monthly data allowance)
VPN4Test: Insufficient details about this VPN
The Bottom Line
It is highly recommended that you subscribe for premium VPN services with unlimited features. However, any of the best free VPN services we mentioned above including the notable mentions should help you anonymize your online browsing.
Do you know any free VPN services (not free trial) which we did not mention above? Let us know by commenting below.
---
INTERESTING POSTS