Here, I will show you the best Internet scrubbing services.
Have you ever wondered why you get ads tailored to your needs in your inbox, on your social media page, when using search engines, and even on your mobile devices?
Data brokers piece together data of you from several sources like credit card agencies, social media handles, government sources, ISP, etc., to form a complete profile of you which is sold to advertising companies; 
This is troubling, considering that your data can fall into the wrong hands. Hence, the need to flush out your data from data brokerage and advertising companies using any or some of the best data scrubbing services suggested in this post.
What Kind Of Data Does A Data Broker Gather?
The internet has more information about you than you can possibly imagine; hence, the internet is a data mine where brokers can mine data about you from different sources to form a complete profile of you.
When you accept cookies, download a file, or even visit a website, you leave trails behind, making it easy for data brokers to collect data from your device. 
Data brokers piece together data of you, including name, address, geo-location, age, gender, email address, phone no, SSN, occupation, education, religion, browsing history, hobbies, interests, purchase data, smoking status, buying habits, family status, and pet ownership from public records, social media, ISPs, search history, etc., which is sold to advertising companies and other third-parties that uses the information about you to form a complete profile of you for showing you more personalized ads. 
You can request that data brokers delete all the data they have about you, but that will be a herculean task only possible if you're a tech-savvy individual with so much time and energy available at your disposal. 
The following internet scrubbing services listed below are some of the best internet scrubbing services that can take down your data from data brokers within the shortest possible time.
Best Internet Scrubbing Services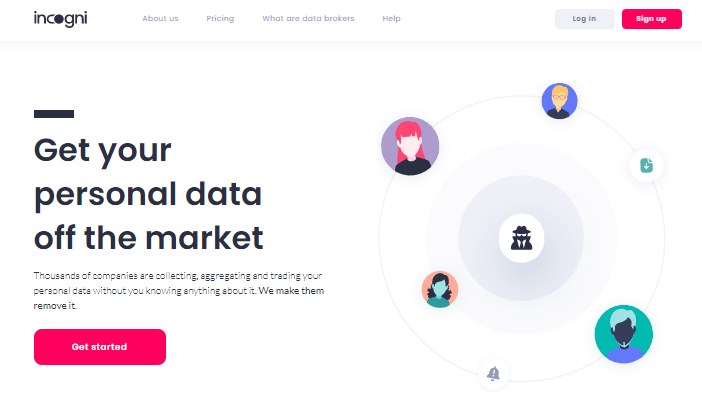 Incogni by Surfshark has an updated database of data brokers to which it sends removal requests requesting that all your data be deleted from their database.
Hence, Incogni does not need to search the net for who is using your data. Incogni has a simplified user interface with a progress dashboard where you can monitor data removal progress in 4 phases: 'Completed,' 'In Progress,' 'Rejected,' 'Not started.'
When removal requests are rejected, Incogni requests necessary action against such data brokers by invoking data privacy laws and contacting data protection agencies for necessary measures. Also, Incogni provides details of data brokers collecting your data and the type of data collected.
==>> Get Incogni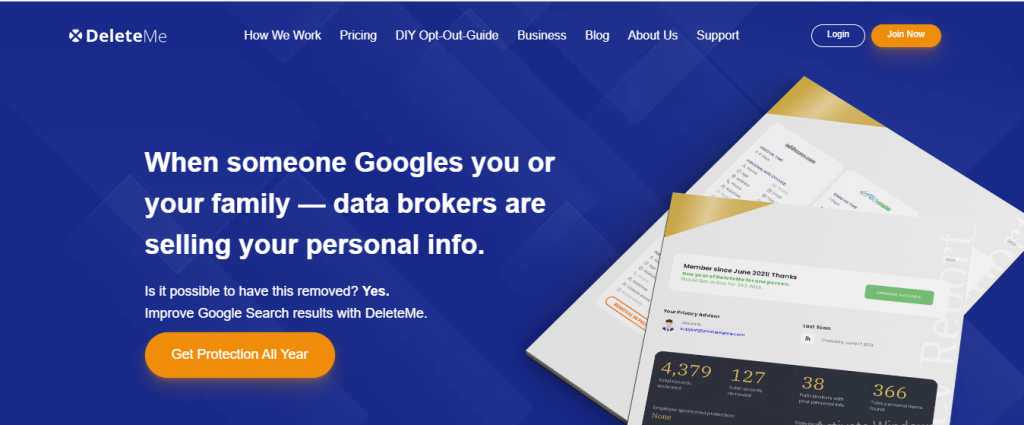 Abine DeleteMe cleans up your data from the internet by automating data removal processes and also giving you a quarterly progress report of your data privacy and anonymity status.
Signing up on DeleteMe requires you to provide a lot of personal data, credit card details, social media accounts, etc.; you also have to carry out identity verification using a government-issued ID, after which you get your first report within a week.
Abine DeleteMe works by scouring the internet for your data, after which it sends an automated opt-out process. This process is repeated every three months.
==>> Get Abine DeleteMe
3. Norton AntiTrack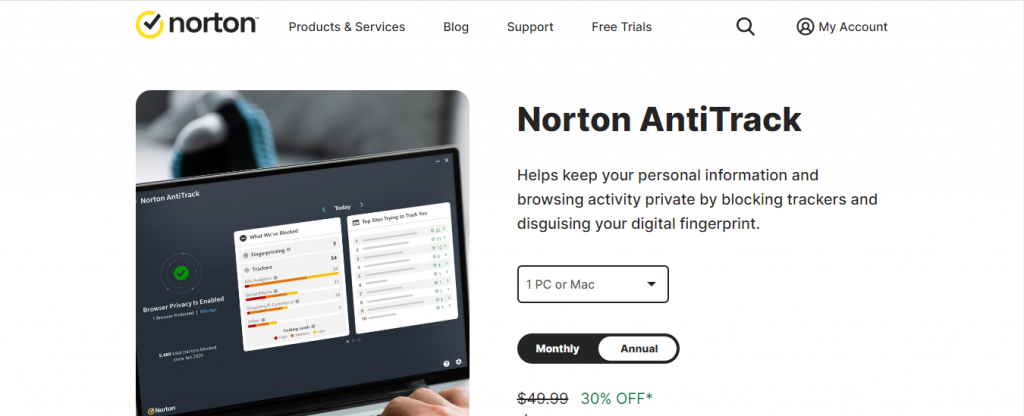 Norton AntiTrack uses an advanced algorithm to prevent cookies from harvesting your browser data and anti-fingerprinting technology to obfuscate your digital fingerprint, preventing data brokers from collecting your digital fingerprint and building a profile from it.
An important feature of Norton AntiTrack is its ability to protect you from trackers without any negative impact on your browsing.
==>> Get Norton AntiTrack
IDX encompasses several privacy tools like VPN, password manager, tracker blocker, credit card monitoring, and more to protect your privacy and identity.
Getting started on IDX involves signing up and a welcome tour. The welcome tour takes you through IDX's features, including dashboard, alerts, services, data center, and other features. Likewise, you will provide IDX with your personal data, SSN, etc.
IDX works by searching and monitoring the dark web, credit rating agencies, and other data broker websites, after which it initiates an automated opt-out request from sites where your data shows up.
5. Avast BreachGuard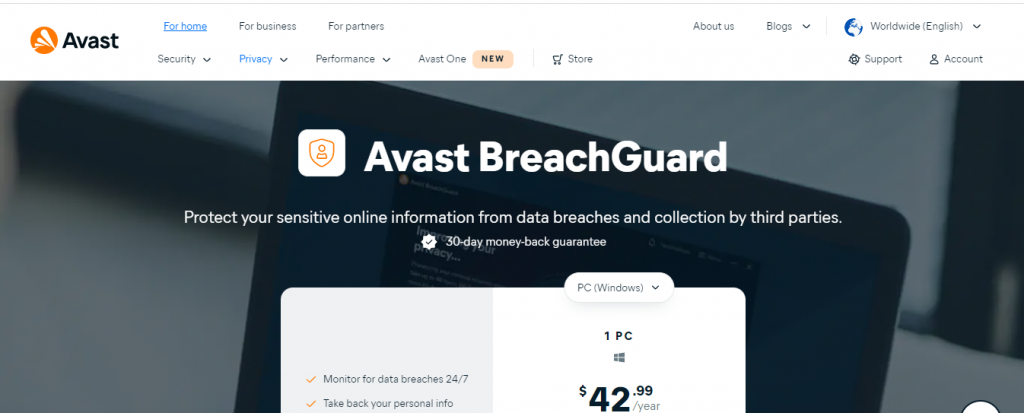 Avast BreachGuard is a privacy-focused app that protects you from data leaks and also deletes your data from data brokers by sending automated opt-out requests to data brokers where your data appear.
Additionally, Avast BreachGuard works by monitoring your browsers for weak passwords, accessing your privacy vulnerability, and sending automated opt-out requests to data brokers that appear in their search results.
After signing up, you will need to provide Avast BreachGuard with personal data before being able to send removal requests to data brokers that appear in Avast BreachGuard's search. If your removal request fails, you can automate the removal request to resend at a given time.
6. The Kanary
The Kanary is a proactive privacy tool for protecting your data and privacy online. Like other data scrubbing services, you will need to sign up and provide Kanary with personal data while completing your registration.
After completing your registration, Kanary starts a full scan of the internet for your data; this scan may take up to 48 hours before completion, after which Kanary sends automated opt-out requests to data brokers that appear on its search. This process is repeated monthly.
You can also get free data scanning by providing your email address; however, it takes 24 hours, after which you will get an email result of the conducted scan.
7. Avast AntiTrack
Avast AntiTrack protects you from trackers that use fingerprinting technology to collect your data and build a solid profile of you.
It works by altering your fingerprints and keeping your browser cookies private by clearing all browser cookies, history, and other browser-related info from your browser. Avast AntiTrack features include anti-tracking, browser protection, browser cleanup, whitelisted websites, and system privacy.
If your Avast AntiTrack dashboard shows a green tick, then your data and privacy are well-protected; however, a yellow or red exclamation mark calls your attention to privacy or security compromise.
8. Ghostery Privacy Suite
Ghostery Privacy Suite is a data protection and privacy suite that includes a browser extension, ad and tracker blocker, private search engine, tracker analysis tool, a hardened browser, and a private search bar.
In addition, Ghostery works by blocking trackers and fingerprinters from accessing your data via your browsers by scanning and deleting all identifying data sent by your browser, preventing data brokers from collecting accurate data for building a profile of you.
9. ReputationDefender
ReputationDefender differs from other privacy tools by letting you control what kind of information about you or your business appears online during a name search.
Aside from controlling what type of information pops up about you, you can also use ReputationDefender to clear off irrelevant information, old news, misleading comments, and other negative search results of you that pop up online, and also delete your personal info from data brokers database.
The steps to using ReputationDefender involve developing an engaging strategy, creating and publishing positive content about you, optimizing your published content, and strengthening your search result to withstand threats that may arise.
10. Safe Shepherd
Safe Shepherd is a data scrubbing service that uses an advanced algorithm to clear your personal info from the internet. Safe Shepherd works by searching the internet for your personal data and automatically sending an opt-out request to websites and data brokers where your data pops up.
You get an instant notification of reports whenever your data crops up and an overall safety score detailing how protected or exposed your data and privacy is. This service also offers you a handbook that guides you through the process of requesting the removal of your personal info from data sources online.  
How To Remove Personal Information From The Internet 
Removing your personal information from the internet is a painstaking process that involves figuring out which data brokers have your data and sending opt-out requests to the data brokers to delete your data from their database.
Legally, data brokers have to comply with your request, but having your data deleted from data brokers' database is not an easy process; and if your data appears on the dark web, then it will be almost impossible to scrub your data from the internet except with the use of any data scrubbing services listed above.
What Is The Best Service To Remove Personal Information From The Internet?
The best service to remove personal information from the internet is Incogni. It is an affordable data scrubbing tool that automates data removal processes, saving you more time and energy.
Also, getting started with Incogni is not a complex process, and it does not require you to provide tons of personal info.
Conclusion
Data brokers operate legally, but you also have the right to request that your data be deleted from their database. However, scrubbing your data and fingerprint manually from the internet is a daunting process that makes it less feasible.
Nevertheless, subscribing to any of the internet scrubbing services listed above will ensure that your data are wiped off even from seemingly hard-to-reach places like the dark web.
---
INTERESTING POSTS