Read on for an honest BlufVPN review.
This is a complete review of BlufVPN's performance based on speed, encryption ability, data leaks, user anonymity, torrenting, streaming, and unblocking features.
What Is BlufVPN?
BlufVPN was established in 2013 as SimpleX, a Cybersecurity company that offers solutions to varied IT security issues until 2014 when it changed its name to BlufVPN LTD, a company that offers diverse IT tools and solutions, including BlufVPN Ltd Smart DNS, Fammle, VPN Lite, Private Browser, etc.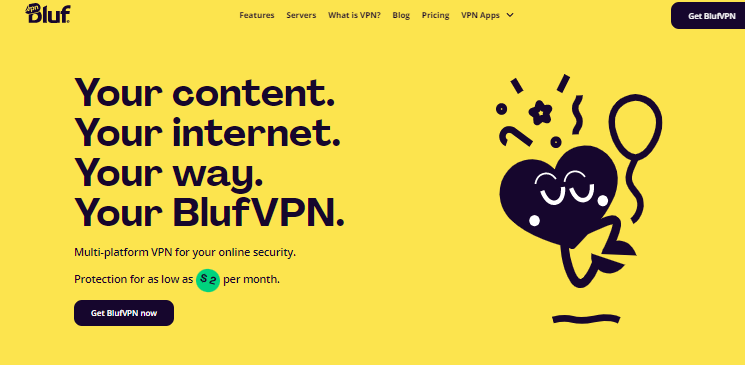 Get BlufVPN
How Does BlufVPN Work?
Like other Virtual Private Network (VPN) providers, BlufVPN services make available private servers or networks that protect and secure users' data using robust encryption protocols.
It also makes users anonymous by masking users' IP addresses and locations with pseudo (proxy) IP addresses and locations and grants users access to censored content and geo-blocked online services like Netflix, HBO Max, etc.
BlufVPN serves as a third-party or intermediary server connection by which users' data traffic enters or leaves users' devices without a user's ISP knowing the type, size, or destination of the data traffic entering or exiting their server.
What Are The Benefits Of Using BlufVPN?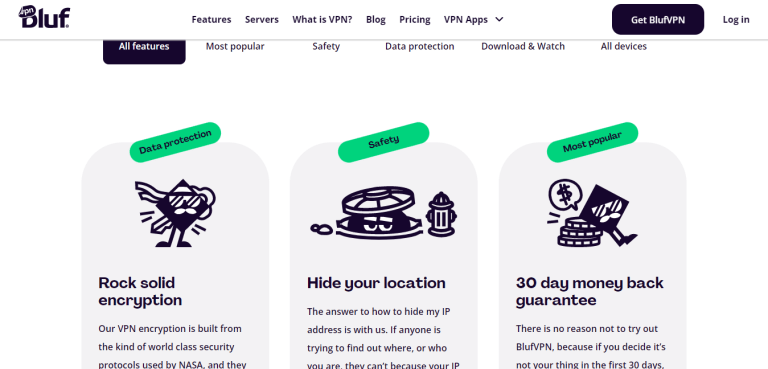 Privacy and anonymity:

BlufVPN is focused on offering users the best privacy and anonymity a VPN provider can give. Hence, BlufVPN will make you completely anonymous online by masking your IP address and location from view. It will protect you from your ISP, Hackers, Spies, and advertising companies seeking to harvest your data and personal details for selfish or nefarious use.

Access geo-blocked services:

Well-known streaming services like Netflix, Spotify, BBC iPlayer, Hulu, Disney+, etc., offer varied content based on users' geographic locations. Therefore, users outside of the US cannot stream content tailored for users in the US. But with BlufVPN, you can bypass geo-blocks and online restrictions and access content from any location worldwide by changing your server location.

Maximum data protection:

Without data encryption, your ISP, hackers, and spies can see and intercept data traffic leaving or entering your device. Therefore, BlufVPN uses AES-256 bit GCM encryption protocol with 4096-bit DH key, an encryption protocol similar to NASA's to ensure that users' data remain secure and protected while in transit. This same encryption protocol protects you whenever you're connected to WiFi sources that are known to be favorite targets for hackers and spies.

Kill switch technology:

The strongest VPN connection can trip off, exposing users' data to ISPs, or hackers lurking around on a WiFi network. BlufVPN prevents this from happening by using the kill switch technology; when your VPN connection trips off, BlufVPN instantly severs your internet connection to prevent accidental data spill until your VPN connection is restored.

30-day moneyback guarantee:

If after subscribing to BlufVPN and you're convinced that its services do not meet your need, BlufVPN has a 30-day refund policy that entitles you to ask for a refund within 30 days of subscription.

High-speed VPN services with unlimited bandwidth connectivity:

Enjoy blazing speed with BlufVPN by connecting to high-speed torrenting or streaming servers and enjoy fast torrenting or seamless streaming. BlufVPN has over 500 servers spread in 60 countries worldwide. These servers are speed-optimized; therefore, you're always guaranteed a decent connectivity speed irrespective of the time of day.

Multiple device connectivity:

There's no limit to the number of devices you can connect to a single BlufVPN subscription; therefore, all your devices or family members can enjoy the Bluf advantage without incurring additional costs.
BlufVPN Review: Testing And Evaluation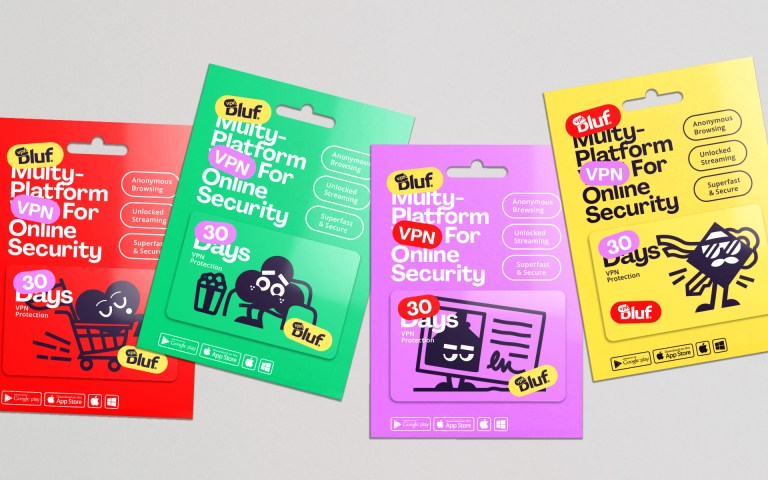 For this BlufVPN review, we tested and evaluated it on Windows, Mac, Android, and iOS devices. Below is our evaluation of BlufVPN based on speed, User Experience, IP leaks, unblocking geo-locks, and torrenting ability.
Speed Test
BlufVPN's speed was tested in Japan, the US, South Africa, Switzerland, the UK, Mexico, and UAE for streaming, browsing, and torrenting.
Speed readings obtained varied with server locations, and the highest speed at 83Mbps was obtained in the US, UK, Canada, and France. This speed is quite decent for any activity you can think of.
Overall, the lowest speed test obtained was 23Mbps which is decent enough for downloading, browsing, or streaming and is higher than what ISPs in some regions might offer you. Hence, using BlufVPN might be the best way to bypass speed throttling for users in such regions.
User Experience
From downloading to installing, our technical team did not encounter any challenges installing the BlufVPN app on Windows, Android, Mac, and iOS devices.
Also, the BlufVPN app has an intuitive user interface with a big, central connect/disconnect icon and other features well-arranged. Overall, using BlufVPN did not present any challenges; therefore, less tech-savvy users will be able to navigate around the BlufVPN interface effortlessly.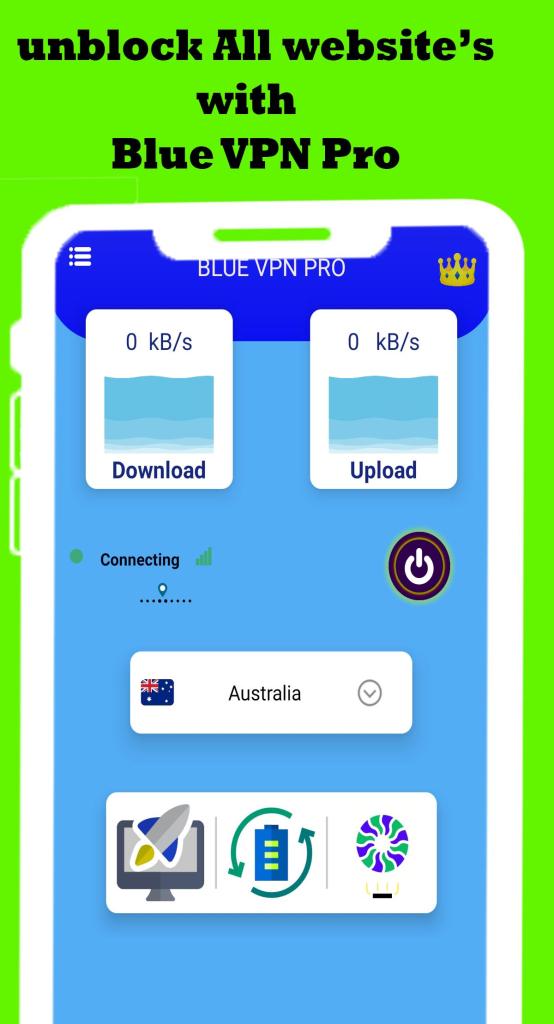 IP Leak Testing
in this category, we tested BlufVPN for DNS, IP, and WebRTC leaks on various devices; BlufVPN passed all tests with no IP address, location, or other vital user information leaks detected while connected to BlufVPN. All information displayed was server information which provides complete masking for our device IP address, location, IPV6, etc.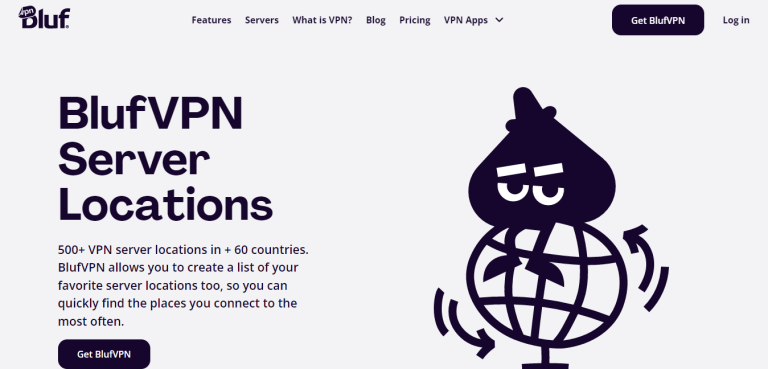 Geo-block Test
We tested BlufVPN for its unblocking ability, and it proved effective in unblocking popular geo-blocked services like Netflix, Hulu, HBO, Disney+, Vudu, BBC iPlayer, ESPN, Amazon Prime, and a few others. BlufVPN effectively unblocked and granted us access to Netflix and other geo-blocked services with good streaming speed.
Torrenting 
We tested BlufVPN's torrenting ability, and its performance was pleasing. This didn't come as a surprise since BlufVPN has a number of VPN servers optimized for torrenting activities. Also, the torrenting speed was quite decent, allowing for fast, large file torrenting.
Logging Policy
BlufVPN operates a 'no-log policy,' this might be a bit difficult to verify, but so far, there has not been any news or scandal about BlufVPN handing over users' data to the authorities or selling users' data to the highest bidder.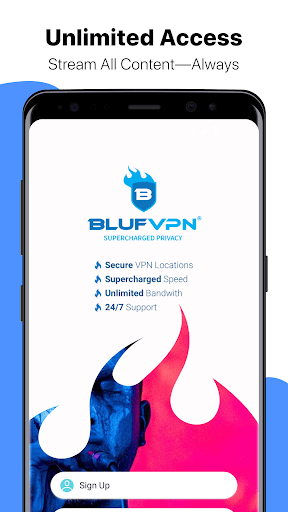 BlufVPN Pricing Plans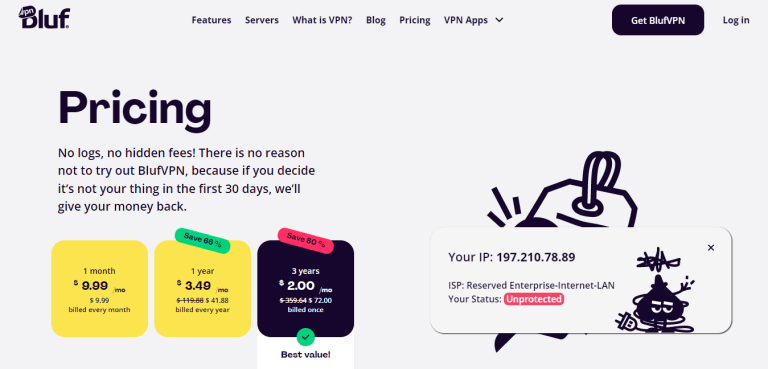 BlufVPN offers a variety of plans to suit users' needs. You can subscribe to BlufVPN's monthly, yearly, or two-year plans.
Monthly plan:$9.99 

6-months plan: $35.99

1 year plan: $43.08, billed at $3.59 per month (65% discount)
All plans come with a 30-day moneyback guarantee.
Note: BlufVPN accepts several payment options, including cryptocurrencies, MasterCard, Visa, PayPal, Stripe, Google Pay, and Apple Pay.
Get BlufVPN
Customer Support
BlufVPN's customer response is quite impressive. We got a fast response within 24 hours via their email, contact form, and LiveChat handles even at odd hours.
Additionally, BlufVPN has a rich FAQ section that addresses every issue users are likely to encounter. Overall, you will enjoy a rich and rewarding customer experience if you choose to join BlufVPN.
A Final Word On The BlufVPN Review
Concluding the BlufVPN review, I recommend BlufVPN based on its speed performance, data security and privacy, ease of use, and unblocking abilities. Therefore, if you're searching for an affordable, all-purpose VPN, then BlufVPN is an option worth considering.
---
INTERESTING POSTS