This Arlo Home Security Camera review focus on its features, designs, intelligence, and installation process.
Security cameras are associated with reduced crime rates at home, workplaces, and in the environment; they also offer benefits, including boosting employee productivity and making the home and workplace safer.
If you're thinking of getting a security camera for your home or workplace, you will find this review helpful.
Each year, Arlo releases new cameras, but for the purpose of this review, we will focus on the Arlo Pro 2, Arlo Pro 3, and Arlo Ultra.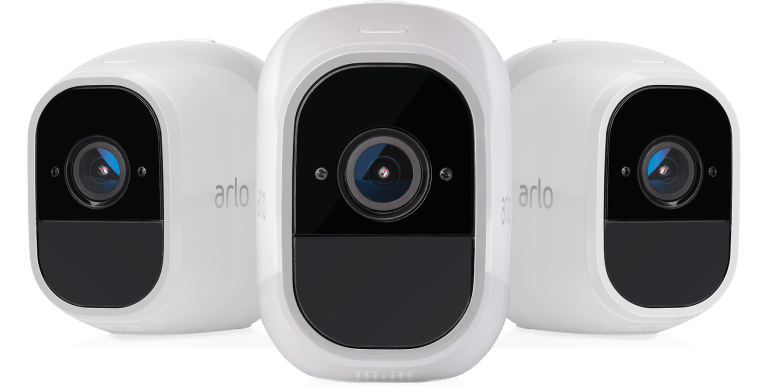 Benefits You Can Derive From Installing Arlo Security Camera
Arlo security cameras integrate with Google Assistant and Alexa for voice control

Wireless designs for outdoor placements

Night vision cameras

Motion-activated cameras (email or app)

Indoor and outdoor user

Wide-range view

High-quality video resolutions
Now, let's proceed with the Arlo Home Security Camera review…
Arlo Camera Features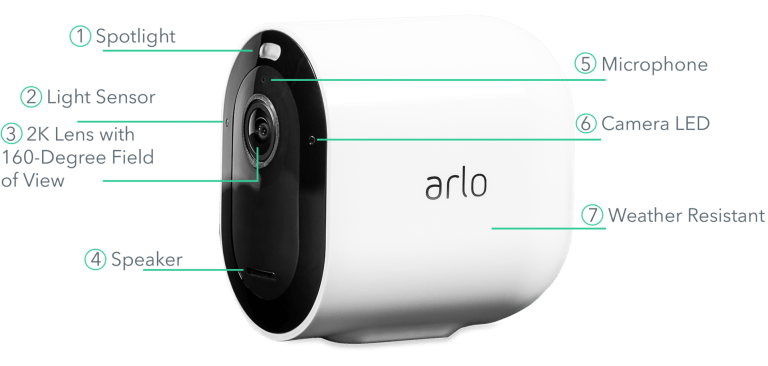 Camera Video Quality
All Arlo cameras discussed in this review have varying standard Camera Video quality. Arlo Pro2 has a 1080p HD video quality, Arlo Pro 3 has 4K Video quality, while Arlo Ultra has 2K HDR-2560pHD video qualities which are high-quality video outputs clear enough to pick out captured images even from a distance.
Camera Design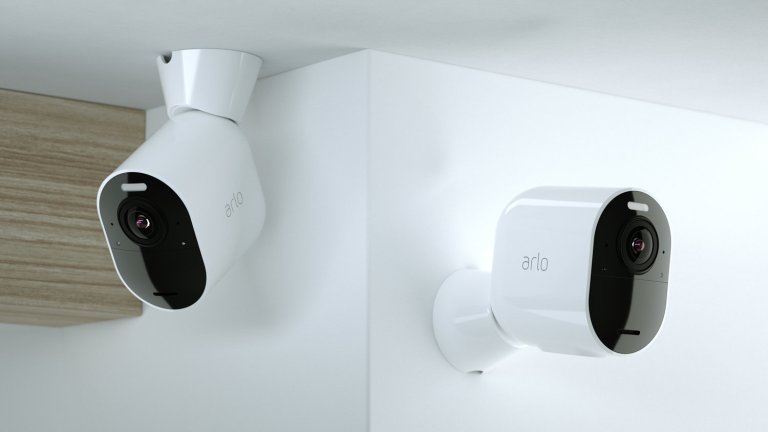 All Arlo cameras are intended for indoor or outdoor use; hence they have similar designs, and each camera type comes with a separate hub for camera control, storage, and transmission.
Although the hub might be a quick giveaway for intruders,  and users might need to worry about the right location, which should be within 140 feet radius of the camera; It nevertheless prolongs your camera's battery life by taking over added functionalities that wear down the battery faster for cameras without hub.
Arlo Pro 2 has an IP 65 dust and waterproof rating, which means your camera is protected from rain showers and dust. The Arlo 2 is also highly tolerant to temperatures varying from -4 to 1040 F. The Arlo Pro 2 can be used as a wired or wireless device, unlike the Arlo Pro 3 and Arlo Ultra, which are only Wireless enabled devices.
Arlo Pro 3 is designed for use in warmer environments; therefore, it has a temperature tolerant range of 14 to 1130 F. like the Arlo Pro 2, it is also a weather-resistant camera fit for indoor and outdoor uses, and it has a battery that lasts up to six months.
The Arlo Ultra is also designed as a weather-resistant camera, and it can tolerate a wide degree of environmental changes.
Arlo Pro 2, 3, and Ultra cameras come with built-in Siren and magnetic charge cable, but only Pro 3 and Ultra have the Spotlight feature, which allows for manual or motion control.
Arlo Hub For Storage And Control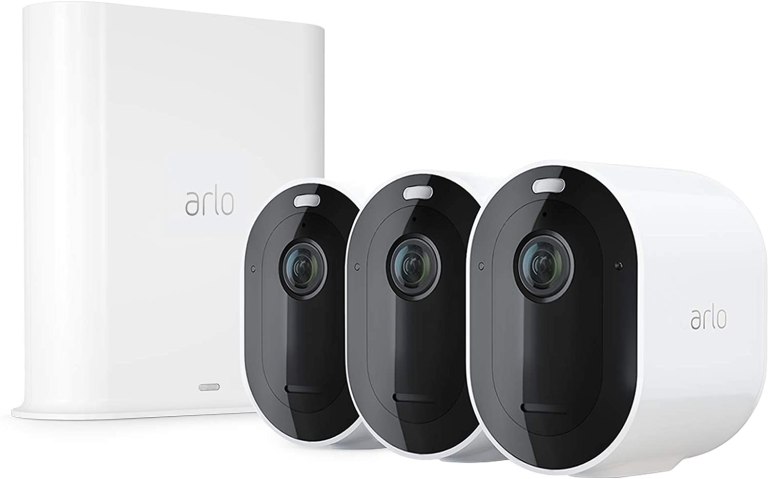 The hub serves as a storage and control panel for Arlo cameras. Since it is a stand-alone device, it is easy to retrieve recorded footage stored locally on the hub. Also, the hub can perform cloud storage functionality if enabled. Therefore, you can follow up on what is happening in your home or workplace while you're away.
2-way Communication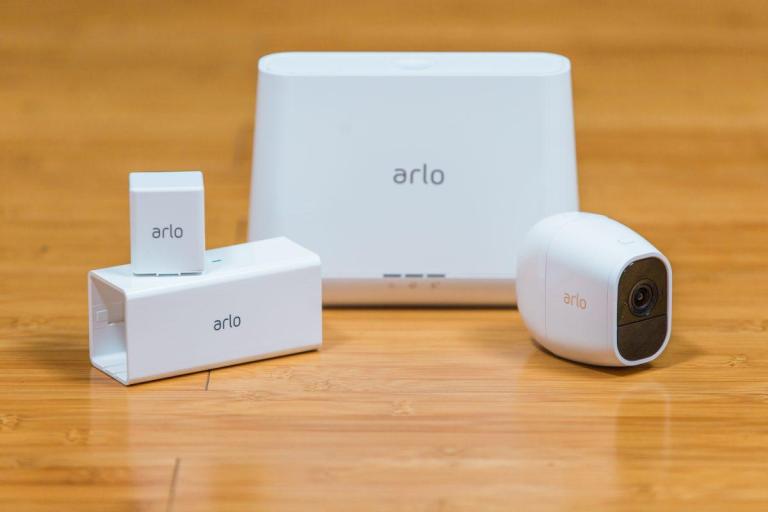 All Arlo cameras are enabled for 2-way communication. The built-in speaker and microphone allow you to communicate with the person (or group of persons) in your camera's view. This is a valuable feature to pass across messages to family members or intruders even when you're far from home.
Artificial Intelligence
This is a helpful feature for differentiating between humans, objects, or animals to prevent the camera from triggering false alarms. However, this feature is only available for users willing to pay for monthly or yearly subscriptions.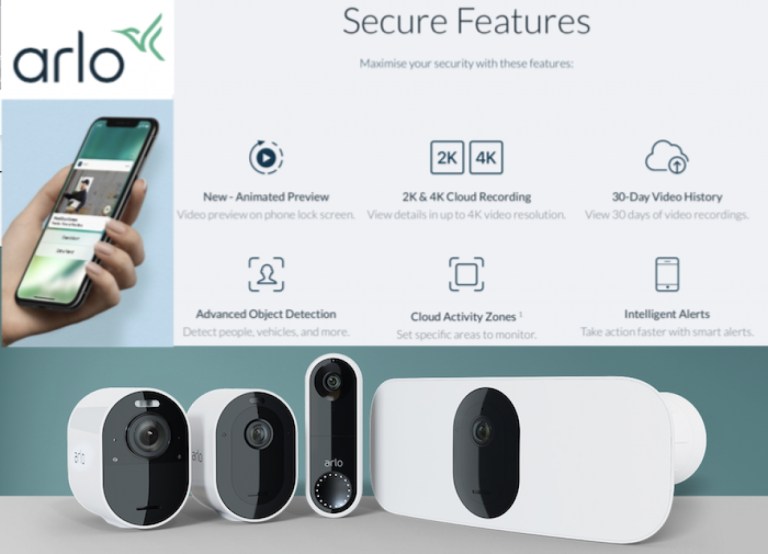 Night Vision
Both Arlo Pro 3 and Arlo Ultra offer you both Infrared and color night vision.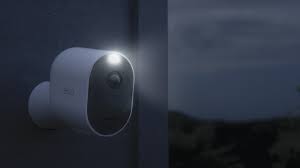 However, Arlo Pro 2 offers you only night vision, which is preferable in a low-light environment.
Smart Integration 
All Arlo cameras are integrated with smart functionalities. Hence, they all work with Google Assistant and Alexa, Amazon's digital assistant. Of the three cameras discussed in this review, only Pro 2 integrates with Siri, Apple's digital assistant. It also integrates with IFTTT and Stringify. 
Arlo Pro 3 also integrates with Apple Watch in addition to Google Assistant and Alexa. However, Arlo doesn't integrate with other digital assistants except for Google and Alexa only.
Arlo App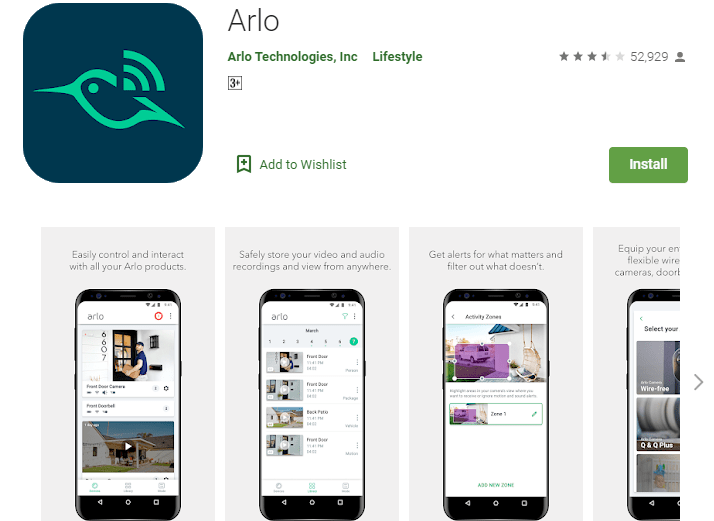 The Arlo App performs many functionalities, including live streaming video footages, communicating with persons in the camera view, deleting footage, and receiving notifications. You can also adjust your camera's settings right from the Arlo App.
Overall, the Arlo app serves as an interface for controlling your camera. This feature is available for all Arlo cameras.
Camera Pricing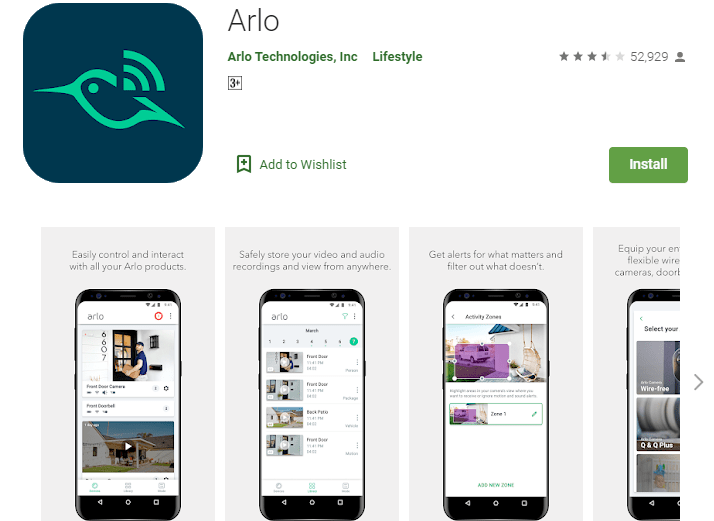 The three Arlo cameras in this review vary in pricing; the lowest priced camera is the Arlo Pro 3, with a price tag of $199.99. Arlo Pro 2 has a price tag of $219.99, while Arlo Ultra is the most expensive of the three, costing $299.99.
Arlo Subscription Plans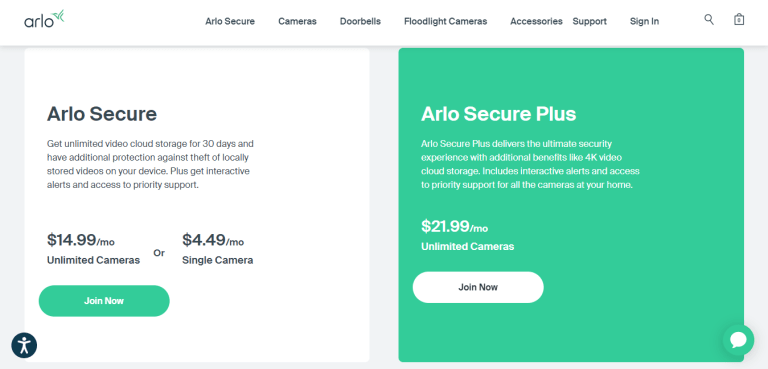 Subscribing to Arlo Cloud storage plans gives you additional functionalities, including smart detection, enabling your camera to distinguish between humans and pets. Arlo has four subscription tiers:
Arlo Basic
This is a free package for all Arlo cameras. This plan offers you no added feature and limits the number of cameras to 5 per subscription
Arlo Smart
Cost: $2.99 per month
Features
30 days cloud storage

Advanced AI

adding additional cameras will cost you an extra subscription fee for each added camera's
Arlo Smart Premier
Cost: $9.99 per month
Features
All Arlo Smart features

10 Cameras to a subscription
Arlo Smart Elite
Cost: $14.99
Features
All Arlo Premier features

20 cameras to a single subscription
Subscribe for the Arlo Plans
Conclusion Of The Arlo Home Security Camera Review
Choosing between any of the three Arlo camera types depends on your needs. If you prefer a wired camera that integrates with Apple HomeKit, Stringify, and IFTT, then Arlo Pro 2 is your best choice. 
If you prefer a pocket-friendly Arlo camera, Arlo 3 is the cheapest of the three at $199.99. It also integrates with Apple Watch, enabling you to monitor your home while on the go.
For the widest coverage and more premium functionalities, the Arlo Ultra is your best bet, covering 1800 views while offering additional functionalities not likely to be available with Arlo Pro 2 and 3.
---
INTERESTING POSTS