Online shopping is an easy and convenient way to buy items. Many people enjoy the experience of going to a physical store to make a purchase.
However, After the COVID-19 pandemic, most people are more likely to place orders from the comfort of their homes than walk into a physical store to make purchases.
In this Macropay Scam Alert, let's examine a few things to look out for before purchasing from a website or an online store.
However, fraudsters have seen this as an avenue to scam customers. These scammers build fake online shopping stores or e-commerce websites to either receive payments without delivering the required products or end up delivering products of low quality.
Also, many people fall victim to fake stores on days such as Black Friday sales because they offer ridiculous discounts on their websites and unsuspecting customers can be duped of their money.
How To Spot Fake E-commerce Sites And Online Stores
Identity and Registration: There is no emergency when you are trying to make a purchase. You can always take out a little time to investigate the e-commerce site you wish to buy from. You can find out who the owners of the site are and other details of this owner by typing out the website's URL at www.whois.com/whois
The absence of details upon entry should flag the site as a fake.
Website Encryption Checks: In the address bar of your browser, you may find a padlock icon. This means that the site uses encrypted messages to secure whatever information that you enter on the website. The absence of this feature is a good indicator that your details can be compromised and you may be scammed if you proceed with a purchase.
Google Safe Browsing: Obtaining a transparency report on the site you wish to make a purchase is important. This is because genuine sites and online stores can be hacked. Entering the site's URL into transparencyreport.google.com/safe-browsing/search will help you see if there's something dodgy about the website and see if it can be trusted.
Payment method, Return and Exchange Policies: Due to the need to dupe people, most fake sites will have listed a host of payment methods, especially the unpopular ones that do not support reversal of payment. Also, they usually have a no return or exchange policy because they do not want to be held accountable after they have scammed buyers out of their money.
URLs and Professionalism: Sometimes, the hallmark of a fake e-commerce website is in its URL. These scammers hide the malicious nature of their website in their URL by shortening it. There are a few URL expansion websites that can expand them for you to see what's actually on the site you want to purchase from.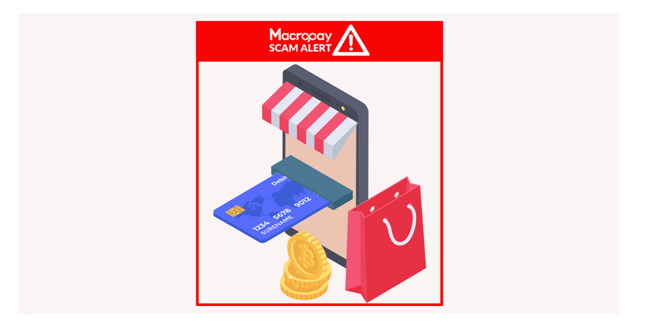 Additionally, scammers build fake websites hurriedly and they alone take up the task that different professionals undertake in genuine websites. While they try to duplicate the features of genuine and often popular websites, they do not pay attention to grammar. Hence, fake websites are littered with grammatical errors.
What To Do When You Are A Victim Of A Fake E-Commerce Site
Here are some of the most basic actions you can take after you have been scammed:
Contact your bank or credit card company immediately and let them know your details have been stolen. This can prevent further transactions from taking place on your account until you can secure the safety of your information.
Report to appropriate authorities and the genuine e-commerce website or online store that was duplicated.
For more Macropay Scam Alerts and insights, visit www.macropay.net.
---
INTERESTING POSTS