This post will show you the GoDaddy Webhosting review.
GoDaddy is best known for Domain name registration boasting over 80 million domain names registered. GoDaddy is also known for a variety of internet-based services, including web hosting.
In this GoDaddy review, I will be taking a closer look at GoDaddy web hosting services to help you make informed choices.
GoDaddy History Overview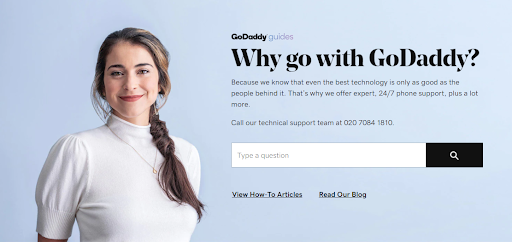 GoDaddy was established in 1997 as Jomax Technologies by Bob Parsons, an ex-Marine corp. Not long, Parsons changed the name from Jomax Technologies to GoDaddy reason being that Jomax Technologies may not be a memorable name compared with GoDaddy. 
Seven years down the line, GoDaddy is already the biggest name in the domain name market, which enabled them to add web hosting services to its string of web-based businesses.
==>> Get GoDaddy Hosting
GoDaddy Uptime
Uptime is the first factor I consider when choosing a hosting provider. A good web hosting provider should give you at least 99.5% uptime yearly; GoDaddy surpasses the industry average by giving its users 99.94% average uptime, which translates to 5.2 hours yearly downtime and 22 minutes monthly.
GoDaddy Loading Time
The ideal loading time for a website is an average of 3 seconds, but testing GoDaddy, I had a record loading time of 0.53 seconds. This implies that if you have your website hosted on GoDaddy, you will retain more visitors and experience a bounce rate of less than 1%. 
This is very important as research shows that e-commerce sites that take more than 3 seconds to load experience a 40% bounce rate and, Yahoo had a record 9% increase in traffic by reducing its loading time by 0.4seconds.
GoDaddy One-click Installations and Interface
GoDaddy has an intuitive user interface with an easily navigable dashboard that includes a friendly cPanel dashboard for beginners, CloudLinux, Multiple PHP versions, Python, and MySQL. 
Additionally, GoDaddy is installation-friendly because you can install more than 125 third-party applications including, popular CMS such as WordPress, Joomla, and Drupal, e-commerce shops such as Magento, WooCommerce, WixCommerce, etc.
==>> Get GoDaddy Hosting
GoDaddy Security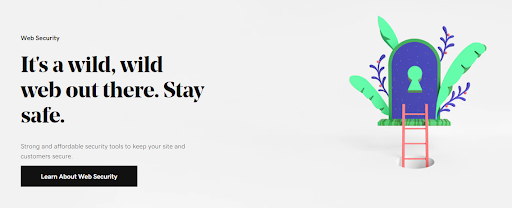 Security is an essential factor to consider when choosing a web hosting provider. Websites hosted on GoDaddy enjoy protection from DDoS attacks and other security features that keeps your website protected from malware. 
Additionally, GoDaddy has a dedicated team of security experts offering round-the-clock monitoring of GoDaddy hosting servers.
Now, for this GoDaddy Web hosting review, let me show you its pricing plans.
GoDaddy Web Hosting Pricing Packages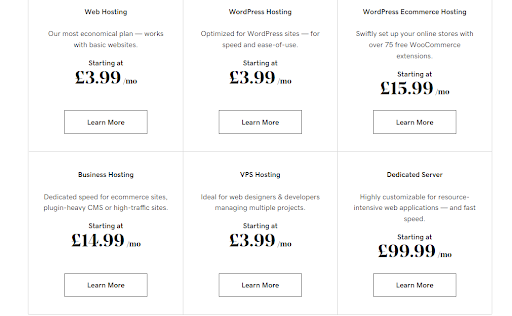 GoDaddy has several web hosting packages, which includes:
Web Hosting

– Starting from £3.99 per month

WordPress Hosting

– Starting from £3.99 per month

WordPress eCommerce Hosting

– Starting from £15.99 per month

Business Hosting

– Starting from £14.99 per month

VPS Hosting

– Starting from £3.99 per month

Dedicated Server Hosting

– Starting from £99.99 per month
==>> Get GoDaddy Hosting
Money-back Guarantee
If you're subscribing to an annual plan, you're entitled to a 30-day moneyback guarantee that they will refund you after making deductions for domain name registration if your plan includes a free domain name. Monthly subscribers get a 48hour moneyback guarantee.
GoDaddy Customer Support 

GoDaddy has a friendly and professional customer support team always available 24/7 via helplines, email support, and LiveChat features. 
For this GoDaddy Webhosting review, after a premium subscription, I chatted with the GoDaddy support team, I was impressed with the promptness, but in some instances, I had to wait 30 minutes before being connected to customer support due to the high volume of chats to respond to.
In addition to efficient customer support, you enjoy fantastic video guides on how to use GoDaddy services, plus other online resources available at the GoDaddy help center.
Is GoDaddy Safe To Use?
GoDaddy is safe to use; Plus, its security features protect you from DDoS, malware, and other cyber threats. Additionally, GoDaddy has a dedicated team of security professionals monitoring websites and servers.
Wrapping Up The GoDaddy Webhosting Review
GoDaddy is a recommended Webhosting provider due to its high uptime of 99.94%, fast loading speed of fewer than 1 second, unlimited bandwidth, affordable initial prices, and efficient customer support team.
Not to mention, GoDaddy being a one-stop-shop for your website needs like domain names, web design, and other tools make it stand out from other web hosting providers. 
What do you think about this GoDaddy Webhosting review? Leave a comment below.
==>> Get GoDaddy Hosting
---
INTERESTING POSTS