This post will show you the Stellar Data Recovery Black Friday deal!
Words won't be able to describe how you would feel when you lost highly important and confidential files, or your computer crashes amid important work, or you suddenly lose one of your partitions without proper file backup.
Most individuals and organizations do not attach much importance to data backup and recovery tools until they have experienced data loss due to crashes, malware attacks, or hard-drive failures.
Suppose you've lost important data in the past as a result of file inaccessibility due to malware attacks, inaccessible partitions, system crashes, file deletion, unrecognized formats, temporary or permanent file deletion, etc. In that case, it is heart-warming to know that data recovery is possible using data recovery software and utilities.
One of such data recovery utilities available is the 6-in-1 data recovery suite. The Stellar Data Recovery Suite can recover varieties of data such as documents, images, audio and video media, etc., from a range of mobile and desktop devices including iOS, and Windows devices.
Stellar Data Recovery Black Friday Deal (6-in-1 Product Bundle)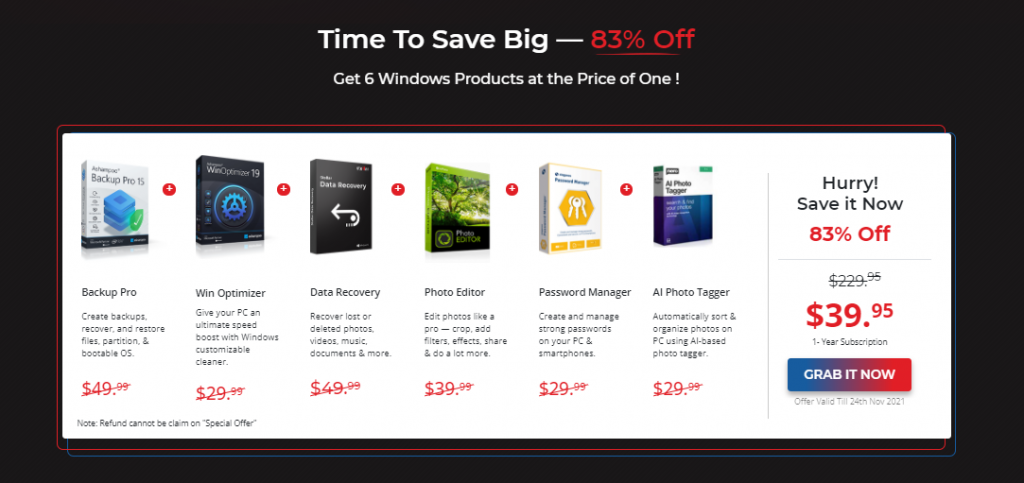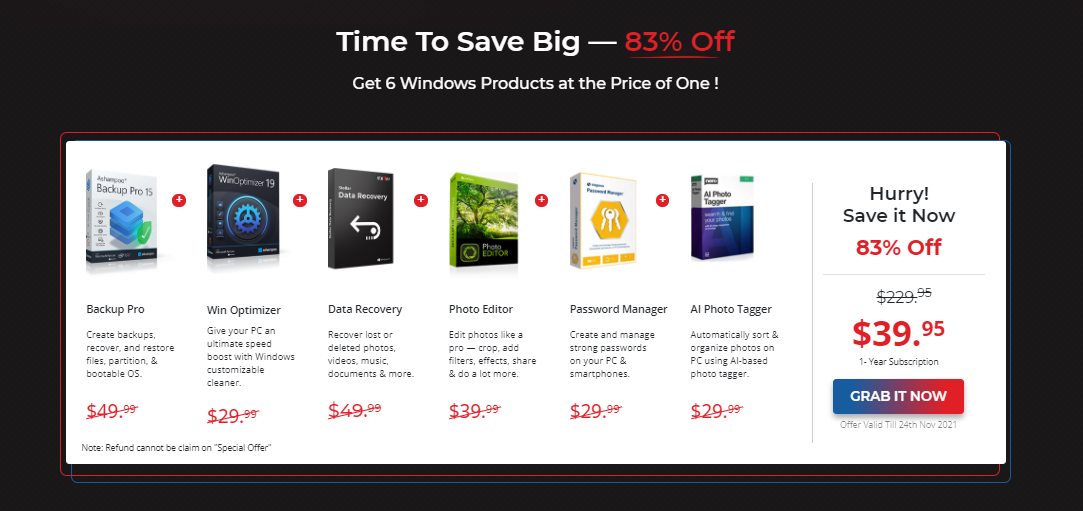 For Black Friday, Stellar is offering its 6-in-1 utility suite for the price of one and at a whopping 83% discount. Hence, for $39.95, you get the following Stellar recovery utilities:
Stellar Data Recovery (Standard): Stellar Data Recovery is a powerful utility for recovering data from formatted hard drives, deleted disk partitions, corrupt data disk, SSD/HDD, and RAID arrays both for Windows and Mac OS.
Steganos Password Manager: This is a powerful password management tool for creating and organizing your passwords.
Ashampoo Win Optimizer: This is a powerful software utility for speeding up and optimizing your Windows PC.
Nero AI Photo Tagger: With the AI Photo tagger, you do not need to worry about organizing photos on your PC. This tool organizes photos using AI-based triggers.
InPixio Photo Editor: This Adobe Photoshop alternative allows you to edit photos like a professional. You get advanced features to crop, add effects, filters, etc to photos.
Ashampoo Backup Pro: This backup management tool allows you to create backups, restore and recover lost folders, files, bootable OS, partitions, etc.
Bottom Line
Stellar Recovery Software Suite consists of powerful recovery utilities capable of retrieving lost or corrupted files, including documents and media from various disks and devices. It also contains tools for additional functionalities such as File Eraser, audio and video converting, and editing tools.
Take the chance of the Black Friday season to obtain all six utility tools at the price of one, and at an amazing 82% price discount, the highest in its Black Friday history.
Get the Stellar Black Friday Deal
CHECK OUT OTHER DEALS