Are you a small business owner? Cyber attacks on such businesses are increasingly getting popular. Find out how to prevent cyber threats for your company!
Cyber threats are not only a problem for large corporations and governments. Small businesses can also be targeted. Kaspersky's research shows that 22% of small businesses are victims of cyberattacks. According to the latest data, approximately 11% of these occurred in the past year.
It is important to protect your business from cyberattacks. But the scariest fact is that even the biggest business world leaders do not know how to do this. And small business owners often can't even imagine how the security of their business can be threatened. What are the targets of cybercriminals?
Small Business Cybersecurity Risk Zone
Cybercriminals are interested in your money, your data, and your IT equipment. If a hacker gains access to your corporate network, then to make more damage, they can use whatever they find in it. For example:
Lists of customers
Customers' credit card information
Bank details of your business
Your pricing policy
Product designs
Expansion plans
Manufacturing processes
And basically everything they can gain access to. These attacks can be targeted not solely at your company. Hackers can use their access to your network as a first step to gain access to companies that work with you. That's why a lot of attacks are directed at small businesses. The owners often don't know how to protect the data – or don't have enough finances to prevent the attacks.
What happens if you don't prevent the attacks?
Possible Consequences
U.S. government research shows that 60% of small businesses who suffered the cyber attack close in a month.
This is, of course, the most damaging outcome of an attack. But your business can have other serious consequences. For example, huge financial losses and reputational damage. Clients will be furious after finding out about the leaking of their personal data.  Thus, your business won't attract consumers anymore.
That's why it is crucial to forestalling hacker attacks. Even if your company is not big, "small business" cybersecurity is already developing.
The cybersecurity professionals developed a list of actions for cyber-attacks prevention.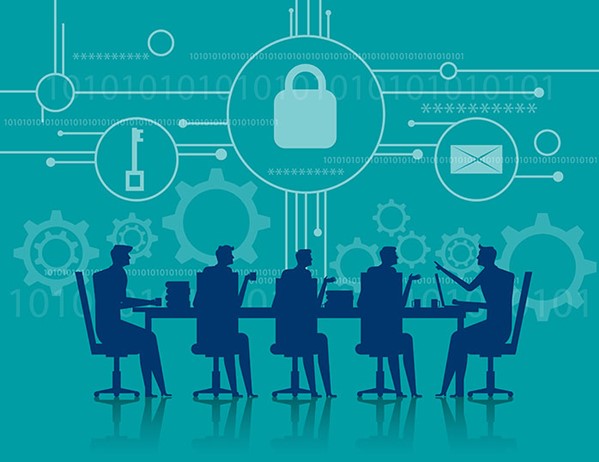 How To Avoid Cyber Crimes
First, always use the latest and trusted antivirus software. This is not even a tip – it is the first rule of any respectful business owner. No matter how much you will try to prevent hacker attacks if you don't have any antivirus program. Solely this tool will save you from malware, fishing, and a lot of spam. The most popular way of hacking is still viruses. So, don't dismiss the opportunity of securing your business.
Other tips can help to strengthen the protection offered by antivirus.
Use reliable software
You need reliable business software that can protect you from various threats. That includes viruses, spyware, ransomware, and phishing. Make sure that the software you use not only provides protection. Also, it should provide a technology that cleans computers and re-installs the data.
Plus, the software you use for your company must be up to date. Any program updates to increase protection or add patches. That new items close coding loopholes through which hackers can enter the network.
Train your employees
Employees can make your business vulnerable to attacks. Research shows that employees cause half of the data breaches. They may intentionally or unintentionally give cybercriminals access to your networks.
There are many scenarios for attacks involving employees. For example, an employee lost his work tablet or opened a suspicious email.
To protect yourself from inside threats, provide cybersecurity training for your employees.
Develop a small business cybersecurity plan and share it with all your workers. They should be aware of your business's cyber policy and follow it at all times. Make a list of safe sites and services. E.g. – a reliable website for essay ordering is essay-service.net.
Also, train your employees how to react to various situations that may occur. For example, how they should act if they receive a suspicious email. Plus, make sure that they all have strong passwords that are not easy to hack.
Back up your data
When a cyberattack happens, all your files can be compromised or deleted. Will your business continue to work without data? Noting the number of files that are necessary for the smooth operating of a company – no doubts that the answer is no.
To prevent this, use a backup program that does copies of your files. If the attack happens, you will be able to restore all your files from backups. Choose a program that allows you to create backups on a schedule or automatically. That way you don't have to constantly remember about it.
Also, store your backups offline. This will prevent attackers from encrypting them. Further, from making them inaccessible if your system has been attacked by ransomware.
Consult the IT professional
There are vulnerabilities in any software. There are exploits – programs written to exploit these vulnerabilities in an attack. If the developer knows where the vulnerability is, he can put some kind of patch to fix problems in the software. The patch will protect against cyberattacks in this weak point.
There are also zero-day exploits. They are written to exploit vulnerabilities that the developer doesn't yet know about. There are no patches capable of eliminating this threat. Special technologies of preventive protection against exploits are needed. If such technologies are not used, the system will be defenseless against attack.
That's why even the best prevention mechanism can fail if they are not set up by an IT master. You don't need to hire one full-time, but the consultations and checkups once in a while can be quite useful.
Do the risk assessment
Assess the potential risks that could compromise the security of your company. Identifying potential threats will help you develop a plan to secure possible gaps.
Once you have completed your analysis of threats, use the information you gain. It can help you to develop or improve your security strategy. Review and revise your security strategy regularly.
RELATED POSTS