This is an IPVanish review, read on.
When you think of Internet security, VPNs probably aren't the first thing that comes to mind. But if you love streaming video and audio content online–not to mention geo-restricted streaming services like Netflix, Hulu and Pandora, a Virtual Private Network (VPN) might just be your best friend when it comes to safeguarding your personal information from hackers who are lurking in cyberspace.
In an increasingly interconnected world, online privacy and security have become vital concerns for internet users. With numerous virtual threats and the need to protect sensitive data, using a reliable and trustworthy virtual private network (VPN) has become essential.
If you want to know more about VPN, check out this VPN guide. Also, check out our list of the best VPN for 2022, IPVanish is among the best.
When considering a choice of VPN service, you should consider a VPN service based on the following criteria: affordability, a robust encryption protocol, support for OpenVPN or a newer and faster VPN protocol, servers evenly distributed in key locations worldwide, kill switch technology, ability to unblock geo-restricted services like Netflix, Hulu, etc.
In this IPVanish review, we will explore IPVanish, one of the leading VPN service providers in the market. We will delve into its features, performance, security measures, and user experience to help you make an informed decision about whether IPVanish is the right VPN solution for your needs.
Whether you're seeking to protect your online privacy, bypass geo-restrictions, or secure your internet connection, join us as we take a closer look at IPVanish and its offerings.
What Is IPVanish?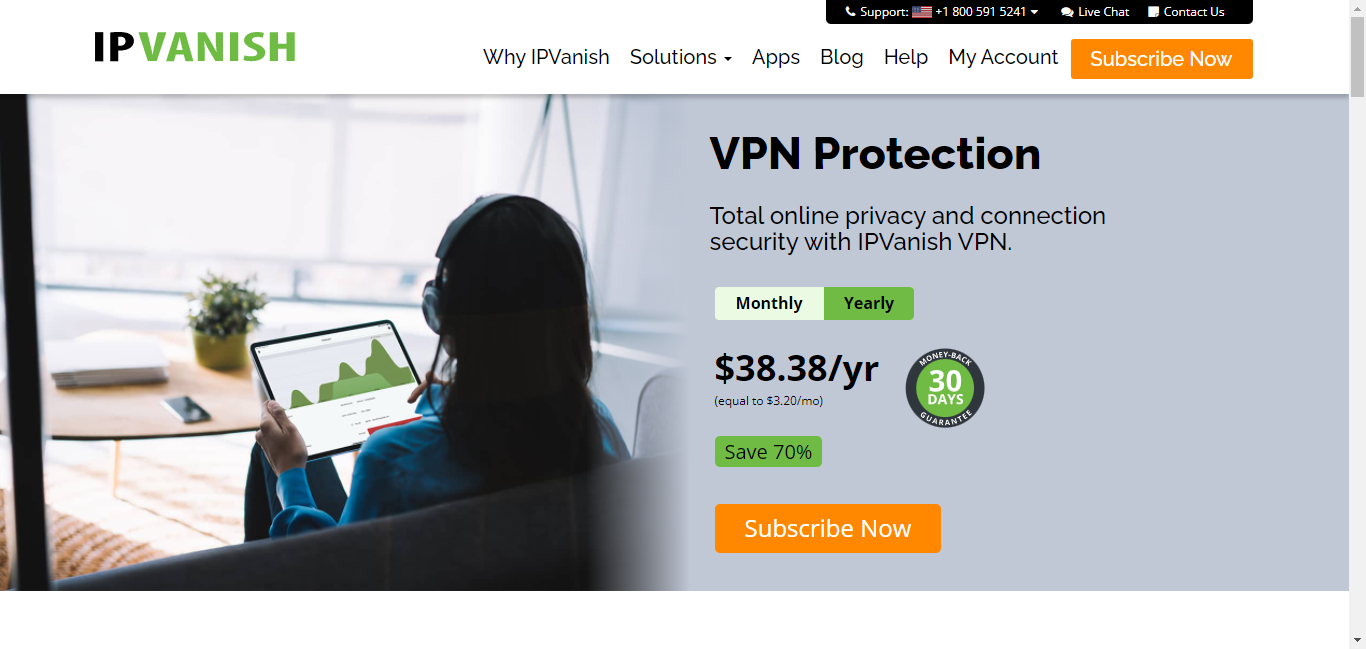 IPVanish is a popular and widely recognized virtual private network (VPN) service provider. IPVanish VPN was founded by Mudhook Media Inc. in 2012 to provide VPN services to subscribers worldwide.
It was later acquired by Lance Crosby, founder of StackPath, in 2017; since then, IPVanish has seen improvements growing its server number to over 2200 servers in 75 countries.
The primary goal of IPVanish is to protect users' online privacy and security by encrypting their internet traffic and providing them with a secure tunnel through which they can access the internet.
IPVanish operates an extensive network of servers in various locations worldwide, allowing users to connect to different server locations and hide their true IP addresses.
By masking their IP addresses, users can browse the internet anonymously and prevent third parties from tracking their online activities.
The VPN service provided by IPVanish offers several benefits, including:
Enhanced Security: IPVanish uses robust encryption protocols to secure users' internet traffic, protecting it from hackers, cybercriminals, and other malicious entities. This ensures that sensitive information, such as passwords, financial data, and personal details, remains safe from unauthorized access.
Privacy Protection: IPVanish allows users to maintain their online privacy by hiding their IP addresses and encrypting their internet connections. This prevents their internet service providers (ISPs), government agencies, and other organizations from monitoring their online activities.
Bypassing Geo-restrictions: With IPVanish, users can overcome geo-restrictions and access content that may be blocked or limited in their region. By connecting to servers in different locations, users can appear as if they are accessing the internet from those specific regions, unlocking access to geo-restricted content, streaming services, and websites.
Fast and Reliable Connections: IPVanish operates a global network of servers, ensuring fast and reliable VPN connections for its users. This allows for seamless streaming, gaming, and downloading experiences without significant speed reductions.
Multiple Device Support: IPVanish supports a wide range of devices and platforms, including Windows, macOS, iOS, Android, Linux, and routers. Users can protect multiple devices simultaneously with a single IPVanish account.
User-friendly Interface: IPVanish offers a user-friendly interface and intuitive applications, making it easy for both beginners and experienced users to navigate and configure the VPN settings.
Overall, IPVanish is a comprehensive VPN solution that prioritizes user privacy, security, and accessibility.
With its wide server network, strong encryption, and user-friendly interface, IPVanish has become a popular choice for individuals and businesses looking to safeguard their online activities and maintain their digital privacy.
71% OFF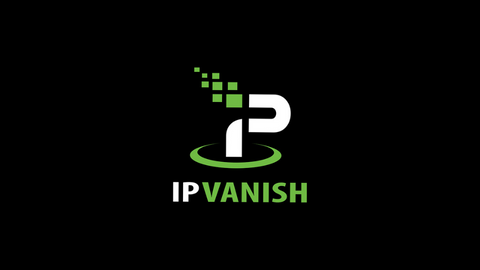 IPVanish VPN
The best VPN service against hackers, identity thieves, trackers, and advertisers.
==>>> Get IPVanish VPN
How To Sign Up For IPVanish
Signing up for IPVanish is a straightforward process. Follow these steps to create an account and subscribe to the IPVanish VPN service:
Visit the IPVanish website: Go to the IPVanish official website using your preferred web browser.
Choose a subscription plan: On the IPVanish homepage, you will see the available subscription options. Select the plan that best suits your needs by clicking on the "Start Now" or "Get IPVanish" button.
Provide your email address: Enter your email address in the designated field. This will be used for communication related to your IPVanish account.
Create a password: Choose a secure password for your IPVanish account. Ensure it meets the required criteria for length and complexity.
Select a payment method: IPVanish accepts various payment methods, such as credit cards, PayPal, and cryptocurrencies. Choose the payment method you prefer and enter the necessary details.
Complete the payment process: Follow the instructions to finalize your payment. Ensure that all the information provided is accurate.
Download and install the IPVanish application: After completing the payment, you will be redirected to the download page. Download the IPVanish application suitable for your device and operating system.
Install and launch the IPVanish application: Run the downloaded installer and follow the on-screen instructions to install the IPVanish application. Once installed, launch the application.
Log in to your IPVanish account: Use the email address and password you provided during the signup process to log in to your IPVanish account within the application.
Connect to a server: Within the IPVanish application, choose a server location from the available options and click on the "Connect" button. This will establish a secure VPN connection.
Congratulations! You have successfully signed up for IPVanish and can now enjoy the benefits of a secure and private internet connection.
Remember to configure the application settings according to your preferences and explore the various features offered by IPVanish to enhance your VPN experience.
71% OFF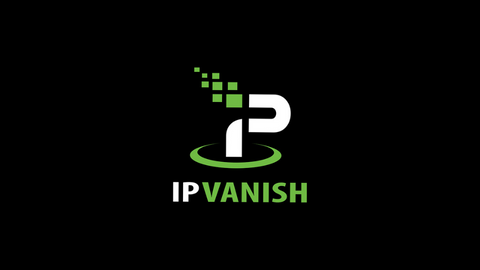 IPVanish VPN
The best VPN service against hackers, identity thieves, trackers, and advertisers.
IPVanish Key Features
IPVanish offers a range of features designed to enhance your VPN experience and provide robust privacy and security. Here are some notable features offered by IPVanish:
Simple User Interface
I have to say, the IPVanish user interface is impressively simple and user-friendly. As someone who values intuitive design, I found it incredibly easy to navigate through the various features and options.
The moment I launched the IPVanish application, I was greeted with a clean and organized dashboard that made it clear where everything was located.
The main screen prominently displays a large "Connect" button, which made it a breeze for me to establish a VPN connection. With just a single click, I could toggle the switch from "OFF" to "ON" and instantly secure my internet connection. The simplicity and accessibility of this feature were truly refreshing.
Exploring the server selection options was equally straightforward. The server list was neatly categorized, allowing me to quickly find and connect to a server of my choice.
I appreciated that IPVanish provided real-time information about server load and ping times, helping me make informed decisions based on my specific needs. Whether I wanted to access content from a specific location or simply find the fastest server, IPVanish made it easy for me to select the optimal server.
In summary, IPVanish's simple user interface truly stood out for me. It made the entire VPN experience incredibly user-friendly and hassle-free.
From the intuitive dashboard layout to the one-click connection and convenient server selection, IPVanish excels in providing a seamless and straightforward interface that anyone, including myself, can navigate with ease.
VPN Protocol
When it comes to VPN protocols, IPVanish offers a range of options that give me the flexibility to tailor my VPN connection to my specific needs. Personally, I appreciate having choices, and IPVanish doesn't disappoint in this aspect.
With protocols like OpenVPN, IKEv2, L2TP/IPsec, and PPTP available, I can select the protocol that strikes the right balance between security and speed.
My go-to protocol with IPVanish is OpenVPN, as it combines strong encryption with excellent performance. It ensures that my online activities are safeguarded while still delivering fast and reliable VPN connections.
However, on occasions where I prioritize speed over advanced encryption, I sometimes opt for IKEv2, which is known for its efficiency in maintaining a stable and high-speed connection.
Having the freedom to switch between VPN protocols in the IPVanish app allows me to adapt to different scenarios and requirements. It's reassuring to know that I can customize my VPN experience based on my preferences, whether it's prioritizing security or optimizing for speed.
IPVanish's range of VPN protocols gives me the flexibility I need to ensure a secure and seamless browsing experience.
Secure Encryption Technology
When it comes to securing my online activities, IPVanish employs impressive encryption technology that gives me peace of mind.
With IPVanish, I have the assurance that my data is protected by robust AES-256 encryption, which is considered top-notch in the industry. As someone who values privacy and security, knowing that my internet traffic is encrypted using such a strong cipher puts me at ease.
The AES-256 encryption used by IPVanish ensures that my sensitive information, such as passwords, financial transactions, and personal data, remains safe from prying eyes. This military-grade encryption makes it incredibly difficult for any unauthorized individuals or hackers to intercept and decipher my data.
Whether I'm browsing the web, streaming content, or conducting online transactions, IPVanish's secure encryption technology ensures that my information stays private and protected throughout my VPN session.
Multiplatform support and unlimited device protection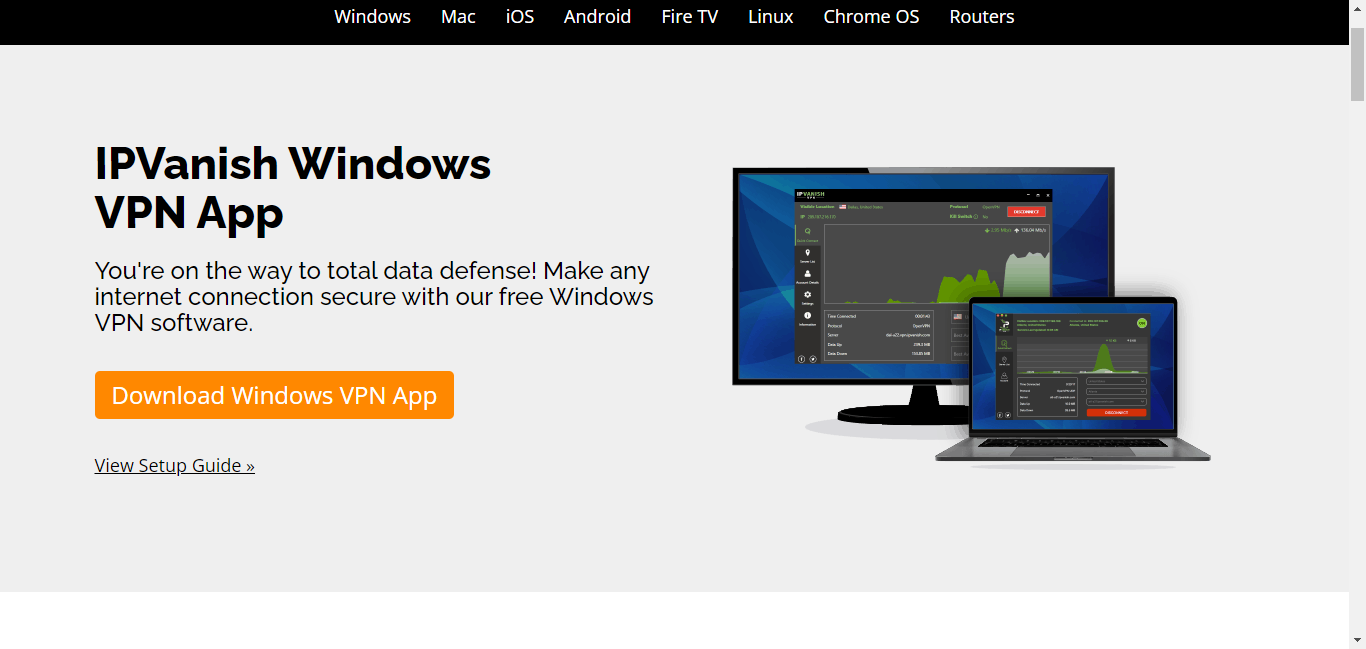 I should say IPVanish is a generous VPN service provider because there's no limit to the number of devices that can connect to a single VPN subscription.
In addition, IPVanish works on all major OS and device types, including Windows, Mac OS, Android, iOS, Linux, Android TV, etc. Hence, it is a perfect recommendation if you have a large family or multiple internet-enabled devices.
Global Server Network
As someone who values a diverse range of server options, IPVanish's global server network has been a game-changer for me. With 2200+ servers located in various countries around the world, I have the freedom to connect to different locations and access content that may be otherwise unavailable in my region.
Whether I want to bypass geo-restrictions, stream content from specific countries, or simply enhance my browsing experience, IPVanish's extensive server network provides me with the flexibility I need.
I appreciate that IPVanish offers a wide range of server locations, allowing me to choose the server that best suits my needs in terms of speed, proximity, and content accessibility.
This global reach ensures that I can enjoy a seamless and unrestricted internet experience, no matter where I am located.
No Logs Policy
Since 2017 after the acquisition of IPVanish, there has not been any report of IPVanish keeping logs of its users' data. IPVanish states clearly in its privacy policy that it does not log any users' data because its users' privacy and data security are paramount to its success as a VPN provider. 
IPVanish's strict no-logs policy is a crucial factor that attracted me to their service. I feel reassured knowing that IPVanish does not track, monitor, or store any logs of my online activities.
This means that my browsing history, connection timestamps, IP addresses, and any other sensitive information are not recorded or retained by IPVanish. This commitment to maintaining user privacy aligns with my own beliefs and ensures that my online activities remain truly anonymous and confidential.
With IPVanish's no-logs policy, I have the peace of mind to browse the internet, stream content, and conduct online transactions without the fear of my data falling into the wrong hands.
Kill Switch 
IPVanish's kill switch feature has been a lifesaver for me when it comes to maintaining a secure and uninterrupted VPN connection.
The kill switch acts as a failsafe mechanism that automatically disconnects my internet connection if the VPN connection drops unexpectedly. As someone who prioritizes privacy and data protection, this feature is invaluable.
With the kill switch enabled, I can browse the internet with the confidence that my real IP address and online activities will never be exposed, even in the event of a VPN connection disruption.
IPVanish's kill switch ensures that my online presence remains secure at all times, providing me with the peace of mind I need to browse the web without worrying about any potential privacy breaches.
Other Features
Split Tunneling: IPVanish allows you to use split tunneling, which enables you to select specific apps or websites to bypass the VPN connection. This can be useful if you want to access local network devices or use certain services without going through the VPN.
Anonymous Torrenting: IPVanish permits peer-to-peer (P2P) file sharing and anonymous torrenting on its servers. This allows you to securely and privately engage in torrenting activities.
DNS and IP Leak Protection: IPVanish employs DNS and IP leak protection to ensure that your true IP address and DNS requests are not exposed. This safeguards against any potential vulnerabilities that could compromise your anonymity.
IPVanish Review: Tests
IP and DNS leak-Proof
Going by its name, IPVanish makes your IP vanish without any trace or leak via DNS or webRTC. To be sure, I ran IP, DNS, and webRTC leakproof tests on IPVanish, and the result was negative; there was no leakage of IP address, location, and other identifying information. A further search using the Google search engine showed no reports of IP leaks by IPVanish VPN.
Bypass Internet censorship and unblock geo-restriction 
If there are geo-restricted services you desired to access within or outside the US, IPVanish won't disappoint. For viewers outside of the US, IPVanish can unblock geo-blocks and give you access to TV shows, movies, music, sports content, etc., from geo-blocked services like Netflix US, Hulu, Disney+ CBS, etc.
Users in schools, organizations, or countries where websites such as Facebook, YouTube, Instagram, Twitter, etc., are censored from access can use an IPVanish VPN connection to bypass such censorship without changing their physical location.
To bypass such censorship, choose a virtual location from over 75 IPVanish server locations and pick any server to connect with. 
Speed and performance 
Speed and performance vary depending on your location and proximity to the VPN server you're connecting to. Since IPVanish has over 2200 servers spread in 75 locations worldwide, it does offer speed decent enough for seamless uploading, downloading, or streaming activities.
Based on the speed tests I conducted during this IPVanish review, I observed that IPVanish averages between 68 to 286Mbps per second, depending on the proximity to the server.
Technical Details
Supported devices and OS: Windows, Mac, Android, iPhone, Linux, Router.
Pricing model: Monthly and yearly subscription packages
Customer types: Individuals, businesses, and corporate organizations
Mobile applications: Android, iOS
IPVanish VPN Chrome Extension

IPVanish supports Chrome extension for all Chromium-based browsers; visit IPVanish's official website to download the IPVanish chrome extension for your chromium-based browser.
IPVanish Customer Support
IPVanish customer support has consistently impressed me with their prompt and helpful assistance. Whenever I've had questions or encountered technical issues, their dedicated support team has been there to provide guidance and resolve any concerns I may have.
I appreciate that they offer 24/7 customer support, ensuring that help is available whenever I need it, regardless of the time zone I'm in.
Whether I reach out to them through live chat or submit a support ticket, their response time has been commendable, with knowledgeable and friendly representatives addressing my queries in a timely manner.
In addition, IPVanish provides a comprehensive knowledge base and FAQs section, which I find incredibly useful for finding quick answers to common questions.
The level of customer support offered by IPVanish has undoubtedly added to the overall positive experience I've had with their service, making me feel valued as a user and reinforcing my confidence in their commitment to ensuring customer satisfaction.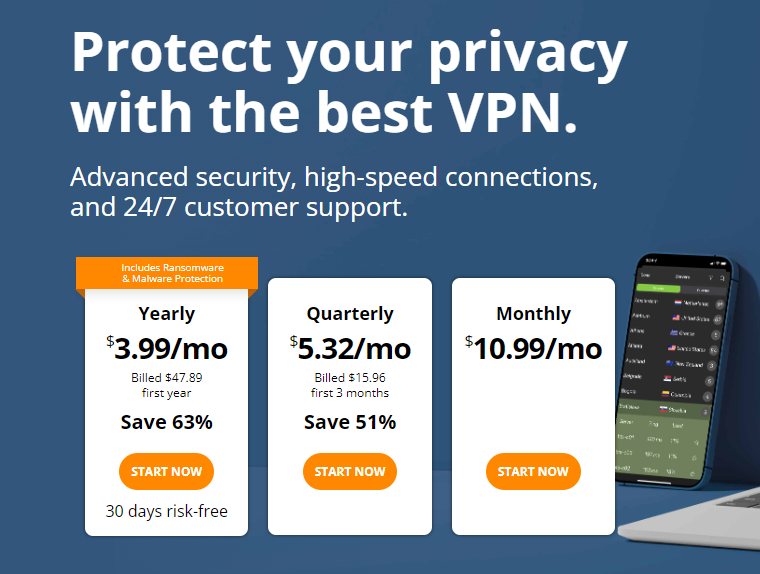 IPVanish's pricing is not the cheapest in the VPN industry, but it is affordable considering the premium VPN services you will be getting.
Below is a breakdown of IPVanish's pricing.
Monthly: $10.99 per month
Quarterly: $5.32 per month; billed $15.96/quarter
Yearly: $3.99 per month; billed $47.89/year
71% OFF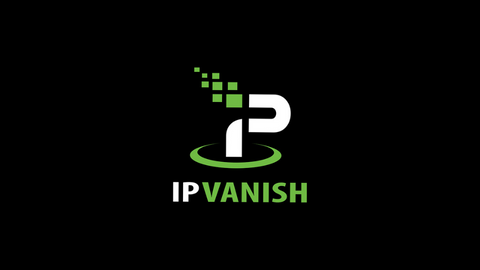 IPVanish VPN
The best VPN service against hackers, identity thieves, trackers, and advertisers.
==>>> Get IPVanish VPN
IPVanish Pros And Cons
IPVanish Pros
Strong Encryption: IPVanish utilizes AES-256 encryption, providing robust security and protecting your online activities from unauthorized access.
Large Server Network: IPVanish boasts a vast global server network, allowing you to choose from a wide range of server locations for optimal performance and content access.
No-Logs Policy: IPVanish has a strict no-logs policy, ensuring that your browsing history, connection logs, and other sensitive information are not stored or monitored.
Unlimited Bandwidth: IPVanish offers unlimited bandwidth, allowing you to enjoy unrestricted browsing, streaming, and downloading without worrying about data caps or limitations.
Multi-Platform Support: IPVanish is compatible with various devices and platforms, including Windows, Mac, iOS, Android, and more, allowing you to protect multiple devices simultaneously.
IPVanish Cons
Limited Streaming Support: While IPVanish is generally reliable for streaming, some users have reported difficulties accessing certain streaming platforms or experiencing slower speeds for streaming content.
US-Based Jurisdiction: IPVanish is based in the United States, which may raise concerns for users who prioritize VPN services located in privacy-friendly jurisdictions.
Fewer Advanced Features: Compared to some other VPN providers, IPVanish may have fewer advanced features and customization options, which could be a drawback for more experienced VPN users seeking advanced functionalities.
IPVanish Review: Frequently Asked Questions
Is IPVanish Free?
IPVanish is not a free VPN service. It is a premium VPN provider that requires a subscription to access its features and services. While there may be free VPN options available, it's important to note that they often come with limitations, such as data caps, slower speeds, and fewer server locations.
In contrast, IPVanish offers a paid subscription model, which provides you with unlimited bandwidth, access to their global server network, and enhanced security features. By investing in a paid VPN service like IPVanish, you can enjoy a more reliable and feature-rich VPN experience
Is IPVanish Legit?
Yes, IPVanish is a legitimate and reputable VPN provider. It has been in operation since 2012 and has established itself as a trusted name in the VPN industry. IPVanish is known for its commitment to user privacy and security, offering features like strong encryption, a strict no-logs policy, and a wide range of server locations. The company has a solid track record and is well-regarded among VPN users.
It's important to note that IPVanish operates in compliance with the law and does not condone or support any illegal activities. As a user, it is essential to use the service responsibly and abide by the terms of service and the laws of your jurisdiction.
When choosing a VPN provider, it's always a good idea to conduct your own research and read reviews from trusted sources to make an informed decision. However, based on its reputation and longevity in the industry, IPVanish can be considered a legitimate and trustworthy VPN service.
Is IPVanish Safe? 
Yes, IPVanish is considered a safe VPN service. It employs robust encryption protocols, including AES-256, which is widely recognized as a strong and secure encryption standard. This encryption ensures that your online activities and data are protected from unauthorized access.
Additionally, IPVanish has a strict no-logs policy, meaning they do not collect or store any logs of your browsing history, connection timestamps, or IP addresses. This commitment to privacy ensures that your online activities remain private and anonymous.
IPVanish also offers features like a kill switch, which automatically disconnects your internet connection if the VPN connection drops, preventing your real IP address from being exposed.
While no VPN can offer 100% security, IPVanish implements industry-standard security measures and privacy practices to safeguard your online presence. It's important to note that using a VPN does not make you invulnerable to all risks, and practicing safe online habits alongside VPN usage is recommended for maintaining your overall digital safety.
How To Download IPVanish VPN Client
Depending on your device type, you can download IPVanish from IPVanish's official website or apps stores. Installing an IPVanish VPN client is pretty straightforward, but if you're confused, you can check out IPVanish's setup guide on its official webpage.
A Final Word On The IPVanish Review
Overall, IPVanish is a recommended VPN for use if you desire an affordable VPN service with robust features including unlimited device connectivity, VPN protocol, encryption technology, unlimited bandwidth, unblocking geo-blocks, and other features enumerated in this IPVanish review.
IPVanish is a great VPN service provider because it offers a wide range of features and does not keep logs of its users' data. It also provides high-quality encryption, uncensored access to geo-restricted content, and a range of other features.
If you're looking for a VPN service that provides the best possible security, anonymity, and performance, then IPVanish may well be the right VPN service for you.
However, there is a catch. IPVanish has a strict no-logging policy; hence, you have to adhere to the terms of this contract to use this service.
That said, IPVanish is a very good value for money VPN service that offers more than enough benefits to justify its cost. If you're looking for a budget-friendly VPN service, you should definitely consider IPVanish.
71% OFF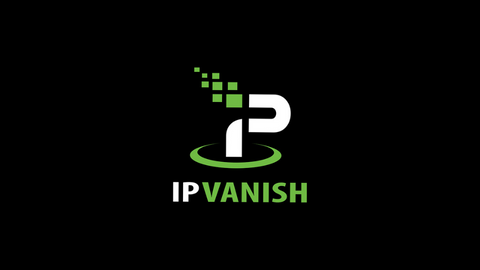 IPVanish VPN
The best VPN service against hackers, identity thieves, trackers, and advertisers.
==>>> Get IPVanish VPN
---
INTERESTING POSTS