This is an IPVanish review, read on.
When you think of Internet security, VPNs probably aren't the first thing that comes to mind. But if you love streaming video and audio content online–not to mention geo-restricted streaming services like Netflix, Hulu and Pandora–a Virtual Private Network (VPN) might just be your best friend when it comes to safeguarding your personal information from hackers who are lurking in cyberspace.
A virtual private network is a type of network that uses a private network—rather than a public one like the Internet–for user authentication and communication. In other words, it's a way for you to securely access your home computer system from anywhere on the internet as if you were directly logged in as that user.
To that end, this article takes an in-depth look at what we know so far about IPVanish VPN and whether or not it's worth adding to your basket of trusted security solutions.
If you want to know more about VPN, check out this VPN guide. Also, check out our list of the best VPN for 2022, IPVanish is among the best.
When considering a choice of VPN service, you should consider a VPN service based on the following criteria: affordability, a robust encryption protocol, support for OpenVPN or a newer and faster VPN protocol, servers evenly distributed in key locations worldwide, kill switch technology, ability to unblock geo-restricted services like Netflix, Hulu, etc.
Find out from this post if IPVanish meets up and exceeds the criteria stated above.
What Is IPVanish?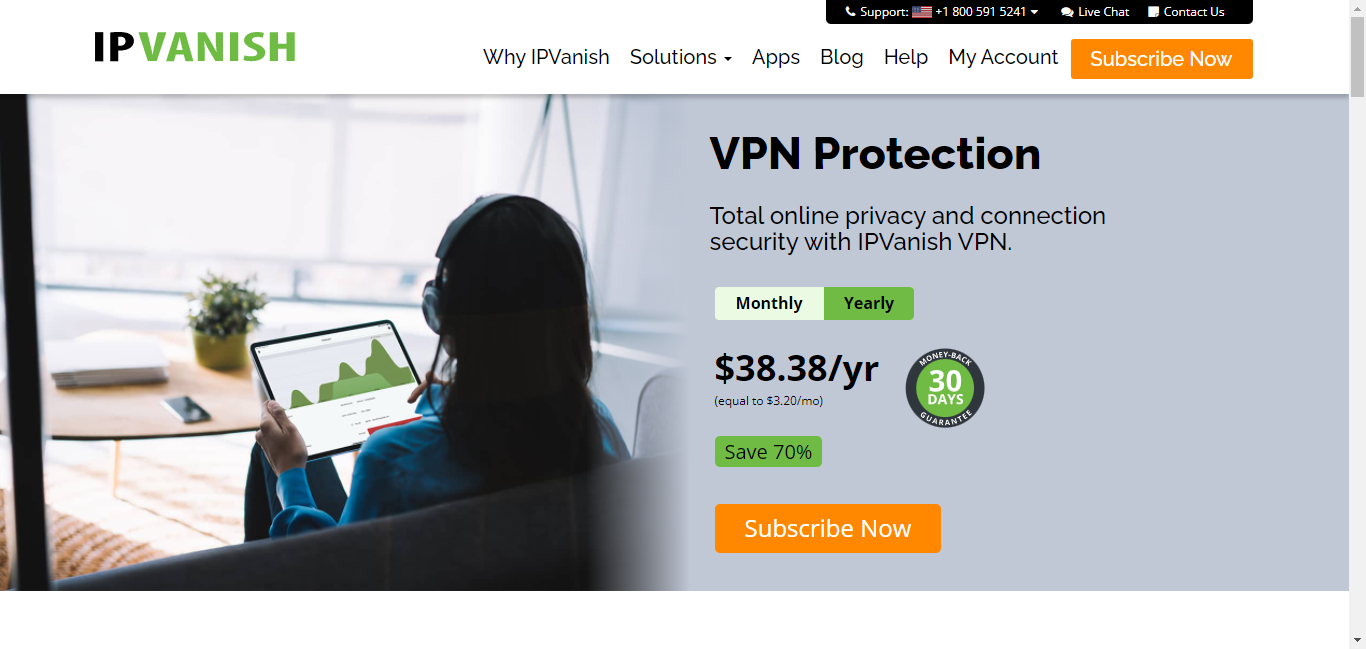 IPVanish VPN was founded by Mudhook Media Inc. in 2012 to provide VPN services to subscribers worldwide. It was later acquired by Lance Crosby, founder of StackPath, in 2017; since then, IPVanish has seen improvements growing its server number to over 1600 servers in 75 countries.
As a Virtual Private Network (VPN) service, IPVanish provides VPN services that encrypt users' connection through a secured virtual encryption tunnel between the user's device, IPVanish's VPN server, and the internet by acting as an intermediary server between the user and the internet.
Hence, users' inbound and outbound data traffic are completely encrypted and protected from interception by hackers and spies as it passes through IPVanish's server to its online destination (a website or service).
This implies that users' data and identifying information remain protected from the general internet view; hence the user enjoys a high degree of anonymity, data, and privacy protection while online.
==>>> Get IPVanish VPN
IPVanish Key Features
Simple User Interface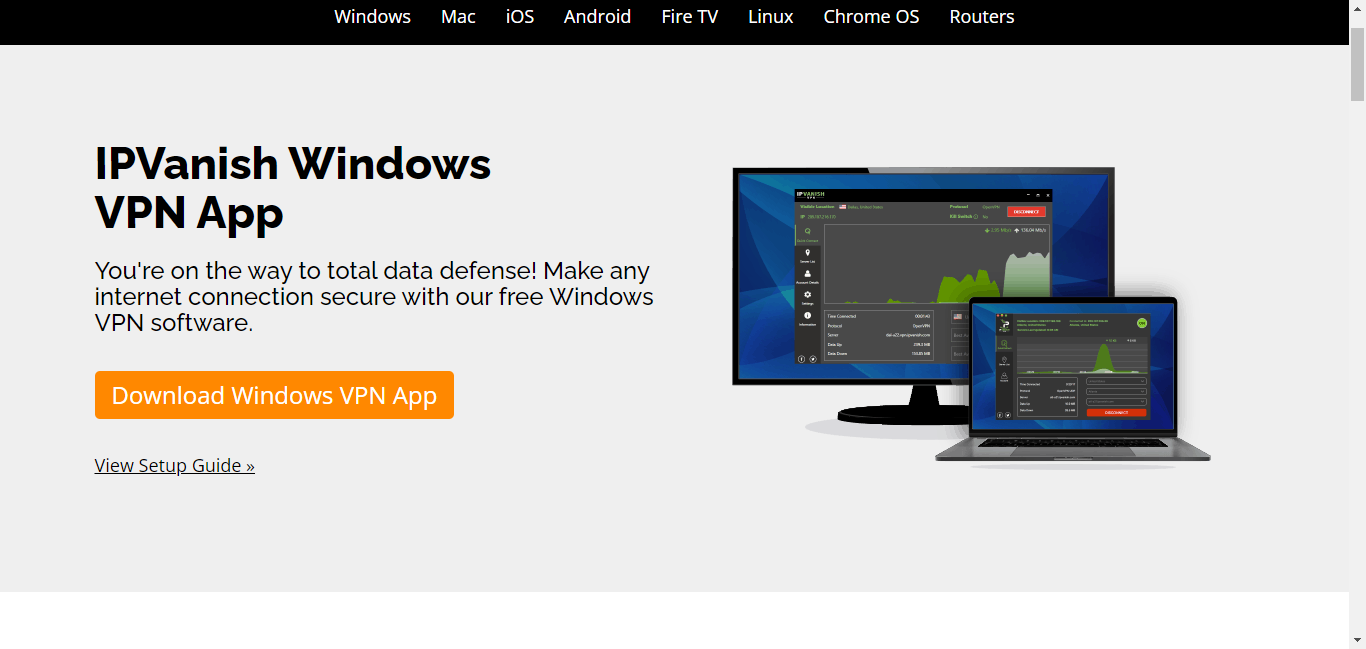 You do not need to be tech-savvy or an IT person to use the IPVanish VPN service. IPVanish did an excellent job of an orderly arrangement of its icon and identifying features without the need to search or navigate to settings to get connected or server location.
A click on the 'Connect' button automatically connects you to the best server and server location. However, based on your needs, you can change your server location to any location of choice.
VPN protocol
Except if you have a specific need, it is perfectly okay to stick with IPVanish's default encryption protocol which is the OpenVPN protocol. The OpenVPN protocol balances speed with security, thereby offering you the best of both worlds.
However, you can choose to set your VPN protocol to IKEv2 (Internet Key Exchange Protocol version 2), L2TP (Layer 2 Tunneling Protocol), IPSec (Internet Protocol Security), or PPTP (Point-to-Point Tunneling Protocol) depending on your need, knowledge of VPN protocols, and device type.
Encryption Technology
Encryption type is a key factor when choosing a VPN service provider because it forms the bedrock for creating a VPN. IPVanish uses the AES-256bit encryption protocol, which is the most secure encryption technology for securing users' inbound and outbound data traffic.
Multiplatform support and unlimited device protection
I should say IPVanish is a generous VPN service provider because there's no limit to the number of devices that can connect to a single VPN subscription.
In addition, IPVanish works on all major OS and device types, including Windows, Mac OS, Android, iOS, Linux, Android TV, etc. Hence, it is a perfect recommendation if you have a large family or multiple internet-enabled devices.
Logging Policy
Since 2017 after the acquisition of IPVanish, there has not been any report of IPVanish keeping logs of its users' data. IPVanish states clearly in its privacy policy that it does not log any users' data because its users' privacy and data security are paramount to its success as a VPN provider. 
Servers and Location 
IPVanish has over 1600 servers spread in more than 75 countries worldwide. Some of its servers are optimized for high-speed torrenting and streaming activities. Depending on your needs, you can always change your default server connection and location.
Kill Switch 
IPVanish has an effective kill switch technology; by default, this feature is off; hence, you would have to toggle it on to activate it. If your VPN connection breaks off, IPVanish's kill switch feature severs off your internet connection to prevent data leakage and exposure to threats if the VPN connection breaks off. 
IPVanish Review: Tests
IP and DNS leak-Proof
Going by its name, IPVanish makes your IP vanish without any trace or leak via DNS or webRTC. To be sure, I ran IP, DNS, and webRTC leakproof tests on IPVanish, and the result was negative; there was no leakage of IP address, location, and other identifying information. A further search using the Google search engine showed no reports of IP leaks by IPVanish VPN.
 Bypass Internet censorship and unblock geo-restriction 
If there are geo-restricted services you desired to access within or outside the US, IPVanish won't disappoint. For viewers outside of the US, IPVanish can unblock geo-blocks and give you access to TV shows, movies, music, sports content, etc., from geo-blocked services like Netflix US, Hulu, Disney+ CBS, etc.
Users in schools, organizations, or countries where websites such as Facebook, YouTube, Instagram, Twitter, etc., are censored from access can use an IPVanish VPN connection to bypass such censorship without changing their physical location.
To bypass such censorship, choose a virtual location from over 75 IPVanish server locations and pick any server to connect with. 
Speed and performance 
Speed and performance vary depending on your location and proximity to the VPN server you're connecting to. Since IPVanish has over 2000 servers spread in 75 locations worldwide, it does offer speed decent enough for seamless uploading, downloading, or streaming activities.
Based on the speed tests I conducted during this IPVanish review, I observed that IPVanish averages between 68 to 286Mbps per second, depending on the proximity to the server.
Technical Details
Supported devices and OS: Windows, Mac, Android, iPhone, Linux, Router.
Pricing model: Monthly and yearly subscription packages
Customer types: Individuals, businesses, and corporate organizations
Mobile applications: Android, iOS
IPVanish VPN Chrome Extension

IPVanish supports Chrome extension for all Chromium-based browsers; visit IPVanish's official website to download the IPVanish chrome extension for your chromium-based browser.
How To Download IPVanish VPN Client
Depending on your device type, you can download IPVanish from IPVanish's official website or apps stores. Installing an IPVanish VPN client is pretty straightforward, but if you're confused, you can check out IPVanish's setup guide on its official webpage.
Is IPVanish Free?
IPVanish is not free, but it offers users 30 days moneyback guarantee for users who choose to cancel their yearly subscription within the first 30 days.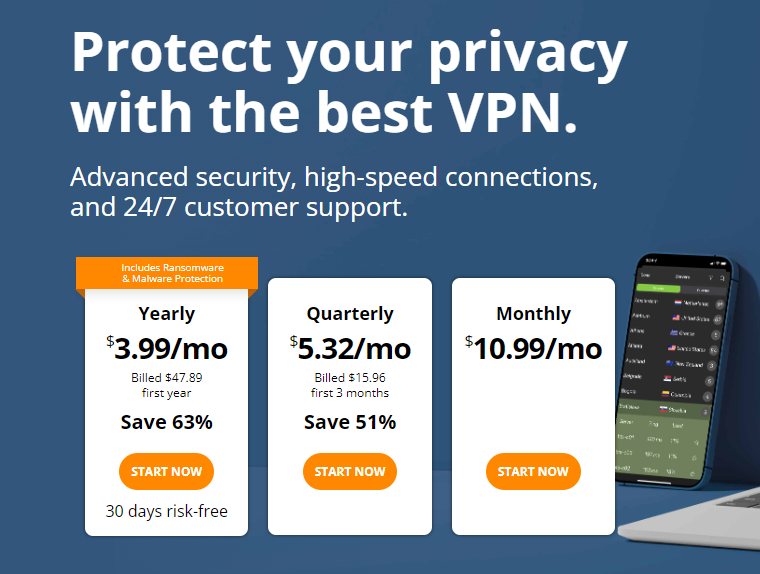 IPVanish's pricing is not the cheapest in the VPN industry, but it is affordable considering the premium VPN services you will be getting.
Below is a breakdown of IPVanish's pricing.
Monthly: $10.99 per month
Quaterly: $5.32 per month; billed $15.96/quarter
Yearly: $3.99 per month; billed $47.89/year
==>>> Get IPVanish VPN
Is IPVanish Safe? 
IPVanish is safe to use; it does not collect, store or leak data. Additionally, your identifying info and online activities remain protected from snoopers, hackers, and ISPs.
A Final Word On The IPVanish Review
Overall, IPVanish is a recommended VPN for use if you desire an affordable VPN service with robust features including unlimited device connectivity, VPN protocol, encryption technology, unlimited bandwidth, unblocking geo-blocks, and other features enumerated in this IPVanish review.
IPVanish is a great VPN service provider because it offers a wide range of features and does not keep logs of its users' data. It also provides high-quality encryption, uncensored access to geo-restricted content, and a range of other features.
If you're looking for a VPN service that provides the best possible security, anonymity, and performance, then IPVanish may well be the right VPN service for you.
However, there is a catch. IPVanish has a strict no-logging policy; hence, you have to adhere to the terms of this contract to use this service.
That said, IPVanish is a very good value for money VPN service that offers more than enough benefits to justify its cost. If you're looking for a budget-friendly VPN service, you should definitely consider IPVanish.
==>>> Get IPVanish VPN
---
INTERESTING POSTS