In this post, we will show you the DeleteMe review. A reliable service for removing your data from search engine results.
Have you ever been worried about how much of your personally identifiable information floating on the internet for data aggregators to collect? Ok, a simple exercise will get you shocked and concerned. Type your name in Google search engine or any other search engine, and you did be appalled at how many data broker websites pop up with listings of similar names, one of which will be yours.
There are several data brokers out there who piece together bits of users' data scattered over the internet for sale to any interested buyer.
Now the question is, how do you delete your data from data aggregators sites that collect your data? The truth is, attempting to clear off your data from such sites might not work out well; hence such task of clearing your data from data aggregator sites is best left to Abine's DeleteMe.
How To Get Started With DeleteMe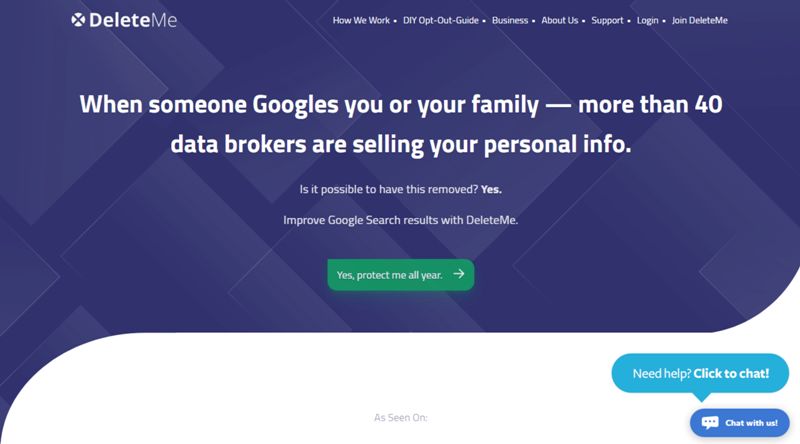 Getting started with DeleteMe involves the following steps listed below. 
Sign up

for DeleteMe services and subscribing to any plan of choice

Submit your personal information to DeleteMe. Information you submit include your full name, present and past house addresses, date of birth, sex, phone numbers (both past and present), email addresses, scanned copy of a government-issued ID with users' ID number shaded. Some aggregator sites require users' ID before erasing users' information from their website.

DeleteMe experts get to work with the information you have provided. Removing your data from data aggregator sites is not an automated process; rather, it is done by experts who take care of deleting your data. Depending on the aggregator sites, some respond fast to experts' requests, while others take much longer time to get your data erased from their websites.

You receive detailed reports from DeleteMe. You get your first report seven days after signing up. The first report you get will detail all of the aggregator sites where your data are found and request made to these sites to have your information deleted. You keep getting reports at regular intervals showing 'opt-out' status.

DeleteMe experts remove your information from data brokers every three months. This gives you a clean slate with no trackable personal details online.
Read Also: VPN Extension For Google Chrome – Benefits And Useful Tricks
Benefits Of Using DeleteMe
Users enjoy 100% guaranteed satisfaction because DeleteMe removes 100% of subscribers' data found on aggregator sites.

Abine's DeleteMe service is time-tested and trusted. It has been in the business of privacy and security for 11 years.

Subscribers enjoy outstanding customer support services with DeleteMe.
It is possible to remove your data from aggregator sites yourself. Still, the process of doing so demands much time, effort, and commitment from you since you will need to take up so much time in combing through search results of aggregator sites where your data are present. 
It can wipe off all traces of your data by sending 'opt-out' requests to aggregator sites where your information is found.
With this Abine product, you can enjoy transparent services and detailed reports that come at regular intervals. These reports list out the aggregator sites where your data has been removed.
Since most users can't stay off social media and search engines, DeleteMe cleanup after its customers by periodically checking and removing users' data from aggregator sites every three months. 
Popular aggregator sites where your data are most likely to be found include Whitepages, PeopleLookup,  EmailFinder, and over 40 other aggregator sites. DeleteMe does the job of ensuring that data are deleted from these aggregator sites, who may end up selling your data to the highest bidder.
DeleteMe Features
Ease of use: It is a user-friendly platform. Users can easily navigate their way on its intuitive user interface, signup, subscribe and supply their essential necessary information.

Detailed reports: 7 days after signing up, users get a detailed report of 'opt-out' requests sent to data aggregator sites.

Repeated data clean up every three months: DeleteMe experts keep checking and deleting your data from aggregator sites every three months. 
DeleteMe Plans And Pricing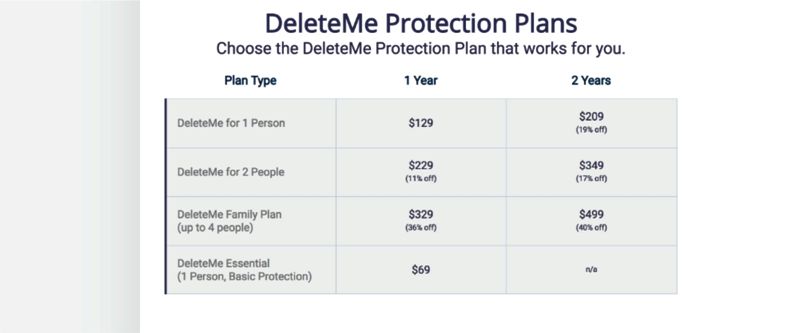 Now for this DeleteMe review, let's take a look at its pricing.
DeleteMe for one person:

This plan offers standard protection for one person. The service is billed at $10.75 per month, billed annually for $129. Subscribers enjoy a 19% discount with a subscription fee of $8.71 per month billed every two years at $209.

One year, two people: this plan comes at an 11% discount. Users pay $19.08 per month, billed annually for $229.

Two years, two people:

Subscribers get a 17% discount when they subscribe to this plan for $14.54 per month billed biennially at $349 per 2 years.

Delete me Family (up to 4 people):

this is the 'la crème, de la pie' of DeleteMe subscription packages. Subscribers enjoy a 40% discount for the biennial plan for $20.79 per month, billed every two years at $499. Annual subscribers enjoy a 36% discount at $27.42 per month, billed yearly at $329.
Customer Support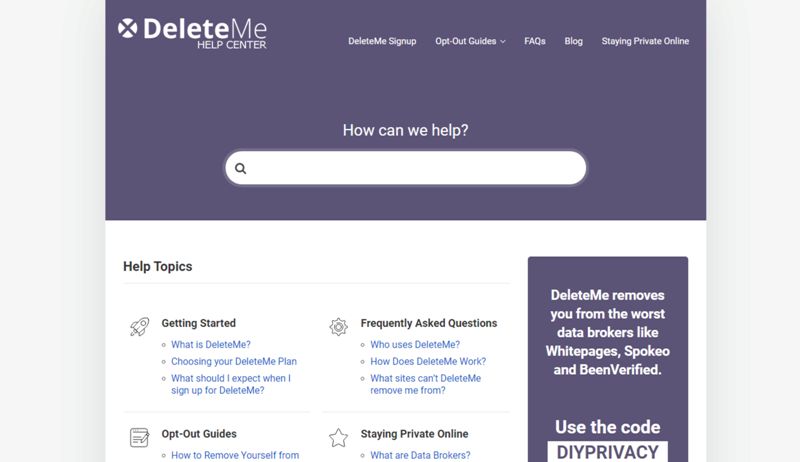 Users reach out to Abine DeleteMe via the following support services  
FAQ page:

Here at DeleteMe's

FAQ page

, users learn more about the platform. Given the simple process of using DeleteMe, Users are not likely to run into any challenges.

Email support:

Users can reach out to Abine DeleteMe via their email address

. Subscribers get feedback within one working day.

Live Chat:

Users can engage the support team via live chat. To use this feature, users should visit Abine's`

support page

.
Time of operation: Abine's support team is available Mondays to Fridays, 9 AM to 5 PM.
Is DeleteMe Safe?
DeleteMe is safe to use and Abine does not sell your information; neither will they track your online activities with the information you have supplied. Information about you is stored safely and securely and used only to carry out their services. Additionally, they use 2FA to protect your account.

Rounding Up The DeleteMe Review
To conclude this DeleteMe Review, you should know that it can keep your data from the hands of people and organizations harvesting data online.
So far, I have not had any issues using DeleteMe services as I keep getting quarterly reports of progress made. Using DeleteMe takes away the stress of a DIY process for removing your data from the aggregator sites yourself.
Get DeleteMe
RELATED POSTS