Are you looking for a reliable cybersecurity awareness training company? In this post, we will show you the CyberVista review.
CyberVista training offers users a high level of learning experiences in cybersecurity. The contents are varied and well-suited to meet various learning needs.
It also includes short and entertaining videos containing detailed information and practical guides that make learning and training a fantastic experience.
What Is CyberVista?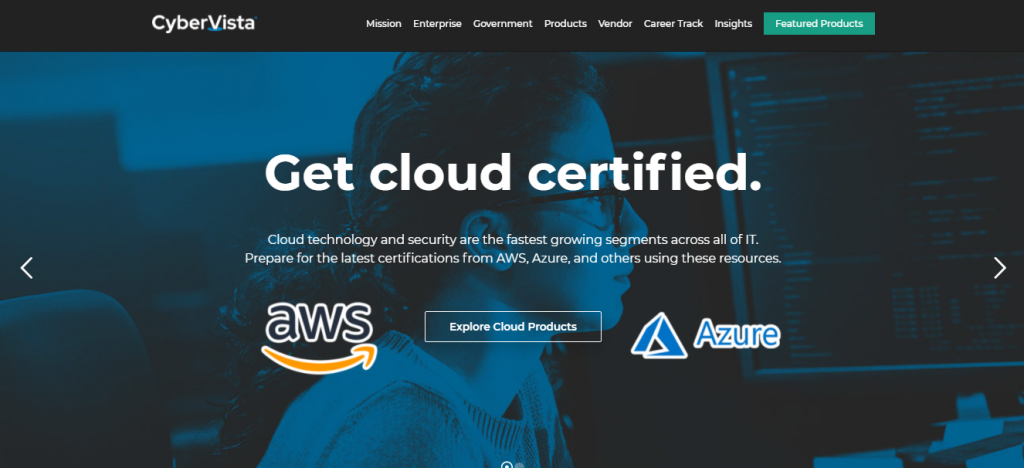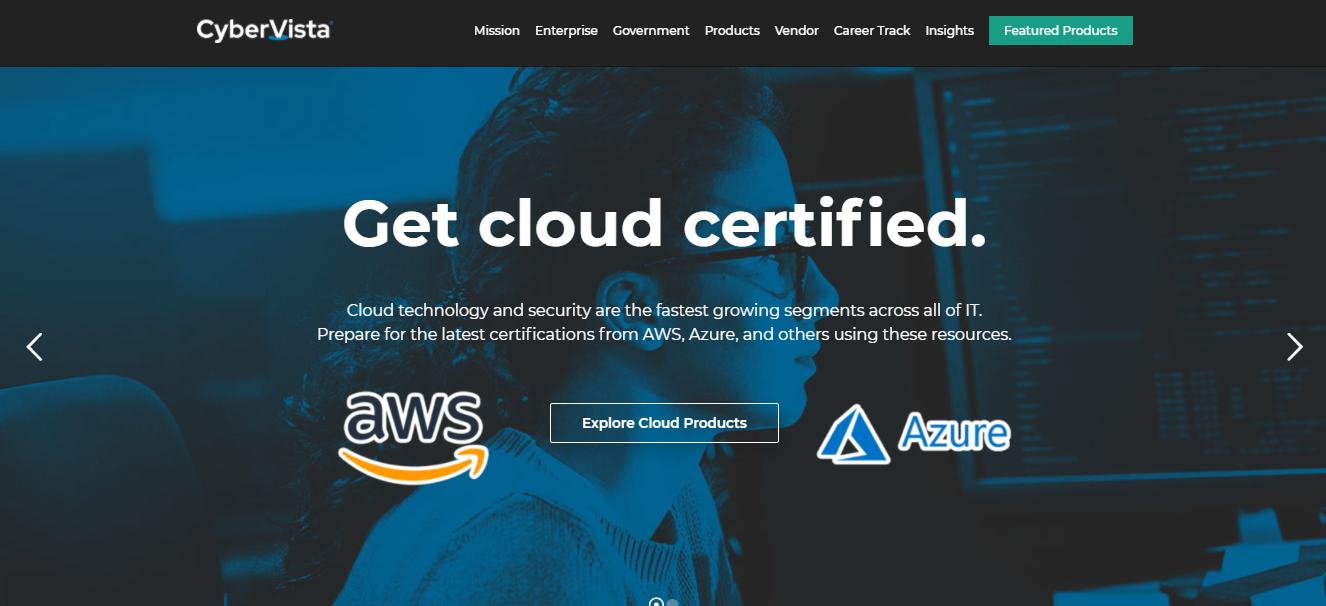 CyberVista is a cybersecurity training company launched in 2016 as a subsidiary of Graham Holdings and Kaplan Inc. to train company employees to respond to increasing cyberattacks and cybersecurity breaches. The company also focuses on training individuals on smart home compliance, IoT (internet of things) enabled devices, delivery drones, and other technological advancements.
In addition, CyberVista delivers its courses in person or online, depending on the needs of the trainee. According to CyberVista's CEO Amjed Saffarini, the company's goal is to create a cyber-literate and security-conscious workforce that can work together with security professionals to create a solid defense line against cyberattacks cybersecurity breaches.

CyberVista Use Cases
'Use Cases' is CyberVista's course section for individuals and enterprises where you get to make course selections to pursue as an individual or organization seeking cybersecurity enterprise solutions for its employees.
Common Use Cases
CyberVista's Use Cases provides individuals with Specialized, high-quality online training courses, baseline tests, practice labs and exams, and extra training materials and resources in over a hundred certifications in IT and Cybersecurity that satisfies the DoDD 8140/8570 criteria.
Enterprise Solution Use cases
Enterprise solution focuses on providing organizations with courses and career developments tailored to suit their unique cybersecurity needs. Hence, CyberVista prepares company employees to fill up security gaps in a company, thus preventing leakages and losing funds to cyberattacks and security breaches.
Training & Certification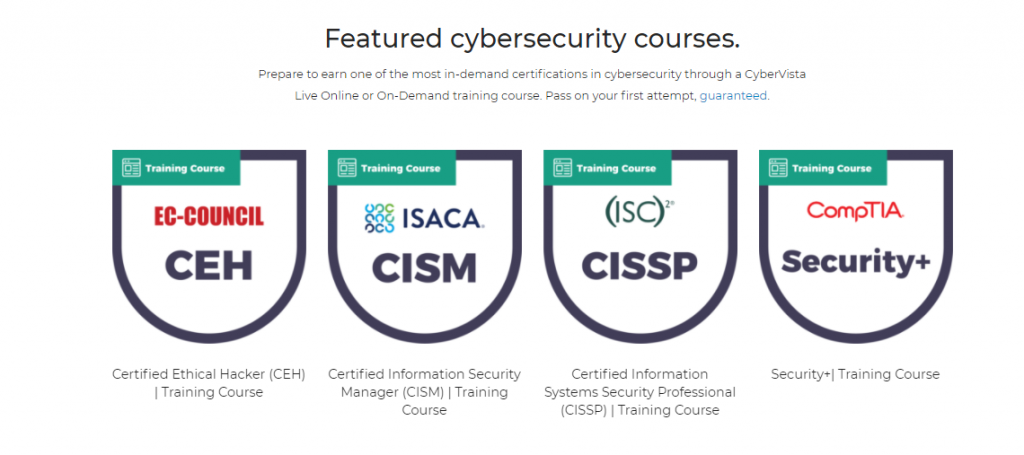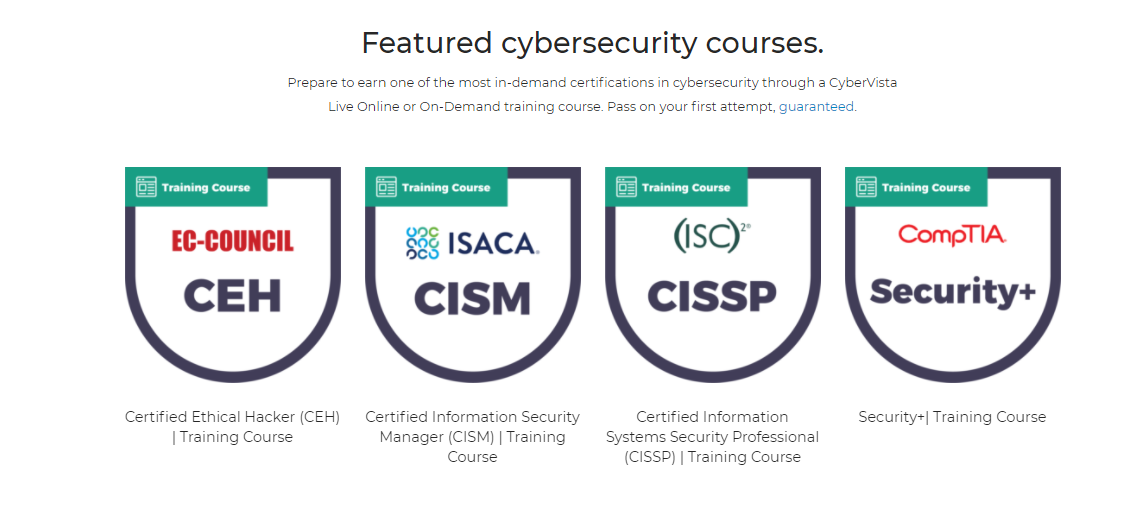 CyberVista offers a wide range of training and career developments that meet individual and organizational needs. The courses and training programs available are also tailored to prepare individuals to earn relevant industry certifications.
Risk Management
CyberVista's Risk Management training focuses on increasing cyber literacy and decision-making skills to empower a company's top executives with an objective view of cyber risks. 
Training available under risk management includes:
Cyber Risk seminars

Cyber Breach Tabletop Exercise

Executive Cybersecurity Awareness Training

Deep-Dive Cybersecurity Executive Sessions

Resolve programs
Role-Based training focuses on enhancing IT and cybersecurity skills amongst a company's workforce to build cyber-enabled teams in an organization.
Common Use cases
CyberVista's training is developed for individuals but aims to make them meet up with the workforce and organizations' IT and cybersecurity needs. Common examples of CyberVista's Use cases include:
Upskilling System Engineers for Palo Alto and other organizations

Improving skill expertise in clinical Engineering at TRIMEDX and other healthcare facilities

Improving CompTIA Security+ pass rates amongst the US military 

Role and Skill mapping of the workforce for companies including Fortune 100 tech company
Certifications 
CyberVista is dedicated to building a highly knowledgeable workforce and empowering individuals with the knowledge needed to acquire industry certifications. Hence, CyberVista has massive collections of practice labs and exams, videos, etc., to empower individuals and the workforce with the skills and knowledge needed to get industry certifications in IT and Cybersecurity fields.
In addition, CyberVista prepares individuals and company employees for hundreds of certifications in IT and cybersecurity, some of which include:
CISCO

CompTIA

GIAC Certifications

ISACA

ITIL

AWS

ORACLE

Microsoft

VMWare

ISC

AXELOS

CERTNEXUS

JUNIPER

EC-council

C/EH

CISSP

CompTIA Security+
Pricing Plans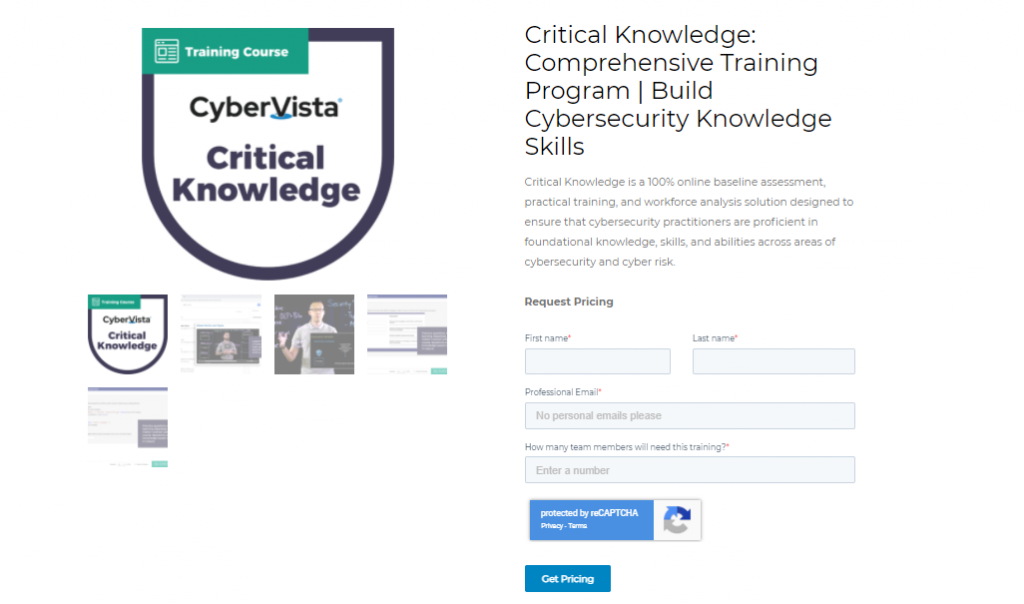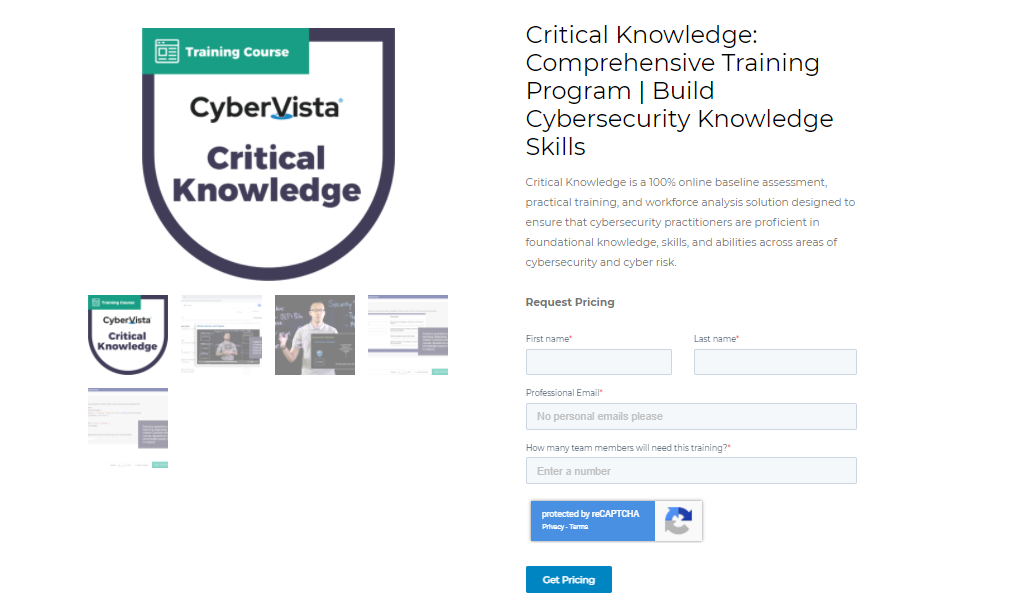 CyberVista offers a free trial for some of its courses. To enjoy the free trial, you will have to fill the 'Free Quote' Request form available at CyberVista's official website.
CyberVista does not make its pricing public, but you can get quotes of prices by filling out the 'Free Quote' form available on its webpage.
You can also choose to reach out to CyberVista's sales team via their email handle sales@cybervista.net, sales line 844-558-4782, or fill out their Contact Us form on their website. Thankfully, replies from CyberVista do not exceed 24 hours.
==>> Check Out Affordable CyberVista Alternatives: 15 Best CyberVista Alternatives For Learning Cybersecurity
Customer Support & Resources
Dedicated support services are available Mondays-Fridays for customers, while technical support is available Mondays-Thursdays via phone at 866-963-316 for users within the US +1-6085184765. You can also make complaints or ask questions by filling out its online customer form. Responses do not take 24 hours.
Wrapping Up The CyberVista Review
Now, let's conclude this CyberVista review.
CyberVista is the way to go for individuals and organizations looking to up their games or improve their IT and cybersecurity skills. Its training, materials, and resources are geared to bridging cybersecurity gaps and mitigating any form of cybersecurity attacks.
Hence, individuals can get cybersecurity skills and training needed to make them relevant in companies and organizations, while organizations get solid cybersecurity defense teams adequately prepared to mitigate against any form of cybersecurity attacks.
If CyberVista is pricier for your budget and needs, you can try other affordable options like:
All in all, CyberVista provides excellent user-friendly and customer-oriented training that has yielded impressive results for organizations and high-level pass rates in industry certification exams. 
---
INTERSTING POSTS