Is TorGuard VPN free? Read this post to find out.
VPN services are fast becoming the norm for all internet users due to privacy violations and the need to make the internet safer while enjoying other benefits of using a VPN. 
TorGuard is a VPN service that competes well with other big names in the VPN market, but it stands out uniquely for torrenting in addition to its other premium features.
Originally developed for torrenting, TorGuard has since grown to provide superb VPN services rivaling other major VPN service providers. 
This post expounds on what TorGuard stands for without neglecting TorGuard's bad side.
Now, I will answer the golden question – Is TorGuard VPN free?
Is TorGuard VPN Free? 
TorGuard is not free; besides, its premium features and services come at a cost. However, you can enjoy a 7-day moneyback guarantee during which you can ask for a refund if you're not enjoying TorGuard VPN services. Nevertheless, I will show you the TorGuard VPN pricing so you can know how much it costs.
TorGuard has various subscription plans, which costs between $9.99 to $32.99, depending on your choice of subscription plan.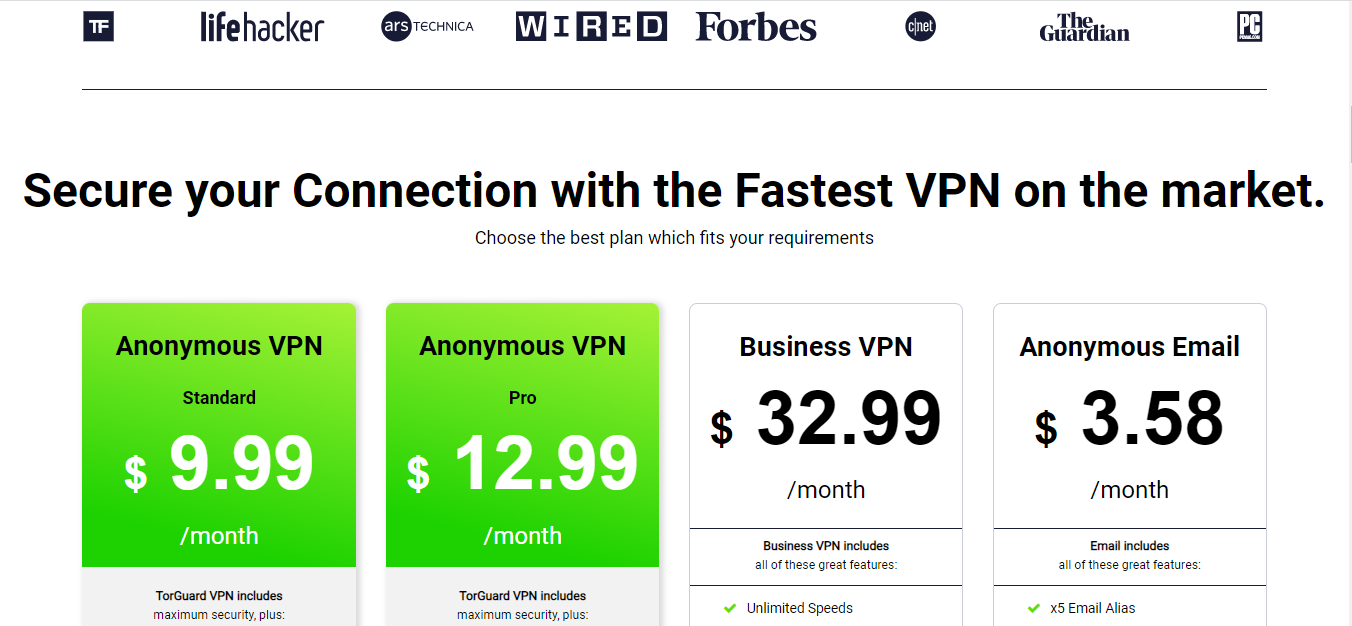 Here are the TorGuard VPN pricing plans:
1. Anonymous VPN Standard Plan
Monthly – $9.99
Quarterly – $19.99
Semi-Annually- $29.99
Annually – $59.99
Biennially – $99.99
Triennially – $139.99
Features include:
Unlimited Speeds
Unlimited Bandwidth
Port Forwarding
x8 Simultaneous Connections/Devices
3000+ servers in 50+ countries
OpenVPN / Wireguard / IKEv2
Internal encrypted DNS
Fast 24/7/365 support
No logs and 100 percent private
Supports Windows, Mac OS, Linux
Supports iOS, Android
2. Anonymous VPN Pro Plan
Monthly – $12.99
Quarterly – $34.99
Semi-Annually – $69.99
Annually – $119.00
Biennially – $179.98
Triennially – $249.99
Features include:
Unlimited Speeds
Unlimited Bandwidth
Port Forwarding
Free Dedicated IP address
Streaming Included
x12 Simultaneous Connections
3000+ servers in 50+ countries
OpenVPN / Wireguard / IKEv2
Internal encrypted DNS
Fast 24/7/365 support
No logs, no leaks, 100% private
Supports Windows, Mac OS, Linux
Supports iOS, Android
3. Business VPN Plan – Starting from $32.99 per month
Features include:
Unlimited Speeds
Unlimited Bandwidth
User Management
IP Management
Dedicated VPN Instances
Dedicated Account Manager
Secure Remote Work VPN
Isolated Secure Network
Private Email (If Required)
No logs, no leaks, 100% private
Supports Windows, Mac OS, Linux
Supports iOS, Android
4. Anonymous Email
Monthly – $8.95
Quarterly – $20.99
Semi-Annually – $38.99
Annually – $69.99
Biennially – $139.98
Features include:
x5 Email Alias
5k Email Per Day
Email Scheduling
YubiKey Strong 2FA
Secure Document Sharing
Secure Video Streaming
Secure OpenPGP Encryption
Encrypted Mail Storage
Encrypted File Storage
No logs kept, 100% private
Supports Windows, Mac OS, Linux
Supports iOS, Android
Visit TorGuard VPN for comprehensive plans and pricing packages adapted to meet your needs.
===>> Get TorGuard VPN
TorGuard VPN Features
Simple User Interface
Identifying a real good VPN starts with the Interface. TorGuardVPN has an intuitive user interface with well-laid out icons for easy navigation. You will find a list of servers optimized for torrenting, security, streaming/downloading, and countries' server list to choose from. The Connect button is displayed conspicuously, and a click on it connects you to a high-speed server by default.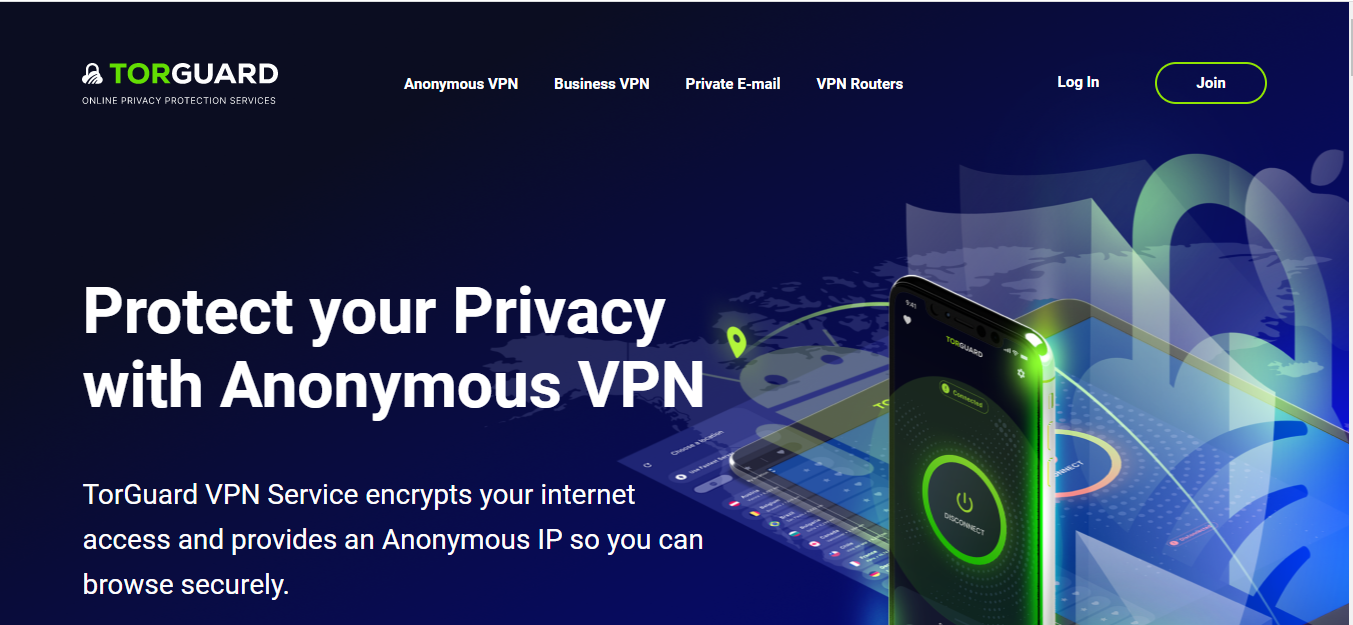 Stealth mode VPN Protocols
TorGuard VPN offers some of the most advanced VPN protocols optimized for speed and stealth. TorGuard's OpenVPN Stealth, Stunnel, OpenConnect, and Shadowsocks VPN protocols are speed and stealth optimized to bypass powerful Firewalls by making VPN encrypted data traffic appear like normal data traffic from a non-VPN enabled device, avoiding detection even by the strictest data packet inspection. Other VPN protocols used by TorGuard include OpenVPN, WireGuard, IKEv2, and L2TP
Robust Encryption Technology
TorGuard uses Military-grade encryption protocols to protect users' data traffic from being intercepted by unauthorized third parties, hackers, and even government spies even when browsing over public or unprotected WiFI networks. This encryption algorithm is so powerful that it will require more than a million years to decrypt using the world's most powerful supercomputers.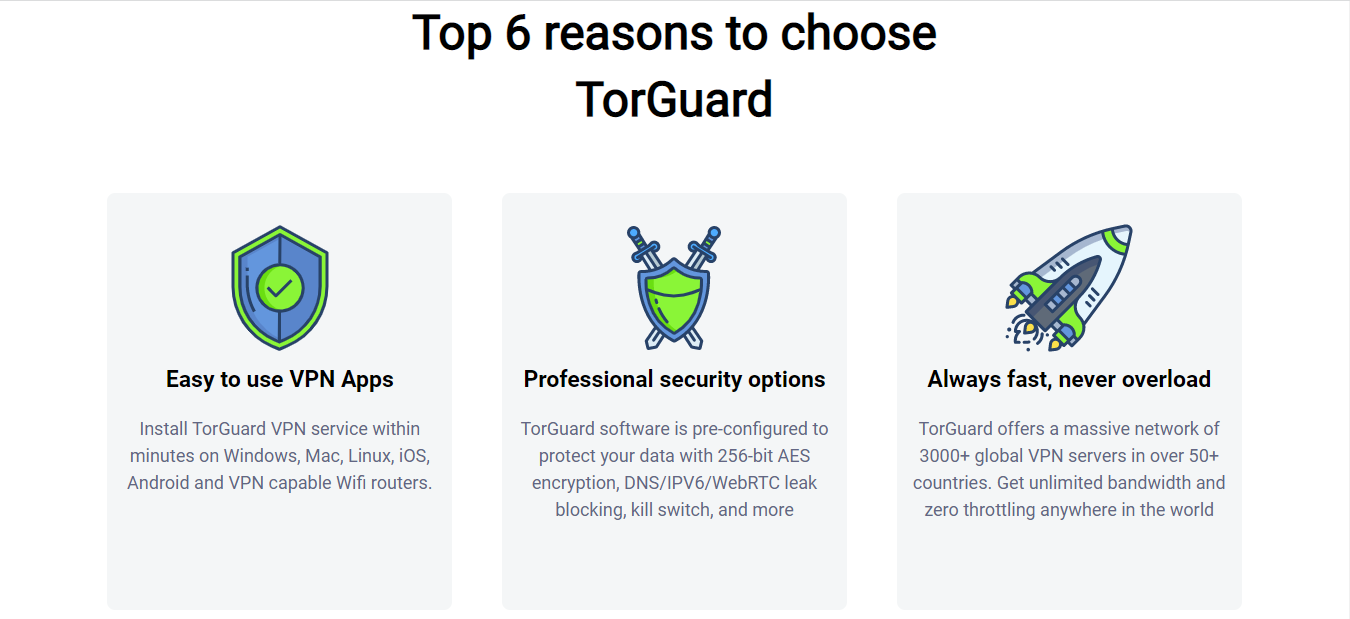 DNS, IPV, and WebRTC Leak-proof
TorGuard is configured to prevent the leakage of IP addresses and other vital identifying information via DNS, IPV, and WebRTC leakage by using a private caching system which also improves speed and data security.
Bypassing internet censorship 
This TorGuard feature allows you to bypass internet restrictions or censorships created by governments, organizations, or schools to restrict the use of social media or access to certain websites. It does this by bypassing the organization's server network and routing your data through the nearest TorGuard server to your destination web server.
Also, TorGuard can work in China by bypassing China's Great Firewall using stealth mode VPN protocols that camouflage your data traffic to evade detection by China's Great Firewall. However, you should install TorGuard before traveling to China or get in touch with TorGuard's customer support for further assistance.
Multiplatform Support
TorGuard supports various operating systems and platforms, making it a cross-platform VPN service. Popular OS and platforms supported include: 
Windows

Mac

Linux

iOS

Android

Chrome and Firefox extension

Amazon FireStick

Chromebook OS
Device Connectivity 
You can connect between 8 to 12 devices simultaneously, depending on your TorGuard subscription type. The Standard and Pro plans allow for 8 simultaneous device connectivity, while the Business plans allow for 12 simultaneous device connections.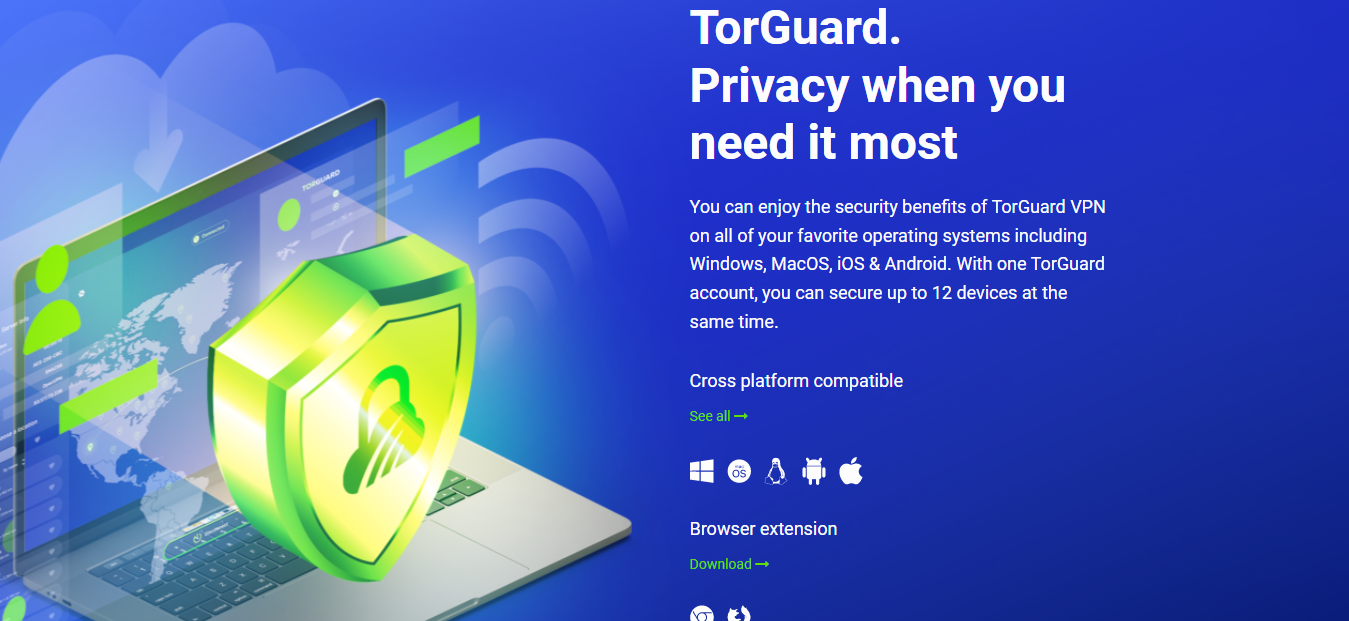 Speed performance and Torrenting 
TorGuard implies Torrenting Guard; hence, TorGuard was initially developed for secure and highspeed torrenting. Its servers are optimized for highspeed and secure torrenting, clocking up to 445.57Mbps download speed, though an average speed range between 117 to 267 has been recorded on some distant TorGuard servers.
Unblocking Geo-blocked services
TorGuard VPN helps you bypass geo-restrictions and access streaming services on popular streaming platforms. However, you might have to subscribe to TorGuard's dedicated IP address or Proxy services for streaming at additional cost if you encounter challenges accessing some popular geo-restricted streaming platforms. 
Strict no Log policy
To ensure that TorGuard stays true to its promise of internet privacy by operating a 'no-logs' policy, and at no point in time has users' data being at the stake of compromise.
Servers and Locations
TorGuard has over 3000+ servers spread across 50 countries worldwide. These servers are optimized for speed and torrenting, stealth mode, dedicated streaming, etc., at zero throttling and unlimited bandwidth.
Kill switch technology
TorGuard uses the kill switch technology to keep your data and privacy from accidental exposure by automatically disconnecting you from the internet should your VPN connection trip off due to an unstable internet connection or other reasons.
TorGuard Adblocker
TorGuard has an inbuilt adblocker that keeps out annoying ads from your device. This adblocker lets you enjoy a peaceful browsing experience without ads interference, and it also prevents the websites you visit from tracking you and collecting cookie data for advert purposes.
TorGuard Customer Support
TorGuard offers 24/7 Customer support service via the following avenues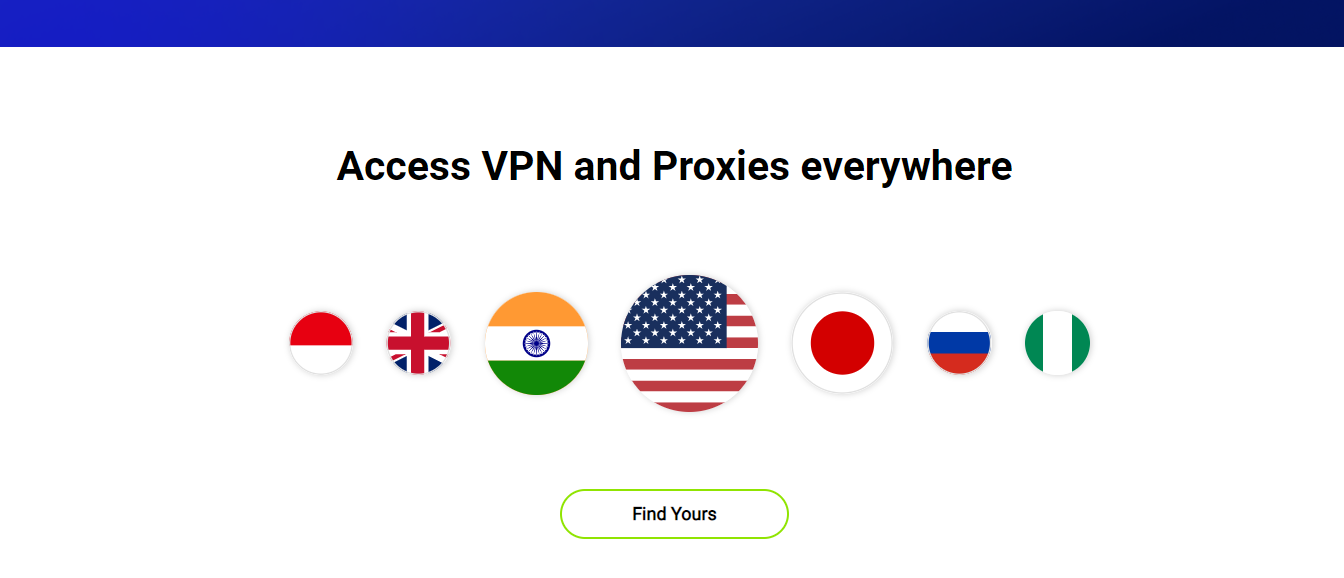 TorGuard VPN Apps and extensions
TorGuard mobile versions are available as Android and iOS apps, both downloadable from the Google PlayStore, and iTunes app store.
TorGuard is also available as Chrome and Firefox browser extensions on Chrome and Firefox app stores.
===>> Get TorGuard VPN
TorGuard VPN Pros
Large server networks of more than 3000 servers in over 50 countries

Works in China

8-12 simultaneous device connections

dedicated IP address available

Wide range of pricing options

Good customer support

Router support

Robust encryption algorithms

Stealth mode VPN protocols

High speed torrenting

Cross-platform support

No logs
TorGuard VPN Cons 
The 7-day moneyback guarantee is short

Extensive pricing and subscription plans, which can be quite confusing

Based in the US
How To Set Up TorGuard VPN on Windows PC?
The following steps will walk you through how to set up TorGuard VPN on your PC
Step1: Download and install the TorGuard VPN client from TorGuard's official website
Step 2: Log in with your login details obtained after payment
Step 3: Choose a server location to connect to. You should choose the closest server to you for speed optimization. Depending on your needs, you can switch between encryption types and VPN protocols.
Step 4: click on the 'Connect' icon to connect to TorGuard VPN. 
Step 5: Your VPN connection becomes 'verified,' meaning you're 100% secured by TorGuard VPN
Step 6: Tap the 'Disconnect' button to disconnect from the TorGuard VPN service.
Visit TorGuard's setup page on how to get started on Android, iOS, Linux, Chrome, and Firefox for a detailed guide on setting up TorGuard on various OS and platforms.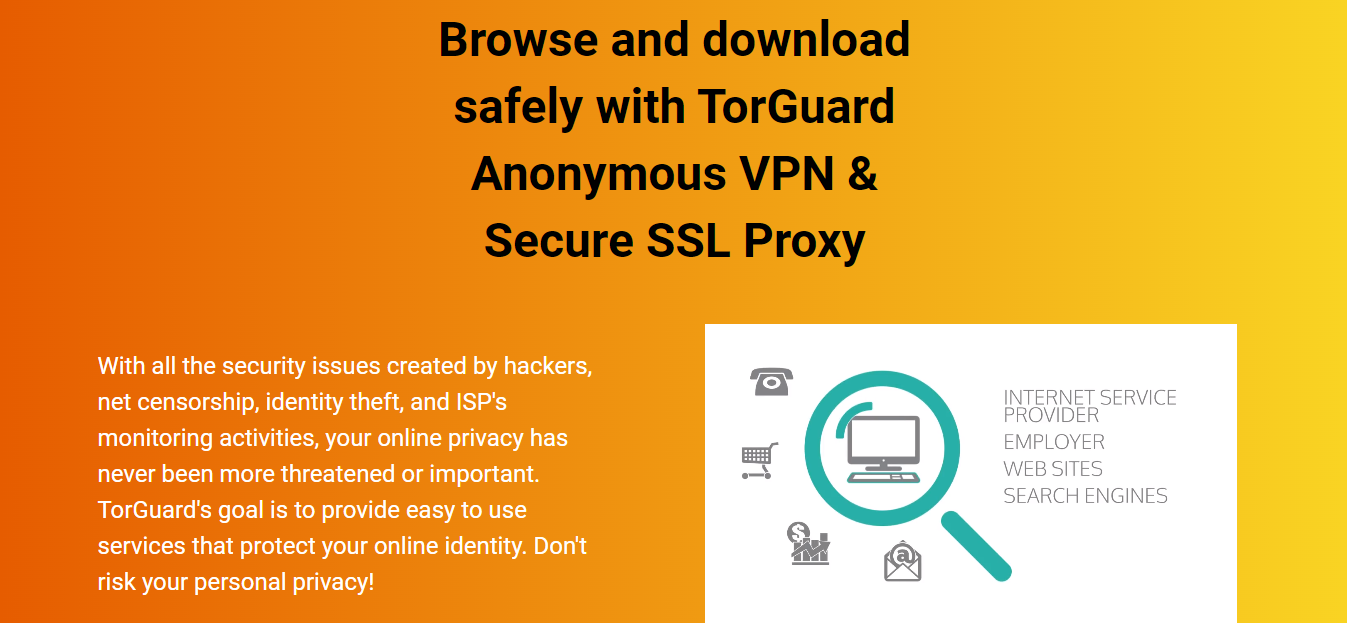 Is TorGuard VPN Safe? 
TorGuard VPN is safe to use. Its robust security feature masks your IP address and prevents data leakage using its private DNS.
TorGuard uses stealth mode VPN protocols to camouflage data traffic from your device to evade detection by Deep Packet Inspection used to detect and block VPN-encrypted data traffic. Also, its kill switch technology ensures that your data and privacy remains protected by disconnecting your internet service should your VPN connection trip off.
Is TorGuard VPN Any Good?
Of course, yes! TorGuard VPN is safe to use. TorGuard's rich features make the internet a safer place for you without the menace of third-party trackers, hackers, spies, government interference, etc.
Is TorGuard VPN Worth It? 
Yes, TorGuard is worth every penny you spend on VPN. Its excellent torrenting ability, no logs policy, a vast network of servers, kill switch, cross-platform compatibility, and a host of other features make TorGuard a worthy VPN service to subscribe to.
Wrapping Up The TorGuard VPN Review – Is TorGuard VPN Free?
If you need a good VPN optimized for speed, stealth, security, and torrenting, then TorGuard VPN is a recommended VPN service that can offer you more than what you seek. Its additional features make it an exceptional VPN service that stands out among other top VPN providers.
===>> Get TorGuard VPN
---
INTERESTING POSTS