Here's the Alpha Hosting review.
In this review, I will be taking a closer look at the benefits of Alpha Hosting, its features, pricing plans, and the customer support experience that they provide.
Alpha Web Hosting has been in the hosting business for over a decade now. They have been providing specialized eCommerce hosting solutions with top-notch web-hosting facilities and technical support management.
They power more than 30,000 Magento eCommerce stores, and have registered over a hundred thousand active domains.
But, before we proceed with the Alpha Hosting review, let's answer the question – What is Alpha Hosting?
What Is Alpha Hosting?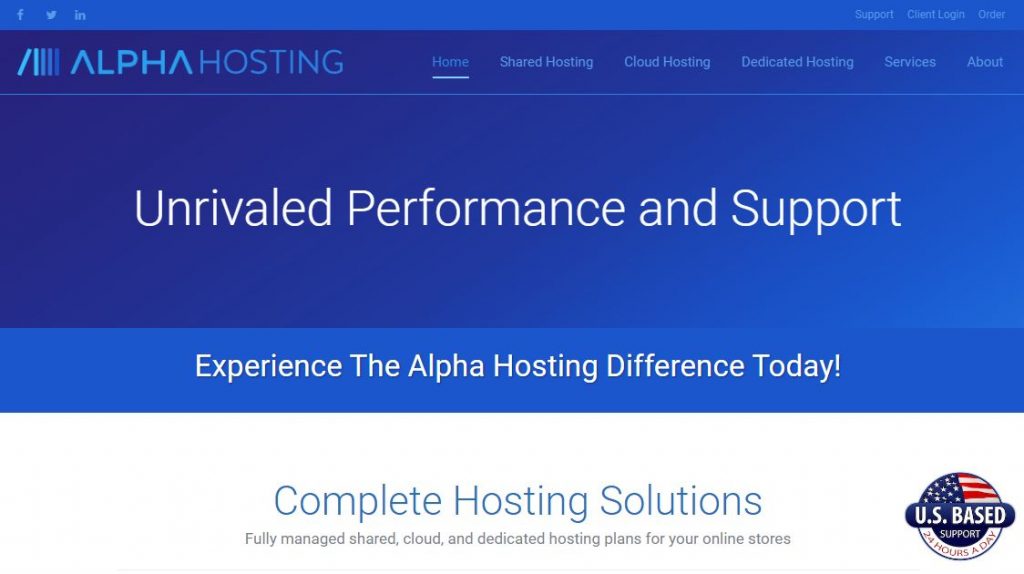 Alpha Hosting is a web hosting company that provides advanced web hosting solutions for websites and eCommerce platforms.
With a commitment to help websites and eCommerce platforms create a robust online presence, Alpha Hosting has been providing one of the fastest, reliable, and dedicated hosting services enjoyed by clients in the web hosting market.
Why You Should Use Alpha Hosting?
Alpha hosting services provide highly competitive web hosting solutions for websites and eCommerce platforms. Their web hosting platform offers the following benefits for business owners:
Optimized, High-speed performance
Online presence starts with web hosting. They provide advanced hosting services to optimize websites for high-speed connectivity. Alpha Hosting understands the relationship between fast webpage loading and conversion rate. Therefore, with their decade-long experience, they can provide high-speed web loading solutions to their numerous clients.
Uptime is the duration at which your website is available and running. Alpha Hosting understands the importance of ensuring that your website remains online and running, thus ensure that your website or eCommerce platform enjoys 99.99% uptime with only a few hours of downtime in a year for maintenance.
Security is at the center of Alpha's Web hosting success story. Alpha Hosting provides web hosting security at all levels. There are measures to keep your website protected from other websites sharing the same server with you. Also, there are Firewall security measures to keep you safe from DDoS, malware, SSL, Firewall attacks, and other forms of threats that can compromise your website security.
Based on plans and pricing, the lowest bandwidth a website on a shared hosting plan can enjoy is 10 GB per month. Sites hosted by Alpha Hosting can enjoy unlimited bandwidth based on their hosting plans and subscriptions.
Alpha Hosting understands the importance of fast resolution of technical issues that can cause downtime for your website. Hence, they have put in place some of the most experienced professional support teams to provide swift solutions to customers' issues, complaints, and inquires.
Alpha Hosting Features & Services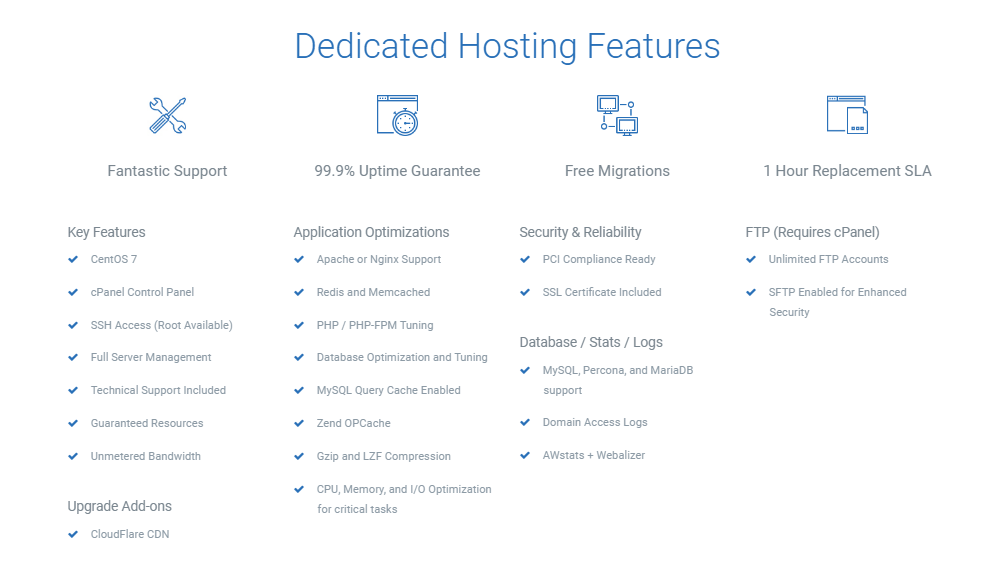 Alpha Hosting unique blend of features sets it apart from other web hosting services. Their major features and services include:
Privately owned datacentre 
They have a privately owned well-equipped data centers accommodating over a thousand servers with a combined throughput of 100GBps transit. This ensures that websites and eCommerce platforms enjoy high-speed loading with voluminous output.
READ ALSO: The Ultimate List Of Geo-restricted Streaming Services
Alpha Hosting deploys several server brands with blade-style system from the industry's leading server providers to ensure that websites and eCommerce platforms enjoy high-speed performance, reliability, and scalability.
Alpha Hosting services combine high performing servers with the latest software innovations in web hosting technology to ensure that web owners enjoy a top-notch performance with reliability and scalability.
With simplified user interface and cPanel, users can easily manage their domain names, emails, files, and databases.
Alpha Hosting services have a specialized hosting environment for delivering the best eCommerce hosting solution. They have specialized experts for the installation and maintenance of eCommerce CMS like Magento, WordPress, and Woocommerce. Therefore, website owners can enjoy high-level eCommerce hosting solutions.
They facilitate various security services including SSL certificates, Google Solutions, and Cloudflare CDN.
Alpha Web Hosting offers hosting services tailored to suit the needs of its customers. Popular hosting services available include:
Shared hosting services
Cloud hosting services
Managed Cloud Hosting
Enterprise Hosting
Dedicated hosting
READ ALSO: 6 Best Secure Web Hosting For Web Designers
Alpha Hosting Pricing Plans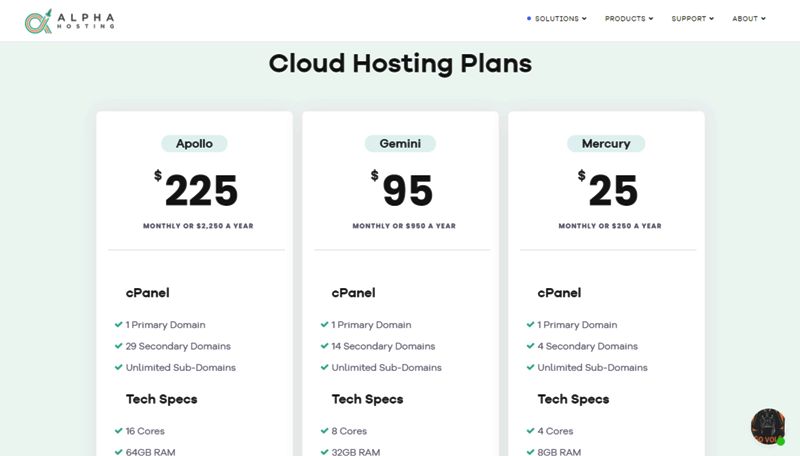 Alpha Hosting has various pricing plans that vary based on their customers' needs.Their most popular hosting packages include:
Apollo Plan: $225 per month ($2,250 per year)
Gemini Plan: $95 per month ($950 per year)
Mercury Plan: $25 per month ($250 per year)
Now, before we round up this Alpha Hosting review, let's highlight their customer support and resources.
Customer Support & Resources
Another exciting perk about this web hosting provider is that they have a strong support team that ensures a swift resolution of customer issues and complaints.
Additionally, they provide 24/7 customer and technical support services via:
Toll-free helplines
Livechat
Direct email support
Support tickets
Alpha Hosting Alternatives
Here are the best alternatives to Alpha Hosting:
Wrapping Up: Alpha Hosting Review
Alpha Hosting provides highly-competitive hosting services for shared hosting, cloud, and dedicated hosting with a specialty in WordPress and eCommerce platforms. Also, clients enjoy a variety of services, including Google Solutions and Cloudflare CDN, all within affordable price ranges.
---
INTERESTING POSTS