Here's the Panda Dome Premium review.
Daily technological advancements result in increasing cybersecurity threats and concerns. Hence, device users worry more about staying safe and one step ahead of cybersecurity threats. Years back, the traditional antivirus is just enough to protect users' devices. 
Presently, to remain protected online and offline, users need more advanced cybersecurity solutions, which will include a robust antivirus engine, VPN, password manager, firewall, file shredder, parental control, etc.
Panda Dome Premium antivirus suite is an all-in-one privacy and security solution that features a host of security and privacy tool for all-round protection. 
In this Panda Dome Premium review, I will be giving detailed information about its features and how you can get the best of it.
What Is Panda Dome Premium?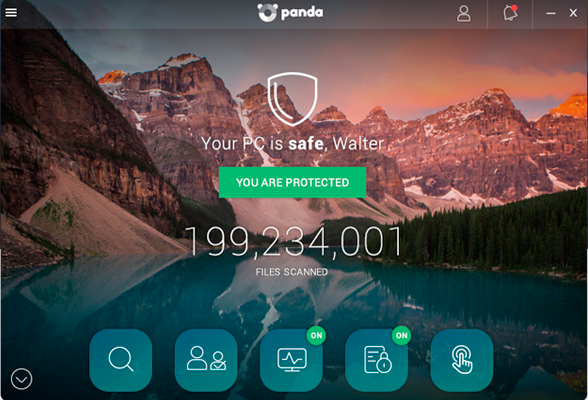 Panda Dome Premium from Panda Security is a privacy and security suite ideal for privacy protection, device security, and performance enhancement. 
It features cross-platform privacy and security tools such as a robust traditional and cloud-based antivirus engine, VPN, parental controls, Data protection, password manager, and other features you may not likely find in other premium antiviruses. 
These features make Panda Dome a perfect choice of antivirus suite for family protection.
Panda Dome Premium Features
A complicated interface means users get lost trying to navigate their way with an application. I am impressed with Panda Dome's interface, its usability, and its well-laid-out icon, making it easy for tech and non-tech-savvy users to navigate and find their way around Panda Dome's rich features.
Panda Dome has the right window size with well-laid out icons that also shows text when you hover your mouse pointer on any of the icons.
The first icon is the 'Scan' icon, which gives you three other options; scan critical areas, full scan, or Custom scan. Other tools you will find on Panda Dome's home screen include premium VPN, Cloud Cleaner, recovery kit, Parental control, optimization tools, etc.
Panda Dome Antivirus Engine 
Panda has a robust AVR engine that can detect and block malware types such as viruses, Trojans, worms, ransomware, spyware, etc. 
Panda Dome scaled through various tests conducted at home and in the lab with infected files and systems. It was able to clean out infected systems as well as blocking infected files. Panda Dome had an almost perfect score of 9.8 out of ten; I would rate its performance the same too.
On clicking on the scan icon, users can choose to perform any of the three scan types.
Critical Areas:

This option lets you scan running processes, PC memories and registries, and other locations that can harbor malware.

Full Scan:

This option lets you run a full system scan

Custom Scan:

This lets you scan selected files and folders.
Panda Cloud Cleaner is a robust cloud-based antimalware scanner far more sensitive than the traditional antivirus engine. It can detect and remove new and existing malware threats faster than the conventional antivirus engine. 
In my opinion, Panda ought to integrate its cloud-based cleaner with its traditional antivirus engine. Instead, users can only access this feature from the Rescue Kit section.
When malware prevents your system from booting up, the only way of cleaning such a system will be to boot from an antivirus kit such as a rescue USB drive. 
Panda Dome Rescue Kit lets you create a bootable rescue USB drive you can use to rescue other systems from malware infections by booting from the Rescue USB drive. This feature is not a regular feature you encounter with typical antivirus programs; for this, I will give Panda a thumbs up. 
One fantastic feature of this rescue kit is its speed and efficiency. Cleaning up a system with the rescue kit option is one of the fastest I have witnessed. Within 20 minutes, I had an infected system cleaned up and all working perfectly. Rating its performance, I would rate it a 10 out of 10.
With Panda Dome VPN, you can choose from a list of 22 server locations, enjoy protection on Wi-Fi networks, internet anonymity and protection from online trackers, and access to restricted websites and geo-restricted media streaming platforms like Netflix, Spotify, Hulu, BBC iPlayer, etc.
Although Panda's VPN doesn't have a kill switch, it still has decent upload and download speed. Plus, it incorporates robust encryption technology to protect users' data traffic from hackers, spies, and other cybercriminals.
Panda Dome Parental control 
Panda Dome Parental Control feature gives parents just what they need to monitor their children's online and offline activities. Testing this feature as a parent, I monitored my kid's online activities, location, and screen time. I could also restrict him from accessing inappropriate applications and websites by blocking out such and many more functions.
Additional Panda Dome features include:
File encryption and Shredder:

This feature protects your file from unauthorized access, and also let you delete confidential file beyond recovery.

PC Cleaner:

This tool lets you clean up your PC by freeing up space on your hard drive, optimizing PC boot time, defragmenting PC hard drive, and scheduling PC cleanup.

Password Manager:

This feature lets you create, manage, and save passwords.

Firewall:

Protects against malicious inbound and outbound data traffic

Virtual Keyboard:

This protects your accounts, passwords, and financial details from keyloggers recording inputted keystrokes remotely.

Web Protection:

This feature can detect and block out malicious websites and links, including phishing sites.

Anti-theft tools:

When activated, this tool can track devices' location and wipe off all data from missing devices.
Technical Details
Supported devices and OS: Windows, Mac, Android, iPhone, Web-based
Pricing model: Monthly and annual subscription
Customer types: individuals, businesses, and corporate organizations
Mobile applications: Android, iOS
Panda Dome Premium Pricing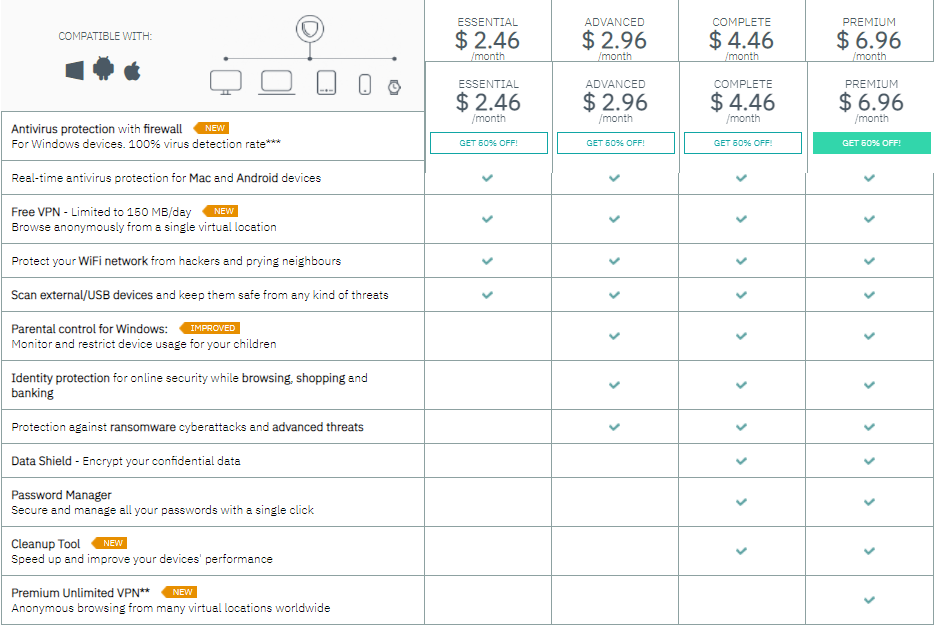 Panda Dome Premium has pricing plans tailored to meet the needs of individuals, businesses, and organizations. New users enjoy a 30-day trial period and a 30-day moneyback guarantee.
Available Panda Dome plans are listed below
Panda Dome Essential
Price: $35.39 per year; $4.99 per month
Features
Malware protection

Firewall protection 

Wi-Fi protection 

Rescue Kit for external devices
Panda Dome Advanced
Price: $53.24 per year; $5.99 per month, first month free
Features
All Dome Essential features

Protection against cyber attacks

Data protection

Password manager

PC optimizer
Panda Dome Complete
Price: $80.24 per year; $8.99 per month, first month free
Features
All Panda Complete features

Premium VPN

24/7 unlimited support
Panda Dome Premium
Price: $125.24 per year; $13.99 per month first month free.
Features 
All feature of Dome Complete

Parental control

Update manager

Other premium features.
Is Panda Dome Premium Safe?
Panda Dome is safe to use as a privacy and security suite. It has a robust traditional and cloud-based antivirus engine that ensures that your system stays safe and free from new and existing malware infections. 
Also, it has other privacy and security tools such as VPN, parental control, password manager, file shredder, etc., that ensure that users' data and privacy are protected even when surfing online as anonymous users.
Conclusion 
So, let's conclude this Panda Dome Premium review.
Overall, I will recommend Panda Dome Premium as the antivirus of choice for its robust antivirus engine and tons of features that ensure users enjoy all-around protection, whether online or offline.
---
Suggested Reads