This post will show you how to securely send and receive fax online with iFax. How often do you send faxes or receive them? If you answered yes, then you should definitely try out iFax. This service allows you to securely send and receive faxes from anywhere in the world.
Sending faxes has become obsolete since email became widely accessible. Nowadays, sending faxes is only useful for those who want to send urgent documents to their clients or partners.
With iFax, you can now send and receive faxes securely over the Internet. The service uses a secure connection between sender and recipient. Once the document is sent, it can be printed or saved as a PDF file.
Faxing was a major way of sending and receiving documents via telephone lines using fax machines before the advent of emails. Even now, in the internet era, faxing remains a major way of sending and receiving documents. However, with iFax, you no longer need telephone lines and fax machines to send or receive documents.
I will be reviewing in detail every piece of information you need to know about iFax, including safety and pricing.
==>> Get iFax
What Is iFax?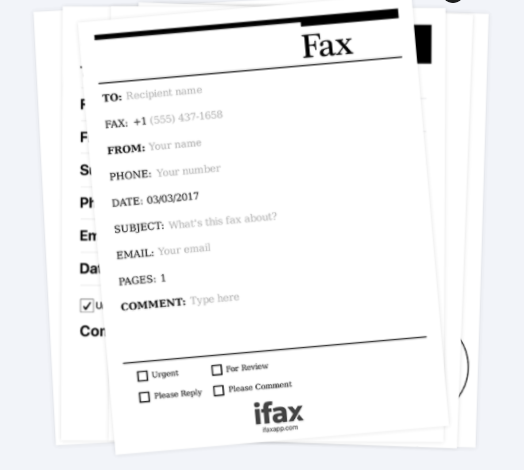 iFax is a world-class online faxing solution that lets you send and receive fax over the internet on any device without needing a telephone line or fax machine. Hence, iFax makes faxing simpler, cheaper, and easier than conventional faxing, which relies on expensive fax machines and telephone lines.
iFax gives you the advantages of using custom software to fax and store sent or received faxes in a secure cloud-library that you can access online from any device. Lastly, you can send and receive fax from any device, be it a desktop, laptop, phone, or other mobile devices, even while you're on-the-go.
How Does iFax Work?
You do not need any special skills to use iFax. Unlike conventional faxing, all you need is getting a fax number to send and receive faxes.
Below are the detailed steps on how to send and receive faxes with iFax.
Visit their official website

 from a web browser either on a PC or phone, or download the iFax app for Android, iOS, Windows, or Mac to get a fax number.

Click on 'Get a fax number,' and iFax will generate a fax number you can start using to send and receive faxes. With the iFax number, you can start sending and receiving faxes online, via email, or iFax apps.

Click on 'send a fax' to start sending fax.

Choose a cover template for your fax.

Add comments and digital signature in the comment section. This step is optional. Therefore, you can skip it if it is not necessary.

To attach and send documents, click on the 'Add attachment' tab and choose to scan the document with the inbuilt iFax scanner feature, or attach the document from your folder.

Click on the 'Send' button to send your fax. You will get a notification immediately after the receiver received the fax. 
To receive a fax
Log into your iFax account on any web browser or iFax app.

Click or tap on the 'Inbox' icon to view received faxes.

Click or tap on any received fax attachment to download, open, and view your fax page.
==>> Get iFax
iFax Features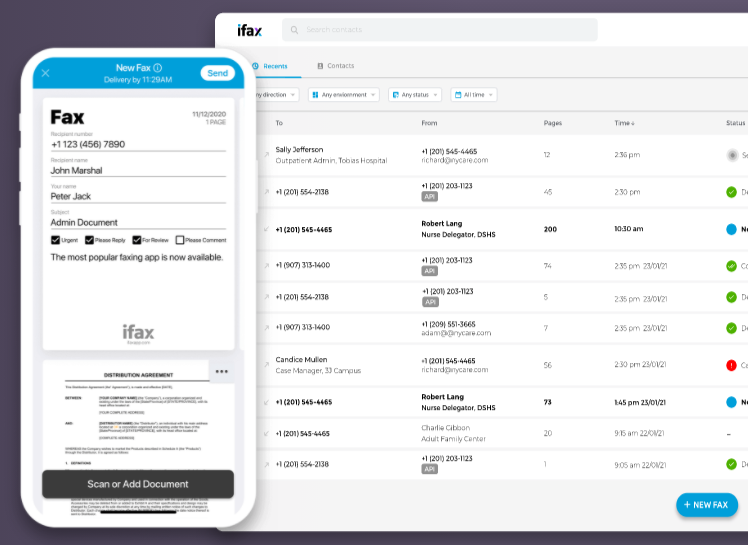 Like conventional faxing, iFax is a highly secure means of sending and receiving faxes. It complies with the HIPAA and GLBA standards, which are high faxing standards every faxing service provider has to comply with. iFax also uses the 256-bit SSL end-to-end encryption to ensure that sent faxes are highly secured and protected.
Ifax Mobile app has a built-in scanner feature that scans documents for faxing. With the scanner, you can scan and fax multiple documents. You can also choose to upload documents from your device or cloud storage.
Customizable cover page templates
iFax features cover page templates you can customize to suit your needs. You can customize your chosen cover page template with your company logo, notes, signature, etc.
Send and receive faxes instantly
With your fax number, you can send or receive faxes instantly. You can get a fax number on iFax from any country or area code and start sending and receiving faxes instantly from any location in the world on any device.
Optimized for mobile devices 
iFax is optimized for use on mobile devices irrespective of your location. You also instant notifications in real-time for sending or receiving faxes.
iFax Apps

You can access your iFax account online on any browser of your choice using iFax web. 'Get a Fax Number' to register an account with iFax. iFax app.
iFax app is available for download on Android, iOS, Windows, and Mac platforms. The app is cross-platform; thus, you can send and receive faxes worldwide from any device or OS. Visit iFax's official webpage to download the iFax app for your devices.
With iFax, you can also receive your faxes by email the same way you would in your iFax account, whether using the app version or web version.
iFax Pricing – How Much Does iFax Cost?
iFax has three monthly subscription plans
iFax Plus: for personal use
This plan costs $8.33 monthly. This plan allows you to send a maximum of 200 pages of fax monthly.
iFax Pro: for small businesses
This plan allows you to send and receive a maximum of 500 fax pages monthly, and it costs $16.67 monthly.
Enterprise: for large businesses and corporations
This plan lets you send and receive over a thousand fax pages monthly. You can choose to customize this plan; hence pricing for this plan varies. You can get the cost of this plan after requesting a quote.
==>> Get iFax

How To Get The iFax Free Trial?
To get an iFax free trial, download and install the iFax app for Windows, Mac, Android, or iOS devices.
Is iFax Safe?
iFax is safe to use. It is one of the safest and secure internet faxing solutions you can use. It uses the 256-bit military-grade SSL end-to-end encryption technology to encrypt faxes. It also complies with the HIPPA and GLBA standards. Therefore, you can send faxes online from a browser or using an iFax app without worrying about the safety of your fax. 
Conclusion
iFax is the 21st-century faxing solution for sending and receiving faxes from anywhere and on any device. Hence, you don't need to be in an office equipped with a telephone line and faxing machine to send or receive a fax. It is also as secure as using the traditional faxing method since it complies with high faxing standards.
==>> Get iFax

---