Here is the Heimdal Security review. Are you looking for a security solution to protect your device from the many dangers online? Well, I was once in the same position. And truthfully, the many solutions available can be overwhelming, making it challenging to settle on one.
After many searches, I came across Heimdal Security and decided to try the software. The initial interest was because the software promises complete protection from all cybersecurity dangers. In this post, I'll share my first-hand experience using Heimdal Security.
So, if you're like me and you're considering using a versatile cybersecurity solution, this Heimdal Security review will help. In the end, you'll learn about its features, pricing, and how it compares to some alternatives.
Let's get into the Heimdal Security review.
What Is Heimdal Security?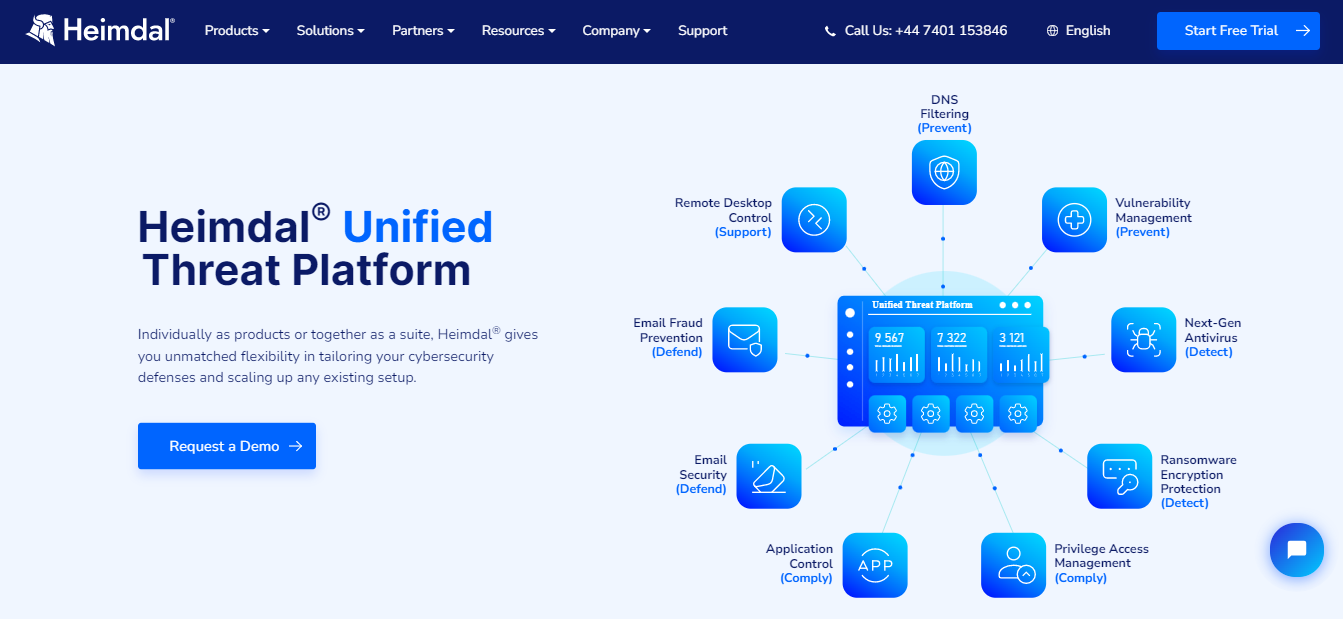 Heimdal Security is a device protection solution. It comes with a comprehensive, unified threat platform that can defend your devices from several cybersecurity harms. In particular, the unified threat platform includes the following:
Email fraud protection
DNS filtering
Remote desktop control
Next-Gen antivirus
Ransomware encryption protection
DNS filtering
We'll subsequently discuss most of these features and my experience using them in detail. Besides the unified threat protection system, Heimdal includes Patch & Asset Management and Admin Rights Management. These are advanced features you'll appreciate if you're an enterprise user.
It's worth noting that Heimdal boasts more than 10,000 business users. The number of individual users is even higher, which is a testament to the platform's reliability.
Furthermore, top platforms like Trustpilot, Capterra, G2 Crowd, and even Reddit all rate Heimdal Security solutions highly.
60% OFF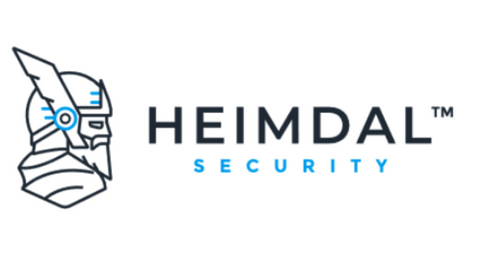 All of these were influential in my decision to use Heimdal Security.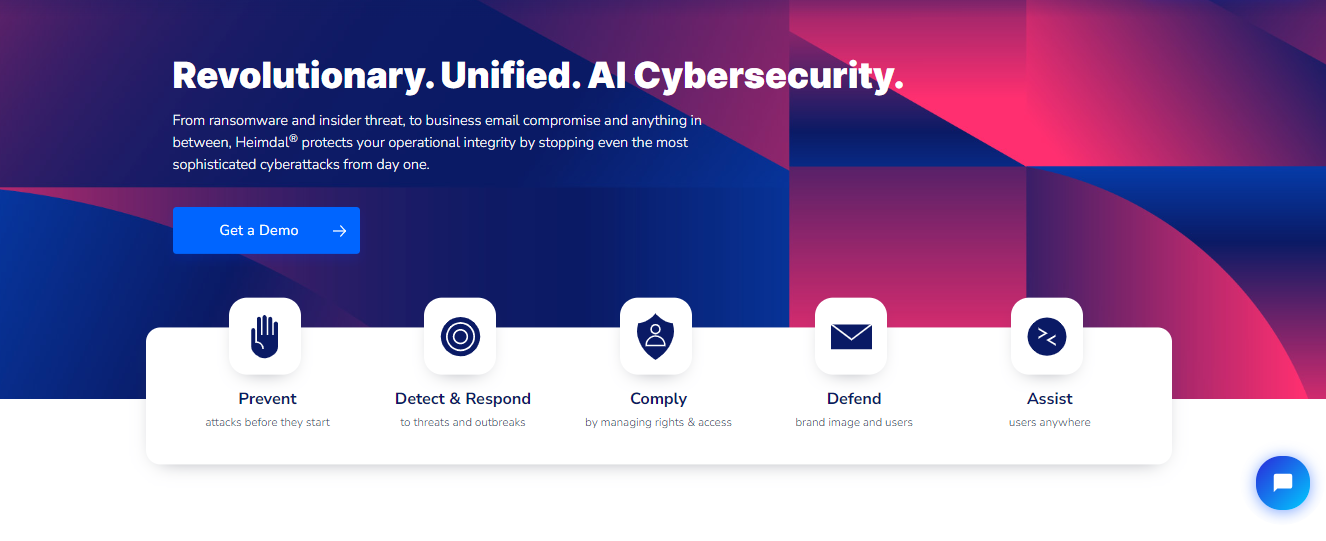 In my experience, the protection software employs a five-step approach to cybersecurity. These include:
Prevent: First, the software aims to stop attacks before they manifest.
Detect and Respond: Suppose your device is already penetrated by cyber threats. In that case, Heimdal Security will detect and attend to the associated files accordingly.
Comply: While fighting off digital dangers, Heimdal Security always stays on the good side of the law. The tool ensures your rights and access are handled as they should.
Defend: The Defend approach primarily targets businesses. If you're one, you can count on Heimdal Security to protect your brand image and customers.
Assist: whether you're a business or individual user, you can get help managing your cybersecurity anytime, anywhere.
Heimdal Security started by developing security add-ons for antivirus software. With the widespread success of its add-ons, Heimdal Security decided to upgrade its services to combat the rising incidence of cybercrimes by launching its Thor series.
A traditional antivirus only has a layer of security but Heimdal stepped up its game by offering an antivirus and a traffic monitoring application in one package.
Heimdal Security has four major products namely:
Heimdal Thor Free
Heimdal Thor Vigilance
Heimdal Thor Foresight
Heimdal Thor Premium
Heimdall Security has two classes for all products excluding Thor Free – Home (for individuals) and Enterprise (for organizations). Let's take a brief look at what these products offer.
Thor Free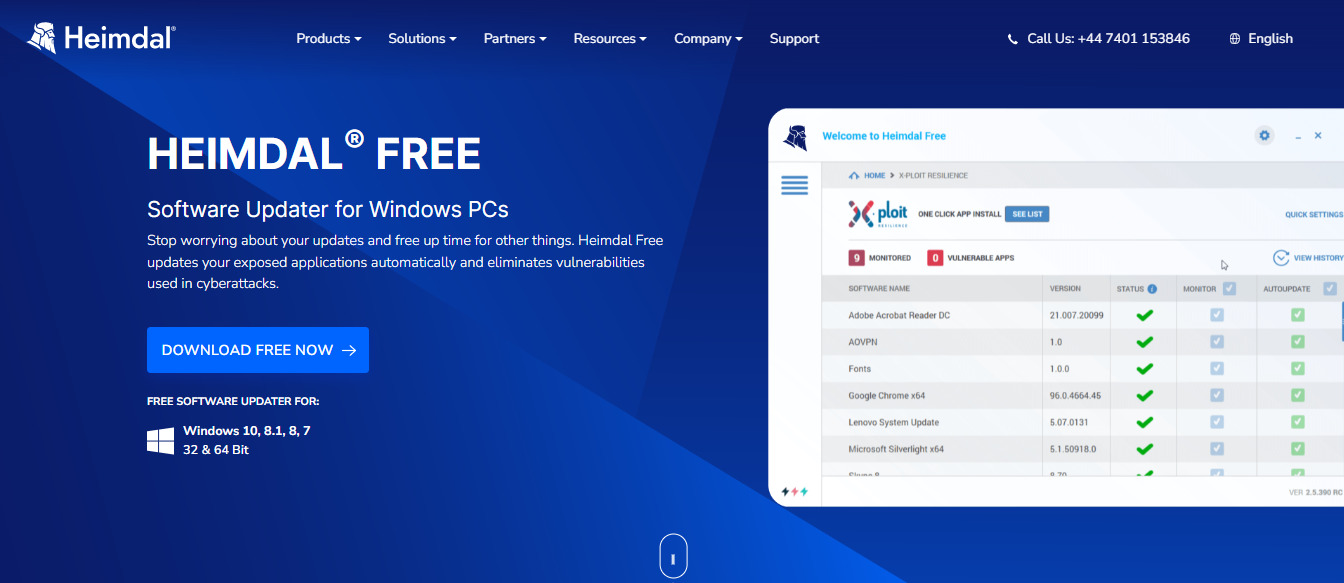 The Thor Free package increases your PC's security by monitoring and automatically updating outdated applications. Outdated applications are often vulnerable to cyber-attacks; therefore Thor Free helps you update your applications in the background.
It saves you the stress of constantly checking for outdated apps and it prevents you from downloading infected updates. Thor Free also provides you with free and fast installation of popular applications with a single click.
And you guessed right. It's absolutely free to use!
Thor Vigilance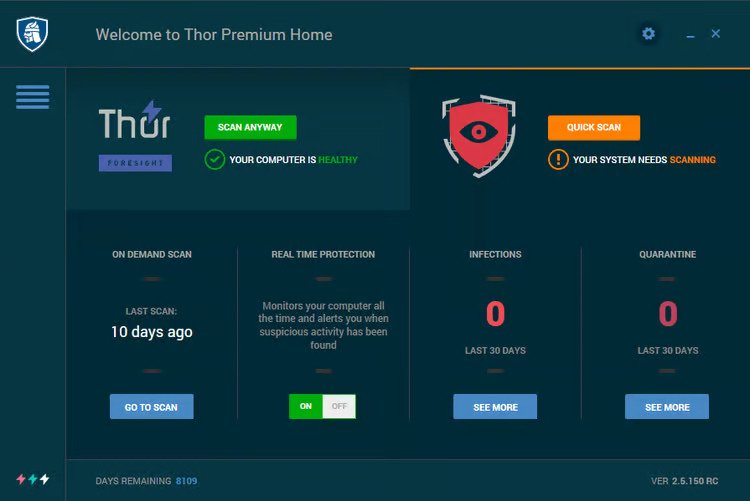 Thor Vigilance is Heimdal's antivirus system. Thor Vigilance protects you from malware and viruses by using some of the most sophisticated malware detection technology. It also offers a comprehensive range of scanning options (seven options) you can find in any antivirus.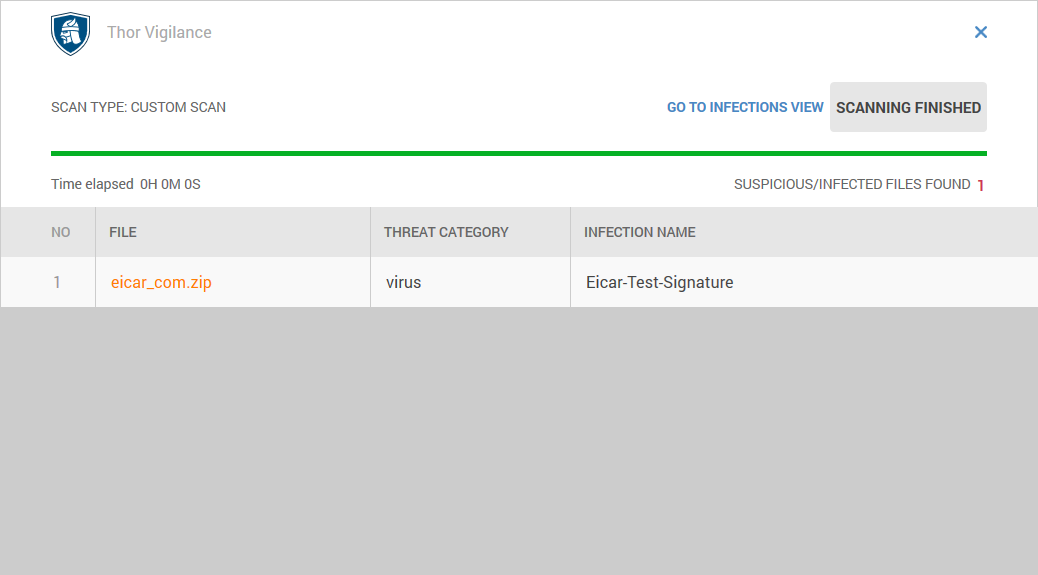 Thor Vigilance makes use of signature code to scan your local files to detect malware, viruses, data leakage, and other threats. Unknown files are sent to its cloud system for more scanning. It also makes sure your firewall is on at all times to protect you from online threats.
Thanks to Thor Vigilance, home, and enterprise users can have access to next-generation technology that is absent in regular antivirus applications.
Thor Foresight
Heimdal Security created Thor Foresight as a proactive internet security add-on for antivirus applications. Thor Foresight protects you from cyber-attacks by scanning your internet traffic for malicious content and filtering out cyber threats before they reach your computer.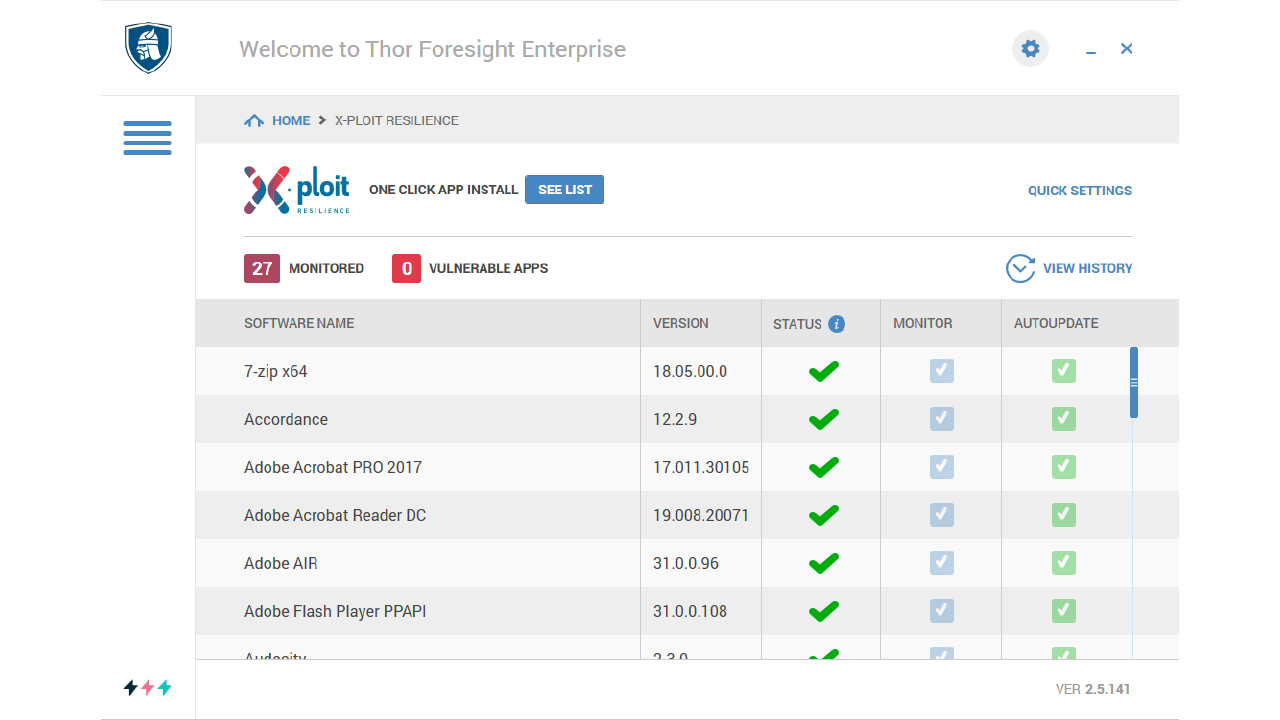 Apart from being fully compatible with any antivirus in the market, Thor Foresight provides three layers of protection – Xploit Resilience, VectorN Detection, and Darklayer Guard.
Xploit Resilience is responsible for automatic updates of your applications. It also offers Compliance, Vulnerability, and Software Asset Management.
VectorN Detection identifies malware that no Antivirus or Endpoint platform can detect by using Machine Learning Detection.
Darklayer Guard is a two-way traffic filtering engine that blocks network communication at DNS, HTTP, and HTTPS level to mitigate Zero Hour exploits, next-generation attacks, Ransomware C&Cs, and data leakages.
This is a unique product that stops second-generation attacks that no antivirus can detect from coming close to your computer. Thor Foresight is available for home and enterprise users.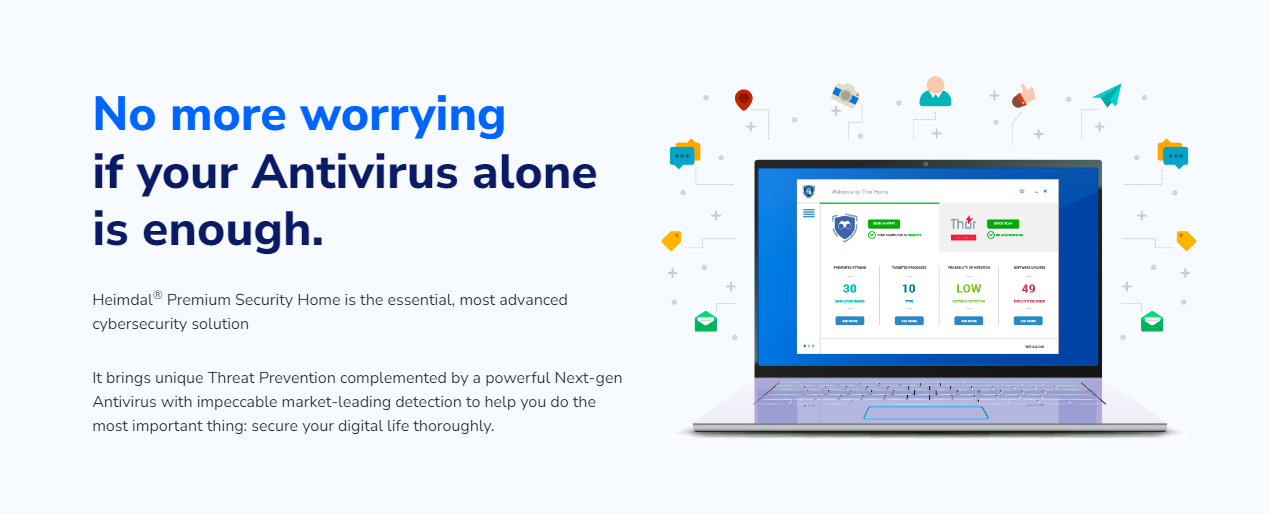 Thor Premium is the ultimate product in the hierarchy of Heimdal Security's products. It's just as it's called – Premium. This product contains a combination of Thor Vigilance and Thor Foresight.
Thor Premium is considered one of the best products on the market that can provide you with all-around protection against malware.
While Thor Foresight is a unique product, Thor Vigilance is not the best stand-alone antivirus. However, both products put together with additional next-generation protection layers in Thor Premium is a highly recommended security solution you might want to use.
Thor Premium offers you reactive protection against malware on your local computer alongside proactive protection to keep threats away from your computer as you surf the internet.
It also patches your installed applications automatically to ensure that there is no window for cyber attacks.
Even though all the products are packed into this supreme product, it is very easy to use and navigate for beginners.
Let's now consider how Heimdal Security's onboarding process weighs up.
Getting Started With Heimdal Security
When you launch the Heimdal website, you can get started by clicking the "Start a free trial" button. Indeed, the platform allows you to open a free account. However, when I registered, the free account version was more or less a demo.
So, if you want to use Heimdal Security, prepare to pay a complete subscription before you can access most features.
Nevertheless, as a first-time user, you'll have to book a demo with an expert. I recommend it, as it allows you to verify if the solution is right for you. It's more essential if you're a business.
Thankfully, the demo-booking process is straightforward as I did at the time of writing this Heimdal Security review. You only need to fill out a form, as shown below: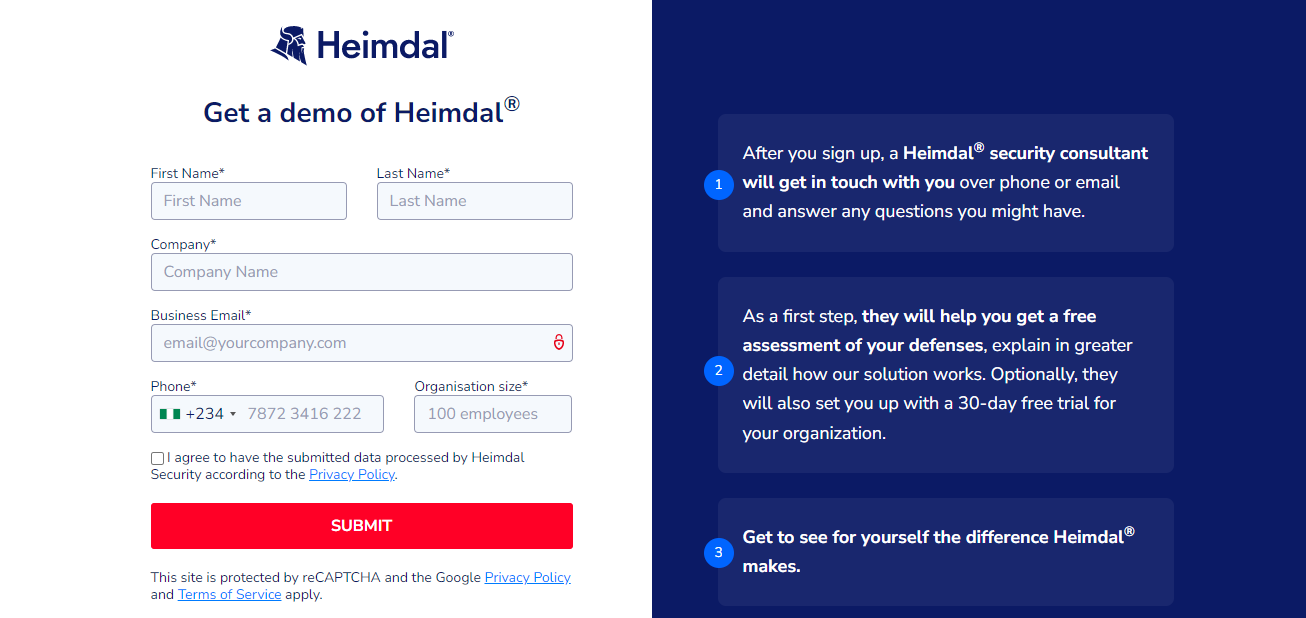 Accordingly, you'll enter your name, company name, business email, and phone number. You'll also enter the number of workstations with which you aim to use Heimdal Security. This translates to the number of computers you have in your office. In my case, I registered 20 workstations for a start.
After submitting the form, a Heimdal agent will contact you. Subsequently, after the demo, you'll then get a quote that suits your business size.
If, from the demo, you recognize that the solution is the best for you, then pay and start using it.
60% OFF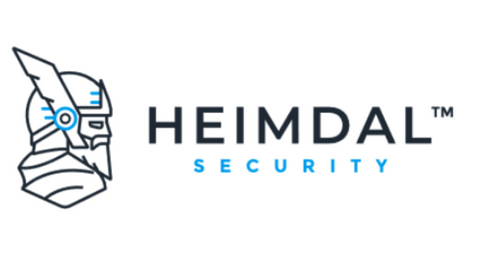 How To Download And Install Heimdal Security
Installing the Heimdal Security app is a straightforward process. Simply follow the below steps:
Download the Heimdal Security installer file from the website.

Run the installer file after download. You may get a pop-up if Windows Defender is already installed on your PC. If you do, click on "Run anyway" and proceed.

Accept the installation terms and conditions by clicking on "I agree."

Set your preferred language (default is English), and click on "Next."

Choose if you want to customize the installation or not (it's recommended that you do not), and click on "Next."

Choose the version of Heimdal Security you want to install: Trial or Free or Home/Enterprise version. If you've purchased the tool, select Home/Enterprise and enter your activation key and click on "Activate."

Click on "Install" and allow the software to install. Afterward, click on "Finish."
That's all; you can start using Heimdal Security on your PC. Ideally, you should reboot your PC after installation.
To help you understand if Heimdal Security is the solution your business needs, let's discuss its features.
60% OFF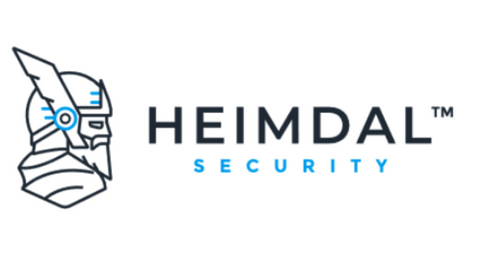 Heimdal Security Features
Check out Heimdal Security's top features below and what you should expect when you start using the tool:
Next-Gen Antivirus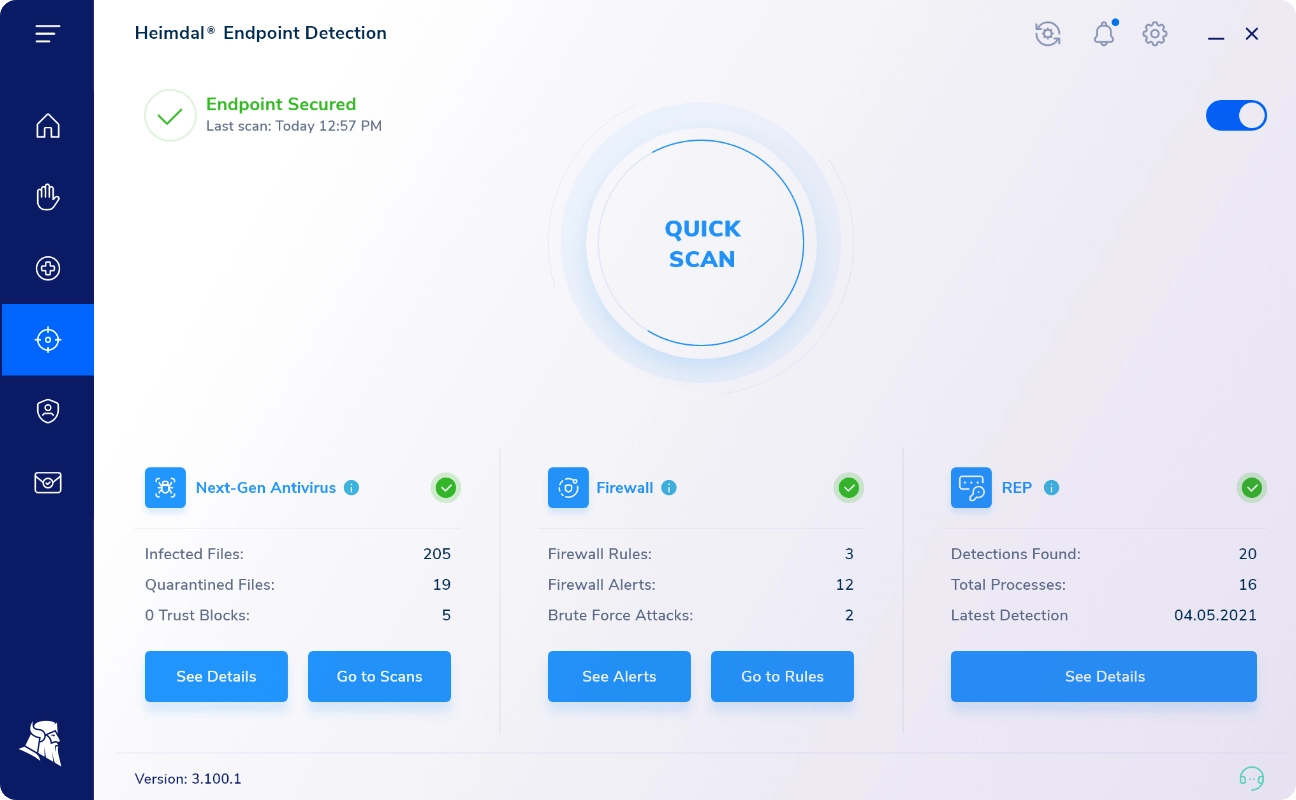 Heimdal Security's flagship feature is the next-generation antivirus.
In particular, this is a 4-layer malware-fighting solution that works against both old and new threats. Old threats like worms and trojans and new threats like ransomware and stealth viruses.
The first stage of the antivirus is to compare suspicious files with Heimdal Security's virus database. This helps uncover whether a file is infected or not. In my experience using the tool, this helped, as you can spot corrupted files before they start spreading.
In stage two, the software scans the files using the native Threat Cloud. This is a relatively fast process that uses AI for maximum effectiveness.
Stage three and stage four are similar. Both ensure no malicious links exist between the corrupted files and other device controls.
Extended Firewall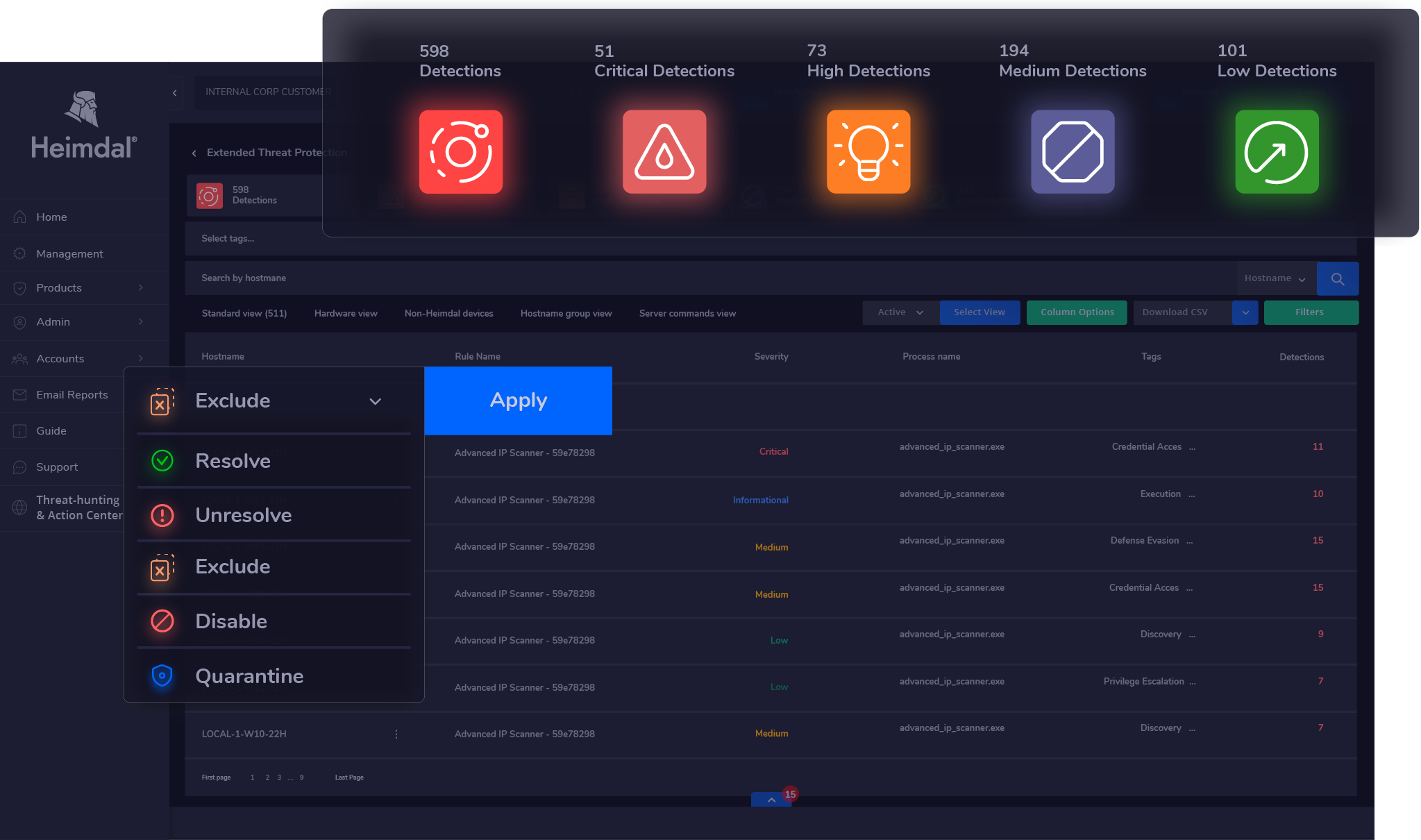 Also included in the Heimdal next-gen antivirus is a firewall. As a sub-feature of the antivirus, the firewall doesn't particularly stand out. However, after trying it out, there are some aspects worth highlighting.
Notably, what you get with Heimdal Security is a hybrid firewall. Such a firewall type is typically associated with antiviruses or other inspection systems. And it's comprehensive enough to check every aspect of your network.
The above is possible thanks to support for deep packet analyses. Also known as deep packet inspection (DPI), this feature automatically implements critical actions to protect a computer's network. These actions include blocking, alerting, re-routing, or logging.
Notably, it saves you time, as you won't necessarily need to configure the firewall yourself. Furthermore, based on first-hand observations, the firewall is dependable for fending off brute force attacks.
Email Security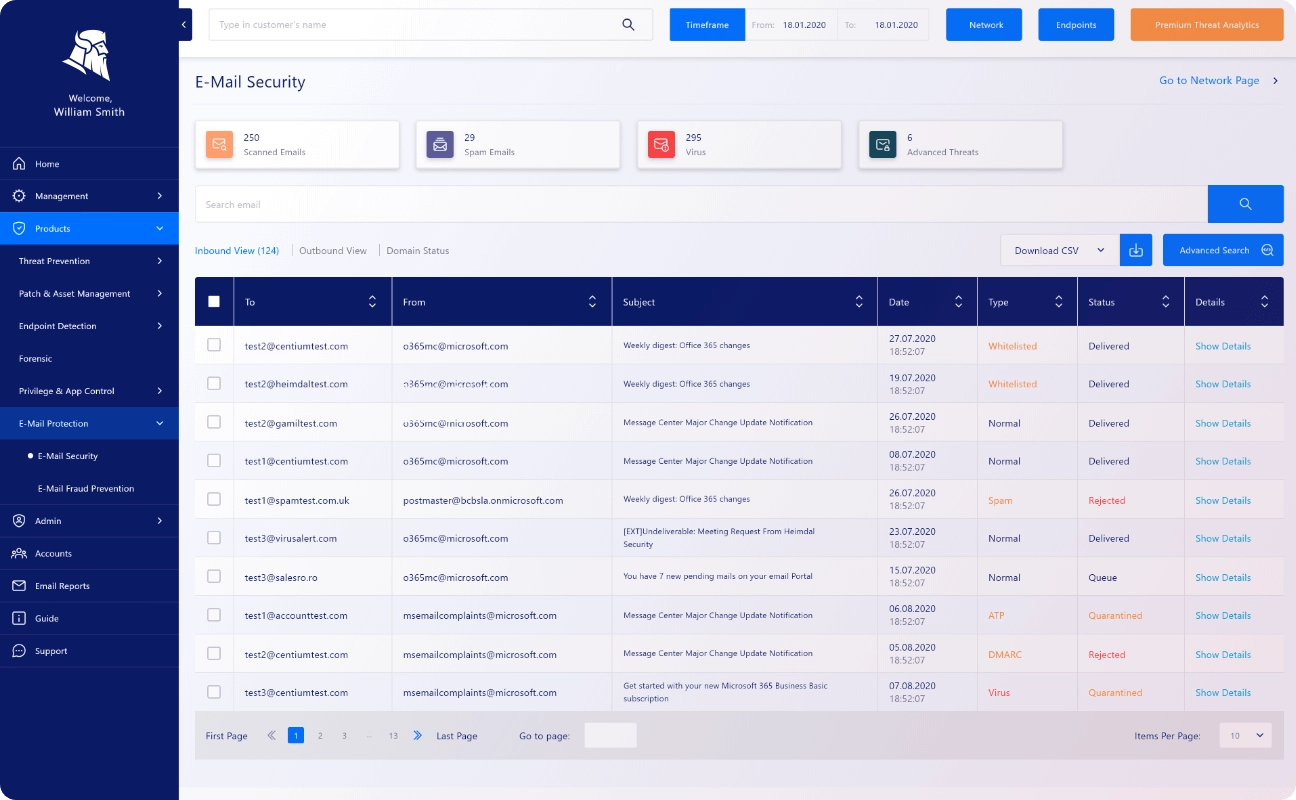 Email Security is one of Heimdal Security's best features for businesses. It stops mail-delivered threats, including malware, malicious URLs, ransomware, and phishing.
Phishing and scam emails remain prevalent among cyber threats. Heimdal Premium Security Home tackles these with a dependable email protection system. It employs live threat intelligence and over 125 vectors of analysis to identify and block malicious emails of any kind.
Drawing from my experience, the feature works in three ways. First, it applies more rigorous spam filters – much more reliable than your email's default spam filters. As a result, you'll hardly get junk mail in your inbox.
The next approach is Full Email Protection. Via this medium, Heimdal Security monitors emails you send and receive for any red flags. If any, it immediately identifies them for you to take action.
The third approach focuses on email attachments. It involves deep-scanning attachments for any malicious content.
With the three-approach protection, you can rest assured that this software gives you prime email security.
Email Fraud Prevention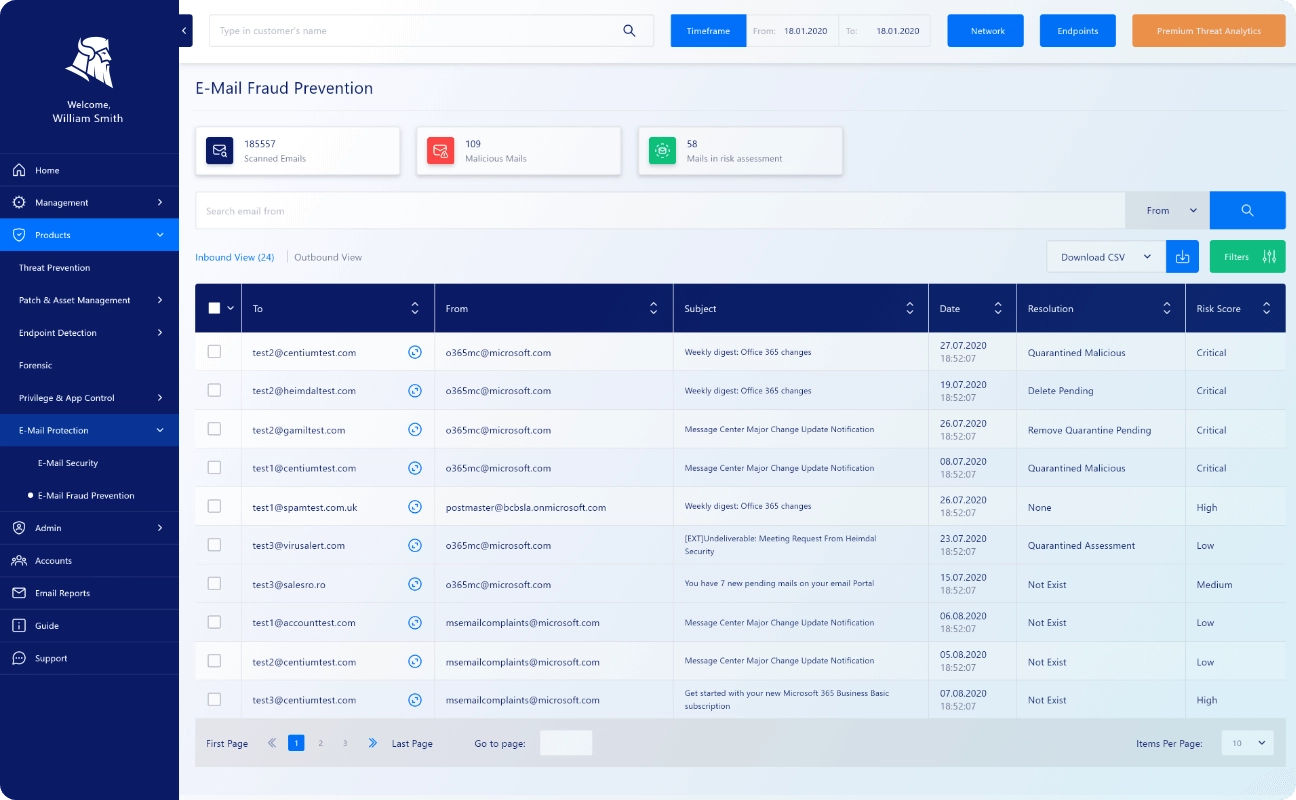 In addition to email security, Heimdal offers an exclusive email fraud prevention solution. The option focuses on stopping business email compromise and phishing. It works with the live platform threat intelligence, using data from over 125 analysis vectors.
You get advanced email scanning technology with Heimdal Security's email fraud prevention. It also supports multiple languages. So, it doesn't matter how hackers attack; it'll stop their efforts.
One popular method of email fraud is CEO imposter or impersonation. This is a situation where a hacker poses as a company's CEO and contacts you.
Using Heimdal Security, we confirm that preventing such fraud is straightforward. All in all, it'll save your business from suffering negative brand impact.
Ransomware Encryption Protection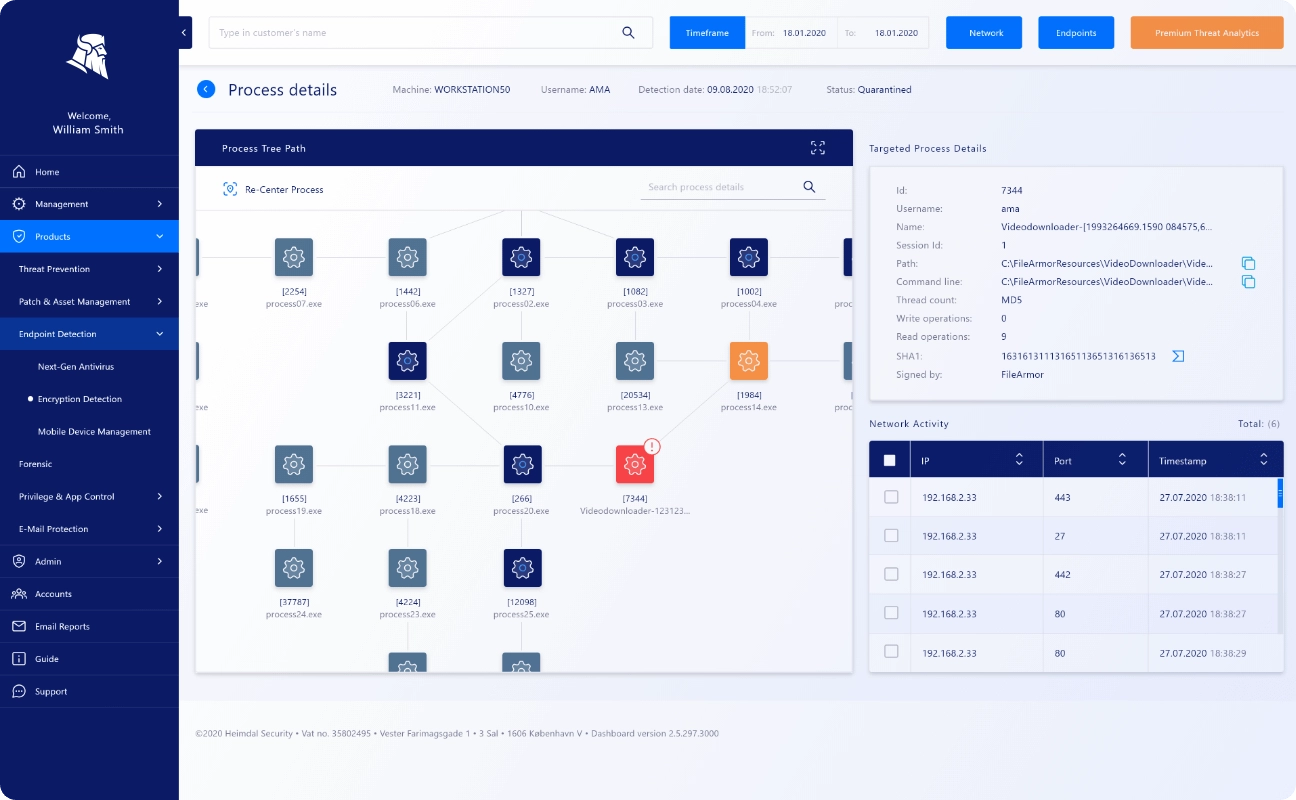 Ransomware encryption protection forms a core part of Heimdal Security's endpoint protection. The software has an antivirus that stops ransomware. However, this option is a more particular solution to deal with the malware type.
Heimdal Premium Security transcends just virus, malware, and ransomware attacks. With ransomware encryption protection, the software keeps you safe from malicious encryption attempts common with ransomware attacks.
It works as a high-grade defense system against advanced persistent threats like exfiltration and data loss. With incident reports, you can review the full details of every attack. 
Based on first-hand observations, this feature works against any ransomware attack. And it integrates seamlessly with the antivirus, so both solutions work hand-in-hand.
However, what's more interesting is that the feature is universally compatible. Universally compatible in the sense that it will work with any antivirus, not just that of Heimdal Security.
Furthermore, you get insightful reports occasionally to stay on top of the software's performance. The report is accessible from the dashboard, and you can filter the metrics or export them as you deem fit.
Software Updater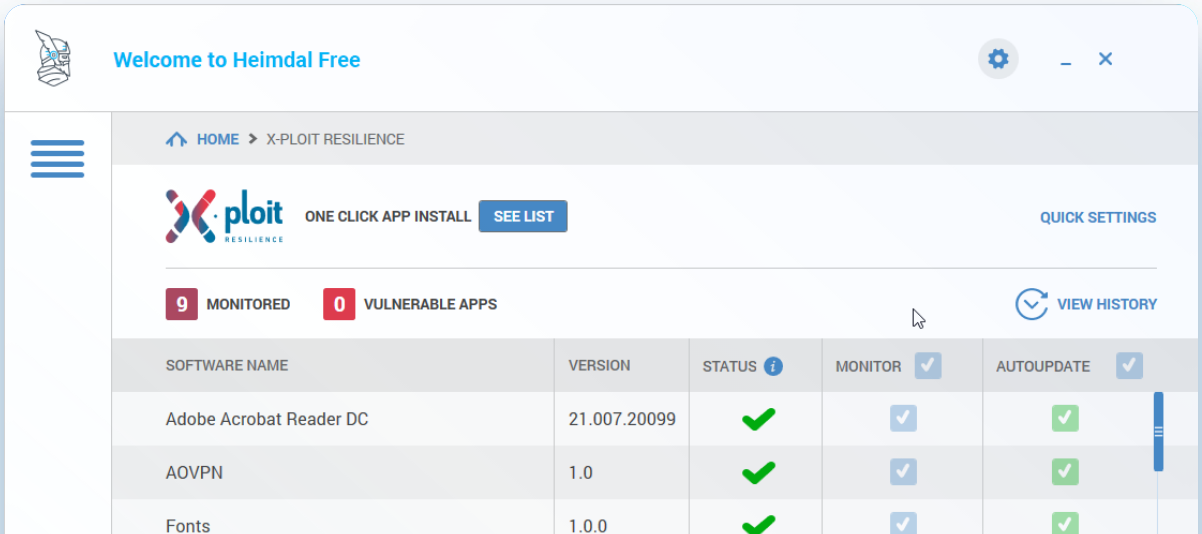 When your installed program and applications become obsolete, you don't have to stress about updating them. Heimdal Security includes a software updater you can use at no cost. The updater will monitor your apps and automatically update them the moment there's a recent version.
However, note that this feature only works on Windows PC. In particular, you can install it if you use Windows 7 or recent versions. And there are versions for 32 and 64-bit variants.
When you install the software updater, you can specify which apps you want it to work on. The software will check each program version every two hours and update accordingly. As you'd expect, for this to work, you must be online.
Remote Desktop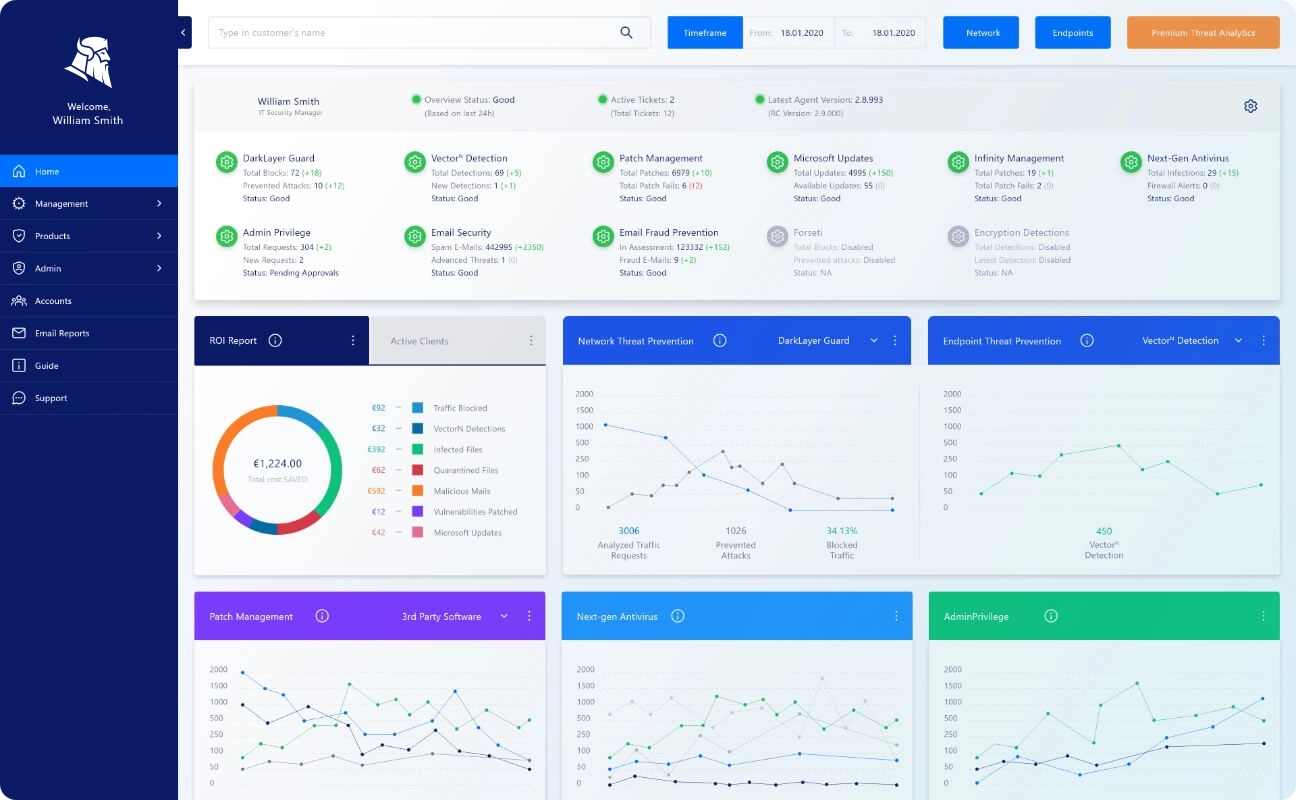 Heimdal Security Remote Desktop is particularly useful to enterprise and business users. It allows you to remotely access and secure devices from anywhere in the world.
This state-of-the-art feature will work on Windows, macOS, iOS, and Android devices. Aside from security, Heimdal Security Remote Desktop also works for content sharing and collaboration.
As an enterprise user, you can leverage Heimdal Security's remote desktop software to manage your devices from anywhere. This feature allows you to transfer files without trouble and record sessions.
Heimdal Security's remote desktop supports multiple operating systems. When we tested the tool, we used it on Windows and MacOS. However, it'll also work on Android, iOS, and Windows Server.
Furthermore, the feature is ideal for leveraging collaboration. As you remotely manage your devices and files, you can invite others to support you. And when it comes to file sharing, the solution supports all types of files.
It's worth mentioning also that the remote security feature is highly secure. It supports multiple encryptions with RSA 2048/4096 and AES-256 and Multi-Factor authentication (MFA).
Threat Hunting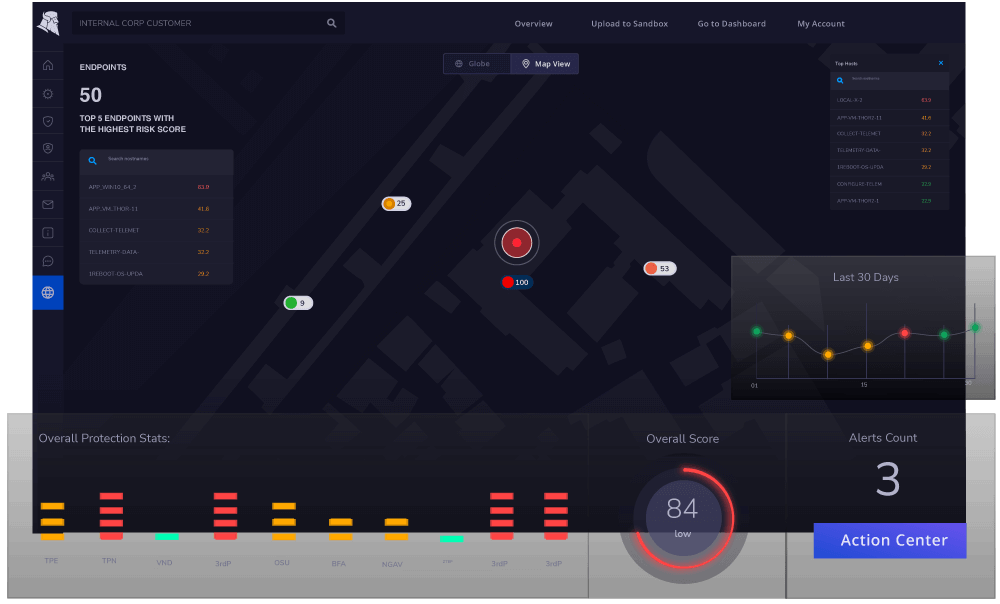 Heimdal Security doesn't sit and wait for viruses and malware to come. According to our findings, you can leverage the software to find and finish malware in its earliest stages. This is possible with the threat-hunting feature.
You'll appreciate using threat hunting as it's relatively straightforward. You get a single, unified interface, which isn't complex to navigate. And from there, you can issue any action to combat malware.
One mention-worthy aspect of this feature is enhanced visibility. As an enterprise, you get a clear picture of your entire digital landscape. With this, you can easily spot the areas where the feature should target.
It's up to you to specify what action follows when threats are identified. Nevertheless, Heimdal Security offers expert action tips to guide you.
Extended Detection & Response (XDR)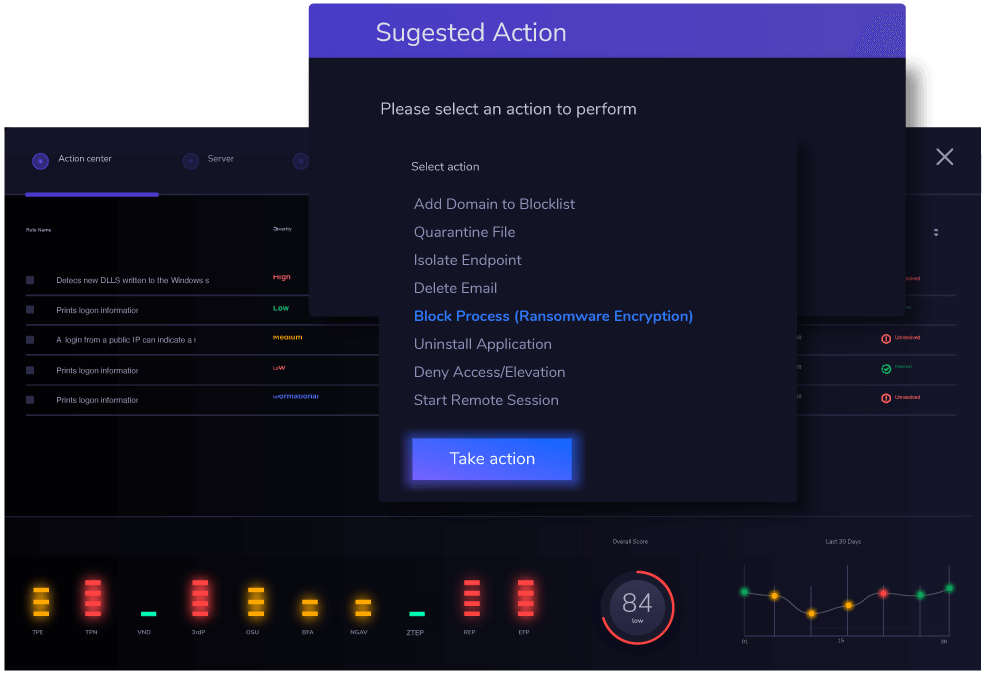 When discussing Heimdal Security features, you can't leave out Extended Detection Response (XDR). This feature is next-level and revolutionary in the cybersecurity space.
With XDR, you get more accurate threat detection and faster response. The feature employs artificial intelligence and machine learning to find and remedy threats. It's also less complex to use yet uses powerful technologies.
The reports you get from XDR are well presented in graphs and charts. Consequently, using the insights to make data-driven decisions becomes easy.
Customer Support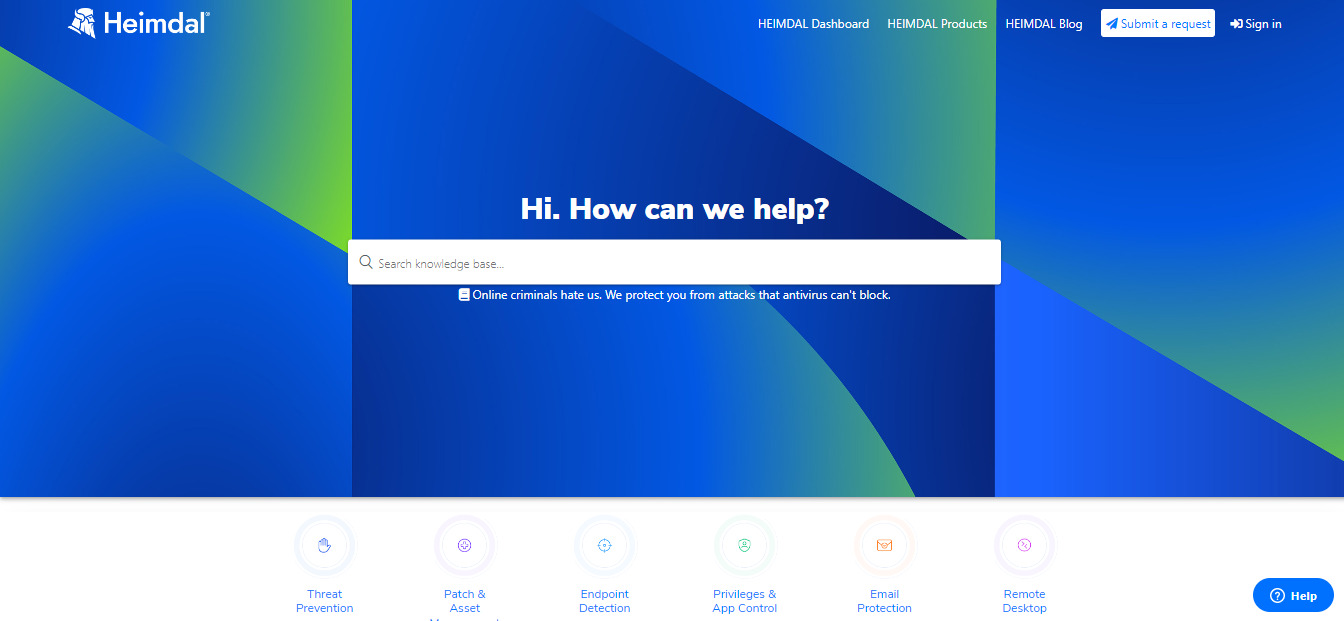 The majority of Heimdal Security users attest that the company has a staunch and quick-to-respond support team. The support will handle any and every problem you have with using the security solution.
From first-hand experience, while crafting this Heimdal Security review, we can confirm that the platform has a prompt support service.
You can initiate a quick help session with the live chat button on the website. The live chat is available 24/7, so you can use it anytime.
Besides the live chat, you can also call Heimdal Security's helpline. Another option is to send an email; a third is to submit a support ticket.
However, for most inquiries, you can quickly get help from the Heimdal Knowledge Base. The knowledge base is well-detailed, with guides for home, enterprise, and free users. There are FAQs also and a troubleshooting guide.
Furthermore, you can get exclusive VIP support as a premium user.
Heimdal Security includes a plethora of cybersecurity solutions. At the moment of preparing this Heimdal Security review, I can say that Heimdal costs around $35 per year.
Heimdal Security has different pricing plans to suit your needs. However, you can try out any of their products for free for 30 days.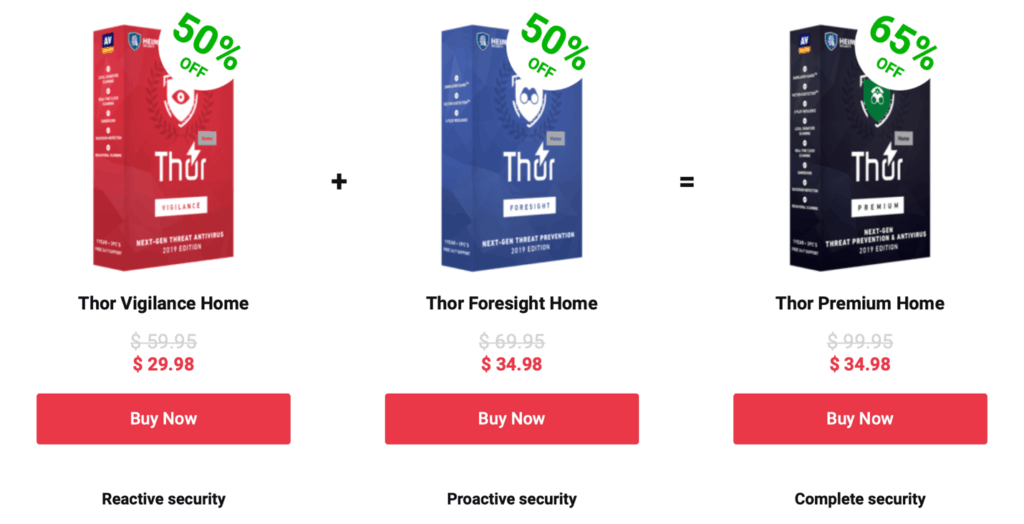 Thor Vigilance: This next-generation antivirus is the cheapest product in the Heimdal Security suite. If you only need a traditional antivirus, you can download Thor Vigilance for $49.95 per annum.
Thor Foresight: This is a required add-on that complements the work of your antivirus. If you have viable antivirus software, you can get this proactive security add-on for $59.95 yearly.
Thor Premium: This ultimate plan provides you with proactive security from Thor Foresight and reactive security from Thor Vigilance for just $89.95 per year. If you are just starting, or need a complete security package, this is the plan for you.
Note: These prices are for home users. As a business user, you'd have to register or contact support for prices.
Note that you get a 30-day money-back guarantee with each subscription you make. This is ideal as it means your payment is safe. I never needed to request my money back anyway. And if the software works for you as it did for me, you won't need to either.
Furthermore, in my experience, Heimdal Security supports multiple currencies for making payments. These are Euro, Dollars, British Pounds, Danish Krone, and Swedish Krona.
Irrespective of your currency, the price stays the same as Heimdal Security uses international exchange rates.
60% OFF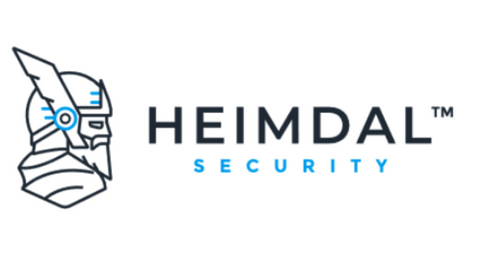 Heimdal Pros
Free tools
Malware and ransomware protection

Reliable antivirus

Relatively fast 

Agile Internet security solutions

24/7 prompt support
Advanced threat protection
Software updater
Email Protection
Threat hunting and action center
Heimdal Cons
Some features are limited to Windows
Pricing isn't transparent
Heimdal Security Review Ratings 
Features
Heimdal Security features several cybersecurity solutions to keep you safe. Most importantly, these features are regularly updated to keep up with the dynamic nature of the internet. 
Score: 5/5.
Apps
Heimdal Security is primarily a security solution for businesses, hence it mainly targets desktop users. Only a few of the software's solutions are available as apps for mobile users. 
Score: 3.5/5.
Pricing
Most Heimdal Security users say the price is expensive, which is true. However, it's the industry standard as other alternative solutions cost just as much. The good thing is that from time to time you get price discounts. 
Score: 4/5.
Customer Service
Quality customer service is one of the best aspects of using Heimdal Security. They're fast to respond across all support channels and are skilled in resolving issues.
Score: 5/5.
Heimdal Security Review: Frequently Asked Questions
Who owns Heimdal Security?
The Heimdal Security company is owned by Marlin Equity Partners. Marlin Equity Partners wasn't the company behind the conception of the platform. However, the company acquired the cybersecurity solution after some years. Note that Marlin Equity Partners is a UK-based company operating out of buildings in London.
Who is the CEO of Heimdal Security?
The current CEO of Heimdal Security is Morten Kjaersgaard. Morten has years of cybersecurity experience, reflecting his position as the leader of such a critical cybersecurity solution. In one interview, the CEO confirmed that the focus of Heimdal Security is to remain proactive in the correct approaches to tackling cyber threats.
Where is Heimdal Security headquarters?
Heimdal Security has its headquarters in Copenhagen, Hovedstaden, Denmark. From Denmark, the company is able to offer cybersecurity services to all of Europe and other continents. Notably, Heimdal Security's parent company operates from London. So, it's safe to say the company also has a strong presence in the United Kingdom.
What Does Heimdal Security Do?
Heimdal Security ensures 360 cybersecurity protection. The software has an antivirus that stops malware and a firewall that protects your network from hackers. Furthermore, it also includes email protection to secure your email messages and prevent fraud. Another thing Heimdal Security does is automatically update your installed programs.
Is Heimdal Free?
Heimdal Security Thor is just one part of the Heimdal Security package. It's the antivirus part of the package and it's not free. You must pay the annual subscription fee to use it. 
The only free tool Heimdal Security features is the free software updater for Windows. It ensures your installed apps and programs are up to date to avoid vulnerabilities.
How much is Heimdal Security?
Heimdal Security doesn't have explicit pricing plans. The amount you pay will depend on the size of your business. And you'll discuss with a sales agent to settle on an ideal price. However, from my experience using the cybersecurity solution, pricing typically starts from around $35 per year.
Is Heimdal Security Safe?
Heimdal Security is a verified company on TrustPilot with 4.6 stars out of 5 ratings. The company has 77 percent excellent ratings and 15 percent great ratings from close to one thousand reviews. That's a total of 92 percent positive Heimdal Security reviews. As a result, it's clear-cut that Heimdal Security is not only safe, but it's also a software you can count on to keep your devices safe.
Is Heimdal Security Legit?
With all the positive reviews and features, it's evident that Heimdal Security is a legit security solution. According to customers who have used and are currently using the platform, it's easy to implement and lightweight. In other words, it won't affect the performance of your device. As mentioned before, people only complain about the price but, reliable products aren't always low-cost. Ultimately, you get the worth of your money with Heimdal.
Benefits of Using Heimdal Security
Listed below are a few benefits of Heimdal Security.
Security from all forms of cyber attack: Heimdal Security Suite protects you from all sorts of malware hidden in e-mails, instant messages online ads, and malicious links. It also provides different layers of security between your computer and infected content.
Optimal Performance: Heimdal Security uses very little memory while running scans in the background. It doesn't eat into your RAM as it scans files, allowing your computer to run smoothly. This is good because you can do other things with your computer while Heimdal Security is running.
Automatic patching of third-party apps: Heimdal takes care of automatically updating your outdated and vulnerable third-party applications. It checks for new updates every two hours. Heimdal Security also patches vulnerabilities in your operating system.
Ease of Use: Heimdal Security suite is very easy to use as a beginner. It also doesn't require any tech knowledge to install as I did for this Heimdal Security review. Its user interface is very rich and user-centric.
Multiple Computers: Heimdal allows you to use a single subscription across multiple computers, depending on the number you pay for while subscribing.
Flexible Payment Options: Heimdal Security is flexible with its payment plans. You can opt for the monthly pay-as-you-go license. It also offers a 30-day free trial period for all products.
60% OFF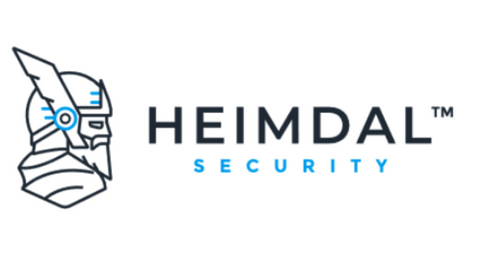 Heimdal Security Alternatives
Before concluding the Heimdal Security review, let's see how it compares with other cybersecurity solutions.
Here, we compare the software with popular alternatives like Surfshark Antivirus, Malwarebytes, and Trend Micro.
1. Heimdal vs Surfshark Antivirus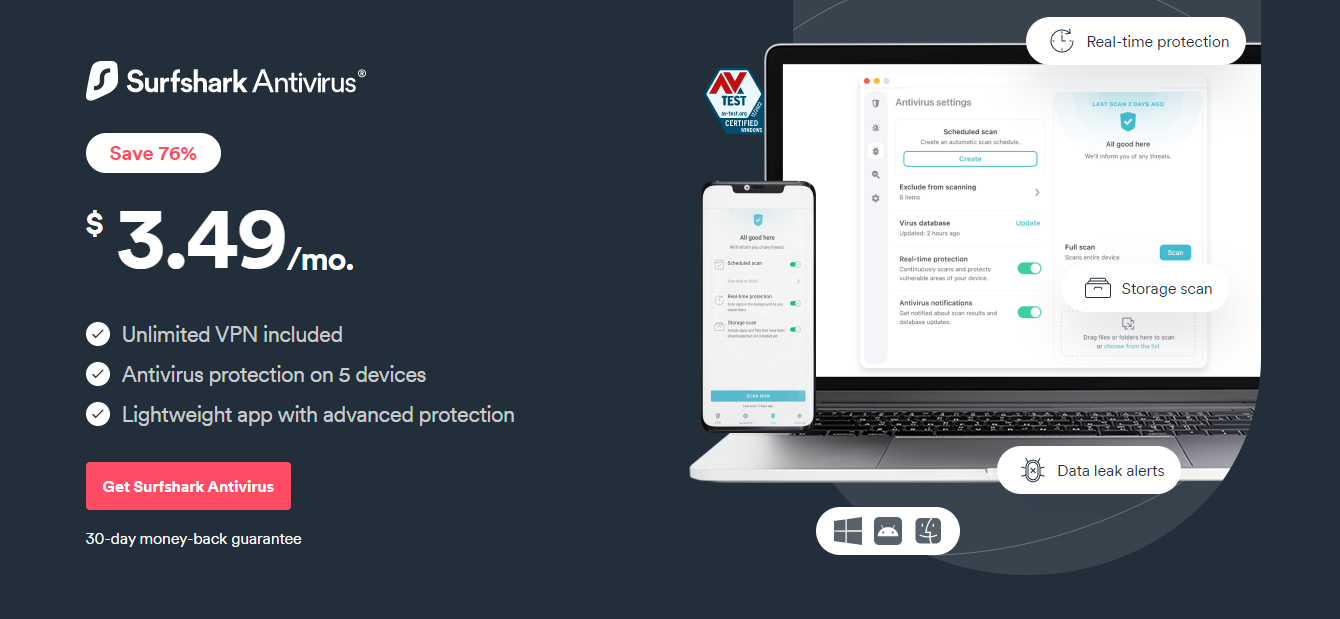 Surfshark Antivirus is an affordable solution to free your devices from viruses and zero-day threats. It's a relatively simple solution with an intuitive interface, so anyone would find it easy to use.
While the antivirus is at the forefront, that's not all you get with Surfshark. You can purchase the Surfshark One package and also get a VPN, secure search tool, and alerts tool.
To use Surfshark, your pricing options start at $12.95 per month. This is unlike Heimdal Security, with no public pricing. In addition, you can reduce the rate to $2.39 per month when you pay for 24 months.
However, Surfshark Antivirus doesn't have as many advanced features as Heimdal Security. For instance, the software lacks solutions such as email protection, threat hunting, and extended detection response.
You can pick Surfshark Antivirus ahead of Heimdal Security if you need a lightweight, low-cost solution. However, when it comes to advanced features and business applications, Heimdal Security is the better tool.
86% OFF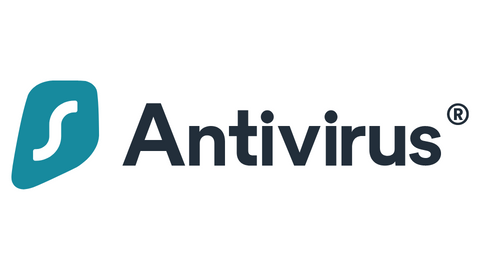 Surfshark Antivirus
A 360-degree solution for all threat categories.
A 360-degree solution for all threat categories.
Show Less
==>>  Get Surfshark Antivirus
2. Heimdal vs. Malwarebytes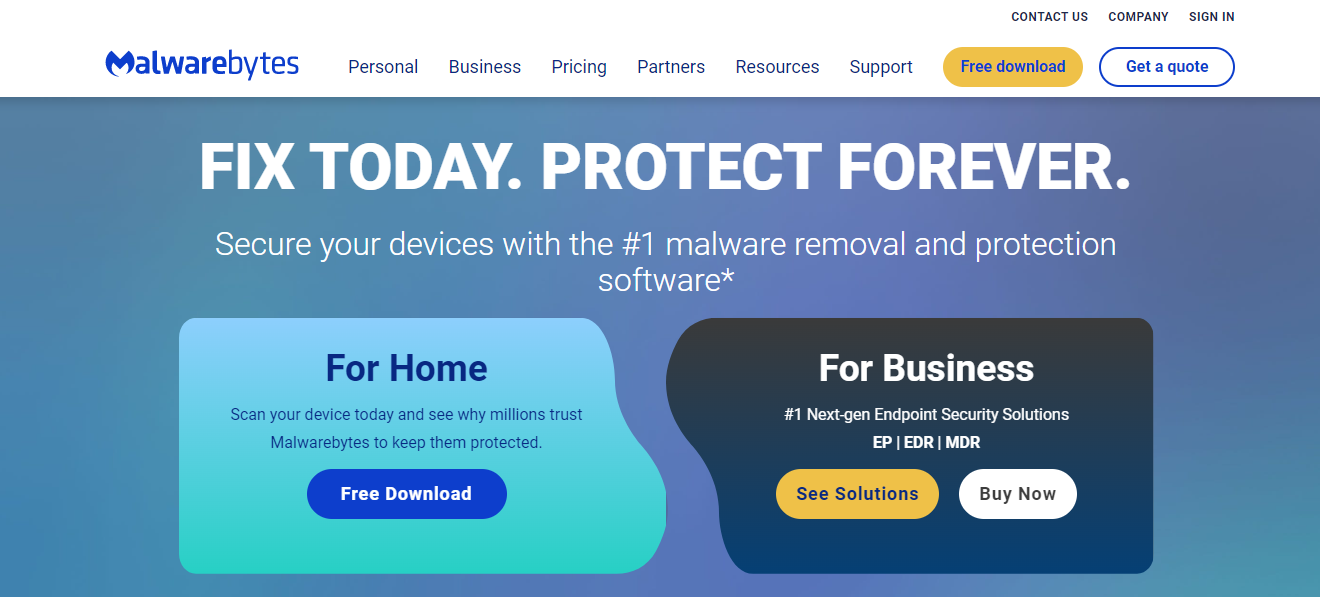 Like Heimdal Security, Malwarebytes offers a cybersecurity solution for homes and businesses. Home users get an antivirus for Windows, Mac, iOS, and Android.
The home solution also comes with a VPN connection and Ad Blocker. These tools help ensure a better browsing experience.
For businesses, you can use Malwarebytes as an SME or enterprise. Available solutions include endpoint protection, detection, and response. Malwarebytes also come with managed detection and response. Accordingly, millions use the software.
From first-hand observations, it's easy to say Heimdal Security and Malwarebytes are equal solutions. However, Heimdal Security offers more to IT security teams than Malwarebytes.
Simply put, you can use Heimdal Security or Malwarebytes as an individual business or enterprise. But if you're an IT security firm, you get more versatility with Heimdal Security.
This is thanks to exclusive features like ransomware encryption protection, email fraud protection, and threat hunting as depicted in this Heimdal Security review.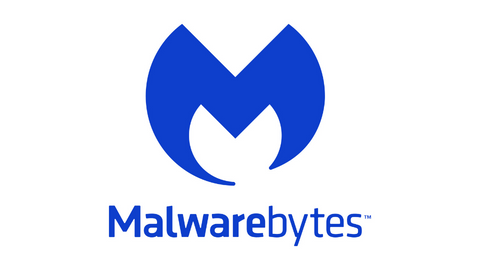 Malwarebytes
Your everyday protection against malware like ransomware, spyware, viruses, and more.
Your everyday protection against malware like ransomware, spyware, viruses, and more.
Show Less
==>>  Get Malwarebytes
3. Heimdal vs. Trend Micro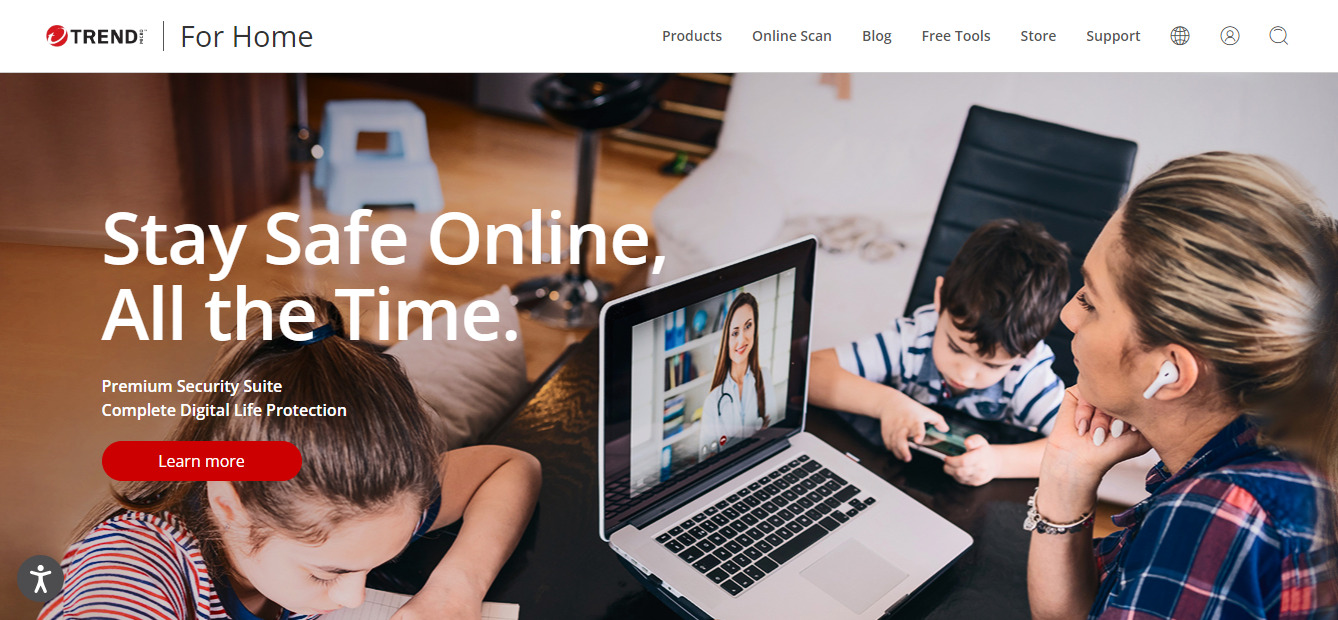 Trend Micro is a renowned cloud security solution patronized by many enterprises. The company has been operating since 1988, so it's easy to understand why it has such a strong stance in the cybersecurity space.
Trend Micro products include cloud security, network security, endpoint and email security, security operation, and SME security. Evidently, these are the same features Heimdal Security offers.
So, which should you pick? Heimdal or Trend Micro? It's worth noting that Heimdal Security has the upper hand in some areas as depicted in this Heimdal Security review.
An example is Managed Detection and Response (MDR). Heimdal Security is more reliable for MDR than Trend Micro, although the latter software takes the upper hand when it comes to cloud security.
Like Heimdal Security, Trend Micro doesn't have public pricing plans. You first need to contact the sales team and discuss a quote. But you can request a demo or free trial.
At the end of the day, then, it depends on your business needs. But you won't go wrong whether you pick Heimdal Security or Trend Micro.
44% OFF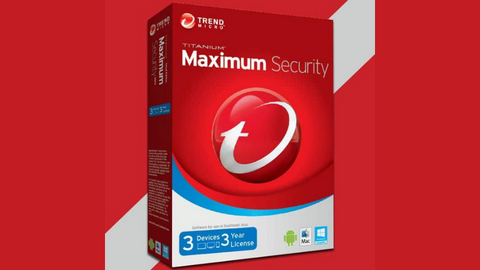 Trend Micro Maximum Security
Maximum security for households and office use.
Maximum security for households and office use.
Show Less
==>>  Get Trend Micro
4. Heimdal vs. McAfee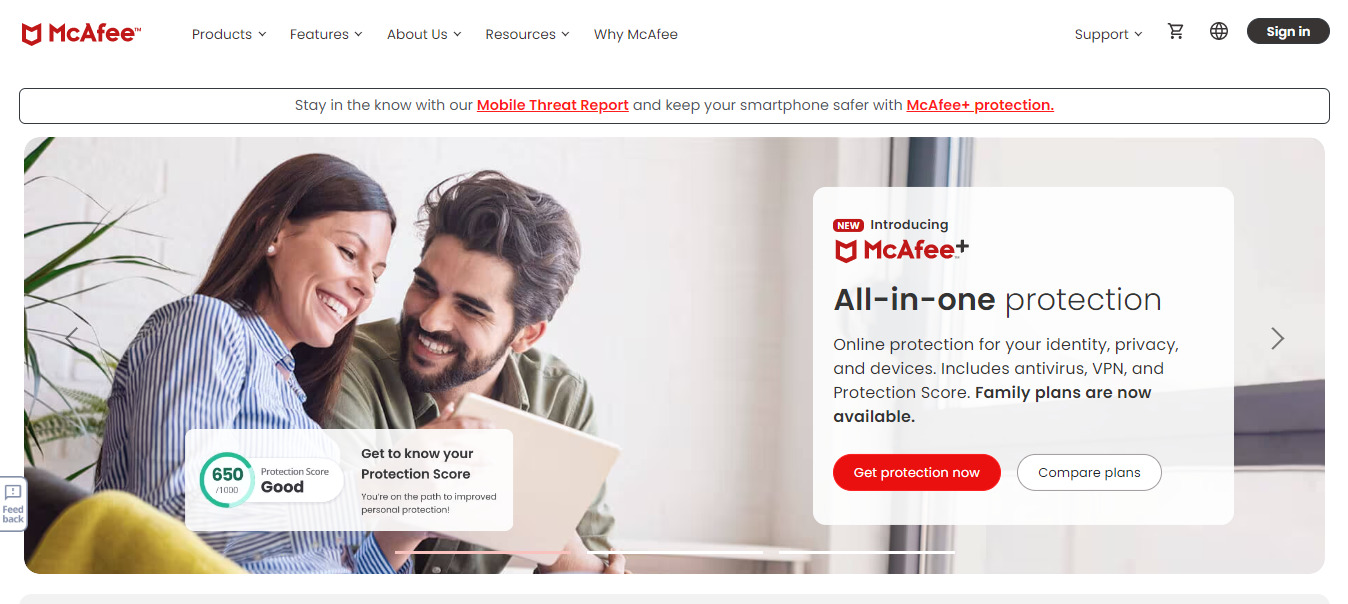 McAfee is an award-winning security solution with two major products: an antivirus and a VPN. Other security products you get from McAfee include identity monitoring and personal info removal tools.
Using McAfee is simple as you can personalize all the solutions. You can use McAfee on all major devices, including Windows, macOS, Android, and iOS.
McAfee is a premium solution like Heimdal Security. Pricing starts from $29.99 for the first year with the basic plan. 
The highest is the advanced plan which costs $84.99 per month. Notably, this advanced plan comes with identity theft coverage worth $1 million.
You can also go for the exclusive antivirus plan, which gives you access to all antivirus features for $29.99 per year.
50% OFF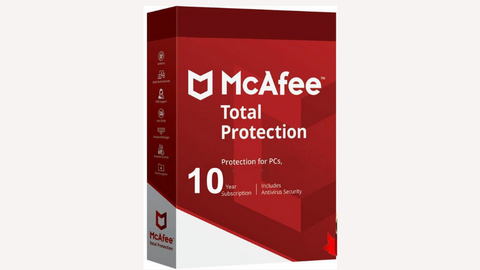 McAfee Total Protection
An easy-to-use security suite for data safety and device protection.
An easy-to-use security suite for data safety and device protection.
Show Less
==>>  Get McAfee
5. Heimdal vs. Kaspersky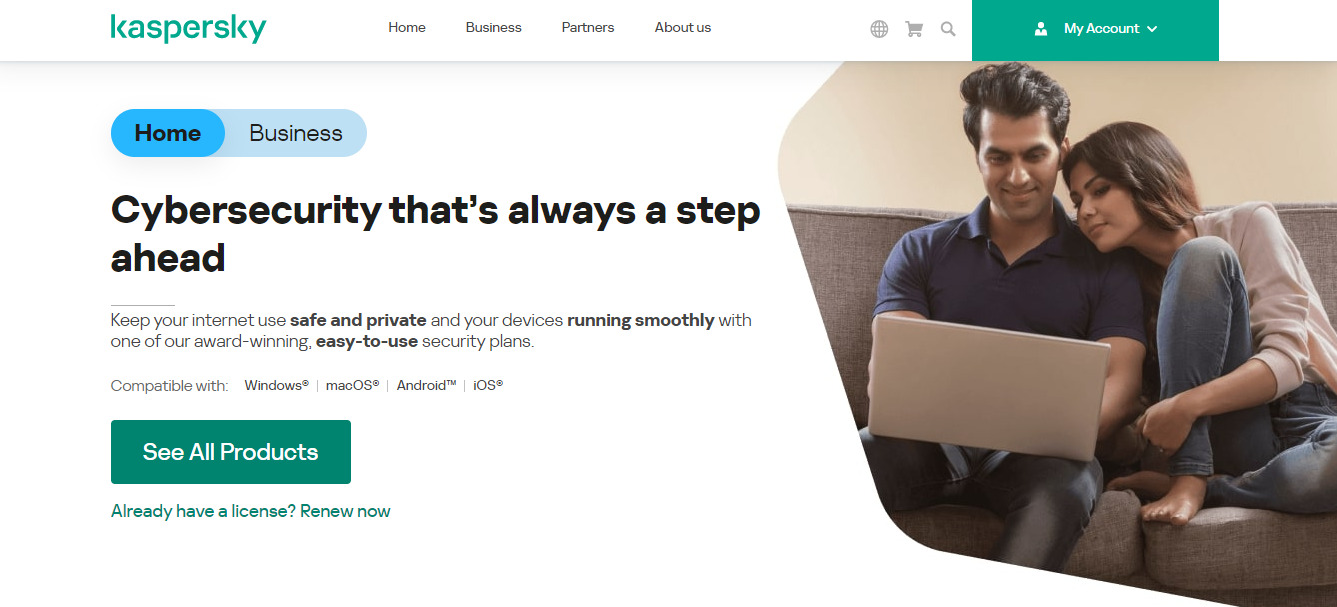 Kaspersky is a globally renowned company in the cybersecurity industry. It offers both home and business solutions.
The primary product is the Kaspersky antivirus, which uses advanced technology and AI to battle threats like malware, spyware, ransomware, and file-less attacks.
In addition, it provides phishing protection by auto-blacklisting fake sites and emails.
Kaspersky also features a VPN, like the other Heimdal alternatives on this list. The VPN is smart and fast, and it'll keep you safe from cyber attacks.
Other security solutions you get from Kaspersky include an ad blocker, private browser, webcam protection, GPS locator, password manager, and file protection.
Kaspersky pricing starts from $22.99 per month for the essential plan. It's slightly cheaper than the starting price of other platforms.
The highest plan, Kaspersky Total Security, begins from $42.99 per month. It's much cheaper than that of other platforms.
Notably, Kaspersky supports Windows, macOS, iOS, and Android devices.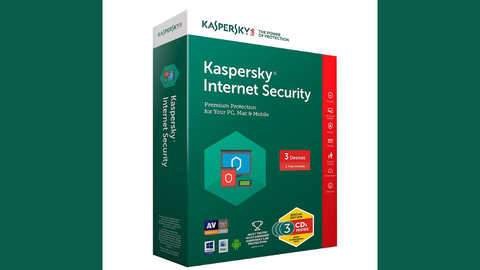 Kaspersky Internet Security
Premium protection against online threats.
Premium protection against online threats.
Show Less
==>>  Get Kaspersky Total Security
A Final Word On The Heimdal Security Review
To conclude this Heimdal Security review, I will say that Heimdal is dependable if you need an extensive security solution to keep you and your device safe.
Heimdal is renowned by businesses and individuals as a reliable solution to stop cybersecurity threats. I can always attest to that, having used the tool. And this is why I recommend it.
From this review, it's clear that the software is indeed robust regarding cybersecurity. The next-gen antivirus, hybrid firewall, endpoint protection, email security, and software updater all stand out. The only major con is that there aren't detailed pricing plans.
Leave a comment below regarding this Heimdal Security review.
60% OFF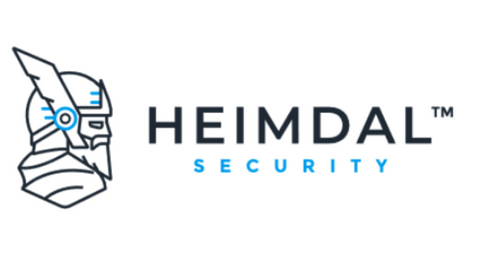 ---
INTERESTING POSTS