This post will show you the 5 top cybersecurity books you must read.
Cybersecurity books have emerged as bestsellers over the years for presenting real-life threats in cybersecurity in an entertaining yet educating style.
A good cybersecurity book should not only entertain and inform you about cyber threats out there but should also guide you into recognizing cyber threats and how to protect yourself from the activities of cybercriminals.
This list of the best five cybersecurity books was put together after consulting with Cybersecurity experts about cybersecurity books that will present facts and real-life situations in an entertaining way and guide you through practical steps for tackling emerging cybersecurity threats.
Top Cybersecurity Books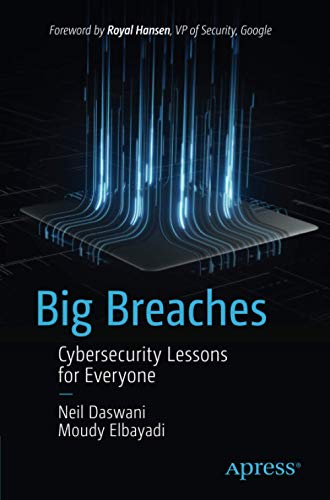 Tackling cybersecurity starts with understanding what cybersecurity is all about. This book explores what cybersecurity is, the steps taken to tackle cybersecurity, the big investments made, and the significant cybersecurity breaches in the past.
Big breaches give an amusing exposition of hacking techniques such as phishing, malware, security vulnerabilities, etc., employed in modern-day cybersecurity breaches and how they affect our daily lives. Therefore, you will get a good understanding of cybersecurity compromise and hacking, preventative and countermeasures. You will also gain insight into ways you can maximize cybersecurity in your home and organization.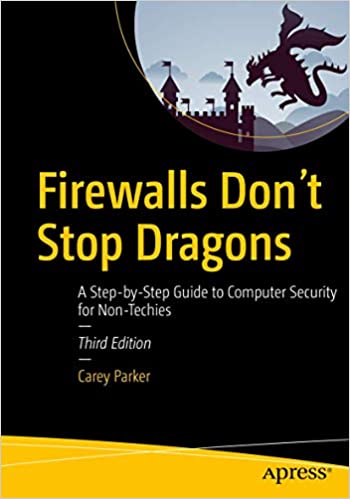 In 'Firewalls Don't Stop Dragons, Carey will take you through the beginner guides on what to know and do to protect yourself in the cyberworld in an entertaining style by avoiding as many jargons as possible. 
This book is for you if you're a tech-savvy person because you will learn the basics of how computers and the internet work together, revolutionizing the modern world and the real threats staring you in the face.
Every chapter of the book comes with a checklist of what to do using instructions and practical guides. The book contains more than 170 tips on protecting yourself and your family. Part of what you will be learning includes protecting yourself from identity theft, shopping and banking online with maximum security, safeguarding your children online, etc.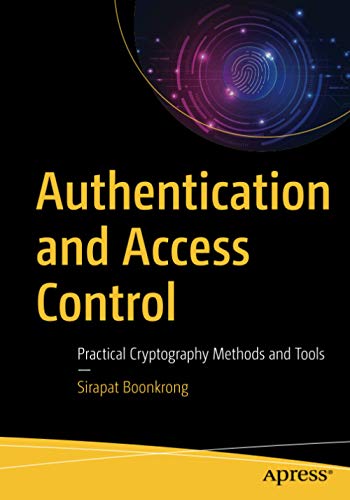 Authentication and Access Control takes you through the origins of cryptography and authentication technologies to give you a good grasp of what authentication and access control are since they are your first line of defense against attacks.
The book covers different methods of authentication, including 2FA and multi-FA, Biometric authentication, etc. You will also learn about errors that can lead to compromises in authentication mechanisms, how to prevent them, and how to design and implement authentication mechanisms for a real-world situation. This book provides everything you need to know about authentication and access control and how to safeguard yourself. 
Cybersecurity is a Journal that focuses on the key aspects of cybersecurity. It dwells much on the most recent research results, real-world application of cybersecurity technologies, and cyberspace security issues published by top IT and cybersecurity professionals.
In this journal, you will find published articles relating to Hardware security, cybersecurity data analytics, software, and system security, malware analysis, IoT security, etc. Hence, this journal provides you with up-to-date advances in the cybersecurity industry.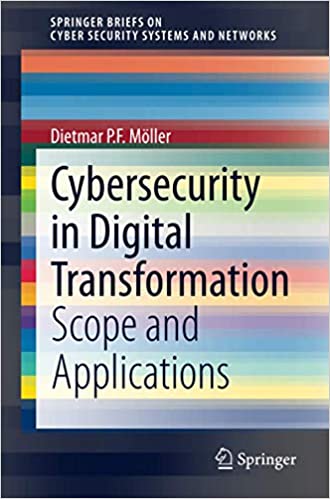 Cybersecurity in Digital Transformation focuses on the essentials of digital transformation and how you can protect yourself against cybersecurity threats using modern-day methodologies, including Threat Intelligence, Threat Attack Profiling, Consequence Level, etc. 
The book also dwells on the concept of digital transformation as a means of replicating and using digital technology to transform processes into intelligent outcomes (which can be programs and machines) with the ability to tackle cybersecurity threats.
Conclusion 
Great cybersecurity books are not limited to the five books discussed above. Hence, be sure to keep in touch with us for updates on the best-rated cybersecurity books to update you with the latest happenings in cybersecurity with a detailed step-by-step guide on how to stay protected.
---
SUGGESTED READS