In this post, I will show you the CTemplar review.
CTemplar (Crypto Templar) is an email service provider that promises high-level security for users with priority data security. 
Can CTemplar compete against other secure email service providers? Is CTemplar secure as it claims? These are some of the issues I intend to cover with this CTemplar review. 
What Is CTemplar?
CTemplar is a secure, anonymous, end-to-end encrypted email service designed for people desiring to enjoy communications free from monitoring and interference. 
It was established in 2017 in Seychelles, a country outside of the 9, 5, and 14 eyes. The country also has laws backing data privacy rights, making it an ideal location for establishing a secure email service.
CTemplar is made of a small team of security professionals who are passionate about providing secure email services. Hence, it is independently funded, and it is not willing to accept grants and fundings from governments and corporate bodies.
Note: CTemplar will be shutting down by May 26, 2022. Therefore, you can try out other CTemplar alternatives like eM Client, ProtonMail, and Telios.
CTemplar Features
CTemplar's server locations
CTemplar's mail servers are located in Iceland. Its decision is based on Iceland's privacy-friendly policies, and refusal to join surveillance alliances, and information exchange treaties. 
Therefore, it is implausible that CTemplar can be forced or threatened to divulge its' clients' data to third-parties. Moreover, since it uses a zero access password technology, it will be no way for CTemplar, nor any of its team members to access or decrypt its clients' data even if authorities succeed in getting a valid Icelandic court injunction. Also, Ctemplar's choice of Iceland as a server location is based on the abundance of green energy sources, making its operations environmentally friendly.
Encryption protocol
CTemplar uses the Open PGP (Pretty Good Privacy) encryption protocol, which is used for email encryption by secure email service providers. It involves the use of 4096-bit RSA keys to encrypt and decrypt both sent and received emails. It goes the extra steps of encrypting email subjects, giving it an advantage over other secure email providers. However, this service is only available for its paid subscribers.
CTemplar email services and settings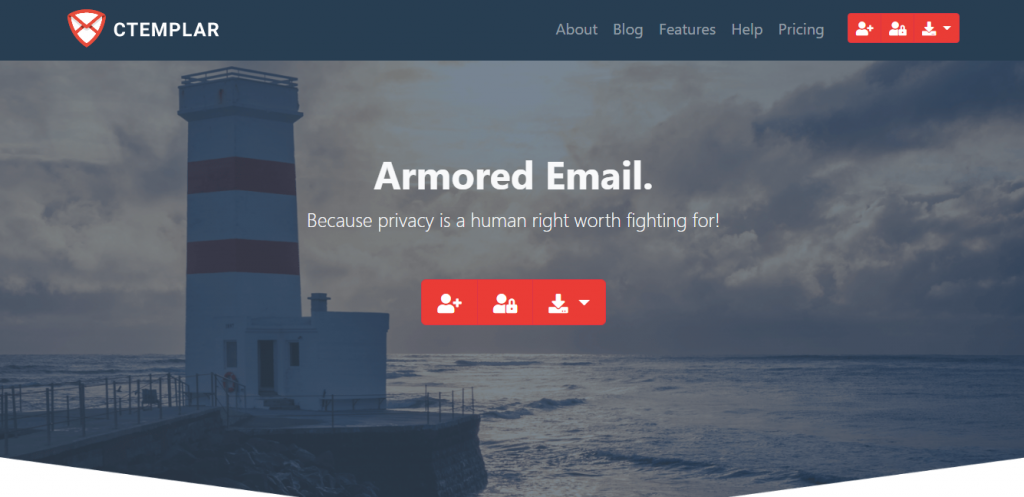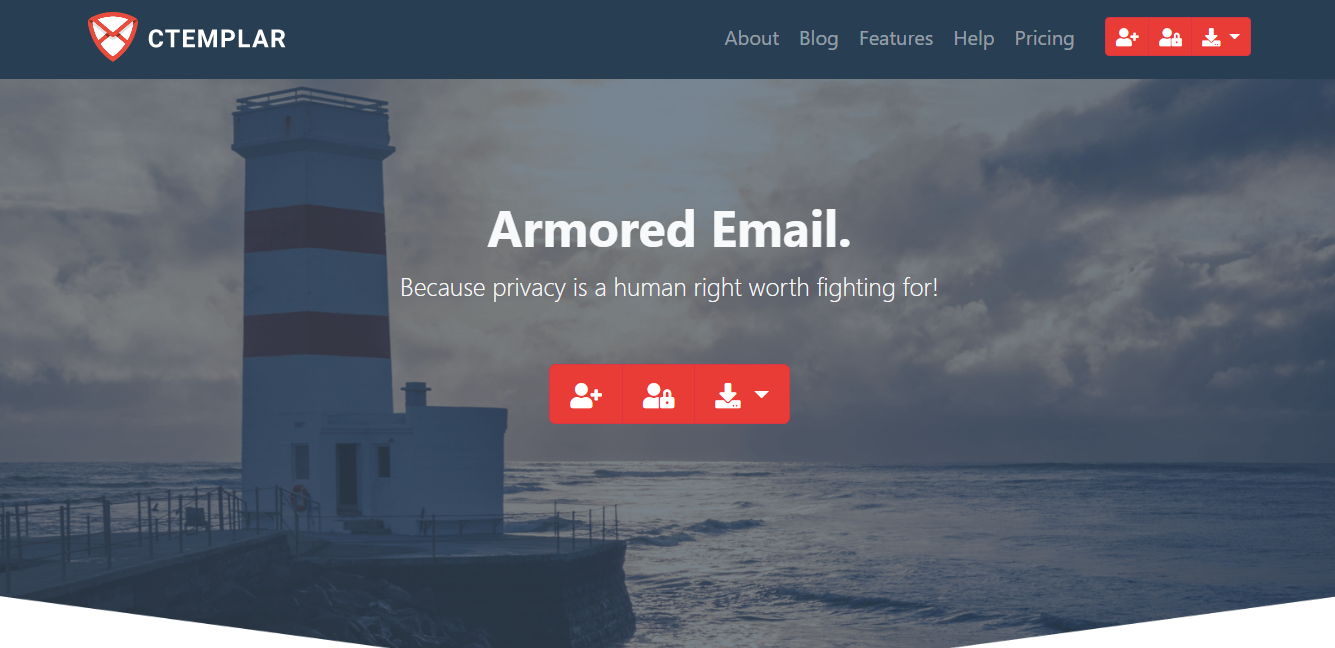 CTemplar offers free and paid email services. The free mail services will require you to get a code from a friend who has a CTemplar paid email account, get a code by sending a message to CTemplar via any of its social media handles, or send a message to invite-codes@ctemplar.com. For the paid services, users will have to use Bitcoin, or Monero to make anonymous payment. 
Free and paid users can send encrypted messages to non-CTemplar users. The sender has to send the password through other channels for the recipient to decrypt the message. However, freemium users are excluded from enjoying fantastic CTemplar features, including sending delayed deliveries, Dead Man Timer, and Self-destruct mails.
CTemplar does not link emails to IP addresses; it uses its IP address for sending messages. Therefore, all emails sent from CTemplar are stripped of their IP addresses. Hence, there is no way of tracing messages back to the sender. 
CTemplar Mobile apps platform
CTemplar's mobile app for Android and iOS is available at F-Droid, a secure app store for iOS and Android device users. Although the apps are recently launched, CTemplar's developers work tirelessly to fix any glitches that users may experience using their mobile apps to send and receive messages.
Security and privacy logs 
CTemplar does not keep a log of its users' data. Since payment is done anonymously using Bitcoin, or Monero, there will be no way for CTemplar to store other key details such as credit card details. This ensures that its clients remain anonymous. Also, CTemplar does not operate data retention policies that require that email service providers keep deleted users' data for six months before deleting it permanently.
CTemplar Pricing Plans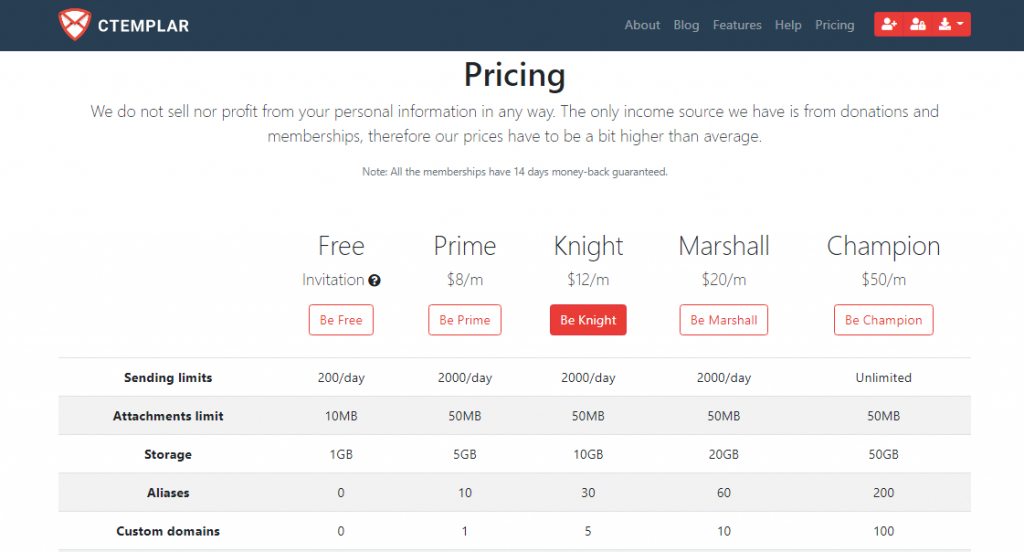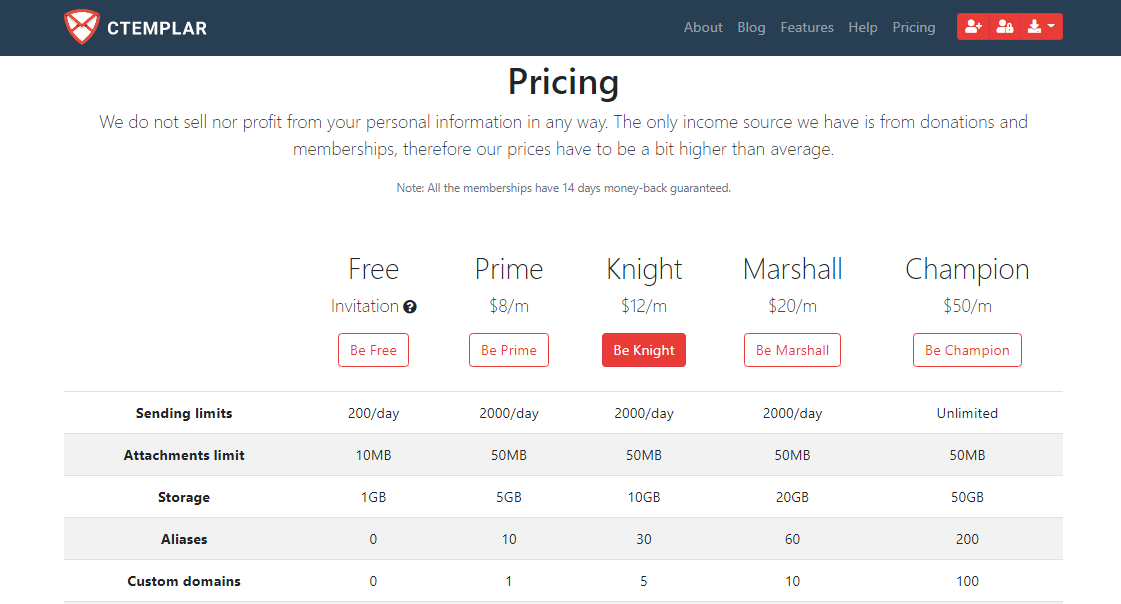 CTemplar operates both free and paid email services.
Their premium plans include:
Prime – $8 per month

Knight – $11 per month

Marshall – $33 per month

Champion – $50 per month
All paid plans offer their subscribers full CTemplar security features, but they vary in the amount of storage, attachment limit, aliases, and custom domain subscribers. However, the Marshall plan offers its subscribers exclusive beta access as an added feature.
Customer Support 
Users can find extensive technical support at CTemplar's FAQ page
Although CTemplar does not offer Livechat and call supports, users get feedback via email within 24 hours. Support services available include
General support (support@ctemplar.com)

Abuse: (abuse@ctemplar.com)

Legal: (legal@ctemplar.com) 
Also, you can reach CTemplar through its multiple social media handles.
Conclusion
Voila! The CTemplar review.
Although CTemplar is a recent player in the secure email industry, its innovative security features make it a formidable competitor that I am willing to recommend to anyone in need of a secure email service. At this pace of CTemplar's progress, I hope that it will carve out a strong niche in the industry. 
Note: CTemplar will be shutting down by May 26, 2022. Therefore, you can try out other CTemplar alternatives like eM Client, ProtonMail, and Telios.
---
USEFUL READINGS