In this pCloud review, I will answer the question – is pCloud safe to use? Also, we will tell you all you need to know about pCloud.
Cloud backup provides a sure way of protecting your data from hardware damage, malware infestation, and other phenomena that can lead to the inability to access previously stored data.
Popular cloud storage providers include Google Drive, Microsoft OneDrive, and pCloud; however, this review will focus on pCloud storage features and safety of use.
Is pCloud Safe To Use?
Yes, pCloud is safe to use. Your data is encrypted and stored securely in the cloud. pCloud also offers two-factor authentication for an extra layer of security. Based on its robust security feature, pCloud is safe to use. It uses a combination of TLS/SSL and military-grade AES-256-bit encryption protocols to keep users' files safe. 
To test its safety, pCloud launched and concluded a 6-months hacking challenge with a $100,000 price for any hacker or group of hackers that can break into pCloud's security. 
No hacker or group of hackers were able to win the prize money, thus verifying pCloud as one of the most secure cloud services providers.
What Is pCloud?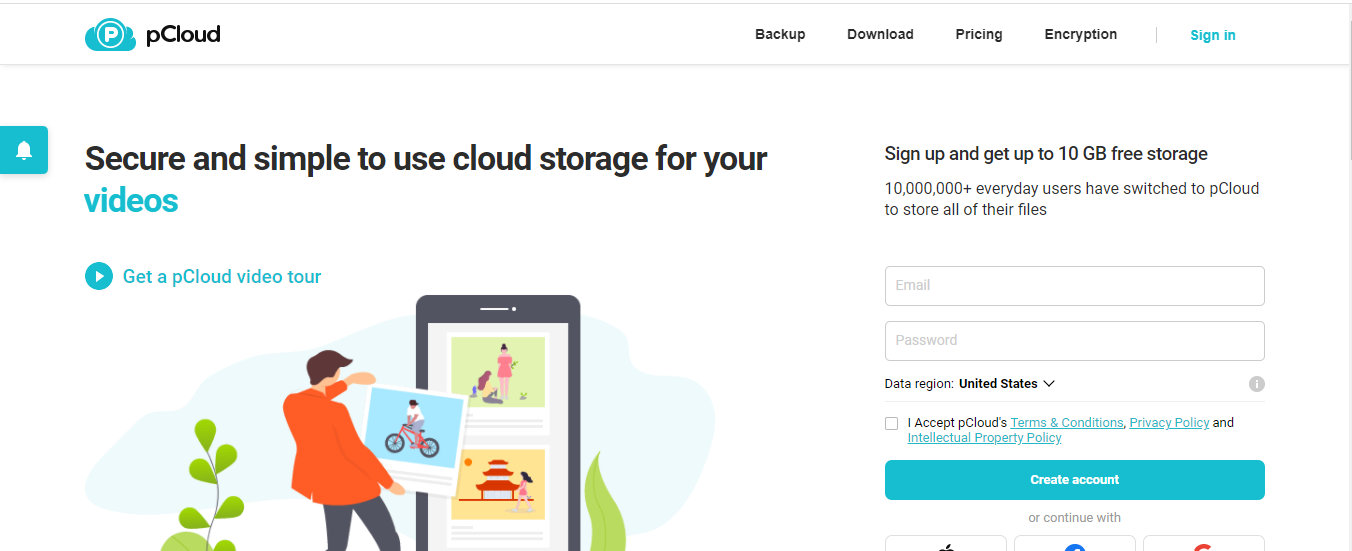 pCloud is a Switzerland-based cloud service established in 2013. presently, pCloud provides backup services for over 12 million people reliant on its high-speed file syncing, enhanced security, built-in media player, and other premium features.
Some of its popular business users include Instagram, Etihad Airways, Coca-Cola, Nike, Twitter, Adidas, Pepsi, BMW, Raiffeisen Bank, etc.
As a cloud storage service, pCloud allows users to store and access their files from anywhere. pCloud is available for all major platforms, including Windows, macOS, Linux, iOS, Android, and web browsers.
In addition, pCloud offers a variety of features, including file sharing, collaboration, and security. pCloud also offers a variety of pricing options, including a free plan and a variety of paid plans.
==>>> Get pCloud
pCloud Features
pCloud Syncing And File Rewind
A cloud service's usability depends on its ability to sync files automatically from your device. Pcloud does this smoothly by automatically backing up your files and saving the latest changes made. Additionally, its simple and smart interface makes backup setup and navigation easy. 
If for some reason you need to recover files from the earlier state, the pCloud rewind allows you to restore files in their older states, but not older than 15 days for freemium users, and 30 days as a premium user; however, this service is available as an add-on for pCloud subscribers. 
You can redownload files and folders in their earlier state or restore them to your device before the loss. 
pCloud Save
How about saving images directly to a cloud folder? The pCloud 'Save' available as a chrome browser plugin lets you save images directly from the internet to a pCloud save folder when you right-click on any image online.
Integrations
pCloud integration with Google Drive, Microsoft OneDrive, and other cloud services allows you to backup files from any of these to pCloud. Additionally, you can backup photos from Instagram, Facebook, Twitter, and other social media handles. 
To do this, click on 'Backup,' select a source to back up from, and sign in to your pCloud account to link your account with the backup source. Pcloud will backup your files and folders to a new 'backup' folder.
pCloud Fair Share
pCloud's Fair Share makes collaboration with other pCloud users easy. When you share a folder with other pCloud users, they can add it to the folder without using up their cloud storage allocation. This makes pCloud an ideal collaboration tool for homes and offices. 
Public Folder
If you need to host static HTML web pages, create direct links to embed images in a file, or other needs, you can set up a 'Public Folder' for such purposes. This feature is available for premium users only.
pCloud Crypto (Zero-knowledge) encryption
Aside from encrypting your files during backup, Pcloud takes security a step further by providing zero-knowledge encryption for backed-up files and folders with its pCloud Crypto. This service gives you total control of your file safety and security. 
By giving you the ability to generate encryption keys for files or folders encrypted with pCloud Crypto right from your device, hence pCloud, hackers, spies, or other unauthorized third parties cannot have access to your file and file or view file info such as file name, size, folder names, access permission, etc. 
This feature makes pCloud recognized as an extremely secured cloud storage provider, but users have to pay additional fees to enjoy this feature.
Built-in audio and video player
pCloud's integrated music and video player lets you enjoy audio and video player functionalities. This feature is available on pCloud's apps and web interface. Additionally, you can download or stream music and videos for offline play. Also, with the Kodi plugin, you can stream videos and music directly from your pCloud media collections if you have created one on pCloud.
pCloud Customer Support
Although pCloud does not have a LiveChat feature on their website, you can still reach out to pCloud via email support (support@pcloud.com), online form, and an extensive FAQ section that provides detailed answers to issues you may likely encounter. 
Notably, pCloud offers pricing packages for individuals, families, and businesses. Likewise, pCloud offers both monthly, annual, and lifetime plans for two categories of subscriptions.
You can try out its free plans with 10GB of free storage access or enjoy a 14-day trial period on any subscription package of your choice.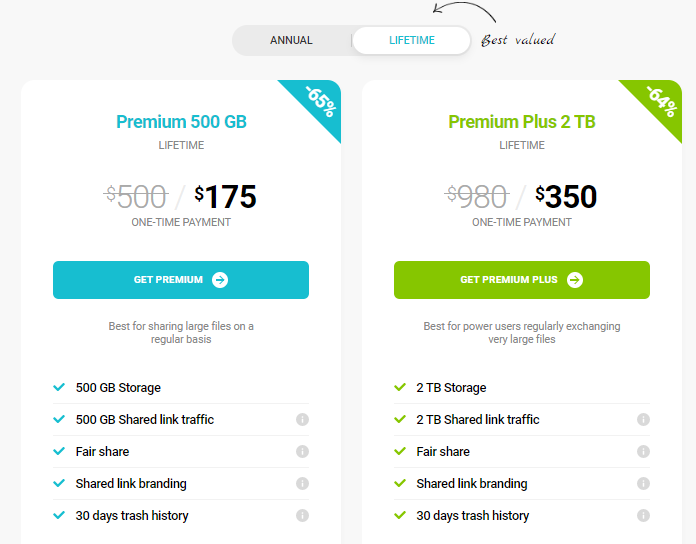 Here are its pricing options for Individuals
Premium 500 GB
Annual plan: $49.99

Lifetime Plan: $175
Premium Plus 2TB
Annual plan: $99.99

Lifetime Plan: $350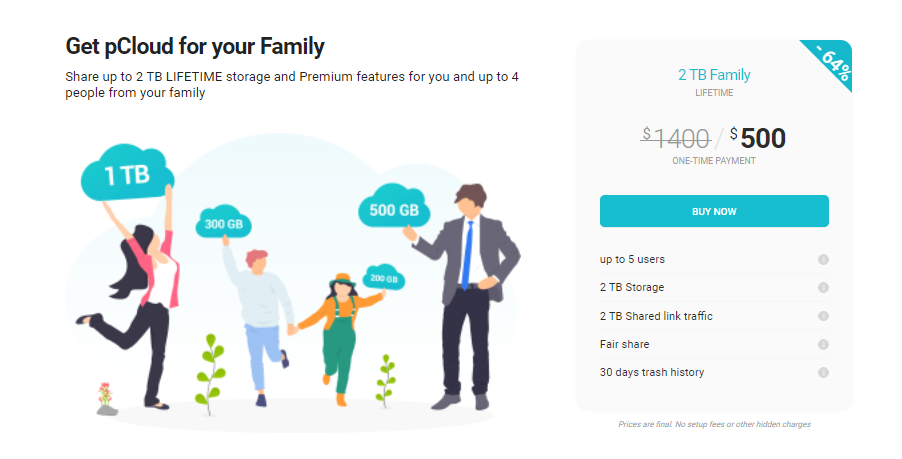 Here are its pricing options for Family
2TB Family (up to 5 users)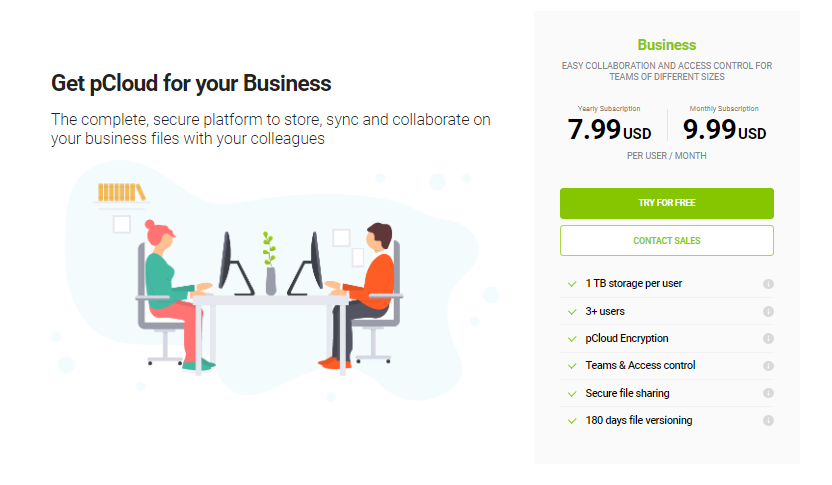 Here are its pricing options for Business
Business Plan
Monthly plan: $9.99 per user/month

Annual plan: $7.99 per user/month
==>>> Get pCloud
pCloud Review: Frequently Asked Questions
Is pCloud Legit
Yes, pCloud is a legitimate cloud service. It has been in business since 2013 and has a strong reputation for being a reliable and secure cloud storage provider. pCloud is headquartered in Switzerland, which has some of the strictest data privacy laws in the world. So you can rest assured that your data is safe with pCloud.
pCloud has been featured in various media outlets such as CNET, Lifehacker, etc. Also, it is highly commended on sites like Reddit, Quora, and TrustPilot.
Is pCloud Worth It?
Yes, pCloud is definitely worth it! It's an affordable cloud storage service to store and share files, with lots of features that make it invaluable. The only downside is that it's not free, but the price is definitely worth it for the features you get.
Wrapping Up The pCloud Review
In this post, we provided you with the answer to the question – is pCloud safe to use? Now, you should know that pCloud offers impressive features at affordable pricing making pCloud one of the best cloud services available. 
Although pCloud can improve its customer services and integration feature, nevertheless, its impressive security features, ease of use, and affordability make it a recommended cloud services provider.
==>>> Get pCloud
---
INTERESTING POSTS